トップページ
Germany now has a new industrial group: Evonik Industries has arrived
Dr. Werner Müller, CEO of Evonik Industries AG: "We are a new force to be reckoned."
Christening of the industrial group is the last step before entering the capital market
Evonik's chief competencies are creativity, specialization, self-renewal and reliability; "deep purple" is the new corporate color
Half-year figures confirm impressive track record
Evonik is targeting the market of the future: energy efficiency
Germany now has a new industrial group: Evonik Industries has arrived. At the company headquarters in Essen, Dr. Werner Müller, CEO of the entity previously operating under the name of RAG Beteiligungs-AG, today presented the new brand with which Evonik plans to enter the capital market in the first half of 2008. "Evonik is Germany's creative industrial group for chemicals, energy and real estate. Our goal is to become one of the most creative industrial groups in the world," stated Dr. Müller as he introduced the new group brand. "Our portfolio, which consists of the Chemicals, Energy, and Real Estate business areas, unites a strong substance with attractive growth potential," continued Dr. Müller. The industrial group has been christened Evonik Industries, representing the highlight of the company's strategic realignment. This is also the last step prior to entering the capital market. In the future, German coal mining operations will be known under the name of RAG, and will not be connected with Evonik, the new industrial group. "Evonik is now entering a new era in group development. We are well positioned, and are looking forward to joining the capital market," said Dr. Müller.

Previous corporate brands such as Degussa, Steag, and RAG Immobilien will no longer exist. The Chemicals, Energy, and Real Estate business areas now operate under the company name of Evonik.

Company information
Evonik Industries AG is the creative industrial group which operates in three highly profitable, promising business areas: Chemicals, Energy and Real Estate. Evonik is a global leader in specialty chemicals, an expert in power generation from hard coal and renewable energies, and one of the largest private residential real estate companies in Germany. Our strengths are creativity, specialization, continuous self-renewal, and reliability.

Evonik Industries is active in over 100 countries around the world. In fiscal 2006 around 43,000 employees generated sales of Euro14.8 billion and operating Profit (EBIT) of over Euro1.2 billion. Evonik plans to enter the capital market in the first half of 2008.
ーーーー
As of September 12, 2007, the RAG industrial group and mining group have their own separate Internet homepages.
The international industrial group is now called Evonik Industries AG and does business in chemicals, energy and real estate. The three former subgroups Degussa, Steag and RAG Immobilien have been united in a new company with modern structures. Evonik Industries AG is scheduled to go public in 2008.
The mining operations will be continued under the name RAG. 
ーーー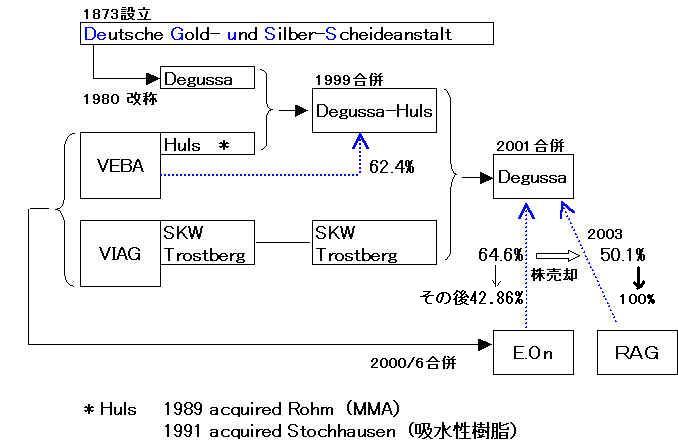 Evonik Industries AG's three business areas harbor vast potential for profitable growth. Our markets are specialty chemicals, power generation from coal and renewable energy, as well as residential property.

Leading in specialty chemicals
In its Chemicals Business Area, Evonik ranks among the global industry leaders. We operate production facilities in 30 countries, in the first half of 2007 employing a workforce of some 34,000, over half of it in Germany.
Evonik's Chemicals Business Area boasts a broad and attractive product portfolio. Our products and solutions are used almost everywhere, from automobiles, plastics and rubber to the pharmaceutical, biotechnology, cosmetics, paint, sealants and adhesives industries. We are market leaders in over 80 percent of our chemical activities. And in line with our strong R&D focus, we generate some 20 percent of sales with products and technologies that are less than five years old.
Expertise in coal power and renewables
In its Energy Business Area, Evonik looks back on some 70 years' experience in coal-fired power generation, with capabilities spanning project development, financing, plant construction and operation. In Germany, we run eight power stations and are the country's fifth largest power generator. Nationally and internationally, we have some 9,000 megawatts in total installed output. We are a full-service provider, delivering total solutions with our combined engineering and consulting expertise. Customers in Germany and abroad benefit from the technical know-how of our approximately 4,600-strong workforce (as per June 2007). With the construction and operation of power stations in Turkey, Colombia and the Philippines, we have shown how professional project development can be successfully combined with tried and trusted financing and operating approaches.

Evonik is already hard at work meeting the energy supply needs of the future. Our Clean Competitive Electricity from Coal (CCEC) technology fulfils all that is required of an ultra-modern power plant: Its resource-saving design and 45 percent efficiency make it more frugal and economic, safer and more environment-friendly than conventional power stations. We are now using this technology to build a 'power plant of the future' in Walsum, Germany. The other side of our business is renewable energy: biomass, biogas, geothermal and mine gas. We lead the German market with ten biomass power plants.
High-quality provider in the regional market
In its Real Estate Business Area, Evonik's 60,000-plus housing units put it in the big league of private residential property companies in Germany. With a geographical focus on the Ruhr region, Aachen and the northern Rhine cities of Düsseldorf, Cologne and Bonn, we provide homes to over 150,000 people?a demanding task which we fulfill with entrepreneurial efficiency and responsibility. A large part of our success is due to the fact that our vacancy rates and occupant turnover?the market's key performance indicators?are significantly better than the industry average. This is no accident. We attach great importance to carefully planned residential property utilization spanning the entire life cycle of a building. And we constantly adapt our portfolio to current needs, modernizing and refurbishing as necessary, tearing down where there is no other option, and building where it makes sense. Last but not least, we actively manage operating costs to keep ancillary costs paid by tenants predictable and reasonable.
---
2007/10/2 Evonik (Degussa)

Evonik to Increase Alkoxide Capacity
Investments in the Double-Digit Million Euro range

Green light for new investments: Evonik Industries AG will build an alkoxide production facility at its Mobile, Alabama, site in the USA.
   アルコキシド:水と反応してその表面がアルコール基になる材料 RO? (R は有機基)
     金属アルコキシドはアルコール分子の水酸基の水素を金属原子で置換した化合物
The plant, designed for a capacity of 60,000 metric tons, is expected to come on stream in early 2009 and will supply customers throughout the NAFTA region. A second facility in Brazil is scheduled to start operation the following year and will supply the entire South American continent. With these investments in the double-digit million euro range, Evonik is reinforcing its commitment to producing alternative forms of energy from renewable raw materials. Alkoxides are required as catalysts in biodiesel production, and Evonik's Chemicals business area is already the world market leader in specialty catalysts for this application.
---
Evonik Sanzheng Joint Venture Builds Cyanuric Chloride Plant in China  塩化シアヌル
  Euro 24 million investment in Chongqing secures strong market position

Evonik Industries is systematically consolidating its already strong position in the world market for cyanuric chloride, an intermediate used in agricultural applications and in the textile, paper and plastics industries. The cornerstone for a new plant was laid today in Chongqing Industrial Park, Western China, with the participation of representatives of the relevant Chinese regulatory authorities. Construction is scheduled for completion by the end of 2008. About 280 employees will work in the plant. With the construction of the new plant, the existing capacity in China will be doubled and will then reach 60,000 metric tons.
---
Evonik Expands Plasticizer Alcohol Capacity in Marl.
  Expansion Reinforces Strong Global Position
Evonik Industries AG is expanding its oxo alcohol production capacity at the Marl site by 60,000 metric tons per year. The alcohol 2-propyl heptanol (2-PH), which is used as a starting material in the manufacture of plasticizer for PVC, used for example, in cables and films, will also be produced there for the first time. The 2-PH facility is scheduled to come on stream in the latter half of 2009.

Given the globally growing demand for plasticizers, the new 2-PH plant will complement the existing isononanol (INA) business. At the Marl site, Evonik already has an annual INA capacity of 340,000 metric tons, which makes the facility the world's largest single production plant for this plasticizer alcohol, and Evonik the largest producer of C9/C10 plasticizer alcohols in Europe.

Dr. Klaus Engel, member of Evonik's Executive Board with responsibility for the Chemicals Business Area, says: "With this investment, we're optimizing our production network in C4 chemicals, an area where we already enjoy a leading position worldwide and have expertise going back several years."

Plasticizers transform brittle PVC into a flexible material, making it possible to use the polymer in a greater number of consumer products. They are contained in, for example, floor coatings, cable insulation, tarpaulin fabrics, various automotive applications, and films. In addition to 2-PH and isononanol, Evonik also produces in Marl the PVC plasticizer VESTINOL™ 9, at a capacity of 220,000 mt per year.
---
2009/11/25 Shanghai

Evonik starts up MMA project in SCIP

On Nov. 24, 2009, Evonik (the former Degussa) held a startup ceremony for its MMA integrated project in Shanghai Chemical Industry Park (SCIP), Shanghai.

With total investment of Euro 250 million, the project has a 105 kt/a Iso-butylene unit, a 100 kt/a MMA unit, a 15 kt/a methacrylic acid unit, and a 20 kt/a butyl methacrylate unit. The 40 kt/a PMMA unit was started up in Q4 2008 and now is in commercial operation. The project was approved by government in Q1 2007 and started construction in Q4 2007.

The C4 feedstock is supplied from SECCO. Evonik uses the C4 route rather than the conventional ACH route, as this technology is more efficient and environment friendly, that is in accordance with the current environment policies in China.

According to Evonik, MMA is produced through the C4 process which is new for Evonik, this new technology delivered by Evonik subsidiary OXENO, which is being used for the first time in Shanghai. In order to secure flexible feedstock supply, a plant for splitting MTBE is also installed.

Also in SCIP, Lucite - now a subsidiary of Mitsubishi Rayon Chemical (MRC) - operates a 100 kt/a MMA plant which is based on the acetone cyanohydrin (ACH) process. It uses the by-product hydrogen cyanide (HCN) from SECCO. MRC also operates 90 kt/a MMA plant in Daya Bay, Huizhou, Guangdong Province, which is also based on C4 route.
Evonik Oxeno Ltd. was established on 1 January 1998 as OXENO Olefinchemie GmbH founded and is a 100% subsidiary of Evonik Industries AG.

At the main Marl Oxeno mainly produces 1,3-butadiene, 1-butene, ETBE, isononanol and the plasticizer (DINP). Oxeno operates the C4 cut (a mixture of butadiene, butenes and butanes) from cracking to the above products, thus achieving a full use of existing hydrocarbons in this section.

The main market for Oxeno is Europe, followed by Asia.
---
September 20, 2010
Evonik sets the course for the future of its carbon blacks business
Decision to divest the global carbon blacks business
Strong position opens up new perspectives
EVONIK is planning to divest its carbon black business, which it says does not fit with its plan to focus on products with above-average growth prospects.

Evonik is the second-largest producer of carbon black in the world, after Cabot. The business had sales of around Euro1b ($1.3b) in 2009 and employs 1700 people.

The company's chairman Klaus Engel says that after a weak 2009, the business is expected to make a good profit this year. He adds: "We are actively utilising the opportunities offered by this strong position to open up new perspectives for the carbon black activities. Now is the right time to extend and secure their global presence through a change of ownership."
Evonik Industries has decided to divest its carbon blacks business. Klaus Engel, Chairman of the Executive Board of Evonik Industries AG: "Our declared aim is to find a solution that is equally convincing for customers, employees and business partners. The decision to divest this business provides the best basis for sustained investment in carbon blacks, new growth prospects and for securing future-oriented jobs in the long-term."

Evonik's carbon blacks business ranks second in the world and has strong and established brands. It has 1,700 employees in twelve countries and sales of around Euro 1 billion. Carbon black is an attractive business. Following the sharp market downturn during the crisis in 2009, this year earnings will rebound to the good level registered in 2008. Klaus Engel: "We are actively utilizing the opportunities offered by this strong position to open up new perspectives for the carbon black activities. Now is the right time to extend and secure their global presence through a change of ownership."

About 80 percent of Evonik's chemicals business ranks among the market leaders. The Group adopted a new strategic focus at the end of 2009, and has announced that it will be further streamlining its portfolio and focusing investment even more clearly on key growth markets. Strategic portfolio development is aligned to the three global megatrends: resource efficiency, health & nutrition, and globalization of technologies. In this way, Evonik aims to sharpen its profile as one of the world's leading specialty chemicals corporations. The Executive Board has therefore decided to concentrate investment on areas with above-average growth potential. Given this, together with the increasing consolidation of the sector and the rising significance of Asian markets, Evonik sees better perspectives for the carbon blacks business outside the Group. The carbon black activities are no longer defined as part of Evonik Industries' core business and have already been carved out to a separate legal entity.

Evonik manufactures and markets carbon blacks for the rubber and tire industries and pigment blacks for applications including coatings, plastics, printing inks and toners.

Since the start of this year Evonik has been intensively examining the options for the value-oriented development of this business. It has now engaged an investment bank to prepare the divestment.
About Evonik
Evonik Industries is the creative industrial group from Germany. In our core business of specialty chemicals, we are a global leader. In addition, Evonik is an expert in power generation from hard coal and renewable energies, and one of the largest private residential real estate companies in Germany. Our company's performance is shaped by creativity, specialization, continuous self-renewal, and reliability.
Evonik is active in over 100 countries around the world. In its fiscal year 2009 about 39,000 employees generated sales of about ?13.1 billion and an operating profit (EBITDA) of about ?2.0 billion.
RAG Stiftung 74.99%
CVC Capital Partners 25.01%
   Evonik industries AG
     Evonik Dugussa GmbH
     Evonik Steag GmbH
     Evonik Immobilien GmbH.
スペシャリティケミカル分野をリードする

エボニックの化学部門はスペシャリティケミカルという魅力的な分野で活動しています。エ ボニックはスペシャリティケミカル分野で世界最高の企業に属しています。売上高の80%以上は、エボニックが既にマーケットリーダーとなっている事業活動 からのものであり、このポジションは組織的に上昇しています。これを達成するために、エボニックはマーケットとお客様のフォーカスや我々の活動のすばらし さを着実に改善することや、魅力的な成長分野におけるより顕著な存在を確立すること、エボニックの技術革新によって生じる刺激にフォーカスすることに専念 しています。収益性の高い成長には、マーケット主導型の研究開発と将来的な技術についての活動が必須です。

| | |
| --- | --- |
| Inorganic Materials | Silicas, Silanes |
| Consumer Specialties | PU Foam Additives, Super-absorber |
| Health & Nutrition | Methionine, Precious metal powder catalysts |
| Coatings & Additives | Isophorone Chemistry, Coating Additives |
| Performance Polymers | PA12, Methacrylates |
| Industrial Chemicals | H2O2、1-Butene |

石炭火力発電と再生可能エネルギーに関する専門知識

エ ネルギー部門の主な強みは、高度に効率的な化石燃料発電所を計画、資金提供、建設および操業していることです。エボニックはネットワークに依存しない電力 供給会社として、ドイツ国内で9ヶ所の石炭火力発電所と2ヶ所の石油精製発電所を運営しています。エボニックはコロンビア、トルコ、フィリピン国内に国際 的に主要な石炭火力発電所を所有しています。定格出力は9,500メガワット(MW)以上で、このうちドイツ国内での出力は約7,900 MWです。エボニックは原材料への圧力を軽減する硬質炭に関する効率的な最新世代のテクノロジーのパイオニアです。エボニックは成長の速い将来の再生可能 エネルギー源のマーケットで優位なポジションにおり、ドイツにおける坑内ガス、バイオマス、地熱エネルギーのマーケットリーダーの一つとなっています。

地域マーケットにおける高品質プロバイダー

不 動産部門では主にドイツのノルトライン・ヴェストファーレン州を中心に住宅を約60,000軒所有しているほか、75,000以上の住宅を所有するTHS GmbHの株式の50%を保有しています。したがって、エボニックはドイツにおける民間住宅のリーディングカンパニーの一つであり、その事業は個人住宅に 集中しています。

Degussa は1999年にHuls と合併してDegussa-Huls となり、2001年にSKW Trostberg と合併して再度 Degussa と改称した。
2000年6月に両社の親会社が合併してE-On となったが、2003年にRAGがDegussa の50.1%をE.Onから買収し、最大株主となった。→ 100%

Essen, 3 June 2008. Funds advised by CVC Capital Partners ("CVC") have agreed to acquire a 25.01 percent stake in Evonik Industries AG from the RAG Foundation for a purchase price of approximately 2.4 billion Euros announced Wilhelm Bonse-Geuking, CEO of the RAG Foundation. The transaction is subject to antitrust approval.


Evonik Industries は化学、エネルギー、不動産の3部門から成る。Degussa (化学子会社), Steag (エネルギー子会社)と RAG Immobilien (不動産子会社)は新会社に統合され、これらの名前は消える。

付記 Chemical Business Area (旧 Degussa) の事業は以下の通り。

| | | |
| --- | --- | --- |
|   Industrial Chemicals   |   | C4-Chemistry and Building Blocks |
|   Inorganic Materials    |   | Aerosil & Silanes and Advanced Fillers & Pigments |
|   Consumer Specialties |   | Care & Surface Specialties and Superabsorber |
|   Health & Nutrition |   | Feed Additives and Exclusive Synthesis & Catalysts |
|   Coatings & Additives |   | Coatings & Colorants and Specialty Acrylics |
|   Performance Polymers |   | High Performance Polymers and Methacrylates |

2008年4月30日、Evonik は RAG がDegussa 取得から所有していたRUTGERS Chemicals を投資会社 TRITON に売却する契約を締結した。

RUTGERS Chemicals は世界最大のコールタール精製メーカーで、また、アルミや製鉄向けのピッチ、ナフタリンを製造。  

Evonik は造語で、「新しく・クリエイティブで・革新的」という意味が込められているという。

ドイツの石炭採鉱部門はRAGの名前で残り、Evonikには加わらない。

Evonik Industries は世界の100カ国以上で活動しており、2006年の従業員は43千人、売上高は148億ユーロ、営業利益は12億ユーロを超える。
 
Chemicals
Energy
Real Estate
全社
合計
2009
2008
2009
2008
2009 
2008
2009
2008
2009
2008
Sales
 9,978
 11,762
 2,558
 3,399
 378
  375
  162
  337
 13,076
 15,873
EBITDA
1,602
1,626
418
517
183
217
-178
-195
2,025
2,165
Operating Income
698
575
310
478
133
162
-246
-323
895
892
Net Income
 
 
 
 
 
 
 
 
240
281
---
August 1, 2011 Evonik Evonik sets the course for the future of its carbon blacks business
Evonik successfully closes divestment of its carbon black business

Evonik Industries successfully completed the divestment of its carbon black activities on July 29, 2011. The new owners are the investors Rhône Capital and Triton Partners. Including the assumption of certain obligations, the transaction is valued at over €900 million. The carbon black business generated sales of around €1.2 billion in fiscal 2010. The business has been acquired intact as a whole, with its approximately 1,650 employees, about 500 of whom are based in Germany. Evonik Carbon Black was renamed upon transfer and now operates as Orion Engineered Carbons.

"This divestment shows that Evonik is continuing to focus systematically on its core specialty chemicals business. At the same time, we are pleased to transfer the carbon black business to a new owner who is able to realize promising growth perspectives," comments Klaus Engel, Chairman of the Executive Board of Evonik Industries.

Orion Engineered Carbons Chief Executive Officer Jack Clem commented: "We are indeed pleased with the results of this process. Rhône and Triton offer our business the opportunity to meet its full potential with investments in technology and people. Our customers and employees can be confident that we will continue our successful growth as a global leader in carbon black."

Following careful analysis of the strategic options, in September 2010 Evonik's Executive Board decided to exit the carbon blacks business completely. The divestment process started in November 2010 and the contracts were signed on April 16, 2011.
 
---
May 19, 2014

Evonik commences isophorone facilities in China

Evonik Industries has commenced an integrated production complex for isophorone and isophorone diamine in Shanghai, China. The company has invested over €100 million in the facilities, which will have an annual output capacity of 50,000 metric tons. Construction in the Shanghai Chemical Industry Park (SCIP) took less than two years. Evonik primarily plans to use the output of the new plants to serve customers in the coatings and paint, construction, adhesives, and composite industry in Asia.

イソホロン(C9H14O)はアセトンの自己縮合により製造される。
溶媒として、インクやペンキ、ラッカー、接着剤、コポリマー、被覆材、仕上げ材、殺虫剤に用いられる。合成中間体、あるいは木製品の保存剤や床の防水剤としての用途もある。
"The new plant continues our successful growth story in isophorone chemistry. We are now represented in the three major economic zones, Europe, NAFTA, and Asia, with fully backwards integrated production facilities to tap into attractive new growth opportunities," said Patrik Wohlhauser, Member of the Evonik Industries Executive Board and Chief Operating Officer.

Evonik has fifty years of experience with isophorone chemistry and continuously improves its process technologies. So far products based on isophorone (crosslinkers) were being manufactured in Marl and Herne, Germany, and in Mobile, USA.

"Evonik is the only company worldwide to cover the entire supply chain of isophorone and its derivatives. We now are in a position to quickly and reliably supply our customers in China and other Asian countries from our regional production, consistently offering products of high quality and purity," explains Dr. Ulrich Küsthardt, Head of the Coatings & Additives Business Unit.

In addition to the new production complex, Evonik built an application technology service center with state-of-the-art laboratories at the Xinzhuang site in Shanghai. The custom-tailored isophorone solutions will strengthen the competitiveness of Asian customers.
---
2014/7/14 Evonik
Evonik and Chinese partner GCL planning to build plants for silicon compounds in China
Capacities of more than 20,000 metric tons planned
Construction and automotive industries in China driving demand for fumed silica
Expansion of Chinese communications and IT infrastructure requires ultra-pure silicon tetrachloride for fiber-optic cables
Start of operation planned for 2016
Evonik Industries and Jiangsu Zhongneng Polysilicon Technology Development Co. Ltd.(江蘇中能矽業科技發展有限公司), a wholly owned subsidiary of GCL-Poly Energy Holdings Limited (GCL-Poly 保利協鑫能源控股有限公司), have signed a letter of intent to establish a joint venture for the production of fumed silica and ultra-pure silicon tetrachloride in China.
Evonik will hold a 60 percent share in the joint venture. The plants, which will have an annual capacity of over 20,000 metric tons, will be built in Xuzhou徐州市 (Jiangsu Province, China) and are scheduled to start-up operation in 2016. The entire project has yet to be approved by the executive bodies.

As a listed company on the Hong Kong Stock Exchange (stock code: 3800 HK), GCL-Poly specializes in the generation of green and conventional energy.
Jiangsu Zhongneng, a wholly owned subsidiary of GCL-Poly, is a global leading manufacturer of polycrystalline silicon (PCS). Silicon tetrachloride is a byproduct of PCS production, and the joint venture will purchase this to produce AEROSIL® fumed silica and Siridion® STC HP ultra-pure silicon tetrachloride.
AEROSIL®
エボニック のアエロジルは製造工場、テクニカルサービスセンター、リサーチセンター、事業所など、ヨーロッパ・アメリカ・アジアの95カ国100箇所で皆様により身近にサービスを提供しております。
クロロシラン Siridion®
"By making the planned investment we are aiming to further strengthen our market position for fumed silica and ultra-pure silicon tetrachloride and to promote growth, particularly in the attractive Chinese market," said Klaus Engel, CEO of Evonik Industries. "In GCL we have found a strong partner for this."
 
"Dedicated to promoting the application of solar energy worldwide, GCL-Poly is the largest global supplier of photovoltaic materials. This cooperation can combine Evonik's advanced technologies of producing silica and ultra-pure silicon tetrachloride with Jiangsu Zhongneng's leading technologies of silicon material production. The partnership will enhance GCL-Poly's overall competitiveness by diversifying the silicon products, better serving its main business, and meeting market demand," said Zhu Gongshan, Chairman of GCL-Poly. "Evonik is a perfect partner for long term cooperation."

"The collaboration between leading manufacturers of PCS and fumed silica is an ideal combination," said Dr. Johannes Ohmer, head of the Inorganic Materials Business Unit. "Together we will establish an efficient, competitive production for AEROSIL® and Siridion® in China, which will enable us to supply our customers locally with high-quality products and solutions for growing markets."

The main drivers of the positive market development for AEROSIL® fumed silica in China are the silicone industry for adhesives and sealants in buildings and vehicles as well as gel batteries, used in e-bikes, for example. Ultra-pure silicon tetrachloride, marketed under the Siridion® STC HP brand name, is used in the fiber optics needed to expand China's communications and IT infrastructure. The growth rate for ultra-pure silicon tetrachloride in China is well above the growth rate for the global market. Half of the demand for fiber optics worldwide now comes from China.

Evonik is one of the leading manufacturers of silica and ultra-pure silicon tetrachloride. Apart from AEROSIL® fumed silica, the specialty chemicals company produces precipitated silica for tires with low rolling resistance, for instance. Overall, Evonik has a global capacity of over 500,000 metric tons per annum for precipitated and fumed silica as well as matting agents. In addition to ultra-pure silicon tetrachloride, Evonik markets a portfolio of ultra-pure chlorosilanes for the electronics industry under the Siridion® brand.
Company information
Evonik, the creative industrial group from Germany, is one of the world leaders
in specialty chemicals. Profitable growth and a sustained increase in the value of the company form the heart of Evonik's corporate strategy. Its activities focus on the key megatrends health, nutrition, resource efficiency and globalization. Evonik benefits specifically from its innovative prowess and integrated technology platforms.

Evonik is active in over 100 countries around the world. In fiscal 2013 more than 33,500 employees generated sales of around €12.7 billion and an operating profit (adjusted EBITDA) of about €2.0 billion.