トップページ
GlaxoSmithKline
GlaxoSmithKline and Pfizer to create a new world-leading, specialist HIV company
GlaxoSmithKline and Stiefel to create new world-leading specialist dermatology business
http://www.gsk.com/about/history.htm
 
 
 
 
1830
John K Smith opens his first drugstore in Philadelphia. John's younger brother, George, joins him in 1841 to form John K Smith & Co.

1842
Thomas Beecham launches the Beecham's Pills laxative business in England. The laxative is to become widely successful.

 
 
1865
Mahlon Kline joins Smith and Shoemaker - as John K Smith and Co had become - as a bookkeeper.
1859
Beecham opens the world's first factory to be built solely for making medicines at St Helens in England.
1873
Joseph Nathan, who left the UK to seek new business opportunities 20 years before, establishes a general trading company at Wellington in New Zealand - Joseph Nathan and Co - the foundation for the Glaxo company to be formed later.

1880
Burroughs Wellcome & Company is established in London by American pharmacists Henry Wellcome and Silas Burroughs, four years after Joseph Nathan opened a London office.

1875
Mahlon Kline took on additional responsibilities as a salesman and added many new and large accounts. He is rewarded when the company, Mahlon K Smith and Company, is renamed Smith, Kline and Company.

1885
Thomas Beecham's company acquires headquarters on the corner of Silver Street and Water Street, St Helens, England. Two years later, the company's new factory in St Helens becomes the first in the area to have electricity.

 
1884
Tabloid is registered as a Burroughs Wellcome and Company trademark to describe its compressed tablets.

1891
Smith, Kline and Company acquires French, Richards and Company, providing a greater portfolio of consumer brands.

 
1906
Glaxo is registered by Joseph Nathan and Co as a trademark for dried milk.

1902
The Wellcome Tropical Research Laboratories open.

1929 Smith, Kline and French Company is renamed Smith Kline and French Laboratories and becomes more focused on research.
 
1947 Glaxo Laboratories Ltd absorbs the Joseph Nathan company and becomes the parent company. Glaxo is listed on the London Stock Exchange.

1936 Sir Henry Wellcome's will leaves sole ownership of The Wellcome Foundation Ltd to a UK medical research charity, today called the Wellcome Trust. Sir Henry Dale of Wellcome is awarded the Nobel Prize for Medicine for his work in the chemical transmission of nerve impulses.
 
 
1958 Glaxo acquires Allen and Hanburys Ltd.

 
1982 SmithKline acquires Allergan, an eye and skincare business, and merges with Beckman Instruments Inc, a company specialising in diagnostics and measurement instruments and supplies. The company is renamed SmithKline Beckman.
 
1978 Through the acquisition of Meyer Laboratories Inc, Glaxo's business in the US is started, to become Glaxo Inc from 1980. The broad-spectrum injectable antibiotic Zinacef (cefuroxime) is introduced by Glaxo.
 
1989 SmithKline Beckman and The Beecham Group plc merge to form SmithKline Beecham plc.
1995 Glaxo and Wellcome merge to form Glaxo Wellcome.
2000 GlaxoSmithKline formed through the merger of Glaxo Wellcome and SmithKline Beecham.
---
April 16, 2009 GlaxoSmithKline
GlaxoSmithKline and Pfizer announce innovative agreement to create a new world-leading, specialist HIV company
Creates a new focused HIV business with the independence and sustainability to deliver significant improvements in treatment, access and shareholder value
Renews focus on HIV with industry-leading pipeline to deliver more new HIV treatments
Equity split of 85% GSK and 15% Pfizer
GlaxoSmithKline plc (GSK) and Pfizer Inc (PFE) today announced they have entered into an agreement to create a new world-leading HIV company focused solely on research, development and commercialisation of HIV medicines. The new HIV business will be more sustainable and broader in scope than either company's individually, and will hold a 19% share of the growing market and have an industry-leading pipeline. GSK will initially hold an 85% equity interest in the new company and Pfizer will hold 15%.
Focused new business with industry-leading HIV pipeline
The new company will have a broad product portfolio of 11 marketed products including market-leading therapies such as Combivir, Kivexa and Selzentry/Celsentri. Based on 2008 pro-forma results, this combined portfolio generated sales of approximately £1.6 billion and these revenues will provide the new company with financial stability and support investment in its pipeline.
The clear focus of the new business will be to invest in research and development of innovative HIV treatments and formulations that improve adherence and overcome resistance to the virus.
The company will have an industry-leading pipeline of 6 innovative and targeted medicines, including 4 compounds in phase II development. Altogether, the new company will have 17 molecules at its disposal to develop in fixed-dose combinations as possible new HIV treatments. The new company will contract R&D services directly from GSK and Pfizer to develop these medicines.
日本経済新聞

新会社はHIV関連薬で計11製品をそろえ、売上高は24億ドル(約2400億円)にのぼる。2ケタ成長が見込める抗HIV薬市場ではシェア19%を握る大手となる。新薬候補物質も6品目あり、うち4品目が開発中期の段階にある。

GSKは主力の抗ウイルス事業を強化。ファイザーは同業の米ワイス買収で補強したバイオ医薬品の開発に集中する。
---
GlaxoSmithKline and Stiefel to create new world-leading specialist dermatology business  皮膚科
 Stiefel, the world's largest independent dermatology company, acquired by GSK in deal valued at up to $3.6 billion
 New global business will have combined revenues of approximately $1.5 billion and robust new product pipeline
 Significant step forward to grow and diversify GSK's business, providing immediate new revenue and synergy opportunities

GlaxoSmithKline plc (GSK) and Stiefel Laboratories Inc. today announced that they have signed an agreement to create a new world-leading specialist dermatology business. Under the terms of the agreement GSK will acquire the total share capital of Stiefel for a cash consideration of $2.9 billion. GSK also expects to assume $0.4 billion of net debt upon closing. A potential further $0.3 billion cash payment is contingent on future performance. GSK's existing prescription dermatological products will be combined with Stiefel's and the new specialist global business will operate under the Stiefel identity within the GSK Group.


---
2010/5/11 朝鮮日報
グラクソ・スミスクライン、韓国の東亜製薬に9.9%出資
 製薬大手のグラクソ・スミスクライン(GSK)は10日、韓国の東亜製薬に約1300億ウォン(約105億円)を投資し、同社株9.9%を取得するとともに、営業網を共有する内容の戦略的提携関係を結ぶことで合意した。GSKは東亜製薬の新株117万株を取得する。
 東亜製薬は昨年、売上高8010億ウォン(約649億円)を記録した韓国製薬業界最大手。英国系のGSKは昨年、外資系製薬会社としては韓国市場で最高の4342億ウォン(約352億円)を売り上げた。世界全体での売上高は 昨年時点で284億ポンド(約3兆9350億円)で世界5位。
 業界関係者は「GSKが保有する世界的な新薬と東亜製薬の国内営業網の組み合わせは波及効果が大きい。ライバルの韓美薬品が東亜製薬の株式を 8.6%保有しているため、敵対的買収の可能性もささやかれたが、提携によりそうした懸念も弱まる」と指摘した。
2010/5/5 朝鮮日報

東亜製薬、三千里製薬を買収へ

 韓国製薬大手の東亜製薬は4日、中堅製薬会社の三千里製薬を吸収合併することでこのほど合意に達し、買収額など詰めの交渉を進めていることを 明らかにした。買収額は500億ウォン(約42億円)前後とされ、細部の資産評価を行った上で、今週中にも正式発表する。

 三千里製薬の昨年の売上高は361億ウォン(約31億円)で、エイズ治 療薬の原料などを生産している。同社は最近、米食品医薬品局(FDA)から生産設備の認証を受けた。

 買収には東亜製薬、緑十字、韓独薬品などが関心を示していた。東亜製薬による買収には、斗山グループのベンチャー投資会社、ネオプラックスが財務的投資者として加わる。
---
グラクソ、ブリストルのHIV資産を取得
英製薬大手グラクソ・スミスクラインは、米同業ブリストル・マイヤーズ・スクイブが開発中の一連のHIV治療薬を最大15億ドル(約1800億円)で取得する。業績の好調な分野にいっそう力を入れる考えだ。

グラクソはまず3億1700万ドルを支払い、治験が最終段階にあるHIV治療薬を取得する。後に開発過程や目標達成に応じ、マイルストーンペイメントとして5億1800万ドルを支払う可能性がある。

治験が初期段階にあるHIV治療薬のポートフォリオにはまず3300万ドルを支払う。マイルストーンペイメントとして追加する可能性があるのは5億8700万ドルだ。

今回の取引で、グラクソは過半数株を保有するHIV事業の合弁会社、ViiVヘルスケアのパイプラインを拡充できるようになる。ViiVの少数株は米ファイザーと塩野義製薬が保有している。ViiVはHIV治療薬の市場シェアで米バイオ医薬品会社のギリアド・サイエンシズに次ぐ2位。
18 December 2015
GSK's global HIV business ViiV Healthcare to acquire Bristol-Myers Squibb's R&D HIV assets
GlaxoSmithKline plc today announced that its global HIV business, ViiV Healthcare, has reached two separate agreements with Bristol-Myers Squibb, to acquire its late-stage HIV R&D assets; and to acquire Bristol-Myers Squibb's portfolio of preclinical and discovery stage HIV research assets.
Under the terms agreed in the two transactions, ViiV Healthcare will acquire:
Late stage assets, including fostemsavir (BMS-663068), an attachment inhibitor, currently in phase III development for heavily treatment experienced patients. Fostemsavir has received a Breakthrough Therapy Designation from the FDA and is expected to be filed for regulatory approval in 2018. The second late stage asset is a maturation inhibitor (BMS-955176), currently in phase IIb development for both treatment-naive and treatment experienced patients. A back-up maturation inhibitor candidate (BMS-986173) is also included in the purchase.
Assets in preclinical and discovery phases of development including a novel biologic (BMS-986197) with a triple mechanism of action, a further maturation inhibitor, an allosteric integrase inhibitor and a capsid inhibitor. A number of Bristol-Myers Squibb drug discovery employees will also be offered the opportunity to transfer to ViiV Healthcare.
These potential therapies have novel modes of action and would offer significant new treatment options to patients with HIV. In addition to being developed as standalone treatment options, these new assets complement ViiV Healthcare's existing portfolio and therefore offer multiple opportunities for development as combination therapies.
The late-stage asset purchase comprises an upfront payment of $317 million, followed by development and first commercial sale milestones of up to $518M, and tiered royalties on sales.
The purchase of preclinical and discovery stage research assets comprises an upfront payment of $33 million, followed by development and first commercial sales milestones of up to $587M, and further consideration contingent on future sales performance.
David Redfern, Chief Strategy Officer at GSK and Chairman of ViiV Healthcare, said: "These acquisitions strengthen our leadership and innovation in HIV, one of our core areas of scientific research at GSK. The addition of two potential first-in-class late-stage treatments and several promising early clinical development programmes strengthens ViiV Healthcare's pipeline and provides us with further new opportunities for growth."
The two transactions are anticipated to complete independently during the first half of 2016, subject to necessary approvals, anti-trust and regulatory clearances.
GSK has been a leader in research and development of HIV since the 1980s, with the development of the world's first breakthrough medicine for HIV patients, Retrovir (zidovudine). Development of new treatment options has continued, with Tivicay (dolutegravir) and Triumeq (dolutegravir/ abacavir/lamivudine), the most recent successful innovation. Research programmes are ongoing to develop new treatments and improve drug regimens, including the investigational long-acting integrase inhibitor, cabotegravir. Established in 2009, ViiV Healthcare is a specialist global HIV company, majority owned by GSK, with Pfizer and Shionogi as other shareholders.
GSK – one of the world's leading research-based pharmaceutical and healthcare companies – is committed to improving the quality of human life by enabling people to do more, feel better and live longer. For further information please visit www.gsk.com.
---
GlaxoSmithKline to 'drop patents in poor countries for better drug access'

Pharmaceutical firm GlaxoSmithKline has said it wants to make it easier for manufacturers in the world's poorest countries to copy its medicines.

The British company said it would not file patents in these countries.

Chief executive Sir Andrew Witty said he wanted to take a "graduated" approach to the company's "intellectual property" based on the wealth of nations around the globe.

Experts have described the plans as "brave and positive".

GSK hopes that by removing any fear of it filing for patent protection in poorer countries it will allow independent companies to make and sell versions of its drugs in those areas, thereby widening the public access to them.

'Clear and simple'

Sir Andrew said he hoped Africa would benefit most from the move.

In accordance with international guidelines set out by the United Nations and World Bank, the company has drawn up a list of 50 countries with a combined population of about 1 billion people, where it has said it will not file for patents.

In what GSK describes as lower middle income countries it will continue to file patents, but will grant licences to generic manufacturers in exchange for a "small royalty".

Sir Andrew added: "The changes we are setting out aim to make it as clear and simple as possible for generic manufacturers to make and supply versions of GSK medicines."

The company has said it also wants to put all its future cancer drugs into a Medicines Patent Pool in an effort to address what it described as "the increasing burden of cancer in developing countries".
医薬品特許プール(The Medicines Patent Pool、MPP)は、HIV治療へのアクセスを高め世界的に新しいイノベーションを促すため、UNITAIDによって2010年に創設された国連支援組織である。同財団は既存医薬品の低コスト版(ジェネリック薬)の製造に向けて、特許ライセンスを交渉するという新しい健康アプローチを提供し、メーカーと協力して子供に適した多剤混合薬(FDC)および製剤など、必要とする新しいテクノロジーの開発を奨励する。MPPは今日までに、医薬品メーカーが同組織からライセンスを受けた8種の抗レトロウイルスと6種のジェネリック薬でライセンス契約を結んでいる。

医薬品特許プール(The Medicines Patent Pool、MPP)とViiV Healthcare は2014年4月2日、HIV治療薬に関する新たなコラボレーションを発表し、成人および小児医療向けの新しい有望な抗レトロウイルス薬(ARV)、ドルテグラビル(dolutegravir、DTG)へのアクセス強化に対する2つの契約を結んだ。
契約は2013年に発表されたMPP-ViiV提携関係に基づいている。現行の提携関係は、小児ARVおよび世界保健機関(WHO)推奨による子供向けの主たる抗レトロウイルス薬に関する広範なコラボレーションが含まれる。ViiVはMPPに対して、ドルテグラビル(DTG)に対する2つのライセンスを供与する。その1つは成人向けに同治療薬を製造すること、もう1つは小児用のそれである。2つのライセンスによって世界のどこにあってもジェネリック薬メーカーは、アバカビル(ABC)を含めてその他のジェネリック薬をDTGと混合する権利とともに、1回の服用形式で2つもしくはそれ以上の活性医薬品となる多剤混合薬(FDC)を開発する権利を与えられる。
The patents pool was established in 2010 and has proved successful in accelerating access to treatments such as HIV, tuberculosis and hepatitis C through voluntary licensing arrangements, which allow generic versions of GSK's drugs to be made and distributed in poorer countries.

Expanding the pool to include cancer drugs will "add to the wider contribution GSK makes to improve access to effective healthcare around the world", the company said.

Sir Andrew added: "The experience GSK has with the Medicines Patent Pool for Tivicay - our newest HIV medicine and one of our most commercially successful products - gives us confidence that increasing access, incentivising innovation appropriately and achieving business success can go hand in hand."

GSK said it would continue to seek full patent protection in richer parts of the world.

'Broadening access'

Prof Raymond Hill, former President of the British Pharmacological Society, said GSK's plans set a precedent for other major pharmaceutical companies to follow.

He said: "This is a brave and positive step towards broadening the access to important new medicines in the developing world.

"The impact of this move on the treatment of cancer and other diseases in each individual country will depend on whether there is a local adequate healthcare infrastructure that will allow the safe use of powerful new drugs in an appropriate group of patients.

"Many new cancer drugs are most valuable when used in sub-groups of patients identified by advanced diagnostic techniques that may not be available."

Prof Alan Boyd, from the Royal Colleges of Physicians, described the plans as "good news" and "significant"

He added: "Access to medicines for patients on a global basis is vital and it is good to see an innovative approach like this to ensure this happens."
--------
Building on this perspective, GSK is evolving its graduated approach to filing and enforcing patents so that IP protection reflects a country's economic maturity.
For Least Developed Countries (LDCs) and Low Income Countries (LICs), GSK will not file patents for its medicines, so as to give clarity and confidence to generic companies seeking to manufacture and supply generic versions of GSK medicines in those countries.
For Lower Middle Income Countries (LMICs) generally, GSK will file for patents but will seek to offer and agree licenses to allow supplies of generic versions of its medicines for 10 years. GSK intends to seek a small royalty on sales in those countries. This offer will apply even for those countries that move out of LMIC status due to increased economic growth during this period.
For High Income Countries, Upper Middle Income Countries and G20 countries, GSK will continue to seek full patent protection. These would include the large emerging markets of Brazil, China and India, with the latter being the source of fierce disputes over patents. Any GSK medicines on the WHO's list of essential medicines will be included in these changes.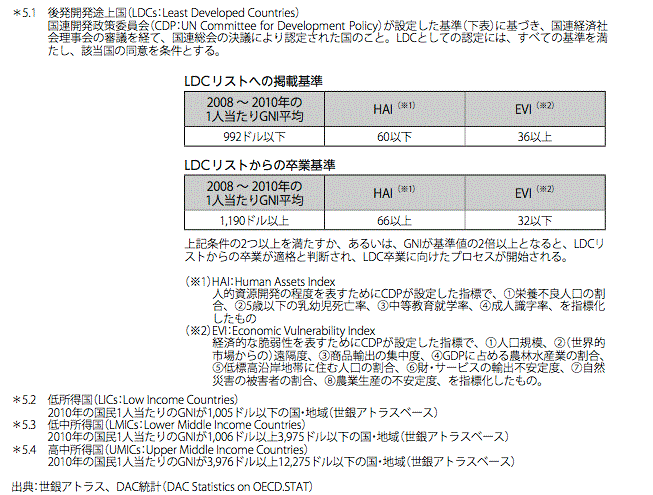 国連 開発援助委員会 (DAC)