Lotte Chemical
http://english.lottechem.com/01_Introduce/index.asp
Honam Petrochemical and KP Chemical merged into a new company
January 11/2013
Honam Petrochemical and KP Chemical to merge into Lotte Chemical Corporation

A major South Korean pertochemical and polymer producer, Honam Petrochemical, and one of the largest South Korean PET and PTA producer, KP Chemical, has decided to merge into a new company with a new name Lotte Chemical Corporation, wrote Soo Young Huh, the President and CEO of Lotte Chemical Corporation, in his letter to the company's business partners.

After undergoing a sizable growth, Honam Petrochemical Corp and Kp Chemical Corporation took one step further through a merger between the two companies, which was effective as of December 27, 2012.

The name of the new company will be LOTTE CHEMICAL Corporation. The newly formed company believes that this move will strengthen its position both in domestic and international markets and is in a line with Lotte Chemical's strategy to become a leading global company.

Honam Petrochemical Corporation is a South Korean producer of petrochemicals and polymers with its businesses comprising of polyethylene (PE), high density polyethylene (HDPE), polypropylene (PP), mono ethylene glycol (MEG), ethylene, propylene, benzene, compound polypropylene, and other petrochemical products, providing plastics, synthetics and basic chemicals. It holds the largest shares in HDPE, polyethylene and MEG in the Korean market. The company also supplies its production to the Russian market. As per MRC DataScope, in January-November, 2012, the import volumes of polymers by Honam Petrochemical to Russia amounted to about 36,000 tonnes, out of which PE makes 25,346 tonnes, PP - 5,326 tonnes, PET - 5120 tonnes. It is worth noting that in 2011 the company did not deliver its material to the Russian market.

KP Chemical Corporation is one of the largest South Korean polymer companies, which annually produces 740,000 tonnes of paraxylene, 955,000 tonnes of PTA and 446,000tons of PET by using the vertically combined production system established in the Ulsan Plant Complexes 1 and 2. More than 90% of the company's products are exported throughout the world. The major markets pioneered through the company's robust sales network are China, Russia and Europe. According to MRC DataScope, the import volumes of KP Chemical to Russia declined almost twice in January-November, 2012, and amounted to 31,400 tonness, while during the same period of 2011, this index made about 61,000 tonness. Despite the sharp decline in sales in Russia, KP Chemical continues to occupy the leading position among foreign producers in the Russian PET market.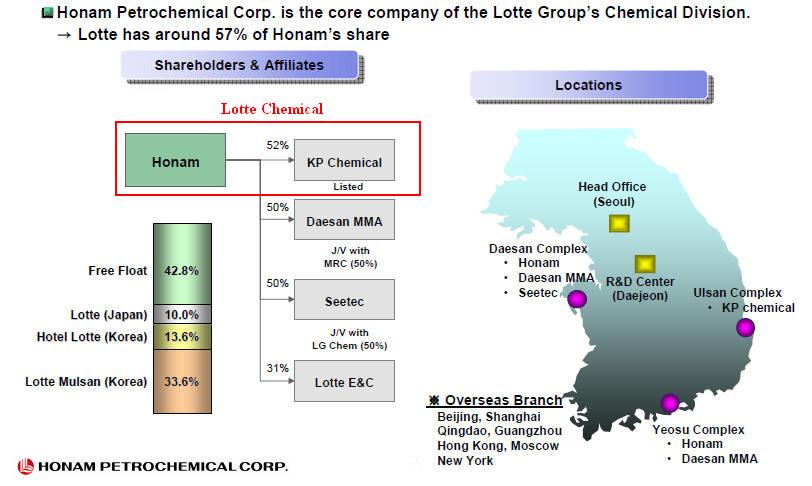 ---
ロッテケミカル、米石化プラントに投資
ロッテケミカルは18日、米石油化学メーカーのエクシオールとルイジアナ州に合弁でエタン分解プラントを建設するため、2兆9000億ウォン(約3230億円」を投資する内容の契約を結んだと発表した。
同プラントではシェールガスに産出するエタンを使い、石油化学原料のエチレンなどを生産する。石油製品のナフサからエチレンを生成するよりも効率が高い。両社は昨年2月、出資比率を折半出資とすることで合意していたが、今回の本契約ではロッテケミカル90%、エクシオール10%に変更された。
プラント稼働後、ロッテケミカルのエチレン生産量は現在の年280万トンから370万トンに増える見通しだ。
ーーーー
2015/6/19 manufacturing.net
Lotte Chemical Investing $2.6B In Two Joint Ventures

Korea-based Lotte Chemical Corp. has announced two joint ventures worth $2.9 billion that will help produce fabrics for Japan's Mitsubishi.

The first venture is for an ethane cracker plant. Its site hasn't been finalized but it is anticipated to be near Lake Charles, La.  

Lotte will hold 90 percent of the plant and Axiall will hold 10 percent. The companies anticipate that the plant will produce a million tons of ethylene a year.
Georgia Gulf は2013年1月にPPG Industriesのcommodity chemical divisionと合併し、Axiall Corp.となった。
Ethylene from the plant will then be used to make 700,000 tons of ethylene glycol, an ingredient used in polyester fibers for Mitsubishi. The ethylene glycol will be processed in a plant adjacent to the cracker that Lotte will hold a 70 percent stake in, with Mitsubishi holding the rest.
According to regulatory filings seen by Reuters the project will also be run as a joint venture, this time with Japan's Mitsubishi Corporation.
The plans still need approval from the companies' boards of directors.

Lotte Chemical owns three crackers in Asia that produce more than 2.8 million metric tons of ethylene annually.
"We are pleased to affirm our partnership with Axiall to develop a world-scale ethane cracker fed by U.S. shale gas," said Soo Young Huh, Lotte Chemical CEO. "This investment will build on Lotte Chemical's global ethylene construction and operating capabilities and increase our manufacturing presence in the North American market."
ーーー
Business Korea
Lotte Chemical Corp. plans to set up a shale gas-based ethane cracker plant in the U.S. It is a large overseas chemical plant business with investment approaching 3 trillion won (US$2.72 billion).

Lotte Chemical and Axiall Corp. of the U.S. have finalized their joint venture arrangements to construct the ethane cracker plant in Louisiana on June 17 (local time). The project will produce ethylene, a basic petrochemical raw material derived from existing crude oil using shale gas-based ethane gas instead of naphtha.

Previously, the two companies had signed a basic contract for a joint venture in Feb. last year. With the final contract this time, they changed the amount of ownership and project details. At the time of the basic contract, Lotte Chemical and Axiall held a 50-50 ownership agreement. However, it was decided that Lotte Chemical will invest 90 percent while Axiall invests 10 percent in the plant.

With the change of ownership percentages, Lotte Chemical and Axiall will take 900,000 tons and 100,000 tons of ethylene, respectively, from an annual production capacity of 1 million tons of ethylene. Lotte Chemical agreed to sell 400,000 tons to Axiall, securing a stable source of demand.

Lotte Chemical will use the remaining 500,000 tons of ethylene to make ethylene glycol (EG) as planned earlier. The company is currently considering cooperating with Mitsubishi of Japan in a bid to stable its EG business, which was supposed to be run by itself. If so, Lotte will hold a 70 percent stake in the business, with Mitsubishi holding the rest. EG is often used in making synthetic fibers and automotive engine antifreeze fluid.

Combining the ethane cracker plant and EG business, the investment for the project is estimated at 2.9 trillion won (US$2.63 billion). However, both companies will decide the final investment in the second half of this year when the plan for engineering, procurement, and construction (EPC) becomes clear. They plan to begin commercial production at the end of 2018. Through the joint project, Lotte Chemical expects to generate US$1.5 billion (1.65 trillion won) in revenue every year from 2019.

Since the production cost of ethylene produced in an ethane cracker plant is a third of that produced in a naphtha cracker plant, petrochemical companies scramble to invest in the sector in order to reduce costs and diversify raw materials.

Once the joint venture with Axiall starts commercial production, the annual ethylene production capacity of Lotte Chemical will increase from the current 2.8 million tons to 3.7 million tons.

An official from Lotte Chemical said, "The project will reduce dependence on naphtha and increase the use of low-priced gas together with the Surgil chemical complex project in Uzbekistan, which will be completed in the second half of this year. It will play a crucial role in strengthening its global competitiveness through diversifying raw materials, production bases and sales areas."
ウズベキスタン

ウズベキスタンのアラル海に近いSurgil ガス田を開発し、ガス化学プラントを建設する総額41億6千万ドル規模の超大型プロジェクト契約が8月23日に締結された。

2006年に韓国ガス公社(KOGAS) とウズベキスタン国営ガス公社(UNG) が了解覚書を締結し、2008年に双方が50%ずつ出資する合弁会社(Uz-Kor Gas Chemical) を設立し交渉を続けてきた。

UZ-KOR 株主

ウズベキスタン
Uzbekneftgaz(UNG)
50.0%
韓国
韓国ガス公社(KOGAS)
17.5%
湖南石油化学
(当初は子会社のロッテ大山石化)
17.5%
STX Energy(双竜グループ)
5.0%
LG International

5.0%

SK Gaz

5.0%

今回、GS Engineering & Construction、Samsung Engineering、Hyundai EngineeringとUNG、UZ-KORがガス田開発とパイプライン建設に対する契約を結んだ。韓国3社はまた、ガス設備、エタン分解設備、エチレン製造工場、付帯設備などの契約文書に署名した。

Surgil のガス埋蔵量は1300億立方メートルで、液化天然ガス換算で9600万トン、原油換算で8億3000万バレルに上る。

2011/8/29  韓国の李大統領、中央アジア3か国歴訪、ガス田開発、石化事業などで合意 

Ustyurt GCC(gas-chemical complex)at Surgil field will process 4.5 bcm of gas and annually from gas-condensate Surgil, East Berdakh and North Berdakh fields and other fields respectively.
The processed products shall include 400 thousand tons of high-density polyethylene (HDPE), 100 thousand tons of polypropylene, sales gas, py-gas and py-oil. In addition, the Ustyurt GCC shall sell excess electricity generated in excess of its needs.

June 21, 2012
KBR announced today that it will provide an integrated technology, engineering, procurement and construction support solution for Uz-Kor Gas Chemical's flexible feed, 400,000 metric ton per year ethylene plant in the Ustyurt region of Uzbekistan. The plant will be the first ethylene plant based on KBR's license in Uzbekistan and will utilize KBR's proprietary SCORE™ (Selective Cracking and Optimum Recovery) technology.
---
Lotte Chemical Steps Into Battle for Axiall
 South Korean group is offering more than $2.6 billion for U.S. company

A top South Korean conglomerate has lobbed an unsolicited bid of more than $2.6 billion into an already messy U.S. proxy battle, becoming the latest Asian company to make waves in its hunt for overseas assets.

The offer from Lotte Chemical Corp. , disclosed in a regulatory filing Tuesday morning in Seoul, injects Lotte into a battle for control of Atlanta-based Axiall Corp. Earlier this year, the U.S. chemicals company rejected two unsolicited bids from Houston-based Westlake Chemical Corp. as "opportunistic and inadequate."
2016/2/4 Westlake Chemical、Axiall に14億ドルでの買収を提案、拒否される

Westlakeは4月4日、新提案を行った。

買収額は約15億ドルの債務込みで31億ドル、ネットで16億ドル(←14億ドル )となる。
Westlake has launched a proxy fight, and is urging shareholders to approve its slate of candidates to replace the board of Axiall at Axiall's annual shareholders meeting on June 17.

Lotte Chemical has teamed up with Axiall in the past on investment projects in the U.S., and it might be hoping its offer will get a friendlier greeting than Westlake's. Axiall and Westlake spokesmen couldn't immediately be reached for comment Tuesday after Lotte disclosed its bid.
韓国の Lotte Chemicalは2015年6月18日、ルイジアナ州に2つの石油化学JVを設立すると発表した。

第一のJVはシェールガスに付随するエタンを分解し、エチレンを生産するもので、 Lotte Chemicalが90%、Axiall Corp.が10%出資する。
立地は最終的には決まっていないが、Lake Charles近郊とされている。

2015/6/22 韓国 Lotte Chemical、米国で石油化学
Asian companies are taking up more bidding wars for overseas targets, highlighting their rising confidence as they seek growth abroad. This year's 17 such unsolicited takeovers—either pending or completed—is the highest number at this point since 2008, and the $54.9 billion deal value is a record, according to Dealogic.

Lotte's bid is among the largest, but the bulk of these uninvited Asian offers come from ambitious Chinese companies such as Anbang Insurance Group Co., whose failed $14 billion bid for Starwood Hotels & Resorts Worldwide Inc. attracted global attention in March.

Unsolicited bids are relatively uncommon in the world of big acquisitions; most pursuers opt instead to negotiate in private with a company's management before placing a public offer. These Asian bids also stand out for their size: In many instances this year, they have represented a big premium to their foreign rivals'.

Lotte Chemical's bid is a relatively modest one by that measure. And in general, South Korean companies haven't often shown as much appetite as Chinese companies for entering U.S. takeover battles uninvited.

When they have, they haven't always gotten results. The largest of these offers— Samsung Electronics Co. 's $5.85 billion bid for U.S.-based SanDisk Corp. in 2008—was withdrawn after several rebuffs.

The size of Lotte Chemical's bid wasn't disclosed in the regulatory filing, and a spokeswoman for the Lotte Group said only that it was more than three trillion won ($2.6 billion). Axiall's market capitalization was $1.6 billion, based on Monday's closing price in New York. Its shares were up 9.4% at $25.49 on Tuesday morning.

If successful, a deal would further consolidate the chemicals sector, following the merger of DuPont Co. and Dow Chemical Co. , announced in December, and ChemChina's $43 billion acquisition of Swiss seed and pesticide company Syngenta AG , expected to close this year.

Westlake's initial bid came in January, after a bruising 2015 for Axiall, when falling sales and profit sent its share price tumbling 64%. After being snubbed, Westlake sweetened its offer to $3.1 billion, including the assumption of $1.5 billion in debt.

Lotte Chemical's bid comes at a delicate time for South Korea's fifth-largest conglomerate, whose interests are as diverse as chemicals and chewing gum. Last year it went through a boardroom coup in which Shin Dong-bin, second son of Lotte's nonagenarian founder, ousted the heir apparent, his older brother. Last month, Mr. Shin filed for an initial public offering of the conglomerate's centerpiece, Hotel Lotte Co., that would be South Korea's largest IPO to date if the shares price at the top end of the indicated range.

But last week, South Korean authorities raided the offices of Hotel Lotte's lucrative duty-free shopping business, the source of most of its revenue and profit. The authorities also raided the home of Shin Young-ja, a sister of Mr. Shin and a top group executive.

South Korean media reports said prosecutors are looking into whether a local cosmetics company paid bribes in exchange for floor space at Lotte's duty-free retail outlets.

Hotel Lotte confirmed that the raids occurred, but declined to comment further about the matter. Ms. Shin couldn't be reached for comment. The Seoul Central District Prosecutors' office declined to confirm any details of the probe.

Hotel Lotte, which delayed the investor roadshow for its IPO because of the investigation, said in a filing Tuesday that it would postpone its listing by several weeks and lower the range at which it plans to sell its shares to investors—though the high end of the new range would still put it in record territory.

Lotte Chemical shares fell 3.5% on Tuesday in Seoul after its bid was disclosed, to 260,500 won ($223.95), the lowest level since January.
 
---
Lotte Versalis Elastomers: a new industrial complex in South Korea

A new integrated industrial complex for the production of elastomers was launched today in Yeosu, South Korea. The launch was attended by the local authorities, the Ambassador of Italy to Korea and major customers.

The new plants of Lotte Versalis Elastomers, a 50:50 joint venture between Versalis (Eni), a global leader in the elastomers business, and Lotte Chemical, a major petrochemical company headquartered in South Korea, have been built in a record time of 26 months and in conformity with sustainability principles, thanks to the use of the most advanced European technological standards. This important achievement is part of Eni's strategy to transform its chemical business also through international development.

The joint venture, established in 2013 with the aim of targeting growth in the Asian elastomers market, uses Versalis' technology, industrial expertise and commercial network, as well as Lotte Chemical's site integration, which ensures the availability of feedstocks and industrial facilities.

The industrial complex has a nameplate capacity of 200 kton/year of elastomers (EPDM, Ethylene-Propylene Diene Monomer; s-SBR, solution-Styrene Butadiene; BR, Butadiene Rubber). The production streams are targeted to premium application segments, mainly tyre and automotive industries, styrenics modification and technical goods.

'The construction of the first industrial complex in Asia is an important milestone in Versalis' international development strategy, which leverages valuable proprietary technologies. It also strengthens our leading position in the global elastomers market and other prospects for growth. We are excited to be working on this project with an established partner such as Lotte Chemical. By joining forces, both Versalis and Lotte Chemical are benefitting from important synergies.' says Versalis' CEO, Daniele Ferrari.

Versalis is present in the Asia-Pacific region through its commercial units in Shanghai, Qingdao, Mumbai and Singapore.


VersalisはEni 子会社で旧称Polimeri Europa。扱い製品は、Intermediates、Polyethylene、Styrenics、Elastomers。

Polimeri Europa changes name and becomes Versalis