Methanex               Methanex 大株主 Novaが全持株売却
Methanex was incorporated under the laws of the province of Alberta on March 11, 1968 and was continued under the Canada Business Corporations Act on March 5, 1992.

Our plants are located in North America (Kitimat, Medicine Hat, Fortier), Chile and New Zealand. We are also currently evaluating Australia for the site of a new plant. We source additional methanol through a marketing agreement with a plant located in Trinidad, and also through spot market purchases. In addition to these manufacturing facilities we also have marketing offices in the United States, Chile, New Zealand, Belgium, the United Kingdom and Korea. Our extensive global marketing and distribution system makes us the largest supplier of methanol to each of the major international markets. In 1999, our sales accounted for roughly 24% of the total world market for methanol.

As a result of our worldwide production, marketing and distribution capabilities, Methanex believes it has a competitive advantage as a supplier of methanol to major chemical and petrochemical producers for whom quality and reliability of supply are important. Methanex believes it benefits from this competitive advantage through greater stability and security of demand, resulting marketing and transportation synergies, and an improved customer mix.

Since the early 1990's, Methanex has expanded its global methanol production and marketing reach and has carried out a strategy designed to enable us to become a low-cost producer and preferred supplier in the methanol industry. As a result of this strategy, we have developed a global presence in the methanol industry, allowing us to provide reliable efficient and cost-effective delivery of methanol from geographically diverse locations to customers in the world's methanol markets.

Over the last five years, Methanex's primary objective has been to maintain and enhance our strong competitive position in the methanol industry. The key elements of our strategy have been to:
・Reduce all aspects of our cost structure;
・Maintain our world leadership in methanol marketing, logistics and sales, including taking a principal role in maintaining existing markets and in developing new applications for methanol and participating in industry restructuring and consolidation; and
・Focus on operating excellence in manufacturing and supply chain management and other key areas of our business.

 
---
2003/3/13 Platts

Methanex puts on hold Australian methanol project

 Vancouver-based Methanex has put on hold its proposed 2-mil mt/yr methanol project planned for the Burrup Peninsula of Western Australia as the company studies alternatives for long-term methanol supply to its customers in Asia Pacific.
 "This proposed development has become increasingly difficult to progress in its originally intended form. For Methanex, the capital costs for a greenfield project of this size have become disproportionately high," said Bruce Aitken, Methanex's senior vice president for Asia Pacific in a statement Thursday. "Northwest Australia remains an attractive location to build a methanol plant and we are evaluating several alternatives, including installing capacity in smaller increments that would be more manageable from a cost perspective," Aitken said.
---
Sept. 29, 2003 Methanex

Methanex Not to Proceed with Methanol Facility in Western Australia

Methanex Corporation today announced that it will not proceed with the construction of a 1.3 million tonne per year methanol plant located on the Burrup Peninsula in Western Australia as capital costs for the proposed project have escalated to an unacceptable level. Methanex will take a one-time, non-cash charge, which is expected to be approximately US$40 million, in the third quarter to write-off the costs incurred in developing the project.
Mr. Pierre Choquette, Methanex's Chairman and CEO, commented, "We have rigorously studied several combinations of sites, technologies and scale in Australia but we have been unable to develop a methanol project that delivers acceptable returns for our shareholders. We cannot proceed with large capital projects that only deliver marginal returns."

Mr. Bruce Aitken, Methanex's President and COO, added, "We remain committed to maintaining our strong presence in the expanding Asian market and we are continuing to develop alternatives to support our strategic customer base in Asia." Mr. Aitken continued, "Our global supply chain allows us the flexibility to effectively service key Asian markets from our plants in New Zealand, Chile and North America."

Methanex is the world's largest producer and marketer of methanol. Methanex shares are listed for trading on the Toronto Stock Exchange in Canada under the trading symbol "MX" and on the Nasdaq National Market in the United States under the trading symbol "MEOH."
---
World's largest methanol plant designed to be 'clean and green'
            http://www.hcasia.safan.com/mag/hcmar02/t58.pdf
 High global standards of environmental excellence are to be incorporated into the construction and operation of the world's largest integrated methanol production complex, which Methanex Australia is proposing to build on the Burrup Peninsula, on the mid-north coast of Western Australia.

 If approval is given, the A$2 billion complex will eventually comprise two plants and use new generation large-scale technology to produce up to 5 million tonnes per annum of methanol for the company's customer base in the Asia-Pacific region. Methanex is carrying out detailed front-end engineering and design for its facilities and has applied to the Western Australian Environmental Protection Authority to set the necessary requirements for an environmental assessment of the Project.
 The company has engaged leading consulting firm, Sinclair Knight Merz, to assist with gaining environmental approvals. Sinclair Knight Merz' Environmental Group Manager, Perth, Dr Barbara Brown, said two locations on the Peninsula were being considered for the manufacturing facility, with the final choice dependent on commercial and technical, as well as environmental considerations.
 "The Burrup Peninsula and surrounding Dampier Archipelago are geomorphologically and nvironmentally significant because of the physical and geological setting, along with the vegetation diversity, heritage value, archaeological richness and the complexity and diversity of the terrestrial and marine habitats," Dr Brown said. "The land identified for the plant process and storage areas, pipeline corridor easements and jetty loadout facilities is situated in areas either zoned industrial under the Burrup Peninsula Land Use and Management Plan, or on an existing industry lease," she said.
 "The proposed new facilities would therefore be well removed from the pristine areas identified in the Land Use and Management Plan," Dr Brown noted. "Methanol manufacture is a clean process anyway, in which the liquid petrochemical is made from natural gas and steam," she added.
 Methanex Australia is a wholly owned subsidiary of the Canadian-based Methanex Corporation, the world's largest producer of methanol and supplier to about a quarter of the world market and some 35% of the Asia-Pacific market. The company has a global commitment to responsible management and environmental excellence, as demonstrated by the New Zealand Chemical Industry Council awarding Methanex its prestigious 'Prince Gold' accreditation for the safety, health and environmental performance of its NZ plant.
 The new Western Australian complex would also be built and managed in an environmentally sensitive manner. It would be the cornerstone of several gas-based projects being proposed for the Burrup Peninsula.
 The Federal and State Governments recognise the significance of this development and are supporting it by providing infrastructure for the industrial estate. The infrastructure would include facilities such as roads, seawater supply and access corridors.
 Following the recent signing of a Sale and Purchase Agreement by Methanex and the North-West Shelf Joint Venture partners, natural gas for the WA Project would be provided from gas fields in the nearby Carnarvon Basin. The Project is expected to contribute significantly to Western Australia's economy and lead to increases in Gross State Product, employment and export earnings.
 Studies predict that the Project would employ more than 1,000 people during its construction and provide about 150 permanent jobs when operational. In addition, it would facilitate the development of down-stream industries that use methanol, to create additional opportunity and growth.
 Construction of the facility is expected to begin in 2003, subject to approvals and a final investment decision in late 2002, with the first of the two plants scheduled to start up in 2005.
---
New Zealand
                   http://www.methanex.com/corporateinformation/newzealand.htm
Methanex New Zealand, with a staff of approximately 210, owns and operates two methanol plants, Motunui and Waitara, and a port loading facility in the province of Taranaki, near New Plymouth.
Natural gas from two Taranaki fields, Maui and Kapuni, is piped to the plants.

The two plants have a combined annual operating capacity of 2,430,000 tonnes. Originally, the Motunui plant had a dual capability. It was constructed to convert natural gas to gasoline, with methanol as an intermediate step in the process. In 1997 the gasoline production facility was permanently idled. Now, the entire crude methanol production of Motunui is distilled into chemical grade methanol.

Both plants are linked together by a four-kilometre pipeline with another pipeline used to transport methanol to the port for transfer to ship. The New Zealand facility is a key distribution point to the Asia Pacific region.
---
Kitimat, British Columbia

The Kitimat methanol facility was completed in 1982. It has an annual capacity of 500,000 tonnes and employs approximately 125 people. In addition to the methanol plant, the 550-acre site contains an ammonia plant that is owned by Pacific Ammonia Inc. and operated by Methanex on their behalf.

Located at the end of the protected Douglas Channel, the Kitimat facility is ideally positioned on the great circle shipping routes for delivery of methanol to customers in California and Pacific Rim countries, particularly Japan. This location provides an ice-free tidewater port accessible by all but the largest ocean-going vessels. The Kitimat facility also utilizes rail to distribute its product to Canadian destinations.
---
Medicine Hat, Alberta   停止中

The Medicine Hat site currently has a production capacity of 470,000 tonnes. However, on August 28, 2001 Methanex shut down this facility for an indeterminate period.

---
Fortier, Louisiana  閉鎖

The Fortier plant was built in 1994 and has an annual capacity of 570,000 tonnes. The facility was Mothballed in March, 1999 and remains shut down today. In November, 2002 Methanex announced the write-off of this facility.
---
The Latin America Region of Methanex Corporation, based in Chile, covers all South America plus Mexico and South Africa. Methanex Latin America operates in Chile under the company Methanex Chile Limited, Agencia en Chile.

The company started in 1985 and initiated production in 1988. Manufacturing facilities are located at Cabo Negro, 28 km north of Punta Arenas on the straits of Magellan in the heart of Chile's petroleum and gas producing region.

The Cabo Negro facility is Methanex's largest and lowest cost facility hub, with an annual production capability of 3,000,000 tonnes from three plants. The third and largest plant, which has an operating capacity of 1,065,000 tonnes, was commissioned in May 1999.

In November, 2002 Methanex announed the construction of an 840,000 tonne per year expansion of its production hub in Chile. This expansion, which is expected to be completed by early 2005, will increase the annual capacity of the Cabo Negro site to nearly four million tonnes.

Positioned on the Straits of Magellan, the ship loading facility is capable of handling the world's largest chemical tanker, the Millennium Explorer. This vessel, which Methanex has on long-term Time Charter, was delivered in January 2000 and can carry over 93,000 tonnes of methanol per voyage. The size of the production hub in Chile Methanex's large market positions in Northern Europe and the US Gulf allow us to use such a large vessel and reduce our costs. Due to the strategic location of the plant, Methanex is able to deliver to all the major world markets: Asia, North America and Europe.

The skilled workforce of approximately 250 employees manage all of Methanex's operations in Chile. Production processes utilize state-of-the-art technology and are controlled through a sophisticated Distributed Control System.
---

Platts 2002/11/12

Methanex proceeds with 840kt methanol expansion in Chile

 Methanol giant Methanex Corp said Tuesday that it will proceed with an 840,000mt/yr expansion at its methanol production hub in Punta Arenas, Chile.
 The expansion, which has a 20 year natural gas supply contract, is expected to cost approximately $275-mil, including capitalized interest of approximately $25-mil and $17-mil already spent on the project to September 30, 2002. The project is scheduled to be completed by early 2005.

---
Methanex 大株主 Novaが全持株売却 2003/5/21
  Nova Chemicals   46.9 million shares, or 37% of the outstanding shares.
                 37.9 million shares ----- 売却
                  9.0 million shares ----- Methanexが買い入れ消却  
---
2003/5/21 Methanex Corporation
Methanex corporation announces secondary offering of its common shares
Methanex Corporation today announced that the Company and its largest shareholder, NOVA Chemicals Corporation (NOVA), have entered into an agreement with a syndicate of underwriters in connection with a secondary offering of 37,946,876 of the Company's common shares owned by NOVA at an offering price of CAD$13.30 per share, or US$9.85 per share, for aggregate proceeds of CAD$504.7 million, or US$373.8 million. Methanex will not receive any proceeds from the offering. Closing is expected to take place on or about June 5, 2003.
RBC Capital Markets is acting as lead manager for the offering and CIBC World Markets is acting as co-lead manager. Other members of the syndicate include Scotia Capital, TD Securities, Citigroup and UBS Warburg.
The offering will be made concurrently in Canada and the United States pursuant to the multi-jurisdictional disclosure system. Methanex has filed a preliminary prospectus with regulatory authorities in Canada. A registration statement relating to these securities has also been filed with the U.S. Securities and Exchange Commission but has not yet become effective. These securities may not be sold nor may offers to buy be accepted prior to the time the registration statement becomes effective. This press release shall not constitute an offer to sell or the solicitation of an offer to buy nor shall there be any sale of these securities in any State in which such offer, solicitation or sale would be unlawful prior to registration or qualification under the securities laws of any such State. When available, a copy of the preliminary prospectus may be obtained from RBC Capital Markets Prospectus Department 60 South Sixth Street Minneapolis, MN 55402-4422.
Methanex is the world's largest producer and marketer of methanol. Methanex shares are listed for trading on the Toronto Stock Exchange in Canada under the trading symbol "MX" and on the Nasdaq National Market in the United States under the trading symbol "MEOH."
---
2003/5/21 Methanex Corporation

Methanex seeks shareholder approval to participate in exit of Nova Chemicals
Methanex Corporation announced today that it has agreed to purchase 9.0 million of its common shares from NOVA Chemicals Corporation (NOVA). Currently, NOVA is Methanex's largest shareholder, holding 46.9 million shares, or 37% of the outstanding shares.
The purchase price for the shares will be US$9.85 per share, which is the same price as NOVA will be receiving from the underwriters of the secondary offering separately announced by Methanex today. The repurchase will be subject to approval by a majority of Methanex's shareholders other than NOVA and its affiliates and would close following a special meeting of shareholders to be held on June 30, 2003. The shares acquired from NOVA would be cancelled. Methanex would finance the repurchase with cash on hand.
After completion of the offering and assuming shareholders approve the repurchase, NOVA will have no remaining equity interest in Methanex.
Pierre Choquette, President and CEO of Methanex commented, "We believe that the market price of our common shares has been adversely affected by the market perception that NOVA would sell all or a portion of its common shares. If this offering and our purchase from NOVA are successfully completed, we expect this overhang will be eliminated." Mr. Choquette added, "Following the successful completion of this offering and our purchase from NOVA, it is also expected that our shareholders will be able to enjoy improved liquidity for our common shares due to a substantial increase in the public float."
An independent committee of Methanex's board of directors has recommended the repurchase.
Raymond James Ltd., who advised the independent committee, has provided an opinion that the repurchase is fair from a financial point of view. The board of directors will recommend that all shareholders vote in favor of the transaction.
Upon the closing of the secondary offering, it is expected that Mr. Jeffrey Lipton, the President and Chief Executive Officer of NOVA and the Chairman of our board of directors, and Mr. A. Terence Poole and Mr. Christopher Pappas, both senior executive officers of NOVA, will resign as directors of Methanex. It is expected that Mr. Pierre Choquette, our President and Chief Executive Officer, will be appointed interim Chairman of the board and Mr. David Morton will be designated as "lead" outside director. Mr. Morton is the Chairman of the Corporate Governance Committee of our board. The board will conduct a process to fill the vacant board seats and to select a new chairperson.
Methanex is the world's largest producer and marketer of methanol. Methanex shares are listed for trading on the Toronto Stock Exchange in Canada under the trading symbol "MX" and on the Nasdaq National Market in the United States under the trading symbol "MEOH."
---
METHANEX ACQUIRES ADDITIONAL PRODUCTION FLEXIBILITY

Methanex Corporation has entered into an agreement with Terra Industries to acquire all of Terra's methanol customer contracts relating to its 700,000 tonne per year methanol facility located in Beaumont, Texas. In addition, Methanex will acquire certain production rights to the facility and exclusive rights to all methanol produced at the facility until the end of 2008.
---
日本経済新聞 2004/9/14

中国最大、メタノール合弁 三菱ガス化学、重慶に
 年産85万トン、2008年稼働

 三菱ガス化学は合成繊維や塗料の基礎原料となるメタノールで中国最大となるプラントを重慶市に建設する。現地の国営化学メーカー、重慶化医(重慶市)と合弁で2008年の稼働を目指す。年産能力は85万トンで総投資額は約220億円。中国は合繊向けなどにメタノール需要が伸びているが3分の1を輸入に依存している。原料調達にメドがついたことから現地に大型プラントを建設し、旺盛な需要を取り込む。
 合弁会社は2005年度をメドに設立。製造と販売を手掛け、三菱ガス化学が51%、重慶化医が49%を出資する。生産したメタノールはほぼ全量を重慶周辺や上海市など沿岸部の工業地帯を中心に中国市場向けに供給する。重慶化医グループは中国大手の化学品製造・販売会社で年間売上高は約1千億円。
 メタノールは天然ガスなどガス成分から精製するため原料の搬送効率が悪く、原料の産地近郊にプラントを設ける方が競争力を確保できる。重慶市近郊はメタノールの主原料である天然ガスが豊富なことから、割安な原料の安定調達が可能と判断した。
 中国の内需は年420万トン程度だが現地の生産設備は年10万−20万トンの小規模プラントが中心で、約140万トンを中東などからの輸入でまかなっているとみられる。三菱ガス化学もサウジアラビアの生産拠点から輸出で対応してきたが、現地に最大規模のプラントを設けコスト競争力を高め、拡大する中国需要をいち早く取り込む。
 三菱ガス化学はメタノールの国内最大手で世界3位。サウジアラビアに年310万トン、ベネズエラに同73万トンの生産設備を合弁で設けている。重慶市同様、いずれも天然ガスが豊富に取れる地域で、原料調達に優位性があり、サウジが主にアジア向け、ベネズエラが北米向け拠点となっている。アジア需要の増大に対応するため、中国以外にもサウジ基礎産業公社と合弁で展開するサウジのプラントも生産能力を増強する計画だ。

国内石化大手 分野絞り対中投資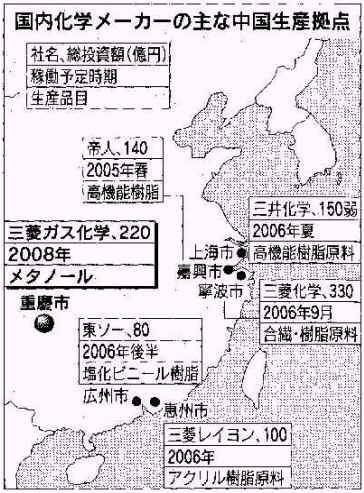 中国投資に慎重だった日本の石油化学産業が現地での生産計画を相次いで打ち出している。欧米大手が来年以降大型エチレンプラントを立ち上げるなか「このままでは中国市場での競争力低下は必至」(日本化学工業協会)との危機感を強めているからだ。
 日本の石化大手は独BASFや米エクソンモービルなど欧米勢に比べ売り上げ規模、財務状況ともに格差が大きいため、千億円規模の投資が必要なエチレンプラントを中国で建設する体力的余裕はない。しかも「原料となる石油を中国に輸出可能な欧米メジャーに比べ資源を、持たない日本勢は競争力で劣る」(三井化学)。
 このため日系各社は自動車、電機メーカー向けなど販売先が確保できる高付加価値分野を選び、リスクを考慮した上で投資を拡大していく戦略だ。
 三井化学が上海で生産するのは光ディスクや自動車部品向けに需要増が見込めるポリカーボネート樹脂原料。三菱レイヨンは英蘭ロイヤル・ダッチ・シェルが広東省恵州市で建設中の石化コンビナート内で、液晶パネルなどに使うアクリル樹脂原料を生産する。
 メタノールの合弁生産に乗り出す三菱ガス化学や塩化ビニール樹脂生産を進める東ソーは、欧米勢がまだ大規模な現地生産計画を打ち出していない製品分野を攻める。
 日本国内の需要の伸びが期待できない中、成長の機会は中国市場に見いださざるを得ない。各社は今後も優位性が保てる分野を選んで積極投資を進める見通しだ。
---
September 30, 2004 Lurgi

Commissioning of the World's Largest Lurgi MegaMethanol® Plant
Expectations for the trendsetting Lurgi MegaMethanol® process fully met
http://www.lurgi.com/english/nbsp/index.html
Lurgi AG, Frankfurt am Main, has successfully commissioned the world's first MegaMethanol plant on the Caribbean island of Trinidad. In less than three years time, Lurgi completed the construction of the world's largest methanol complex for its customer Atlas Methanol Company Ltd of Trinidad and Tobago. The single-train plant now produces 5,000 tons of methanol/day based on innovative Lurgi technology. Plant operation has already reached full capacity. The test run for guaranteed performance will be conducted soon. With the commissioning of the plant, Lurgi has successfully implemented its proprietary MegaMethanol technology in an industrial application.
This plant marks the beginning of a new generation of plants for the production of methanol from natural gas and associated gas given the fact that the capacity of methanol plants operated with the Lurgi MegaMethanol® technology is basically twice that of all other processes currently available on the market. The current standard capacities of conventional plants only range between 2,000 and up to max. 3,000 tons of methanol per day. The synthesis gas production unit (MegaSyn®), too, is the largest single-train facility in the world. Its autothermal reactor, for example, was equipped with a new burner system to be able to convert natural gas and around 80,000 Nm3 of oxygen per hour to 530,000 Nm3 of dry synthesis gas. This new technology, which showed excellent results during plant operation, represents the technology of the future, not only for methanol generation but also for gas-to-liquid (GTL) and gas-to-chemicals (GTC®) complexes.

For the construction of the MegaMethanol plant in Point Lisas, Lurgi managed the overall project as general contractor, supplied the technology and was in charge for the erection and supervising of commissioning of the methanol complex including offsites.

Consolidation of market leadership
Around 70 percent of the world's methanol production will in future originate from plants already built or still to be completed by Lurgi. Lurgi is thus the world's leading plant engineering contractor for the construction of plants generating methanol from natural gas and associated gas.

"The new Lurgi MegaMethanol® plant in Trinidad is an important reference for future methanol projects. We expect that it will enable us to win additional market shares and view this as a confirmation of our strategic orientation towards innovative technologies of the future", said Michael Stratling, Chairman of the Executive Board of Lurgi AG. "Because, with the proprietary technologies for the MegaMethanol process and for the Methanol-to-Propylene process (MTP®), Lurgi commands technologies for a complete process chain: the MegaMethanol technology allows for the economical production of methanol from natural gas and the MTP® process in turn allows for methanol processing to value-added propylene, an important feedstock for the production of plastics. Moreover, the low production costs for synthesis gas and methanol open the door for other petrochemical applications and synthetic fuel production. This so-called gas route with proprietary Lurgi technologies already now offers in part substantially more economical alternatives than oil-based processes.

Expanding market for synthesis gas and methanol
Lurgi recognized these global market trends early on. Demand for methanol is substantial and the demand for methanol generated from natural gas and associated gas is set to rise appreciably over the next few years. This will be followed by methanol produced from coal gas. As a chemically liquefied gas, methanol is one of the main synthetic raw materials for synthesis in the petrochemical industry. It is anticipated that the percentage of plastics produced from natural gas will roundabout quintuple over the next 20 years. In the petrochemical industry, the raw materials basis will shift partially from petroleum to natural gas over the next years. Synthesis gas and methanol will in part replace petroleum-based feedstocks for the petrochemical industry. Cheaper synthesis gas and / or methanol also opens up very good opportunities for producing sulfur-free motor fuels. Moreover, cost-efficient methanol is perfectly suited as a fuel for gas turbine power plants.

Trinidad und Tobago already today is the world's largest exporter of methanol and can now extend this leading position further with the new Lurgi MegaMethanol® plant. As the contractor who erected a 2,500 tpd methanol plant in the vicinity of the new plant back in September 2000, Lurgi is a trusted partner for the construction of methanol plants in Trinidad.
---
Terra to Mothball Beaumont Methanol Facility
http://www.terraindustries.com/latest/corp_activities/04-11/beaumont.pdf
Terra Industries Inc. announced today that, at the request of Methanex Corporation and under the terms of an agreement between the two companies, it will cease production at its Beaumont, Texas, methanol manufacturing facility on Dec. 1, 2004, and mothball the plant for an indefinite period. Terra sold its sales contracts and rights to the full output of the Beaumont plant to Methanex for five years ending Dec. 31, 2008. Under the terms of that agreement, Terra received a lump-sum payment of $25 million and shares in a percentage of cash gross profits generated from Beaumont sales. The agreement gives Methanex the right to cease production at the Beaumont facility and also stipulates that, beginning two years from the date of the shutdown, Terra has the option to terminate the agreement at a cost of approximately $417,000 per month remaining on the contract.
The Beaumont facility has annual production capacity of 225 million gallons of methanol and 255,000 tons of ammonia. The ammonia loop has historically used hydrogen produced by the methanol plant in its manufacturing process. Terra is evaluating the feasibility of alternative sources of hydrogen for the ammonia loop.
Approximately 40 Terra employees will lose their jobs after the methanol plant is mothballed. Terra will retain some employees to operate the methanol storage and distribution terminal and to potentially operate the ammonia plant. Terra estimates that it will spend as much as $5 million to mothball the plant and for employee separation costs.
Terra continues to produce methanol at its Woodward, Okla., facility. That facility, which primarily produces nitrogen products, has annual methanol production capacity of 40 million gallons.
Terra Industries Inc., with 2003 revenues of $1.4 billion, is a leading international producer of nitrogen products.
This news release may contain forward-looking statements, which involve inherent risks and uncertainties. Statements that are not historical facts, including statements about Terra Industries Inc.'s beliefs, plans or expectations, are forward-looking statements. These statements are based on current plans, estimates and expectations. Actual results may differ materially from those projected in such forward-looking statements and therefore you should not place undue reliance on them. A non-exclusive list of the important factors that could cause actual results to differ materially from those in such forward-looking statements is set forth in Terra Industries Inc.'s most recent report on Form 10-K and Terra Industries Inc.'s other documents on file with the Securities and Exchange Commission. Terra Industries Inc. undertakes no obligation to publicly update or revise any forward-looking statement, whether as a result of new information, future developments or otherwise.
---
New Americas methanol units could lead to slack in market

The scheduled start-up of two "mega-methanol" plants in the Americas during Q2-Q3 2005 could create significant slack in the market at that time, even as most of the new product already is sold under contract, market sources said this week. "There's going to be spare volume summer-time into fall," one distributor said, adding that following the contracted allotment of new product, about 300,000mt of "slack" would remain.

The possible bearish market sentiment in mid-2005 comes as Methanex readies for the startup of its 840,000 mt/yr Chile IV methanol facility (currently in commissioning phase) and Methanol Holdings prepares for the startup of its 1.89-mil mt/yr M5000 unit in Trinidad (expected late July 2005). Methanex reportedly will shut down its 500,000 mt/yr methanol unit at Kitimat, British Columbia following the startup of Chile 4, while Celanese's 500,000 mt/yr methanol unit at Bishop, Texas, and Celanese and Valero's 600,000 mt/yr methanol unit at Clear Lake, Texas, reportedly will be shut down following the startup of M5000.

Taking into account the potential shutdowns along with the startups, Americas methanol supply would increase 1.3-mil mt/yr. A producer source said a big key to avoid a resulting bearish market will be if Chinese demand for product holds during the year, adding that US demand is expected lower in the near-future. Current methanol spot levels in the Americas are fairly steady at 90.50-91 cts/gal FOB USGC.
---
Methanex signs 10-year Chilean natural gas supply agreement
Methanex Corp reached a long-term natural gas supply agreement which will supply the company's Chilean methanol production facility, the company said Wednesday.

Methanex signed a memorandum of understanding with GeoPark Holdings Ltd that includes a 10-year gas supply and purchase commitment from GeoPark's Fell Block in southern Chile beginning May 2007. The agreement provides incentives for volume of up to 100,000 Mcf/d of natural gas and includes provisions for the financing of development operations and the potential joint acquisition of new hydrocarbon blocks in Chile. The agreement is subject to a final contract and requires Chilean government approvals.

Methanex's methanol production facility in Chile has the capacity to produce 3.8 million mt/year, or approximately 10% of the world's methanol
supply, the company said.

GeoPark is a private-sector oil and gas producer in Chile and has been supplying natural gas to Methanex in Chile since May 2006.

In October 2006, Methanex said its natural gas costs could increase as much as $1.95/MMBtu as a result of Argentina's decision to increase natural gas taxes on exports from that country. At the time, Methanex said it sourced about 60% of its natural gas for the Chile plant from Argentina.

It was unknown if the supply agreement with GeoPark would replace any of the volumes of natural gas that Methanex receives from Argentina and a company spokesperson was unavailable at the time of press.

The government of Argentina passed a resolution that extended the existing export duty on oil, natural gas and derivatives to the province of Tierra del Fuego effective October 20, 2006. Exports from this province had previously been exempt from the duty.

Tierra del Fuego, an archipelago at the southernmost end of South America, produces 9.4% of Argentina's 147 million cu m/d of gas. The province exports to neighboring Chile at around $2/MMBtu. With the 45% tax, the price will rise to between $3.7-3.9/MMBtu, which is what buyers in the rest of Chile pay for gas from other parts of Argentina where gas exports are taxed at 45%.
---
平成19年4月12日 三菱ガス化学/伊藤忠商事

ブルネイ・ダルサラーム国におけるメタノール事業について

 三菱ガス化学株式会社(本社:東京都千代田区、以下「MGC」という)、伊藤忠商事株式会社(本社:東京都港区、以下「伊藤忠」という)およびBrunei National Petroleum Company(本社:ブルネイ・ダルサラーム国バンダル・スリ・ブガワン。以下「PetroulemBRUNEI」という)は、合弁会社であるBrunei Methanol Company (以下、「BMC」という)において、年産85万トンのメタノール事業を行うことといたしました。建設資金は約4億ドルであり、2009年末の完工および2010年第2四半期の商業運転開始を予定しております。
 MGC、伊藤忠およびPetroulemBRUNEIは、2006年3月にBMCを設立し、詳細な事業化調査を行なってまいりましたが、このたび合弁事業に関する諸条件が確定したことから、投資の最終決定に至ったものです。
 本合弁事業の特性として投資規模が大きくかつ投資回収が長期に亘ることから、BMCは国際協力銀行を中心とする銀行団から、同国初となるプロジェクトファイナンスによる資金調達を行なう予定です。また、ファイナンシャルアドバイザーとして株式会社三菱東京UFJ銀行を起用しております。なお、プラントは三菱重工業株式会社とフルターンキーベースでの建設契約を締結いたしました。
 メタノールは多くの川下製品を持つ基礎化学品の一つで、主にホルマリン、酢酸などの化学品用途の原料として使用されています。また今後はバイオディーゼルやDME(ジメチルエーテル)の原料など幅広い用途での利用拡大も見込まれております。現在の世界需要は年間約36百万トンですが、今後も年率3%の成長が見込まれており、特に本合弁事業のメタノール輸出先である日本を含むアジア市場では、経済成長に伴う高い伸びが期待されています。
 本合弁事業は、アジア市場の中心に位置するため、ロジスティックスにおけるコスト優位性を有し、また安価な原料天然ガスを利用できることから、他の事業者に対して十分な競争力を有しております。
 MGCおよび伊藤忠は、本合弁事業を通じて、メタノール事業における世界でのプレゼンスをさらに高めてまいります。

(合弁事業の概要)
1. 出資比率 MGC 50%
         PB Petrochemical 25%
            ※ PetroulemBRUNEIの関連会社
         伊藤忠 25%
2. 生産能力 日産2,500トン(年産850,000トン)
3. 生産技術 三菱(MGC/MHI)メタノールプロセス
          ※ MGCと三菱重工業株式会社が共同保有するプロセス技術
4. 事業立地 ブルネイ・ダルサラーム国 スンガイ・リアング工業地区
5. 天然ガス供給者 Brunei Shell Petroleum Company Sdn Bhd(BSP)
6. 製品引取権者 MGC
7. 建設完了時期 2009年第4四半期
8.商業生産開始 2010年第2四半期
9.資金調達方法 国際協力銀行を中心とするプロジェクトファイナンス(予定)
10.従業員数 約160名(現地採用従業員)