Braskem to acquire naphtha made from post-consumption recycled plastic
Partnership with Novaenergia returns to the production cycle   36 tons of recycled plastic per day in the form of light oil
As of 2013, Braskem will have yet another alternative feedstock source. In addition to sugarcane ethanol, which is used to make green plastic, the company will begin using naphtha made from post-consumption recycled plastic. The product will be supplied by Novaenergia, a company from the Wastech group located in Bahia state specializing in waste treatment, which will build its first advanced recycling plant along Cia Aeroporto Highway in Salvador, Bahia.

Braskem is expected to acquire initially 1.4 million liters of naphtha made from plastic waste per year, which will be processed at its Basic Petrochemicals Unit in the Camaçari Complex. "Seeking out new technologies and feedstocks that generate lower environmental impacts is part of Braskem's commitment to the sustainability of the plastics production chain," explained Hardi Schuck, Braskem's Supply Chain Officer. Another advantage of the project is its contribution to post-consumption recycling in major cities, which is still a challenge in Brazil.

Novaenergia's proposal is a sustainable solution for the destination of waste in Salvador and surrounding cities, which currently generate around 3,000 tons of waste per day. The plant will process 450 tons of waste per day and will transform plastic waste into synthetic oil. Every 36 tons of this waste will yield 30,000 liters of light oil per day, which will be used by Braskem to make naphtha, as well as fuel oil and diesel oil with low sulfur content (S<10ppm). With the reuse of this plastic and the other recyclable materials extracted in the process, the amount of waste in landfills will decline by 50%.

The installation of Novaenergia's recycling unit in Bahia will require investment of some R$ 25 million, with startup expected by the end of 2012. "Our agreement with Braskem is very important for the Novaenergia project, since it lends credibility to the process we are adopting and to the quality of our final product," said Luciano Coimbra, president of the Wastech/Novaenergia group.

ーーー
Wastech invests in technology for plastic recycling
In spite of offering advantages in the substitution of some materials, plastic is seen in many cases as one of the environmental villains. Such reputation, however, may have its days counted.
If the new recycling technologies of the product are successful, plastic shall follow the same path of the aluminum cans, which practically "do not touch the ground" when they are thrown away.
One of the most recent techniques, and that may provide additional value to the recycling of plastic, is being brought to Brazil by Novaenergia, a company created by the Wastech group. Specialized in the treatment of dangerous residues, with more than 20 years in the market, the group entered into an agreement with the German Clyvia Technology to transform plastic into diesel oil.
The basic idea is get the byproduct of oil and by means of processes of fractioned depolymerization make the opposite way of the plastic manufacturer, making the material return to its previous condition. That because the heating of pricked plastic, when under pressure, leads to a chemical process inside the carbon chain that allows obtaining, inside a vacuum reactor, hydrocarbons with low sulfur content, informed, Luciano Costa Coimbra, a Wastech partner.
Each ton of plastic is enough to produce ten thousand liters of diesel. "And it is not biodiesel, we call it 'liesel', because it is diesel from mineral raw material, but which will help 'clean' (limpar, in Portuguese) the environment", added Coimbra. According to him, diesel made from plastic can be used in any normal diesel-driven vehicle, without any adaptation. The agreement foresees the exclusiveness of the Brazilian company for the use of the technology for five years and the project includes the implementation of up to 50 recycling units all over Brazil, at an estimate cost of R$ 16 million (US$ 7 million) each. The investments will be made with its own funds or, in some cases, in partnership with some national investors interested in the sectors of plastics, collection and burying of urban garbage and treatment of industrial residues. The return of the investment is expected to occur within 30 months. There are negotiations for the sale of stocks of Novaenergia to some international financial funds specialized in environmental investments and in the generation of energy or fuels made from alternative sources, according to Coimbra. The first four units should be installed in São Paulo, Rio de Janeiro, Minas Gerais and Bahia. "If everything goes right, garbage will become a commodity, mainly if we take into consideration that plastic represents nearly 15% of everything that is thrown away", added the Wastech partner, company that has contracts of specialized transport and final disposal of residues of nearly R$ 25 million (US$ 10,9 million).
ーーー
Successful Trial of Clyvia Depolymerization Plant to Convert Waste Oil to Diesel
Clyvia Technology GmbH has successfully converted 3 tonnes (approximately 3.3 US tons) of waste oil into 2,000 liters (1.7 tonnes or approximately 528 US gal.) of diesel-like light oil in a large scale trial run of its pilot fractional deploymerization plant.
In the process, waste oil is pre-heated to 170° C prior to being fed into the plant reactor containing a catalyst compound. In the reactor, the waste oil is brought to a temperature of 400° C. The light oil then produced by the reactor process is extracted into a distillation tower.
The catalytic depolymerization process used in Clyvia Technology's pilot plant is similar to the cracking of crude oil. The thermal treatment process shortens the long hydrocarbons in the waste to the length of diesel or heating oil.
The Clyvia process splits the longer molecules without forming methane, meaning that the Clyvia system does not produce major quantities of coke. The system is different from pyrolytic processes used to split hydrocarbon molecules, which require extremely high reactive temperatures, significantly increasing the cost of the process, and producing high amounts of waste carbon byproduct.
Initial gas-chromatographic tests conducted by Clyvia Technology have shown that the oil produced by the trial contain the expected distribution of diesel hydrocarbon chains. Density measurements conducted by Clyvia Technology have also been positive, according to the company.
Clyvia Technology has submitted the diesel output produced during the trial run to an external independent laboratory where it will be tested to check if it complies with diesel norm DIN EN 590 (the European standard for diesel fuel).
Tests of earlier output did not produce diesel fuel meeting low-sulfur requirements, although it did meet "most" of the fuel parameters required under international fuel standard DIN 51603-1, according to Clyvia's most recent annual report. (Earlier post.)
The current round of development and testing in the new pilot plant are focused on producing diesel fuels that meet necessary sulfur content requirements.
---
2012/8/31 European Plastics News
Braskem inaugurates PVC plant
Braskem SA has inaugurated a PVC resin plant in Brazil that the group says is the largest in Latin America.
The plant in Marechal Deodoro, Alagoas state, has annual production capacity of 200,000 metric tons.
The Aug. 17 inauguration ceremony was attended by Dilma Rousseff, Brazil's president, and Teotonio Vilela Filho, the governor of Alagoas.
"The inauguration of this unit is fundamental for meeting demand from our Clients throughout Brazil operating in strategic sectors of the economy, such home building, sanitation and infrastructure. With this new plant, we reaffirm our commitment to the development of both the state of Alagoas and Brazil," said Carlos Fadigas, Braskem's CEO.
The plant, which took two years to build, will create 10,000 direct and indirect jobs.
The investment of 1 billion real ($488 million) in the plant is the largest ever made for a single project since Braskem was founded 10 years ago.
---
2013/12/11 Braskem
Braskem and Genomatica sign an agreement for the development of green butadiene
Braskem, the world's largest biopolymers producer, strengthens its commitment to the research of renewable feedstock-based chemicals
Braskem, the largest petrochemical producer in the Americas and the world's leading biopolymer producer, and Genomatica, a U.S. biotechnology company, have signed an agreement for the joint development of a new technology for the production of butadiene from renewable feedstocks. Through this partnership, Braskem reaffirms its commitment to invest in the research of producing chemicals from renewable feedstocks, effectively strengthening its leadership role in this segment.
Braskem's objective with green butadiene is to primarily serve the synthetic rubber market, whose demand is currently met by naphtha-based butadiene, of which the company is already the world's third-largest producer. With the expectation of a recovery in global economic growth over the coming years, our forecast calls for growing demand for butadiene based elastomers by tire manufacturers, who are the largest consumers of butadiene.
The research program conducted jointly by Braskem and Genomatica will seek not only to find alternatives that are based on renewable feedstocks, but on developing routes that are also competitive in terms of production cost. Braskem, together with Genomatica, will dedicate a team of researchers to the development of this technology. Under the agreement, provided the results are successful, Braskem and Genomatica will build pilot and demonstration plants. The agreement gives Braskem certain exclusivity rights to the technology's use in the Americas.
"Braskem has a clear strategy for investing in the research and development of renewable based chemical technologies as alternatives to complement our current product portfolio based on petrochemicals. In 2010, we became the world leader in Biopolymers when we announced the production of plastic made from sugarcane, and we are now further reinforcing this vision," said Alexandre Elias, director of Renewable Chemicals at Braskem.
According to Christophe Schilling, CEO of Genomatica, the agreement will help strengthen their position as a developer and licensor of bio-based process technologies to chemical manufacturers. "Our partnership brings the industry closer to commercializing a more sustainable and cost-predictable butadiene", said Schilling. Genomatica, which was founded in 1998 by researchers from the University of California, San Diego (UCSD), holds 71 issued patents and 450 additional patent applications and has been applying its intellectual property and technology platform to develop multiple approaches for the commercial production of bio-based butadiene, using multiple renewable feedstocks.
In addition to serving as a raw material for the tire industry, butadiene based materials are also used in home appliances, footwear, plastics, asphalt modifiers, oil lubricant additives, tubing, construction components and latex. Butadiene produced by traditional technological routes has suffered a structural shortage in the Americas due to the growth of shale gas, which, unlike naphtha, generates almost no co-products.
Green Plastic
Since September 2010, Braskem has produced polyethylene resin made from sugarcane ethanol on an industrial scale, which is a 100% renewable material. It invested R$500 million in the construction of a plant located in the Triunfo Petrochemical Complex in the South of Brazil with a capacity to produce 200 kton of green plastic annually. Braskem's green plastic is a milestone in global innovation, making Brazil the leading producer of biopolymers in the world. Identified by the "I'm greenTM" seal, the green polyethylene developed in Brazil is used to make a wide range of food packaging and consumer goods.
Genomatica

Our GENO BDO™ process is for the production of BDO, an intermediate chemical used in everyday products including athletic apparel, running shoes, electronics and automotive applications.

Our GENO BDO process is now commercial. Our process was used to produce 5 million pounds of BDO in late 2012, all sold and shipped; and has been licensed by BASF, the world's #1 chemical producer and #1 BDO producer, as well as by Novamont in Italy.

三菱化学は米国のGenomatica社と戦略的提携で合意した。
Genomaticaが開発した植物を原料に1,4-ブタンジオールを製造する技術に、三菱化学の技術を組み合わせ改良した技術を用いて、中東、インドを含むアジアでの1,4-ブタンジオール事業化を検討する。

----------

In August 2011, we announced that we had successfully produced butadiene from renewable feedstocks in pound quantities.

In April 2013, Versalis and Genomatica announced an agreement to create a joint venture for butadiene. The two companies will work together to develop a complete 'end-to-end' process for the on-purpose production of butadiene from non-food biomass.
Versalis, formerly known as Polimeri Europa, is the largest Italian chemical company and a subsidiary of ENI.

Versalis, formerly known as Polimeri Europa, is the largest Italian chemical company and a subsidiary of ENI. - See more at: http://www.genomatica.com/partners/versalis/#sthash.WuzV10o7.dpuf

In December 2013, Braskem and Genomatica announced a joint development agreement for butadiene. Braskem anticipates funding Genomatica's development work; will allocate Braskem R&D resources; and fund the construction of pilot and demonstration-scale plants.
---

September 9, 2014
Braskem Joins Amyris and Michelin to Accelerate the Industrialization and Commercialization of Renewable Isoprene
Partnership Aims to Develop and Produce Renewable Isoprene for Production of Tire and Other Rubber Applications

Amyris, Braskem and Michelin announced today that Braskem is joining the ongoing collaboration between Michelin and Amyris. This collaboration was initiated to develop and commercialize renewable isoprene, sourced from various biomass as an additional sustainable pathway to produce isoprene.

Under the terms of the agreement, Braskem, Michelin and Amyris will work together to develop a technology to utilize plant sugars, such as those found in Brazilian sugarcane or cellulosic feedstocks, to produce renewable isoprene. Adding the expertise of Braskem, the largest petrochemical company in the Americas and global leader in the production of biopolymers, Amyris and Michelin will accelerate the industrialization of renewable isoprene.

Amyris will share its rights to commercialize the renewable isoprene technology developed under this collaboration with Braskem.
Michelin will maintain certain preferential, but not exclusive, access to the renewable isoprene to be produced by this technology.
The companies will not disclose details of the agreement, including the financial contributions of each party.

This joint project, with Amyris and Braskem, will give Michelin an additional sustainable sourcing channel for poly-isoprene for the production of quality tires, providing a high-performance, environmentally responsible material.

"With this new partnership, we join forces with Amyris and Michelin in the development of an innovative technology that strengthens our commitment to improve people's lives, creating solutions through sustainable chemistry," said Luciano Guidolin, Vice President for Polyolefins and Renewables of Braskem. With a proven track record in leading research in sustainable chemistry, Braskem has already an experience in the development of 100% renewable polyethylene.

"Braskem is an ideal partner to join our isoprene project with Michelin. They bring the right expertise and share in our commitment to transform the chemical industry through sustainable product innovation and superior performance," said John Melo, President & CEO of Amyris. "Amyris has led the way in producing long-chain hydrocarbon molecules via fermentation, from anti-malarial drug precursors to long-chain hydrocarbon molecules used in cosmetic emollients and even fuels.Building on the success of this proven technology to produce tailored hydrocarbons, we are revolutionizing the way products are made, one molecule at a time," concluded Melo.

"We are pleased to have a strong industrial partner join our ongoing collaboration with Amyris. Braskem's chemical industry experience, coupled with Amyris's biotechnology expertise, will support Michelin's goal of addressing the long-term needs of the tire industry for sustainable sourcing with renewable chemicals," said Jean-Christophe Guerin, Head of the Materials Division of Michelin.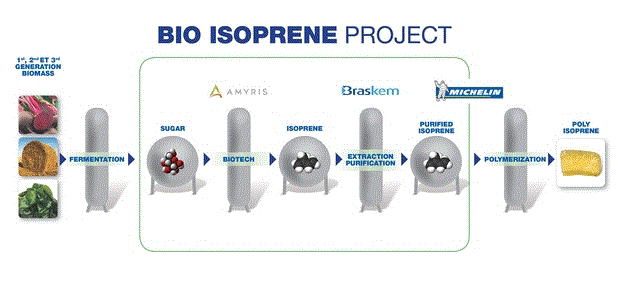 ーーー
Amyris, Inc., a leading renewable chemicals and fuels company, and Michelin, a leading innovator in the tire industry, announced that the two companies have signed a definitive agreement to collaborate in the development and commercialization of Amyris No Compromise® renewable isoprene, the chemical building block in rubber tires and other products that use synthetic and natural rubbers.
Under the agreement, Amyris and Michelin will partner to contribute funding and technical resources to develop Amyris's technology to produce isoprene from renewable feedstocks. Amyris expects to begin commercializing this isoprene in 2015 for use in tire and other specialty chemical applications such as adhesives, coatings and sealants. Michelin is committed to off-take volumes on a ten-year basis. In addition, Amyris retains the right to market its renewable isoprene to other customers.
"This partnership will allow both companies to continue Michelin's tradition of innovation in the tire industry and expand Amyris's industrial biotechnology platform for new products," said John Melo, CEO of Amyris. "Growing demand for isoprene and a desire to increase the sourcing of sustainable raw materials create a great opportunity for Amyris to bring to market renewable solutions with No Compromise® performance that also reduce price volatility."
Amyris's technology, currently used to produce at commercial scale a 15-carbon molecule called farnesene, can also convert plant-based sugars into isoprene, a 5-carbon molecule and main ingredient in the production of synthetic rubber. Isoprene has traditionally been produced as a by-product of the thermal cracking of naphtha to produce ethylene or via C4 refinery stream synthesis. As the petrochemical industry adjusts to lighter cracking slates with the advent of shale gas, new sources of isoprene have become necessary.
Amyris is an integrated renewable products company focused on providing sustainable alternatives to a broad range of petroleum-sourced products.
Amyris uses its industrial bioscience technology platform to convert plant sugars into a variety of hydrocarbon molecules -- flexible building blocks that can be used in a wide range of products. Amyris is commercializing these products both as No Compromise® renewable ingredients in cosmetics, flavors and fragrances, polymers, lubricants and consumer products, and also as No Compromise renewable diesel and jet fuel.
Amyris Brasil Ltda., a subsidiary of Amyris, oversees the establishment and expansion of Amyris's production in Brazil.

Amyris は2003 年に設立され、サンフランシスコ郊外に拠点を置くバイオ分野の先端技術開発企業で 、同社のバイオ製品は、香料、化粧品やパーソナルケア、さらにはプラスチック添加剤やディーゼル燃料やジェット燃料など、幅広い用途に展開されている。

Amyrisはバイオ由来の新規ジエンモノマー Farnesene (商品名 Biofene) を開発した。

Amyris の trans-β-Farnesene は糖類をイーストで発酵させてつくる。
イーストのメタボリズムを変え、エタノールをつくるものをハイドロカーボンをつくるものに変換した。

Amyris's initial portfolio of commercial products is based on Biofene, Amyris's brand of farnesene, a long-chain branched hydrocarbon, manufactured using our engineered microbes in fermentation.

Our product portfolio is divided in these market segments:
・Cosmetics
・Flavors & Fragrances
・Polymers & Plastic Additives
・Home & Personal Care
・Lubricants
・Fuels

製造工場はブラジル(town of Brotas in southeastern Brazil)   200,000L x 6 のFermentation

2014/5/1 クラレ、バイオ系液状ゴムの開発に向け、米国のAmyris Inc.との提携強化

2014/7/14 高砂香料、フレグランス新素材開発でアミリス社と提携

高砂香料工業は米国のAmyris Inc.と共同開発中のファルネセンを出発原料とした新規フレグランス原料について、将来の商業化への第一歩として、スケールアップ試作のためアミリスからファルネセンを購入する運びとなりました。高砂香料工業はアミリスが有する糖類から種々の化合物へと変換可能な工業的合成生物学技術を活用し、イノベイティブで競争力があるサステナブル香料原料のサプライヤーとなるべく、2012年末からアミリスとの提携を開始しました。

米Amyris社は2014年6月8日、ファルネセン(farnesene)由来の芳香性分子を商業化するため、高砂香料との関係が次の段階に進展したと発表した。

July 31, 2014 First International Commercial Flight Completed With Newly Approved Amyris-Total Aviation Biofuel

Yesterday, Amyris, an industrial bioscience company, partnered with Brazilian airline, GOL, to fly the industry's first commercial flight with farnesane, the recently approved renewable jet fuel. The first flight, GOL flight 7725, departed from Orlando, Florida on July 30, 2014 at 5:15 PM ET and traveled to Sao Paulo, Brazil.

Earlier this month, GOL committed to fly its Boeing 737 fleet with up to a 10 percent blend of the renewable farnesane fuel starting with this initial flight on July 30, 2014. Farnesane can reduce greenhouse gas (GHG) emissions by up to 80 percent compared to petroleum fuels. When blended with Jet A/A1 fuel at 10 percent, farnesane can also reduce particulate matter emissions, decreasing pollution near airports and major metropolitan areas.

2014/6/16

With the newly revised ASTM standard for jet fuel, Amyris and Total today begin to prepare to market a drop-in jet fuel that contains up to 10% blends of renewable farnesane.

Developed by Total and Amyris, this new jet fuel blend meets the rigorous performance requirements set for Jet A/A-1 fuel used by the global commercial aviation industry.


Founded in 2003 in the San Francisco Bay Area by a group of scientists at the University of California, Berkeley, Amyris uses breakthrough science and an innovative business model to address some of our planet's most daunting problems.

Amyris's first major milestone came in 2005 when, through a grant from the Bill & Melinda Gates Foundation, our scientists developed technology capable of creating microbial strains to produce artemisinic acid

アルテミシン酸

— a precursor of artemisinin, an effective anti-malarial drug. Malaria is a preventable, curable disease that claims the lives of more than half a million people a year.

In 2008, we entered into an agreement with Sanofi-Aventis to license Amyris technology a royalty free basis for the purpose of manufacturing and commercializing artemisinin-based drugs for the treatment of malaria. In 2013, Sanofi began large-scale industrial production of Artemisinin utilizing Amyris designed strains. Amyris remains committed to expanding the reach of anti-malarial treatments, and its founders have helped establish a non-profit called Zagaya.

Building on this success, Amyris has been applying its industrial synthetic biology platform to provide alternatives to a broad range of petroleum-sourced products. Amyris has focused its development efforts on the production of Biofene, Amyris's brand of renewable farnesene, and on delivering a renewable alternative to petroleum-sourced fuels and chemicals.

After a series of successful rounds of venture capital funding supported the development of early stages of our proprietary industrial synthetic biology platform, Amyris undertook an initial public offering in September 2010. Amyris shares are traded in the NASDAQ exchange under the symbol AMRS.

To support our initial commercial production, Amyris leveraged contract-manufacturing capabilities to begin producing Biofene at various sites around the world. Amyris's first purpose-designed, industrial-scale Biofene plant located Brotas, São Paulo, in the southeastern Brazil, began commercial production in early 2013.

Amyris remains focused on developing its core technology to produce renewable products to the world, starting with products derived from Biofene. With about 400 employees today and millions of dollars invested, Amyris remains a breakthrough renewable products company built on a foundation of disruptive innovation for the greater good.
---
Dec 25, 2016

Brazilian companies to pay combined $3.5B in bribery case

Brazilian construction conglomerate Odebrecht and major petrochemical company Braskem have agreed to pay a combined penalty of at least $3.5 billion to settle allegations that they bribed government officials in a dozen countries around the world, U.S. authorities said Wednesday.

The Brazilian corporations admitted to paying hundreds of millions of dollars in bribes, money that law enforcement officials say was authorized at the highest corporate levels and was concealed through shell companies and offshore entities. Both companies have pleaded guilty to bribery-related charges in federal court in New York and have resolved charges from the authorities in Brazil, Switzerland and the U.S.

The Justice Department called it the largest resolution ever under the Foreign Corrupt Practices Act, a 1977 law that makes it illegal to bribe foreign government officials for business.

U.S. law enforcement officials say bribes totaling about $788 million were paid since 2001 in connection with approximately 100 projects around the world, including to secure public works contracts in Panama, Peru, Angola and several other countries. Some of the offshore entities that were used to hold and disburse the funds were owned or operated by people in the U.S., and some meetings where the scheming occurred took place in Miami, federal prosecutors said.

Court documents allege that Odebrecht created a stand-alone unit, called the Division of Special Operations, that "effectively functioned as a bribe department" within the company and that relied on an off-the-books communication system of secure emails, code names and passwords.

"Odebrecht had a division in its company dedicated solely to bribery, a full team of people dedicated to criminal conduct," FBI assistant director Stephen Richardson told reporters in a conference call.

The companies have both agreed to cooperate with law enforcement, including in investigations into individual company officials. They've also agreed to be under the watch of independent compliance monitors for the next three years.

In a statement Wednesday, William Burck, a lawyer for Odebrecht, said the company was "glad to be turning the page and focusing on its future."

Earlier this month, the company apologized for its involvement in corruption scandals that led to the arrest of its former chief executives and several of its officials. It acknowledged having made serious mistakes and promised not to rely on extortion or bribes to get contracts from public officials. Odebrecht signed another agreement with Brazilian authorities to return almost $2 billion to public coffers.

The company is at the center of the mushrooming probe at state-run oil giant Petrobras, which has ensnared Brazilian politicians and business people across the board.

Some of the corrupt payments alleged Wednesday went to Petrobas employees and executives, and to political parties and government officials in Brazil, the Justice Department said. Prosecutors also accused Odebrecht of conspiring with other Brazilian construction companies to rig bids for Petrobas contracts.

Dozens of Odebrecht executives signed plea bargains with Brazilian prosecutors and as many as 200 politicians might be implicated in the corruption scandal. The company has fired 51 people who participated in the misconduct and disciplined an additional 26, according to the Justice Department's plea agreement.

Plea bargain testimony obtained by The Associated Press cites Brazilian President Michel Temer 44 times, with accusations of illegal campaign financing that put his embattled administration at an even bigger risk of ending within months.

The 82 pages of testimony by former Odebrecht director Claudio Melo Filho include allegations that Temer illegally financed his campaign in 2014. If the accusations are confirmed by Brazil's top electoral court next year, the president will be removed and Congress will pick a successor. In May, President Dilma Rousseff was impeached for breaking fiscal rules.

It is not clear whether U.S. prosecutors will be able to bring criminal charges against individual executives or employees implicated in the corruption, though they will likely face pressure to do so. A memo last year from Deputy Attorney General Sally Yates reminded Justice Department prosecutors that they should strive when possible to hold individuals accountable for corporate misconduct.
 
---
June 22, 2017 

Braskem Approves Construction of Delta, the Largest Polypropylene Production Line in the Americas in La Porte, Texas

Braskem, the leading thermoplastics resins producer in the Americas, today announces that the Company's Board of Directors has formally approved the final investment decision to proceed with the largest polypropylene (PP) production line in the Americas. Braskem will commit up to $675 million in investment capital towards the design and construction of the new facility which will be named Delta and will be located next to Braskem's existing production facilities in La Porte, Texas, U.S.

Fernando Musa, Braskem Chief Executive Officer, stated, "Our approval to proceed with the capital investment in Delta is the latest major milestone in Braskem's global growth strategy. This new world-class petrochemical facility will bring important new North American production capacity to help us meet the growing demand from our clients, reaffirming our position as the leading producer of polypropylene in the Americas and the third largest in the world."

"Leveraging the success of shale gas energy production, North America has among the most attractive feedstock profiles worldwide in terms of access to low cost sources of feedstock and the depth of suppliers. With no new polypropylene plants added since 2005, North America also transitioned to being a net importer of polypropylene in 2016. As such, our additional investment in the United States is a logical extension of our global growth strategy. By increasing our production capacity in close proximity to customer demand, attractive feedstock as well as established export channels, we believe Delta will serve our clients well and offer an attractive return on our investment for our shareholders. This investment is a true vote of confidence in the future of Braskem and a testament to our commitment to meeting our clients' needs," concluded Mr. Musa.

With the engineering design phase well underway, the new production line will have a manufacturing capacity of 450 kilotons (kt), or the equivalent of approximately 1 billion pounds, per year. Construction will take place on part of the approximate 200 acres of land at Braskem's current La Porte facility footprint which is located 26 miles from Houston. The new line will represent additional production capacity of homopolymers, random copolymers, impact copolymers, and reactor TPOs, building upon Braskem's current polypropylene production plant in La Porte which has a production capacity of 354 kt annually and will continue operations. Today's announcement also builds upon the momentum of Braskem's recent launch of its new UTEC Ultra High Molecular Weight Polyethylene (UHMWPE) production plant located at the same La Porte site.

Delta will benefit from significant existing support infrastructure already in place to accommodate the new line including feedstock and utilities connectivity, rail infrastructure, central control room and testing facilities, emergency response equipment, waste treatment facilities and more.
The construction of Braskem's new Delta PP production line is expected to positively impact economic activity in the region, employing approximately 1,000 development and construction workers to fully construct the facility. Upon final completion, the company expects the new line to bring an additional 50 Braskem permanent full-time jobs to the La Porte community.

Construction is expected to begin mid-summer, with the final phase of main construction targeted for the first quarter of 2020. The facility design is being developed directly in-line with Braskem's commitment to sustainability and attention to eco-indicators such as emissions, water and energy efficiency, as well as recycling and waste reduction.
Braskemの米国のPP能力 (千トン)

| | | |
| --- | --- | --- |
|   | 既存 | 新設 |
| Marcus Hook, Pennsylvania | 350 |   |
| Kenova - Neal, West Virginia | 240 |   |
| La Porte, Texas | 354 | 450 |
| Freeport - Oyster Creek, Texas | 320 |   |
| Seadrift, Texas | 225 |   |
| 合計 | 1,489 | 450 |