Equistar
2002/1  Lyondell to Acquire Occidental's 29.5% Stake in Equistar
2003/3 SunocoにPPプラント売却、プロピレンを長期供給
---
http://www.equistarchem.com/index.htm
Equistar Chemicals, LP is a $6.5 billion chemical company that was formed in 1997. Lyondell Chemical Company owns 41 percent of the Equistar partnership, while Millennium Chemicals and Occidental Petroleum Corporation each own 29.5 percent.
 (* 2002/1 Occidental持分をLyondellが購入、OccidentalはLyondell株を購入)


---
Manufacturing Operations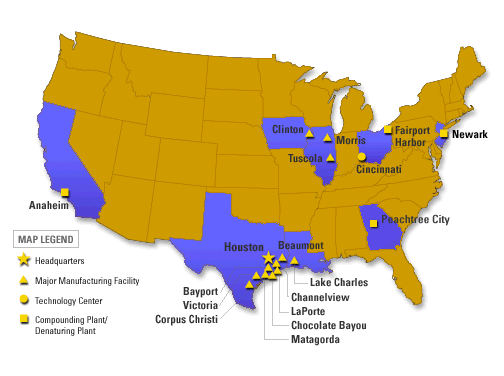 Bayport,TX : PP、LDPE
   built by El Paso Products Company in the 1970s,
   Lyondell Petrochemical acquired the facility in 1990 from Rexene Corporation.

Victoria,TX : HDPE
   constructed in 1976 within the Du Pont Chemical Complex

Corpus Christi,TX : Ethylene, Propylene, Butadiene, Benzene
   began operation in 1980 as Corpus Christi Petrochemical Company .
   In 1988, OxyChem purchased the Complex from Cain Chemical Company.

Channelview,TX : Ethylene, Propylene, Butadiene, Benzene, Toluene , Alkylate, MTBE
   constructed by Texas Butadiene & Chemical Corporation in 1957
   The plant became part of ARCO Chemical in 1969.

La Porte,TX :Ethylene, Propylene, LDPE, LLDPE, HDPP
   U.S. Industrial Chemicals Co., a division of National Distillers & Chemical
   began operations in 1959.
   Several ownership changes occurred in the 1980s, the last being to Quantum.

Chocolate Bayou,TX :Ethylene, Propylene,Butadiene, Benzene
               :HDPE
   The olefins facility was constructed as a jv between Monsanto and Conoco in 1980
   It was acquired by Occidental Petroleum in 1988 from Cain Chemical.

Matagorda, TX : HDPE
   constructed in 1981 by Conoco, which sold the plant to DuPont in 1983
   Ownership later changed between DuPont and Cain Chemical, the latter of which
      was purchased by Occidental Petroleum Corporation in 1988.

Beaumont, TX : EO, EG

Lake Charles,LA : Ethylene(900 million pounds per year), Propylene
   originally built by Cities Service Company in 1972 and shut down in the early 1980's.
   It was restarted in 1986 by Occidental Chemical (Oxychem)

Morris, Illinois : Ethylene, Propylene, LDPE, LLDPE, PP
   Constructed in 1969 

Clinton, Iowa : Ethylene, Propylene, LDPE, HDPE
   Construction of the Clinton facility began in 1969

Tuscola, Illinois :Ethyl Alcohol, Diethyl Ether, Compounds for Wire and Cable
            Microfine Polyolefin Powders


Anaheim, CA & New Ark,NJ : Denatured Alcohol

Peachtree City, GA & Fairport Harbor, OH : Wire and Cable insulation compounds
---
Rated Capacity (MMlbs/yr) (as of January 1, 2001)
| | |
| --- | --- |
| Ethylene               |    11,600 |
| Propylene |     5,000 |
| Butadiene |     1,200 |
| Benzene (MMgal/yr) |      310 |
| Ethylene Oxide Equivalents† (EOE) |    1,100 |
| - Ethylene Glycol (EG) | 1,000 |
| Polyethylene (PE) | 5,640 |
| - HDPE | 3.050 |
| - LDPE‡ | 1,460 |
| - LLDPE | 1,130 |
| Polypropylene | 680 |
| MTBE (MMgal/yr) | 284 |
† Reflects only equity share of PD Glycol venture with DuPont
‡ Excludes capacity of Port Arthur, Texas facility, which was permanently shutdown February 28, 2001

---
1985
Lyondell formed in 1985 from selected chemical and refining assets of Atlantic Richfield Company (ARCO)
1989
Spun off from ARCO
Lyondell becomes public company listed on the New York Stock Exchange (Ticker Symbol: LYO)
1990
Acquired LDPE and PP businesses from Rexene
1993
Formed LYONDELL-CITGO Refining Company (LCR) with CITGO Petroleum Corporation
1995
Acquired HDPE business from Alathon
1996
Formed Lyondell Methanol Company (LMC) with MCN Investment
1997
Upgraded LCR
Equistar Chemicals, LP formed with Millennium Chemicals
1998
Equistar expanded with addition of Occidental Petroleum Corporation businesses
Acquired ARCO Chemical Company
1999
Successfully refinanced long-term debt with $4.2 billion combined equity and debt offering
2000
Sold worldwide polyols business to Bayer AG

Began construction on world-scale propylene oxide (PO) facility in Rotterdam, The Netherlands
---
Millennium Chemicals is one of the leading chemical companies in the world.
   http://www.millenniumchem.com/About+Us/Profile/Profile_EN.htm

We supply millions of pounds of chemicals each year to manufacturers for use in thousands of consumer and industrial products. In short, we work hard to improve the fundamentals of daily life.

Millennium Chemicals is…
The world's second-largest producer of titanium dioxide (TiO2) and the largest merchant seller of titanium tetrachloride (TiCl4) in North America and Europe.

The world's second-largest producer of terpene-based fragrance and flavor chemicals.

The second-largest producer of acetic acid and vinyl acetate monomer in North America, and through its partnership interest in LaPorte Methanol Company, LP, a partner in a leading U.S.A. producer of methanol.

A 29.5% owner of Equistar Chemicals, LP, the second-largest producer of ethylene and the third-largest producer of polyethylene in North America.
Millennium Chemicals' corporate headquarters are located in Red Bank, New Jersey. Millennium Chemicals' global network includes 4,000 employees on five continents. View our directory for a complete listing of office and manufacturing locations.
---
Occidental Petroleum Corporation  
    http://www.subsea.org/company/listdetails.asp?companyid=316
Through its chemical subsidiary, Occidental Chemical Corporation (OxyChem) and its investments in Equistar Chemicals LP and Oxy Vinyls LP, Occidental is a leading North American manufacturer and marketer of basic chemicals such as chlorine and co-product caustic soda, as well as certain petrochemicals, polymers and plastics and speciality products.
---
2002/1/31 Lyondell Chemical 

Lyondell to Acquire Occidental's 29.5% Stake in Equistar; Occidental to Acquire Equity Position in Lyondell
    http://www.lyondell.com/html/investor/frames/frameset_news.shtml

Lyondell Chemical Company today announced that it has agreed in principle with Occidental Petroleum Corporation to acquire Occidental's 29.5% share of Equistar Chemicals, LP. Occidental will purchase an equity investment position in Lyondell, the cash proceeds from which Lyondell will use to fund the purchase of Occidental's stake in Equistar. This would bring Lyondell's ownership interest in Equistar to 70.5%. Millennium Chemicals Inc. holds the remaining 29.5% interest.
---
March 28, 2003  Equistar                 参考 Sunoco, Inc.

Equistar Agrees to Supply Propylene to Sunoco for 15 Years and Sell Bayport Polypropylene Unit in Pasadena, Texas
http://ir.thomsonfn.com/InvestorRelations/PubNewsStory.aspx?partner=Mzg0TlRNME5nPT1QJFkEQUALSTO&product=MzgwU1ZJPVAkWQEQUALSTOEQUALSTO&storyid=84053
Lyondell announced that its joint venture Equistar Chemicals, LP, is entering into a long-term propylene supply arrangement with Sunoco, Inc. and is selling its Bayport polypropylene manufacturing unit in Pasadena, Texas, to Sunoco, subject to certain conditions. The transaction will be effective as of March 31.

Beginning April 1, 2003, Equistar will supply propylene to Sunoco for a period of 15 years, and a majority of the propylene to be supplied will be provided under a cost-based formula.

Equistar is selling its Bayport polypropylene unit to Sunoco, but will retain ownership of its Bayport low-density polyethylene (LDPE) unit. Sunoco will operate both units.