Asia Chemical Weekly 2003-12-12

Saudi NIC, Al-Zamil to jointly develop new C2 at Al-Jubail

National Industrialisation Co (NIC) and the Al-Zamil Group are to combine their efforts to build a cracker in Al-Jubail, Saudi Arabia, company sources said.

It was earlier understood that both companies were pursuing their cracker projects separately. NIC had planned to build an ethane/propane cracker for startup in the first half of 2007.

The Al-Zamil Group holds an 11% stake in Saudi International Petrochemical Co (Sipchem) - originally believed to be the former's vehicle for petrochemical investments - which had earlier expressed interest in building a cracker.

It emerged last week that the Al-Zamil Group will set up a new company, Zamil Petrochemical Co, in the next couple of months to partner NIC's subsidiary, National Petrochemical Industrialisation Co (NPIC) for the ethane/propane cracker project. The Al-Zamil Group will own more than 10% of Zamil Petrochemical, and local investors the rest.

A source from Sipchem said that the project being pursued by the Al-Zamil Group was different from Sipchem's. He said Sipchem remained committed to building its own cracker.

On whether there could be a conflict of interests, a source from the Al-Zamil Group said Sipchem and Zamil Petrochemical were separate companies with different management teams and different business plans. Sipchem was focused on its butane- and methane-based projects, including methanol, butanediol and maleic anhydride units, as well as acetic acid and vinyl acetate monomer projects, he said. However, he did not dismiss the possibility of Sipchem pursuing a cracker project later.

NPIC and Zamil Petrochemical are expected to seek a strategic foreign partner for the cracker project. Basell is a possible contender.

Zamil Petrochemical will also form a joint venture with Basell for a propane dehydrogenation-polypropylene project in Al-Jubail.
---
Gacic offered BDO plant contract to Kvaerner
Gulf Advanced Chemical Industries Co (Gacic) has signed a lump sum contract with Aker Kvaerner to build its 75 000 tonne/year butanediol (BDO) plant at Al Jubail, Saudi Arabia for start-up in December 2005.

The turnkey contract covers engineering, procurement, construction, commissioning and start-up services for the facility being built for Gacic, an affiliate of Saudi International Petrochemical Co (Sipchem).

Financial terms of the contract were not disclosed. No one was immediately available at either Gacic or Kvaerner to provide further information on Monday. Previously, the total cost of the project was put at around $140m-150m (Euro113m-121m).

In a statement, Gacic said Kvaerner has undertaken preliminary engineering of the BDO project under an early work agreement, signed in March 2003. Last September, Kvaerner said it anticipated that the full contract would be signed early this year.

Previously, the full contract had been expected to come into force mid-2003 but despite the delay of more than six months the scheduled start-up remains the fourth quarter of 2005, as planned.

Gacic confirmed that the technologies to be used in the project will be provided by Davy Process Technology, Huntsman Corp and UOP. The Huntsman technology will be the proprietary butane-to-maleic anhydride (MAH) system. The technology provided by Davy will use the MAH to produce BDO.

In December 2003, Gacic received approval from Saudi Industrial Development Fund (SIDF) for a Riyal 400m ($107m/Euro86m) term loan towards the funding of the project.
---
Dow Jones 2004-3-16

Japan Sumitomo Chem May Build Mideast Cracker Project

Japan's Sumitomo Chemical Co. may be in negotiations with several Middle East petrochemical companies to build an ethylene cracker this year, industry sources familiar with the issue said.

Sumitomo Chemical may be eyeing opportunities either in Iran or Saudi Arabia, the sources said.

An official at Sumitomo said the talks were still "in preliminary stages" and declined to comment further on the company's involvement in the project.

Sources said it is more likely Sumitomo will secure a project in Saudi Arabia given that it has already been shortlisted as one of the possible partners for Saudi Arabian Oil Co.'s (SOI.YY) planned Rabigh petrochemical project.

Three companies have so far been shortlisted for the US$3 billion joint venture - Saudi Basic Industries Co., Dow Chemicals of the U.S. and Sumitomo Chemical.
---

http://www.tradepartners.gov.uk/oilandgas/saudi_arabia/profile/overview.shtml

Aramco is making its first foray into the domestic petrochemical sector - Rabigh expansion. Three companies have been shortlisted for this US$3,000 million 50:50 joint venture - Saudi Basic Industries Company (Sabic), US' Dow Chemicals and Japan's Sumitomo Chemicals. MOU for the project expected early January 2004 and once a J/V partner has been appointed, a tender will be issued for the FEED.

---

MEED 2003/9/12

Three in talks on Rabigh expansion

Saudi Aramco has shortlisted three international companies on the estimated $3,000 million project to upgrade the kingdom's largest refinery at Rabigh and add a petrochemical complex at the site. Aramco, which is aiming to sign a memorandum of understanding (MOU) for the project in early 2004, plans to set up a 50:50 joint venture with at least one company to carry out the expansion of the 325,000-barrel-a-day hydroskimming export refinery at Rabigh.
The three companies shortlisted are Saudi Basic Industries Company (Sabic), the US's Dow Chemicals and Japan's Sumitomo Chemicals. Once a joint venture partner has been appointed, a tender will be issued for the front-end engineering and design (FEED) contract.
In addition to expanding the refinery, the joint venture will set up an ethane cracker with capacity of at least 1 million tonnes a year of ethylene, which will be used at feedstock for the production of polyolefin. Aramco plans to award a third-party concession for the cracker. The new complex will be located next to the existing refinery and will also include a propane dehydrogenation (PDH) unit at the refinery for the production of polypropylene. The UK office of Foster Wheeler has recently completed a pre-feasibility study for the project.
Feedstock for the cracker will be pumped from the Eastern Province via the east-west pipeline. Aramco plans to convert one of the two coast-to-coast crude pipelines, the smaller 48-inch-diameter line, to carry gas to the Western Province. The conversion is estimated to cost about $800 million. A new pipeline spur will then link the east-west line with the Rabigh spur.
---
日本経済新聞 2004/5/8

住友化、サウジ合弁 エチレン生産 3000億円投資

 住友化学工業はサウジアラビア国営石油会社のサウジアラムコと合弁で、同国に石油精製品から石油化学製品までを一貫生産する大型プラントを建設する。今月中に両社で事業化調査を開始、2008年にも新プラントを立ち上げる。石化製品の基礎原料であるエチレンを年間100万トン生産する設備を設ける計画で、総投資額3千億円強の巨額プロジェクトになる見通し。サウジでの日本企業の合弁事業としては過去最大級。海外で日本企業が上流の石油精製から下流の石化製品生産まで携わる初のケースにもなる。
 事業候補地はアラムコの石油精製設備がある紅海沿岸のラビ。9日に両社で事業化調査の覚書に調印、調査に入るとともに折半出資の合弁会社を設立する。新設備では天然ガスから安価なエタンガスを抽出し、石化製品の基礎原料であるエチレンを生産。これを基に合成樹脂のポリエチレンなどをつくる。エチレン生産設備は1基で年100万トンと世界最大級にする計画。
国際競争カを確保 住化サウジ合弁 原料を安く調達

 住友化学工業がサウジアラビアで大型の石油精製・石油化学事業に関する事業化調査に乗り出す。原油価格が高騰する中、原料の調達手段を多様化することで国際競争力を強化するのが狙いだ。
 同社はすでにシンガポールで英蘭系ロイヤル・ダッチ・シェルと共同でナフサ(粗製ガソリン)を原料に代表的な石化基礎原料であるエチレンを生産している。今回、サウジで現地生産を計画するエチレンは天然ガスの一種であるエタンガスを原料とする。原油相場に左右されにくく安価なのが特色。急騰したナフサ原料に比べ4分の1から5分の1程度とされるコスト競争力が武器だ。
 住友化学はエタンを安く現地調達できるサウジでエチレンを生産することで、原油相場に左右されやすいナフサに依存する事業構造を改善し、リスク分散を図る。日本企業がエタンからエチレンを生産するのは初めて。
 同社はエタンからはつくれない自動車部品原料用のプロピレン生産ではシンガポールの石化プラントを重点的に活用。原料を最も効率的に調達できる場所で石化製品を生産する国際分業体制を明確にする。
 需要が急増しているアジア市場では、今後中東からエタンを原料とする安価な石化製品の供給が増える見通し。ナフサベ−スだけに偏った製品供給では競争上不利と見て、自ら中東への大型投資に踏み込むことで原料調達を多様化する。
 ただ、中東地域はテロ不安も含め政情が不安定なうえ、石油化学ブロジェクトは日本企業にとって大型の成功例がない分野。事業の実現までになお慎重な見方もある。

エチレン系とプロピレン系製品の需給バランス見通し
(経済産業省まとめ、単位:万トン、▲はマイナス)

 
 
エチレン系
  :
プロピレン系
 
 
アジア
 
 中東
 
アジア
 
 中東
<2002年>
 
 
 
 
 
 
 
 
生産
 
  2,880
 
  750
 
  1,930
 
  140
需要
 
  3,370
 
  220
 
  2,040
 
  130
ギャップ
 
▲ 490
 
  530
 
▲ 100
 
   10
 
 
 
 
 
 
 
 
 
<2008年>
 
 
 
 
 
 
 
 
生産
 
  3,470
 
 1,380
 
  2,440
 
  300
需要
 
  4,970
 
  370
 
  2,900
 
  220
ギャップ
 
▲1,510
 
 1,010
 
▲ 460
 
   80
---
朝日新聞 2004/5/8
 
住友化学がサウジに世界最大級のプラント 数千億円投資

 住友化学工業は7日、サウジアラビアに現地国営企業と合弁で、石油精製・石油化学の一貫プラントを建設する方針を固めた。世界最大級の年産百数十万トン規模のエチレンプラントをはじめ、国際市場に輸出する石化製品を一貫して作る大規模コンビナートを建設する。投資額は日本の石化メーカーとしては過去最大の数千億円となる模様だ。イラク情勢の悪化やアジアでの需要急増で原油価格や石油製品価格が上昇する中、安定的に資源を確保する取り組みとして、経済産業省も歓迎しており、政府として後押しする構えだ。

 世界最大の産油国であるサウジとの石油共同事業を巡っては、日本政府も支援した日本石油(現新日本石油)などによる石油精製プロジェクトが90年代前半に破談。日本最大の自主開発原油だったアラビア石油の採掘権も00年に失効するなど必ずしもうまくいっていない。産油国の強みを背景とするサウジ側の出す条件が厳しく、日本側の採算がとりにくい事情がある。

 住友化学が今回、大規模事業に踏み出すのは、中国などでの需要が急増する中で最大産油国の安価な原料を安定確保するのが狙い。コスト面での国際競争力がつけば、欧米の巨大化学メーカーに劣勢だった供給力を一気に高めることが可能となる。

 サウジの国営石油会社「サウジ・アラムコ」と9日に覚書を調印して詳細を発表。共同で近く企業化調査に着手する。完成するのは08年の見込み。建設予定地は紅海沿岸のラービグ。アラムコ社の製油所があり、精製プラントと石化製品の原料をつくるエチレンプラント、汎用(はんよう)樹脂のポリエチレン製造プラントなどを新設するとみられる。

 日本の石化メーカーが国外にエチレンプラントを建設するのは、住友化学のシンガポールに次いで2例目で、中東では初めて。住友化学にとっては社運をかけた大事業となる。

 中東での大規模プロジェクトでは、70年代の日本とイランの合弁会社、イラン・ジャパン石油化学(IJPC)が代表例。イラン国営石油化学会社と三井物産など三井グループが、中東最大の石油化学コンビナート建設を目指したが、イラン・イラク戦争の影響で経営難に陥り、未完成のまま終わっている。サウジアラビアへの投資では、三菱商事などが80年代に汎用樹脂の製造施設をつくった例がある。

 国内コンビナートは基礎原料にナフサ(粗製ガソリン)を使っているが価格が安定せず、価格高騰に悩まされている。中東のプラントなら安価なエタンが原料として使える利点がある。
---
2004/5/9 住友化学

サウジ・アラムコとサウジアラビア(ラービグ)での石油精製・石油化学事業開発の共同企業化調査実施の件

 住友化学は本日、サウジアラビアン・オイル・カンパニー(サウジ・アラムコ)との間で、サウジアラビア紅海沿岸のラービグにおける石油精製と石油化学との統合コンプレックス開発計画(ラービグ計画)について基本的な枠組みを定めた覚書を締結しました。両社は今後、共同してフイージビリテイ・スタデイー(企業化調査)を実施し、その中で、計画の実現に向けての詳細について検討してまいります。投資額は、現在のところ約43億米ドルと予想しています。
 本計画は、石油会社と石油化学会社とがお互いの強みを生かし、石油精製と石油化学の統合コンプレックスとしては世界最大級の設備を建設することでスケールメリットを追求するととともに、両事業の完全なインテグレーションによりシナジーを最大限に発揮しようとするものであります。
 住友化学は、本年から始まった新しい中期経営計画において、ポリオレフインを中心とする石油化学事業を重点事業のひとつと位置づけておりますが、同事業の中長期的な収益性を向上させるためには、安価原料を安定的に確保することが最重要課題であると考え、鋭意具体的な施策を検討してまいりました。その結果、本計画は、そのための最善のプロジェクトであり、これにより世界市場における当社の競争力が飛躍的に強化されるものと判断し、覚書の締結を決定いたしました。住友化学は、すでに石油精製地であるシンガポールにおいて石油化学の海外事業を手がけておりますが、本計画は、さらに初の産油地立地を目指すものとして、グローバル戦略の新段階をなす画期的なものであります。
 また、本計画はサウジ・アラムコにとって、幅広い川下関連産業の発展を通じ、工業のさらなる多様化に貢献するものであり、外国企業を誘致して経済発展を促進し、サウジアラビア国民の就業機会を増やすという同国の戦略にも合致したものであります。

【計画の概要】
 両社は、本計画の事業主体として共同出資会社を設立します。サウジ・アラムコは、現在、ラービグにおいて所有する日量40万バレルの原油処理能力を持つ製油所をインフラも含めてこの会社に移管します。新会社は、これに加え新たに世界最大級のエタンクラッカーと流動接触分解装置(FCC)、さらに、エチレン、プロピレン各誘導品の生産プラントを新設します。この結果、これまで生産してきたナフサや重油などの石油精製品に、エチレン、プロピレンとその誘導品およびガソリンが新たな生産品目として加わります。年間生産能カはエチレンが130万トン、プロピレンが90万トンであり、その全量を石油化学誘導品の生産に充当する予定であります。
本計画に予定されている石油化学誘導品としては、次のものがあります。
1)
 
ポリエチレン(PE)2系列(住友化学技術による新型ポリエチレン(EPPE)を含む) 
なお、合計年産能力は約75−90万トンの予定
2)
 
ポリプロピレン(PP)2系列で、合計生産能カは70万トン
ホモポリマー、ブロックコポリマー、ランダムコポリマー、ターポリマーのフルレンジをカバーし、コンパウンドも予定
コンパウンドの能カはフイージビリテイ・スタデイーで検討、決定予定
3)
 
住友化学の技術によるプロピレンオキサイドまたは他のプロピレン誘導品
能力はフィージビリティ・スタディーで検討、決定予定
4)
 
上記以外のエチレン誘導品(侯補としてエチレングリコール、アルファオレフイン等)については、フィージビリテイ・スタデイーで検討、決定予定
 サウジ・アラムコは、本共同出資会社に日量40万バレルの原油、95百万立方フィートのエタン、10〜15千バレルのブタンを供給します。一方、住友化学は多岐にわたる独自の石油化学製品の生産技術とアジア全体に及ぶ販売網を提供します。

 本計画の操業開始は2008年後半を目標にしています。
 なお、両社は、本計画をできるだけ迅速に進めるため、プロジェクト・マネジメント・コンサルタントおよびその他のアドバイザーを起用する予定であります。
---
2004/5/9  Saudi Arabian Oil Company/Sumitomo Chemical Company 
Saudi Aramco/Sumitomo Chemical signing ceremony
http://www.sumitomo-chem.co.jp/english/gnews/news_pdf/20040509_1.pdf

The Saudi Arabian Oil Company (Saudi Aramco) and Sumitomo Chemical Co., Ltd. (Sumitomo) today signed a comprehensive Memorandum of Understanding related to the planned development of a large, integrated refining and petrochemical complex in the Red Sea town of Rabigh ("Rabigh Project" or "Project").

Once implemented, the proposed Rabigh Project would be one of the largest integrated refining and petrochemical projects ever to be built at one time. A total of 2.2 million tons of olefins, along with large volumes of gasoline and other refined products, would be produced. The cost for the direct Project investment is currently estimated to be U.S.$4.3 billion; however, this estimate is subject to change based on the results of a Joint Feasibility Study that will be undertaken by Saudi Aramco and Sumitomo. In addition, this project is expected to create third-party investment opportunities in the private sector for utilities and other related infrastructure.

For the companies, the Project represents an opportunity for the world's largest producer of hydrocarbons to partner with an outstanding, world-class petrochemical producer to achieve economies of scale unsurpassed by any other project previously undertaken. For the Kingdom of Saudi Arabia, it presents an opportunity for increased industrialization and a platform for broad downstream conversion industry development in the Kingdom. This Project represents a concrete example of the Kingdom's strategy of attracting foreign investment to expand its economy and provide increased job opportunities for Saudi nationals. It is also consistent with the objective of creating opportunities for private local investment in service and other related industries.

Sumitomo has identified petrochemicals, particularly polyolefins, as one of its core businesses, and it considers securing a stable supply of feedstock that is competitively priced as necessary for strengthening its medium- and long-term competitiveness. This Project is closely in accord with that strategy and constitutes an important step forward in enhancing the global competitiveness of the company's petrochemical operations. Although Sumitomo has been operating a large-scale complex in a petroleum-refining center, Singapore, since 1984, this Project is the company's first attempt to establish a foothold in an oil and gas-producing country, thereby assuring the basic feedstock supply for the Project. The Project will, therefore, open a new stage in Sumitomo's worldwide business strategy.

Background
Saudi Aramco currently owns and operates a topping refinery at Rabigh with a nominal crude distillation capacity of 400,000 barrels per day. The existing site and infrastructure will serve as the base platform for the development of the proposed Rabigh Project.

Saudi Aramco studied various upgrade alternatives for the refinery since the company became its owner in June, 1995. These studies led to the conclusion that the best alternative to capture the synergies of the existing large crude capacity, together with significant investment in site and infrastructure, would be to expand the site into a large, fully-integrated refinery and petrochemical complex.

Agreement of the Parties
The parties have successfully negotiated a Memorandum of Understanding that sets forth the agreement between Saudi Aramco and Sumitomo regarding the key parameters of the Project, the Project configuration, and a broad range of the major technical, commercial, legal, and financial terms.

As the next step in the Project development process, the parties have agreed to undertake a comprehensive Joint Feasibility Study which will, among other things, confirm the capital and operating costs of the proposed Project. The definitive documents to implement the Project will be negotiated in parallel with the Joint Feasibility Study.

The Project
Saudi Aramco and Sumitomo have agreed to form a Joint Venture company with equal ownership. In addition to its world-class capabilities in hydrocarbon production and refining, and its decades-long collaboration with the Kingdom's petrochemicals industry, Saudi Aramco will supply the Rabigh Project with 400,000 barrels per day of crude oil, 95 million standard cubic feet per day of ethane and 10,000 to 15,000 barrels per day of butane. Sumitomo will provide its extensive and proprietary petrochemical technology and marketing base to the venture.

The initial plans for the Project include, as the centerpiece of the expanded site, a high olefins yield fluid catalytic cracker complex integrated with a world scale, ethane based cracker, producing approximately1.3 million tons per year of ethylene, 900,000 tons per year of propylene, and 80,000 barrels per day of gasoline as well as other refined products. Petrochemical units are to be included to convert all of the olefin production to downstream products. The Project would be targeted for startup in late 2008.

The following olefin derivative units are included in the Project configuration:
| | |
| --- | --- |
| 1. | Two LLDPE units, one of which will be Sumitomo's proprietary Easy Processing Polyethylene unit. The total capacity is expected to be approximately 750,000 - 900,000 tons per year; |
| 2. | Two polypropylene units with a total capacity of 700,000 tons per year, producing a full range of polypropylene polymers - homopolymer, block copolymer, random, and terpolymer. A polypropylene compounding unit with a capacity to be confirmed during the Joint Feasibility Study is also included; |
| 3. | A propylene oxide unit utilizing Sumitomo's proprietary oxidation technology or other propylene derivative units with a capacity to be confirmed during the Joint Feasibility Study; and |
| 4. | Other ethylene conversion units such as Mono-Ethylene Glycol (MEG) and Alfa-olefin are proposed as candidates to consume the balance of the ethylene. The selection and size of these derivative units will be confirmed during the Joint Feasibility Study. |
The companies will retain a Project Management Services Contractor and other necessary advisors to proceed as quickly as possible with the execution of the Project.
---
April 19, 2004 - Acetex Corporation
Acetex announces $1 Billion expansion project
http://www.acetex.com/300/index.html
Acetex Corporation announced today that it has finalized definitive joint venture agreements with National Petrochemical Industrialization Company (TASNEE Petrochemicals) regarding the construction of world class acetic acid, vinyl acetate monomer (VAM) and methanol projects to be established in Jubail, Saudi Arabia. Once completed, the project will extend Acetex's global acetyls position as well as establish Acetex as the lowest cost supplier of acetyls into the Far East market. The projects will benefit from the favourable natural gas supply as well as from Acetex's proprietary integration technology for the co production of acetic acid and methanol. It is anticipated that this technology will reduce investment by more than US $100 million as well as reducing operating costs.

The projects will be located at the petrochemical complex site of TASNEE Petrochemicals (an affiliate of National Industrialization Company) in Jubail Industrial City, Saudi Arabia, with an annual production capacity of approximately 500,000 tonnes of acetic acid, 275,000 tonnes of VAM and 1.8 million tonnes of methanol. Acetex, in cooperation with TASNEE Petrochemicals, will be responsible for the marketing of the acetyls products and will integrate this new business with the existing acetyls business into one global marketing organization.

It is expected that production will begin in 2007. The investment in these projects is estimated at US $1 billion. The projects will create approximately 800 opportunities for permanent direct and indirect employment and several thousand man-years of employment during construction. Saudi Aramco has allocated the required amount of natural gas for this industrial complex. Acetex will own 50% of the acetyls (acetic acid and VAM) company and 25% of the methanol company.

Acetex intends to enter long-term methanol supply agreements with the Joint Venture to cover its methanol requirements in Saudi Arabia and Europe.

"These projects fit well with our long term growth strategy of becoming a global chemical company," said Brooke N. Wade, Chairman and Chief Executive Officer of Acetex Corporation. "The joint venture will maximize opportunities by combining Acetex's proprietary technology for the integrated production of acetic acid and methanol with a strong local partner in TASNEE Petrochemicals with their first class infrastructure and capability in an excellent strategic location. Financing of the project will be on a non-recourse basis utilizing attractive regional sources. It is anticipated that after recognition of credit for technology contributions and financial support available from industrial offset programs Acetex will fund its contribution to the projects without the requirement to issue additional equity."

"From a shareholder's point of view, this project confirms the substantial value of our proprietary integration technology and, when complete, will almost double the acetyls capacity of our company and make us the low cost producer in both Europe and the Far East."

Acetex Corporation has two primary businesses - its European Acetyls Business and the Specialty Polymers and Films Business. Our Acetyls business is Europe's second largest producer of acetic acid and polyvinyl alcohol and third largest producer of vinyl acetate monomer. These chemicals and their derivatives are used in a wide range of applications in the automotive, construction, packaging, pharmaceutical and textile industries.

Specialty polymers developed and manufactured by Acetex are used in the manufacture of a variety of plastics products, including packaging and laminating products, auto parts, adhesives and medical products. The films business focuses on products for the agricultural, horticultural and construction industries.

Acetex directs its operations from its corporate head office in Vancouver, Canada. Acetex has plants in France, Spain, and Canada, and sells to customers primarily in Europe, the United States, and Canada. Acetex's common shares are listed for trading under the symbol "ATX" on The Toronto Stock Exchange, which has neither approved nor disapproved the information contained herein.

Tasnee Petrochemicals was established by and is majority owned by National Industrialization Company (NIC) with the participation of a number of strategic partners including Gulf Investment Corporation (GIC), which is owned by the GCC countries with headquarters in Kuwait, Saudi Pharmaceutical & Medical Appliances Co. (SPIMACO), National Industries Group (NIG), Kuwait, and Al-Olayan Financing Co., Riyadh, Saudi Arabia. TASNEE Petrochemicals had established its first plant in Jubail for the production of about 500,000 tonnes of propylene and polypropylene annually which is currently under start up.
---
Basell 2004/12/1

Sahara Petrochemical Co. and Basell sign agreement for construction of PP & propane dehy complex
http://www.basell.com/
Sahara Petrochemical Company and Basell Holdings Middle East GmbH today announced the signing of an agreement to construct a 450 KT per year polypropylene plant and propane dehydrogenation unit at Al-Jubail Industrial City in the Kingdom of Saudi Arabia. The facilities will be operated by a joint venture that Basell and Sahara Petrochemical Company plan to establish in 2005. Start-up of the new plants is targeted for the end of 2007.

The agreement includes a license to utilise Basell's most advanced polypropylene technology, the Spherizone process. The polypropylene from the new plant will be marketed globally by Basell. The propane dehydrogenation unit will be based on the UOP Oleflex process. Saudi Aramco will supply the propane feedstock.

"This is an important step forward in Basell's strategy to establish world class manufacturing facilities in locations with attractive feedstock conditions and an infrastructure that is strong and reliable," said Volker Trautz, Basell's president and CEO. "This is Basell's second project in the Kingdom of Saudi Arabia again based on excellent cooperation with our partners in this undertaking, Sahara Petrochemical Company and the Al-Zamil Group of companies."

Trautz said Basell's excellent experience in establishing Saudi Polyolefins Company, a joint venture with the National Petrochemical Industrialization Company (Tasnee Petrochemicals) that started up at the beginning of this year, was a factor in the company's decision to pursue additional projects in the Kingdom.

Ian Dunn, president of Basell International, said Basell is well prepared to market the output from the new Spherizone process PP plant. "Basell is the leading polypropylene marketer in the world with an annual volume of 8 million tonnes, including its joint ventures, and with marketing experience in more than 120 countries," Dunn said. "Our global marketing presence and expertise is a key strength of Basell, and we are delighted to be able to combine this with the strengths of our new partners."

"Spherizone technology is the most significant breakthrough since the launch of the Spheripol process 20 years ago," said Just Jansz, president of Basell's Technology Business. "The Spherizone process offers the benefit of expanded product capabilities and enhanced performance for a range of applications at reduced operating costs. I am particularly happy that one year after announcing that this new technology is available for commercial licensing, the aggregate capacity licensed to date has already reached one million tonnes."

In addition to being the world's largest producer of polypropylene, Basell is the largest producer of advanced polyolefin products, a leading supplier of polyethylene and catalysts, and a global leader in the development and licensing of polypropylene and polyethylene processes. Basell, together with its joint ventures, has manufacturing facilities around the world and sells products in more than 120 countries. Additional information about Basell is available at www.basell.com.

---
日本経済新聞 2004/12/29

サウジ 原油生産能力増強 2009年にも150万バレル増
 休止中の3油田も再開 供給不安解消狙う

 サウジアラビアが原油の生産能力増強を急いでいる。2油田の増強工事を予定よりも早く完成させたのに続き、休止中の3油田で2007年に生産を再開する。中国などを中心に世界の石油需要が強まっていることに対応、生産能力を2009年ころまでに現在よりも150万バレル(日量、以下同)多い1250万バレルに高め、供給不安の解消を急ぐ。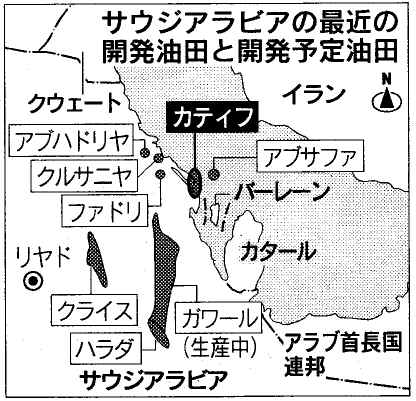 カティフでは26日、事実上の元首であるアブドラ皇太子らが出席してカティフ、アブサフアの2油田の完成式典を開いた。2油田の生産量は合計80万バレル。当初の完成予定を3カ月早め8月に生産を始めている。
 ヌアイミ石油鉱物資源相は式典で「(カティフの生産開始で)能力は1100万バレルに達した。今後数年間でアブハドリヤ、ファドリ、クライス、クルサニヤ油田を開発する」と具体的な油田名をあげて能力増強を続ける意向を明らかにした。
 東岸の産業都市ジュベイル近郊に位置するクルサニヤ、ファドリ、アブハドリヤは1960年代に生産を開始した古い油田。80年代に休止したが原油と天然ガスを分離する設備などを新設、07年末をめどに合計50万バレルを生産する。
 サウジ国営石油会社アラムコは世界最大のガワール油田西方に位置するクライス油田の開発準備に着手した。09年にも生産を開始する見通し。同油田の生産量は現在10万バレル前後。しかし、本格開発すれば80万−100万バレルの生産が可能とされる世界有数の大型油田だ。
 サウジの積極姿勢は油田開発用の掘削井(リグ)の急増から見て取れる。アラムコは今年後半から掘削設備調達の入札を相次ぎ実施、来年上半期には稼働する掘削井は現在の5割増の70−80本に増える見通しだ。
 クルサニヤなど3油田の再開発には10億ドル(約1千億円)、クライス油田の開発には30億ドル規模の投資がそれぞれ必要とされる。
 原油価格は今年、記録的水準に高騰した。投機マネーの流入だけでなく、世界的な石油の消費拡大に産油国の供給能力が追いつかないとの分析も背景にあった。ヌアイミ石油相は「サウジの可採埋蔵量は(現在の2600億バレルに)2千億バレル上乗せすることも可能だ」と発言し、一部専門家が指摘する"サウジの能力限界説"を強く否定した。

アラムコ社長会見
 需給にらみ機動的に 日中はともに重要市場

 アラムコのアブドラ・ジュマ社長兼最高経営責任者(CEO)は28日、サウジ東部ダーランのアラムコ本社で日本経済新聞記者と会い、油田開発の方針やアジア市場への取り組みを語った。主なやり取りは次の通り。

ー 今後の開発は。
 「ハラダ油田の30万バレルが2006年に加わりアブハドリヤなど3油田の50万バレルが07年に生産を始める。クライス油田の生産開始は09年だろう。重要なのは常時150万−200万バレルの生産余力を維持することだ。需給に目を配り、必要なら速やかに開発する」
− アラムコは今年、日本企業と大型案件に着手した。
 「住友化学との石油精製・石油化学施設の事業化調査は順調に進んでいる。2005年前半に結論を出すが、このプラントの基本設計をすでに日揮に発注するなど、結果を待つのではなく並行して多くの作業を進めている。第三のパートナーを否定するつもりはないが、今は時期尚早だ」
 「精製や販売事業で高い利益を見込めないことはわかっている。昭和シェル石油の株式を取得したのは世界第二位の経済大国との関係を築くことが狙いだ。昭シェルヘ30万バレルを供給することでわれわれは日本への最大の供給者となる。(現在9.96%の)昭シェルへの出資比率は、合意に基づき05年中に最大15%に高める」

ー 中国市場への取り組みはどうか。
 「中国市場は重要だ。中国石油化工や米エクソンモービルと福建省に精製・石化施設を建設することで合意し、ほかにも話し合いを進めている。しかし、日本と中国のどちらかを取るという話ではない。どちらも重視している」


---
BP 2005/6/8

Innovene and Delta Oil Agree To Explore Major Petrochemical Investment in Saudi Arabia
http://www.bp.com/genericarticle.do?categoryId=2012968&contentId=7006623
Innovene, BP plc's petrochemicals and refining subsidiary, and Delta International, a leading Saudi-owned independent development company, announced today the signing of a Memorandum of Understanding (MOU) for a major investment in Saudi Arabia's petrochemical sector.

The memorandum marks the beginning of detailed negotiations between Innovene and Delta for the construction of a world-scale cracker and associated derivative capacity in the Kingdom, with sites being explored in Jubail. It is intended that this project, which is expected to cost around $2bn, will form a platform for future long-term growth opportunities.

Innovene and Delta will be equal partners within the joint venture. It is anticipated that, subject to final approvals, an agreement will be signed before the end of the year, with commissioning of the first plants expected in late 2008.

The MOU was signed last night at a ceremony in Riyadh by Ralph Alexander, CEO of Innovene and Mr Badr Al-Aiban, Chairman and CEO of Delta in the presence of His Highness Prince Saud Bin Thunayyan Al-Saud, Chairman of the Royal Commission for Jubail and Yanbu.

Commenting on the joint venture with Delta, Ralph Alexander said: "We see this joint venture as the first chapter in a long and fruitful partnership between Innovene and the Kingdom of Saudi Arabia. It confirms Innovene's position as a truly global petrochemicals player, including Delta on the list of highly respected companies with whom we have partnerships around the world and adding a major Middle East position to our existing portfolio of assets in North America, Asia and Europe."
Badr Al-Aiban commented: "We are delighted to be partnering with Innovene, one of the largest petrochemical companies in the world, and look forward to a successful venture. Delta has a long reputation for its ability to forge highly successful long-term strategic alliances with both major companies and the countries in which we operate. As a Saudi company with domestic and global activities, we are pleased to be able to play such an important part in the continuing development of Saudi Arabia's petrochemicals industry."
Notes to editors:
Innovene
* Innovene was created as a wholly owned subsidiary of BP on April 1, 2005. BP may sell part of its stake in Innovene by way of an IPO later in 2005, subject to necessary approvals and market conditions.
* Innovene has more than $15bn of revenues, 15 million tonnes of petrochemical production volumes and $9bn in total assets.
* Innovene's major manufacturing sites include Grangemouth in Scotland, Lavera in France, Koln in Germany and Lima, Chocolate Bayou and Green Lake in the US. SECCO, the joint venture between Innovene/BP, Sinopec and SPC in Shanghai and the largest petrochemical complex in China to date, became fully operational in March 2005.
* Innovene manufactures petrochemicals, including olefins (ethylene and propylene) and their derivatives such as polyethylene, polypropylene, acrylonitrile, linear alpha olefins, polyalphaolefins, and solvents. These chemicals are used to make a wide variety of plastic goods, including food and drink containers and wrappings, pipe work, automotive parts and mouldings. Innovene also manufactures gasoline, diesel and other refined products in the Grangemouth and Lavera refineries.
* The company's global headquarters are located in Chicago.
* For more information on Innovene, visit www.innovene.com

Delta
* Delta International, a leading private Saudi-owned independent development company, was founded by its Chairman and Chief Executive Officer, Mr. Badr Al-Aiban in 1978, and its activities have expanded significantly since its inception. Delta is headquartered in Jeddah.
* Delta played an important role in the conception of the "Contract of the Century"; the formation of the consortium for the supergiant Azeri, Chirag, Gunashli field, offshore Azerbaijan, and during that time identified and participated in a number of other major projects within the Caspian region, Central Asia and the Middle East.
* Delta's current activities upstream projects are focused primarily on North and West Africa.
* For more information on Delta, visit  www.Delta-oil.com
Delta Oil Company Limited (Saudi Arabia)

Delta Oil Company Limited, a private Saudi-owned company, was founded by its Chairman and Chief Executive Officer, Mr. Badr M. Al-Aiban. Mr. Al-Aiban established the original Delta entity in Saudi Arabia in 1978, and its activities have expanded significantly since its inception.
Today, Delta and its affiliates comprise a diversified group of companies involved in the energy industry, real estate development, food processing and packaging, soft drink bottling and distribution, agriculture and manufacturing. The company's operations extend to Central Asia, South East Asia and other countries in the Middle East.
Delta has developed a number of strategic alliances in the oil and gas industry. As a member of the Azerbaijan International Operating Company (AIOC) and the North Absheron Operating Company Limited (NAOC), Delta and its affiliates are involved in exploring and developing oil fields in Azerbaijan, as well as other Central Asian countries.
「ビンラディン一族が経営するデルタ石油」
---
Sipchem Appoints NCB to Manage its Initial Public Offering
http://www.sipchem.com/sysadmin/NewsManagment/press.asp?a=246&z=4
Saudi International Petrochemical Company ("Sipchem") announces its plans for its Initial Public Offering ("IPO") by listing its shares on Tadawul, the Saudi Arabian Stock Exchange. The Initial Public Offer ("IPO") is primarily intended to facilitate a capital increase to finance Sipchem`s expansion projects.

The Company has appointed The National Commercial Bank ("NCB") as Financial Advisor, Lead Manager and Lead Underwriter to the IPO in a ceremony that took place today in Sipchem's offices in Al-Khobar. Sipchem's President, Ahmed A. Al-Ohali is quoted as expressing his confidence in the past performance of the Company as well as the potential for the future, and his pleasure at the imminent participation of the Saudi public in Sipchem's future success. The Deputy General Manager of NCB, Mr. Abdulkareem Abu AlNasr stressed the importance of this milestone offering and the positive impact of listing a leading industrial Company with the financial strength of Sipchem on the performance of the Saudi Arabian stock market and the Saudi economy in general. Both Sipchem and NCB are looking forward to working closely with CMA and the Ministry of Commerce and Industry to achieve a smooth and successful process.

Sipchem is a Saudi Arabian closed joint stock company formed in 1999 to become a leading diversified and integrated international petrochemical company. The Company`s first phase of development comprises of two joint ventures with international partners for world-scale methanol (completed in 2004) and butanediol petrochemical projects (currently in the start-up phase). Sipchem is currently developing as Phase II an integrated Acetyls petrochemical complex. Sipchem's paid-in capital is SR 1,500 MM (US$400 MM). The Company presently has 73 shareholders, all leading individual and corporate investors from Saudi Arabia and the GCC region.
---
SABIC's Yansab receives nod for 35% IPO on Saudi stock exchange

The Saudi Arabian Capital Market Authority has given approval for the initial public offering of 35% of shares in SABIC affiliate Yanbu National Petrochemicals Company (Yansab) on the Saudi stock exchange, SABIC announced Wednesday. The amount of the offering is approximately Riyal 2-bil ($500-mil) of the total company's capital which exceeds Riyal 5.6-bil ($1.5-bil).

The IPO will be managed by Saudi American Bank as of the start of business on Dec 17, 2005 and until up to the closing of business on Dec 29, 2005, the company said. The starting price per share will be its listed par value of Riyal 50.00 ($13.30). The minimum allocation is 10 shares and the maximum is 5,000 shares.

In addition to the 35% public offering, SABIC own 55% of Yansab shares. SABIC's partners in Ibn Rushd and Tayf including national and regional establishments and companies own 10%.

"Yansab, which is currently under construction at Yanbu Industrial City, will be one of the world's largest petrochemicals complexes with an annual capacity exceeding 4-mil mt. It is expected to go on stream by 2008," said Mutlaq Al-Morished, the vice president for corporate finance said.
---
Platts 2006/1/4

Brazil's Ultrapar licenses Saudi Arabia use of output technology

Brazil's Ultrapar Participacoes's Oxiteno has authorized Saudi Arabia's Project Management and Development Co the use of technology for manufacturing ethanolamines and ethoxylates through a contractual-license agreement, Oxiteno said Wednesday.

The technology will be used by PMD to produce 100,000 mt/yr of ethanolamines and 40,000 mt/yr of ethoxylates at the company's Al Jubail petrochemical complex in Saudi Arabia. The project is part of a bigger PMD facility that will be centered around a cracker with a projected ethylene production-capacity of 1.35-mil mt/yr.

The Al Jubail complex will be integrated with other PMD downstream plants, according to Wednesday's statement.
ポリオレフィン 
全てBasell技術

HDPE 400 KT (Hostalen)
MDPE/HDPE 300 KT(Lupotech G )
PP 640KT(2 plants total) (Spheripol)
LDPE/EVA copolymer 640KT(Lupotech T )
---

MENA FN 2003/10/22

PMD $3.5 billion Saudi petrochemical project on track

Project Management & Development Co. ('PMD') based in Al Jubail, Saudi Arabia, announced that it has received a notice of allocation of feedstock from Saudi Arabian Oil Company ('Saudi Aramco'). This follows a review by Saudi Aramco of PMD's project proposal and its acceptance of PMD's planned integrated petrochemicals complex project.

PMD's project will be the largest private sector petrochemical project in the Middle East with an expected total investment of $3.5 billion. The business plan envisages that PMD will crack the allocated feedstock, comprising ethane and mixed butanes, and will produce 1,350 KTA of ethylene in addition to commercial quantities of propylene and benzene.
This ethylene, which is expected to have a significantly competitive cash cost of production, since PMD enjoys the benefit of low feedstock costs in line with the Kingdom of Saudi Arabia's policies, will provide the basis for the production of several downstream products in world-scale polyethylene, polypropylene and ethylene glycol plants. These plants will form part of a single integrated complex, located within the Royal Commission's industrial area at Al Jubail.
In addition, the project is expected to produce bisphenol and amines at the integrated complex. Scheduled start up date is expected in early 2008.
PMD envisages that the project will be developed jointly with one or more international partners. PMD will shortly approach selected potential partners on a formal basis, many of whom have already contacted PMD to express interest in the project.
Joint venture partners are expected to provide key operational and technical support to the project company including operation and maintenance of the plant and product offtake. The project economics suggest that the project company is likely to generate an attractive return on investment for PMD and its partners, which are also expected to include selected Saudi and GCC shareholders.
PMD has previously announced the appointment of Arab Banking Corporation as strategic and financial advisor for the project.

---

http://www.sabicamericas.com/january-2004-2?makePrintable=1

"I have always believed that the country needs more than 10 SABICs," says Majed Al-Ahmadi, president and chief executive officer (CEO) of Project Management & Development Company (PMD). "Petrochemicals is one of the things we are good at and we have the feedstock. And the private sector is interested and has the financial capabilities."

What the new players may lack in size, they make up for in ambition. Jubail-based PMD is a private developer with grand plans. Its planned $3,000 million complex will comprise a 1.35 million-tonne-a-year (t/y) mixed feedstock cracker, a 970,000-t/y polyethylene (PE) plant, a polypropylene (PP) plant with capacity of at least 500,000 t/y and a 530,000-t/y ethylene oxide unit for the production of ethylene glycol, ethanolamine, methylamine and derivatives and ethoxylates. In addition, PMD plans to build a facility to produce some 300,000 t/y of bisphenol A, which is primarily used for making polycarbonate and epoxy resins.

"This is not a world for small players," says Al-Ahmadi, a former SABIC executive. "This is why PMD is a big baby. [With these capacities], it will push us immediately into the top 10 in the kingdom and even establish us on a worldwide level."

Al-Ahmadi says progress on the scheme has been encouraging so far. On the project's equity side, a joint venture partner is expected to provide 50 per cent of the required $1,000 million, with the remainder to be covered by PMD and investors. Al-Ahmadi says a "good number" of mostly regional investors have expressed strong interest in taking a stake in the project. An advisory team has been appointed and a joint venture partner should be selected in early 2004.

Finding a world-class joint venture partner with technology know-how will be essential for PMD, especially when it comes to ensuring commitments from financial institutions. "I believe the private sector has a future in Saudi Arabia," says a petrochemicals company executive based in Europe. "There is enough money in the country to provide equity for several projects in the range of $1,000 million-2,000 million.

But it will be difficult for PMD because it does not have a name and it is therefore harder to find commitments from banks for the planned $3,000 million-4,000 million complex. That is why a foreign partner is so important."

---

PMD selects Hostalen & Lupotech G processes for new plants in Saudi Arabia

Project Management and Development Company Ltd. (PMD) has selected Basell technologies for two new polyethylene plants it intends to build in the Kingdom of Saudi Arabia. Hostalen technology will be used in a high density PE plant with an annual capacity of 400 KT and Lupotech G technology will be used in a medium density/high density PE plant with an annual capacity of 300 KT.

Earlier this year, PMD selected Basell's Spheripol process for two new PP plants with a total annual capacity of 640 KT and Basell's Lupotech T technology for a new LDPE and EVA copolymer plant with an annual capacity of 270 KT.

All five plants will be part of a new petrochemical complex in the industrial city of Al Jubail, Saudi Arabia. Start-up is scheduled for 2009.

"Basell is the only polyolefins technology company offering a complete portfolio of PP and PE technologies," said Just Jansz, president of Basell's Technology Business. "PMD has decided to source all of its polyolefin technology needs from a single supplier, Basell. A single reference point for technology facilitates project implementation, competitiveness and project financing."

PMD has licensed all of its 1.6 million tonnes of polyolefin capacity from Basell including gas phase, slurry and high pressure tubular polyethylene processes as well as the world's leading polypropylene technology.
---
2006/5/11 Basell

Tasnee & Sahara Olefins Company and Basell sign joint venture agreement

Basell has signed a joint venture agreement with Tasnee & Sahara Olefins Company for the construction of a new integrated ethylene and polyethylene complex at Al-Jubail Industrial City in the Kingdom of Saudi Arabia.

The complex will include a gas cracker and two 400 KT per year polyethylene plants. One plant, based on Basell's latest generation Hostalen process, will produce high density polyethylene; the other plant, based on Basell's Lupotech T technology, will produce low density polyethylene. Scheduled to start up in 2008, the units will be the largest Hostalen and Lupotech T process plants in the world.

Basell will have a 25% equity share in the project, while Tasnee & Sahara Olefins Company will hold the remaining equity. Tasnee & Sahara Olefins Company is a recently established joint stock company. Its main shareholders are Tasnee Petrochemicals and Sahara Petrochemical Company with a minor shareholding by the Saudi Arabian General Organisation for Social Insurance (GOSI).

"Basell and Tasnee Petrochemicals have already another joint venture, Saudi Polyolefins Company, which includes a 450 KT per year polypropylene plant in Saudi Arabia," said Volker Trautz, CEO of Basell, who participated in a signing ceremony in Riyadh, Saudi Arabia. "Following the excellent success of this joint venture, we look forward to extending our cooperation into polyethylene."

Volker Trautz expressed his appreciation to Sahara Petrochemical Company which is also a major shareholder in this project. Sahara Petrochemical Company and Basell are currently developing a new 450 KT per year Spherizone polypropylene plant and propane dehydrogenation unit in Al-Jubail.

Trautz said, "The implementation of this major ethylene and polyethylene complex with the combined strengths of Tasnee, Sahara and Basell will create a world-class facility with competitive feedstock and operating costs as well as sustainable product property advantages in an increasingly competitive world market. Basell is the largest polyethylene producer in Europe, and this project is part of our strategy to expand our geographic presence by establishing, together with strong local partners, new world-class manufacturing facilities with attractive feedstock conditions in close proximity to target markets."

Just Jansz, President of Basell's Technology Business, said, "Basell's latest generation Hostalen technology can produce high performance multi-modal HDPE. These grades offer advantages in demanding applications such as caps and closures and blow molding, as well as in specialty films, which are among the fastest growing applications in the Middle East."

Lupotech T is a high pressure tubular reactor process for the production of LDPE. "The Lupotech T technology has a long and successful history, but recent advances have further enhanced its competitiveness," Jansz said. "The process features broad product capability, high conversion rates and stable and flexible operation."

Basell's complete portfolio of licensed technologies includes:

・ Spheripol : polypropylene technology for the production of homopolymer, random and heterophasic copolymers.
・ Spherizone : next generation polypropylene technology based on new multi-zone reactor technology.
・ Spherilene : swing gas phase process for the production of LLDPE and HDPE.
・ Hostalen : low-pressure slurry process for the production of bimodal HDPE.
・ Lupotech T : high pressure tubular reactor process for the production of LDPE and EVA copolymers.

Basell also produces and commercialises advanced catalyst systems which are sold under the Avant trade name.

Basell is the world's largest producer of polypropylene and advanced polyolefin products, a leading supplier of polyethylene and catalysts, and a global leader in the development and licensing of polypropylene and polyethylene processes. Basell, together with its joint ventures, has manufacturing facilities around the world and sells products in more than 120 countries. Additional information about Basell is available at www.basell.com.

---
Dow is Selected for Negotiations on New Petrochem Complex
The Saudi Arabian Oil Company (Saudi Aramco) has selected The Dow Chemical Company as its potential partner to engage in exclusive negotiations concerning a joint venture company to construct, own and operate a world-scale chemicals and plastics production complex at Ras Tanura, in Saudi Arabia's Eastern Province.

This joint venture would encompass an array of world-scale facilities producing a very broad portfolio of plastics and chemical products.

The proposed petrochemical project would be integrated with the existing Ras Tanura refinery complex, which is one of the world's largest refinery complexes. When fully operational, the new petrochemical complex will be one of the largest plastics and chemicals production complexes in the world and be ideally situated to access most major world markets. The joint venture would produce an extensive and diversified slate of chemicals, and introduce new value chains and specialty products to the Kingdom. The availability of these chemicals in the Kingdom will facilitate the development of downstream conversion industries and the further industrialization of the Kingdom.

About Saudi Aramco
Owned by the Saudi Arabian Government, Saudi Aramco is a fully-integrated, global petroleum enterprise, and a world leader in exploration and producing, refining, distribution, shipping and marketing. The company manages proven reserves of 260 billion barrels of oil (nearly a quarter of the world's total) the largest of any company in the world, and manages the fourth-largest gas reserves in the world. Saudi Aramco owns and operates the world's second largest tanker fleet to help transport its crude oil production, which amounted to 3.3 billion barrels in 2005. In addition to its headquarters in Saudi Arabia's Eastern Province city of Dhahran, Saudi Aramco has affiliates, joint ventures and subsidiary offices in China, Japan, Netherlands, Philippines, Republic of Korea, Singapore, United Arab Emirates, United Kingdom and the United States. More information about Saudi Aramco can be found at www.saudiaramco.com.

About Dow
Dow is a diversified chemical company that offers a broad range of innovative products and services to customers in more than 175 countries, helping them to provide everything from fresh water, food and pharmaceuticals to paints, packaging and personal care products. Built on a commitment to its principles of sustainability, Dow has annual sales of $46 billion and employs 42,000 people worldwide. More information about Dow can be found at www.dow.com.
---

Chemweek's Business Daily/Access Intelligence via COMTEX

Last month, before Dow's involvement was disclosed, local sources told CW that the project would upgrade Aramco's 325,000-bbl/day refinery at Ras Tanura and build a petchem complex that will produce 1.2 million m.t./year of ethylene and 400,000 m.t./year of propylene. The project also includes an aromatics complex with capacity for 400,000 m.t./year of benzene and 460,000 m.t./year of para-xylene, sources say. Other products will include acrylonitrile, acrylonitrile butadiene styrene, isocyanates, polyethylene terephthalate, purified terephthalic acid, and styrene-butadiene rubber.

---

なお同地では2004年にJETROがアラムコと組んで、ブタン、ナフサおよび改質ガソリンを原料として、
(1)ベンゼンを抽出することによる既設ガソリンの品質改善および本プラントで新規に生産されるアルキレートによるオクタン価の向上
(2) 輸出向け石油化学中間製品、エチルベンゼン、クメンおよびターシャルブチルアルコールの生産
の事前FSを実施している。

平成15年度 石油・天然ガス資源開発等支援調査およびエネルギー使用合理化調査
「サウジアラビアラスタヌラ製油所の有機的複合化及び効率化調査」
http://www.jetro.go.jp/jetro/activities/oda/model_fs/oil/pdf/h15_4.pdf
---
Aramco sees potential for petchem plants
http://www.gulfindustryonline.com/bkArticlesF.asp?IssueID=236&Section=714&Article=4367
From its headquarters in the eastern city of Dhahran, Saudi Aramco is overseeing a major petrochemicals development programme involving three projects that will be integrated with refineries

These projects are Petro-Rabigh, which is scheduled to start production in 2008; the Ras Tanura petrochemical complex integrated with the existing Ras Tanura refinery and targeted for commencement of commercial operations in 2012, and the Yanbu Petrochemical Masterplan, currently in its initial stages of conceptualisation and set to start in 2014.

The second project in the programme is Ras Tanura. Now in the preliminary development phase, it will feature the first application in the Middle East of cracking refinery liquids (naphtha) coupled with ethane cracking and aromatics production.
This combination is in line with the company's strategic direction to integrate refining operations with petrochemicals to produce diverse products that are essential for the establishment of an advanced export-oriented conversion industry (such as synthetic rubber and automobile parts).
The project will integrate with the 550 MBD Ras Tanura refinery located on the east coast of Saudi Arabia to produce about 1.35 million tpy of ethylene, 0.9 million tpy of propylene and 1 million tpy of aromatics.

In the Yanbu Petrochemical Master Plan, the goal is to create an integrated business opportunity with the existing Yanbu Refinery and leverage streams from the existing and future joint venture refineries in Yanbu', on the West Coast.
The Master Plan is currently under development. "We are evaluating options to expand and upgrade the existing 235,000 barrels per day Yanbu Refinery into an integrated olefins and aromatics complex that will provide a diverse line of petrochemical products," said Shalabi.
"The heart of the integration will be centred on a naphtha-based steam cracker that maximises production of propylene, butadiene, and benzene for further conversion to semi or specialty type products. Start-up is tentatively targeted for 2014."
The petrochemicals sector provides further opportunities for Saudi Aramco to develop a position of sustainable competitive advantage, said Shalabi
"The petrochemicals business is attractive, with strong projected growth rates expected to exceed global GDP growth.
"Saudi Arabia offers a stable and secure supply of feedstock to support petrochemical opportunities, a competitive energy cost environment to enhance the operations of these ventures, and the financial resources to make them happen. In a global environment, which is becoming increasingly concerned with stable hydrocarbon supplies, locating petrochemical ventures closer to the feedstock source is becoming a considerable strategic advantage," he remarked.
"Saudi Aramco's existing and planned refining assets present attractive petrochemical integration opportunities. Furthermore, the kingdom's geographic location, close to growing markets, also makes us a strong contender for export-oriented petrochemical facilities."
Shalabi said the new petrochemical projects would have strong potential macro-economic benefits for the kingdom, especially ventures which would be based on refinery liquid feedstocks in addition to gas.
Saudi Arabia's existing petrochemical industry is largely based on ethane, which has led to a strong focus on commodity grade ethylene derivatives such as polyethylene, MEG and styrene.
The cracking of liquid feedstocks, available from integration with refineries, would broaden the product slate and result in the production of additional products such as propylene and butadiene. Also, refinery liquids cracking will be the source for producing the much-needed aromatics value chain.
These primary petrochemical products will be the foundation on which secondary industries will develop, producing a broad product slate of raw materials for competitive export-oriented plastics conversion industries producing.
Not only traditional plastic finished products but also new more value-added converted products will be created.
Support for these conversion industries is one of the key metrics Saudi Aramco employs with potential partners in developing new downstream projects
Saudi Aramco's strategic thrust in downstream activities is in line with the kingdom's long-term vision for economic development and diversification.
"The longer-term vision for Saudi Arabia moves us beyond exporting feedstocks and basic chemicals to producing more value-added chemical derivatives and even converted finished goods," observed Shalabi.
"We will leverage our advantaged cost position to capture more of the value chain, including labor-intensive conversion opportunities which would create more economic diversification and generate additional employment opportunities."
---
Basell JV with Sahara Petrochemical Company secures Shariah compliant financing
Al-Waha Petrochemical Company, the joint venture between Basell (25%) and Sahara Petrochemical Company (75%) in Al-Jubail Industrial City in the Kingdom of Saudi Arabia, yesterday completed the signing of the Shariah compliant Financing Facilities Agreement and all related financing documents with six regional banks.

"We are proud that together with our partner Sahara Petrochemical Company we have succeeded for the first time to arrange non-recourse project financing in the Kingdom based on a Shariah compliant structure," said Volker Trautz, President and CEO of Basell.

Trautz added, "With the combined strengths of both partners we will jointly create a world class manufacturing complex with competitive feedstock and operating costs. With the most advanced technology and using Basell's global marketing capability we will be able to establish and maintain a robust and profitable operation in an increasingly competitive market."

Engineering, procurement and construction (EPC) activities for the 450 KT per year Spherizone polypropylene plant and a propane dehydrogenation unit began in January this year based on an early works agreement with Tecnimont and Daelim. The EPC contract was signed on September 18, 2006 and commercial production is foreseen in the first quarter 2009.

The Spherizone process is Basell's most advanced polypropylene technology and can produce the full range of PP grades, as well as new families of propylene-based polymers with enhanced product properties. Basell operates a Spherizone plant in Brindisi, Italy, and has granted eight Spherizone process licenses with an aggregate capacity of 2.5 million tonnes per year.

The Al-Waha joint venture is Basell's third major investment in Saudi-Arabia. A first joint venture with Tasnee Petrochemicals, involving a polypropylene plant and a propane dehydrogenation unit, commenced commercial operations in May 2004. Its current capacity of 500 KT per year will be expanded to 800 KT by end 2008.

In June this year Basell's second joint venture in the Kingdom, Saudi Ethylene and Polyethylene Company, was established jointly with both Tasnee Petrochemicals and Sahara Petrochemical Company. The new company is currently constructing a cracker for the production of 1000 KT per year of ethylene and 285 KT per year of propylene; one 400 KT per year high density polyethylene (HDPE) plant using Basell's latest generation Hostalen ACP process, and one 400 KT per year low density polyethylene (LDPE) plant using Basell's Lupotech T technology. The start up of these facilities will be in the fourth quarter 2008.

Basell is the world's largest producer of polypropylene and advanced polyolefin products, a leading supplier of polyethylene and catalysts, and a global leader in the development and licensing of polypropylene and polyethylene processes. Basell, together with its joint ventures, has manufacturing facilities around the world and sells products in more than 120 countries. Additional information about Basell is available at www.basell.com.

For more information contact Chantal Sohm of Basell's Corporate and eBusiness Communications Department at + 33 1 55 51 21 19 or chantal.sohm@basell.com
---
Trade Arabia January 22, 2006

Zamil Group and Huntsman Company sign SR500 million ($135 million) JV agreement

Zamil Group and the Huntsman Corporation of USA announced their intention to form a joint venture to build a world scale Ethyleneamines manufacturing facility in Jubail Industrial City, Saudi Arabia, through the signing of the joint venture shareholders agreement. The total investment cost in the project is put around SR 500 million ($135 million).

The Saudi Arabian General Investment Authority (SAGIA) hosted the signing ceremony. 'SAGIA's hosting of this event is in line with its strategy to promote investments in the energy sector, one of the vital sectors on which the agency is focused,' commented SAGIA Governor, His Excellency Mr. Amr Al-Dabbagh.

HE Mr. Abdul Aziz AL-Zamil, Chairman of the Industrial Sector at Zamil Group and Mr. Donald Joseph Stanutz, President of Performance Products Division, Huntsman Corporation signed the shareholders agreement on January 22, 2006 to form the joint venture, the Arabian Amines Company (AAC).

The 66 million pound (30,000 MTE) plant will produce Ethylenediamine (EDA), Diethylenetriamine (DET A), Triethylenetetramine (TET A) and higher molecular weight versions such as TEPA, E-100, AEP and Piperazine. The products serve as specialty intermediates for a variety of end uses including epoxy curing agents, bonding agents and lube-oil additives for gasoline and diesel engines. The companies anticipate the plant being on line in 2008.

"The signing of the shareholders agreement between Huntsman Corporation and Zamil Group today is an advanced milestone in the realization of the joint venture and the execution of the Ethyleneamines project which will source its feedstock from operating companies in Jubail Industrial city," commented Mr. Al-Zamil.

Huntsman and Zamil Group will have equal ownership in AAC. The venture will use Huntsman's proprietary technology that the company has optimized in its U.S. plants. Huntsman will serve as the exclusive sales and marketing arm for the joint venture and will provide technical service and product applications knowledge.

Zamil Group and Huntsman expressed their thanks to the Saudi Government agencies for their support of the project development and especially to the Ministry of Commerce and Industry, Royal Commission for Jubail and Yanbu, Saudi Arabian General Investment Authority (SAGIA), Saudi Industrial Development Fund (SIDF), Saudi Offset Program, Saudi British Offset Program and Saudi Basic Industries Corporation (SABIC).
---

2006/11/2 Huntsman

Huntsman's Saudi Joint Venture Achieves Milestone in New Amines Project
Plant to Begin Production in 2009

Huntsman Corporation and its partner, the Saudi Arabia-based Al-Zamil Group, today announced the signing of a definitive Project Management Consultancy (PMC) agreement with Jacobs Engineering for overall project management for the development of the previously announced new ethyleneamines complex in Jubail, Saudi Arabia.

"This new facility is a key part of our growth strategy," said Don Stanutz, President for Performance Products, a division of Huntsman Corporation. "With this joint venture, we can continue to stay focused on serving our customers and doing what we do best, which is manufacturing and marketing our differentiated chemicals."

As part of the joint venture arrangement with Al-Zamil, Huntsman will license its technology for the plant and will also serve as the exclusive sales and marketing agent for the venture's output, much of which will be sold in Asia.

The estimated $150 million amines complex will produce approximately 30,000 tons of amines per year, including ethylenediamine (EDA), diethylenetriamine (DETA), triethylenetetramine (TETA) and higher molecular versions. These specialty intermediates will serve as end products in the production of epoxy curing agents, bonding agents and lube oil additives for gasoline and diesel engines.

"All of the pieces for this project are falling into place nicely," said Stanutz. "We are on schedule to start production in the first quarter of 2009."

The engineering, procurement and construction contract will be awarded in early 2007.
Huntsman is a global manufacturer and marketer of differentiated and commodity chemicals. Its operating companies manufacture products for a variety of global industries, including chemicals, plastics, automotive, aviation, textiles, footwear, paints and coatings, construction, technology, agriculture, health care, detergent, personal care, furniture, appliances and packaging. Originally known for pioneering innovations in packaging and, later, for rapid and integrated growth in petrochemicals, Huntsman today has 15,000 employees and 78 operations in 24 countries. The Company had 2005 revenues of $13 billion.

Statements in this release that are not historical are forward-looking statements. These statements are based on management's current beliefs and expectations. The forward-looking statements in this release are subject to uncertainty and changes in circumstances and involve risks and uncertainties that may affect the company's operations, markets, products, services, prices and other factors as discussed in the Huntsman companies' filings with the Securities and Exchange Commission. Significant risks and uncertainties may relate to, but are not limited to, financial, economic, competitive, environmental, political, legal, regulatory and technological factors. Accordingly, there can be no assurance that the company's expectations will be realized. The company assumes no obligation to provide revisions to any forward-looking statements should circumstances change, except as otherwise required by securities and other applicable laws.
---
2007/4/5 MarketWatch

Saudi Aramco-Dow Chemical project costs surge to $22 bln -industry

Saudi Arabian Oil Co. and Dow Chemical Co. are adamant they will go ahead with building a large-scale refinery and petrochemicals complex in eastern Saudi Arabia, company officials said this week, despite industry estimates that costs have more than doubled to $22 billion.
A memorandum of understanding was due to be signed at the start of this year, but neither company would be drawn on when this will now happen.
Aramco plans to float a 30% stake in the Ras Tanura complex in an initial public offering later this year.
"Negotiations between our two companies are going well. Both Dow and Saudi Aramco are very enthusiastic about the project," Earl Shipp, Dow's president for the Middle East, Africa and India, told Dow Jones Newswires in an e-mail this week.
Saudi Aramco said in an e-mailed response to questions that the companies "are in the scoping and negotiation phases of the project, and will announce more detail as decisions are finalized."
The project, to come on stream in the second quarter of 2012, will integrate Aramco's existing refinery at Ras Tanura with a new petrochemicals complex on the oil-rich kingdom's Persian Gulf coast.
Industry estimates put the cost for the complex at $10 billion when it was first mulled over by Aramco and at $15 billion last July when Aramco announced that it had selected Dow to enter into exclusive negotiations on developing the project.
However, industry sources in and outside Saudi Arabia now say building the complex may cost as much as $22 billion.
Aramco and Sumitomo Chemical Co. of Japan in 2005 signed a joint venture agreement to develop a similar complex at Rabigh on the Red Sea at a cost of $4.3 billion.
That project is now estimated to cost the two companies up to $10 billion to develop.
Project costs in the Middle East have soared as governments are spending record oil revenues on building and expanding industries and infrastructure, leading to a shortage of contractors, raw materials, equipment and qualified labor, which in turn has driven up prices.
Thursday, Total SA Chief Executive Christophe de Margerie told reporters that rocketing costs on a planned $10 billion liquefied natural gas project in southern Iran are a serious threat to it going ahead, echoing a chorus of concern from energy producers over the viability of their expansion plans.
De Margerie said costs at the project, which aims to extract gas from Iran's massive South Pars field in the Persian Gulf, "are so high that they are close to damaging the project."
Qatar's Oil Minister Abdullah bin Hamad Al Attiyah also said Thursday that he had met in recent weeks with the chairmen of oil and gas contractors to detail his deepening worries about project costs that are delaying projects globally.
"We're being forced to halt projects in hydrocarbons and petrochemicals. It's a big concern," he said. "Cost is a big concern" and is "one of the issues we should be concerned about before it snowballs."
Al Attiyah flagged up the example of a proposed new 615,000 barrel-a-day refinery in Kuwait, Al Zour.
Kuwait expected it to cost around $6 billion but contractor consortia came in with prices in excess of $15 billion, forcing a rethink.
In February, ExxonMobil Corp. and partner state-run Qatar Petroleum agreed to abandon a gas-to-liquids partly due to spiraling cost.
Aramco and Dow declined to provide details on the Ras Tanura project's latest cost estimates and the timeframe for signing a memorandum of understanding, originally due in the beginning of this year.
"Once a memorandum of understanding is signed and approved by the two companies' boards of directors, the next phase will be the feasibility study," Dow's Shipp said.
"At this point, we are not providing any specific information on the project size, product slate, timing and other aspects of this project", the Aramco spokesman added.
"This information is confidential between the two companies and the small number of suppliers who are bidding on the project management services contract and technology license agreements."

---
SABIC eyes Saudi Aramco petrochemicals deal-report

Saudi Basic Industries Corp(SABIC) is considering a deal with state-oil company Saudi Aramco to upgrade a Red Sea Coast refinery and a build a petrochemicals complex there, a magazine reported.

A deal would give SABIC, the world's largest chemical maker by market value, access to Aramco feedstock and allow the state oil firm to press on with plans to develop its Yanbu project without a foreign partner, the Middle East Economic Digest said.

Any tie-up between the two companies would have the blessing of the Saudi government, the London-based weekly said in its latest edition, citing unnamed industry sources.

The Yanbu venture is one of three refinery and petrochemical plants belonging to Aramco, the world's largest oil company by production. The other two, Rabigh and Ras Tanura, are joint ventures with Japan's Sumitomo Chemical Co Ltd and the Dow Chemical Co of the United States.

Aramco announced plans for Yanbu in 2005, including upgrading the 235,000-barrel-a-day refinery and adding a steam cracker and aromatics complex, the magazine said.

"It will almost certainly produce a different range of products to the Rabigh and Ras Tanura complexes to avoid competing with them," it said.

State-controlled SABIC, which makes chemicals, fertiliser and steel, in October posted its fifth consecutive record profit in the third quarter on higher prices for its products and more production.
---
2007/12/17 Chevron Phillips
Saudi Polymers Company Awards EPC Contracts
Chevron Phillips Chemical Company LLC (Chevron Phillips Chemical) announced today that Daelim Industrial Co., Ltd., of South Korea, and JGC Corporation, of Japan, will provide the engineering, procurement and construction services for Saudi Polymers Company's NCP Project (Saudi Polymers).
Saudi Polymers will construct and operate an integrated petrochemicals complex at al-Jubail, a Saudi Arabian industrial city located on the Persian Gulf. Once complete, Saudi Polymers will include a world-class olefins cracker, and will produce ethylene, propylene, polyethylene, polypropylene, polystyrene and 1-hexene. Saudi Polymers will begin construction in January 2008, with project completion expected in early 2011. Commercial production is scheduled to begin in September 2011.
JGC will perform the engineering, procurement and construction services for Saudi Polymer's 1.2 MM tpa cracker, 200 kta metathesis facility and 100 kta 1-hexene facility. The cracker and metathesis technologies will be provided by Lummus, and the 1-hexene technology provided by Chevron Phillips Chemical.
Daelim will provide engineering, procurement and construction services for Saudi Polymer's 2 x 550 kta polyethylene trains, 400 kta polypropylene train and 2 x 100 kta polystyrene trains.
Saudi Polymers Company is a new limited liability company incorporated in the Kingdom of Saudi Arabia created to execute the NCP Project. Saudi Polymers will be initially owned 50 percent by Arabian Chevron Phillips Petrochemical Company Limited (ACP), a wholly-owned subsidiary of Chevron Phillips Chemical Company LLC and 50 percent by Saudi Industrial Investment Group (SIIG). Ultimately Saudi Polymers Company will be owned 35 percent by ACP and 65 percent by National Petrochemical Company (Petrochem), a new joint stock company incorporated in the Kingdom of Saudi Arabia.
Saudi Polymers Company will be the third petrochemical complex built by Chevron Phillips and SIIG at al-Jubail.
Platts 2008/1/22

Chevron Phillips Chemical, which expects to start construction this month on a joint venture steam cracker in Al-Jubail, Saudi Arabia, plans to buy the plant's ethane and propane feedstocks from Saudi Aramco, a company source said at the weekend. 


The complex is slated for completion early 2011, with commercial production scheduled to begin from September that year. The output from the complex will be sold in the Saudi domestic market and exported globally.
---
2008/6/17 plastemart.com

Sipchem shelves plans of 1.3 mln tpa cracker project at Al-Jubail

Major challenges on costs, schedule, availability of qualified contractors and financing faced by Saudi International Petrochemical Co (Sipchem) has forced the company to abandoned plans for a 1.3 mln tpa cracker project at Al-Jubail, Saudi Arabia. Besides the cracker, Sipchem has also dropped plans for low-density polyethylene (LDPE), high density PE (HDPE) and polypropylene (PP) plants that were part of the original project configuration.
Instead the company will secure ethylene and propylene for the derivative projects through an arrangement with existing crackers at the same location. Jubail houses crackers operated by Sabic's Petrokemya, Kemya, Sadaf and Sharq. New cracker projects at Al-Jubail include those by Sharq, National Chevron Philips (NCP), Saudi Ethylene and Polyethylene Co (SEPC) and Saudi Kayan Petrochemical Co.
Sipchem plans to utilise the surplus ethylene and propylene at Al-Jubail under tolling arrangements. As the crackers at Al-Jubail are not fully utilised; no additional investment will be incurred at any of the crackers to provide ethylene and propylene to Sipchem.
Sipchem, which has received gas allocation for its cracker project, will focus on differentiated products which include ethylene vinyl acetate (EVA), acrylonitrile (ACN), methyl methacrylate (MMA), polymethyl methacrylate (PMMA), polyacetals and polyvinyl acetate (PVA), sodium cyanide and carbon fibre.

---
日本経済新聞 2008/7/2

サウジで発電・造水事業 住商、総事業費6000億円

 住友商事はサウジアラビアで発電・造水事業に乗り出す。総事業費は約6千億円で日本企業による海外発電事業としては過去最大。経済発展と人口増が続く中東産油国では電力・水不足の深刻化が懸念されている。住商は日本にとって最大の原油輸入相手国であるサウジのインフラ整備に協力することで、日本のエネルギー安定調達につなげる。日本政府も公的融資などで事業を支援する。

 サウジの東部湾岸のラスアズズールに石油火力発電所と海水淡水化設備を組み合わせた大型プラントを建設する。発電能力は100万キロワットと日本の通常の原子力発電1基分に相当する。造水能力は世界最大の日量100万トンで、日本の家庭なら300万人強の生活用水を賄える。サウジ全体の給水能力を3割押し上げる効果があるという。来年2月に着工し、2021年の運転開始を目指す。
 サウジ政府が40%、住商とマレーシアの独立系電力事業者のマラコフインターナショナル、現地財閥企業のアルジョメが各20%出資して事業会社をつくり、建設から運営までを手掛ける。プロジェクトの主導権は住商が握り、主力設備は富士電機ホールディングス傘下の富士電機システムズ製を採用する考え。
 完成から20年間、首都リヤドを中心に電力・水を供給し、住商はその間、出資比率に応じた収益を得る。総事業費の8割は国際協力銀行を含む銀行団からの融資で調達し、残りを自己資金でまかなう計画だ。
 中東産油国は原油高で得た資金を元手にインフラ整備を加速させており、三井物産や丸紅など日本の総合商社はここ数年、1千億円を超える大型プロジェクトを相次いで獲得している。日本は原油輸入の約9割を中東に依存し中でもサウジからの輸入は全輸入の3割を占めることから、日本政府も日本企業の活動を後押ししている。


---
August 21, 2008 AP

Saudi move clears way for outside investment

Saudi Arabia has decided to give outsiders limited access to the country's stock market - a move that could open up the Middle East's largest exchange to increased foreign investment.

The decision, announced Wednesday by the country's Capital Market Authority, will allow certain authorized market players such as local branches of global investment banks to enter into financial transactions known as swap agreements with foreigners. The rules apply to both institutional and individual foreign investors.

Although the new regulations do not allow foreigners to own shares of Saudi companies outright, they do for the first time let outsiders reap economic benefits of shares traded on the Riyadh-based exchange, known as Tawadul.

"Here is a clear intention to open up the Saudi equity market to foreign investors," said Timothy Gray, chief executive of HSBC Holdings PLC's Saudi Arabian division. "This is a fairly significant move."

Previously, foreign traders outside the Gulf could only invest in Saudi stocks indirectly through mutual funds.

Investors have been eager to invest more directly in the Saudi economy, which like its oil-rich neighbors is being flooded with cash thanks to soaring energy prices.

The new rules could provide a fresh injection of capital into the Tawadul, which has slumped 23 percent since the start of the year, and calm some of the market's volatile tendencies.

The arrangement, however, ensures that legal ownership and shareholder voting power remain within Saudi Arabia.

A number of questions about the plan have yet to be resolved. For example, Gray said, it is not clear if certain types of stocks will be off limits, or whether there will be minimum holding requirements or other restrictions.

It is also uncertain when banks can begin offering the swaps to customers.

"We could get clarification very quickly or it could take some time," Gray said. "No one has formal approval from the CMA, as yet."

Despite the uncertainties, analysts see the move as a prelude to further opening of the kingdom's economy in the future.

"We think the move is a clear sign of greater liberalization in Saudi Arabia," Credit Suisse analyst Mohamad Hawa said in a note to investors. "This strengthens the case for Saudi Arabia fully opening its equity markets to foreigners in the short to medium term."

---
Sep 21, 2008 Reuters

Aramco-Dow petrochemical plant faces delays

Saudi Aramco and U.S. firm Dow Chemicals' giant Ras Tanura petrochemical faces delays as the sheer size of the project complicates design, the Middle East Economic Survey (MEES) reported.

Dow's investment in the plant, last estimated to cost around $22 billion, will be the largest single foreign investment in Saudi Arabia's energy sector. The plant was due to begin production in 2012.

U.S.-based KBR won the front-end engineering and design contract for the plant in July 2007, but that contract will be split and partly awarded to another company, MEES reported, citing industry sources.

"Around 2 million man hours of work, covering utilities and offsites and some aromatics units have been taken off KBR and will be given to another firm, leading to delays," the weekly MEES reported.

Tight equipment and labor supplies are driving up costs for energy projects worldwide, causing delays and even cancellations.

The size and complexity of some Saudi projects to boost capacity both upstream and downstream makes them vulnerable to delays, industry sources have said.

Earlier this month, Aramco announced its 500,000 barrels per day (bpd) Khursaniyah oilfield had started output, delayed from the initial schedule to start in December last year.

Aramco and Japan's Sumitomo Chemicals joint PetroRabigh venture also said earlier this month that it would start operation in the first quarter of 2009, delayed from the last quarter of 2008.

Aramco will be involved in $129 billion of investment on new energy projects in the next five years. About $70 billion will be spent by international and domestic joint ventures, while another $59 billion will be spent on projects solely undertaken by Aramco.

The world's top oil exporter aims to boost domestic refining capacity by around 1.6 million barrels per day and to expand its petrochemical sector as part of plans to diversify the economy away from dependence on crude oil export revenues.
---
サウジアラビアで炭化珪素(SiC)の製造事業に参入
住友商事株式会社(社長:加藤 進、以下住友商事)は、米国ワシントンミルズ社(Washington Mills ニューヨーク州)、サウジアラビア アルゴサイビ Ahmad H. Algosibi & Brothers と共に、サウジアラビア東岸 ジュベール工業団地で炭化珪素の製造を行なう合意書に締結しました。
住友商事は両社と、2009年6月までに合弁会社「シリコンカーバイドサウジアラビア社 Silicon Carbide Saudi Arabia」を設立、工場の建設を開始する予定です。出資額は、約20億円で、出資比率は、住友商事が20%、ワシントンミルズ社/アルゴサイビ社が各40%です。
新工場は年間24000トンの製造能力を有し、2011年1月より製造販売を開始する予定です。
炭化珪素は硬度が高く、耐熱性に優れた特性を持っており、耐火材、研磨・研削材等様々な分野で使用され、昨今では、ディーゼル車の黒煙フィルター、シリコンウェハーのカッティング材用途にも注目されています。
日本は年間約13万トンの市場がありますが、ほとんど中国からの供給に依存しており、中国政府の輸出規制もあり、近年価格が著しく高騰、供給も不安定化していました。
サウジアラビアでは、炭化珪素製造過程で、最も重要なコスト要因である電力および石油コークスを安価で確保出来る事に加え、外資企業優遇政策もある事から、中国品よりも高品位で競争力のある炭化珪素の製造が可能となります。
住友商事は、日本ならびにアジア市場で耐火材、研磨・研削材用途で、炭化珪素のさらなる拡販を目指します。
Washington Mills is one of the world's largest producers of abrasives and fused mineral products, offering an exceptionally wide line of standard abrasive grain and specialty electro-fused minerals from its worldwide multi-plant locations.
---
Algosaibi to launch region's first silicon carbide plant
Ahmad H Algosaibi & Brothers of Saudi Arabia, Washington Mills Management of the US, and Sumitomo Corp of Japan announced today that they have entered into a memorandum of understanding, (MoU) under which they will form a joint venture to construct and operate a new plant for manufacturing silicon carbide in Saudi Arabia.
The plant will have an initial production capacity of 24,000 metric tons per year of high-quality silicon carbide.
The plant will be located in Jubail Industrial Park, Saudi Arabia. Under the terms of the MoU, the parties will proceed with a feasibility study, and seek various Saudi Government approvals and permits. Production start-up expected in early 2011.
Silicon carbide is a hard material, with high thermal conductivity and thermal shock resistance.
Demand for silicon carbide has burgeoned in recent years as it has been in demand for diesel particulate filters and for the slicing of silicon wafers for the photovoltaic industry.
Silicon carbide products are widely used and found in many other diverse industrial applications such as Abrasive machining, wire sawing, grinding and sand blasting, and in the manufacturing process of semiconductors, power lighting, switching and diodes.
Further uses include the production of technical ceramics, cutting tools, and in iron and steel making.
Announcing the signing of the MoU, Saud Algosaibi, Managing Director of Ahmad H Algosaibi and Brothers commented: "Silicon carbide is a highly added value project to the Saudi Arabian economy and its industrial landscape. It will enhance local manufacturing diversity and promote newer industries and expand exports."

He added: "Our partners in the silicon carbide joint venture are highly valued and regarded in the industry and well known for their achievements and capabilities."
Rei Ito, General Manager of Sumitomo's Industrial Performance Materials Department, added: "Currently, there is a worldwide shortage of first quality silicon carbide, particularly in the Asian markets. We believe that a Saudi plant will enable us to serve this fast growing market."
Peter H Williams, President of Washington Mills commented: "We are excited about partnering with AlGosaibi and Sumitomo on this project. The combination of Algosaibi's expertise in doing business in Saudi Arabia, Sumitomo's marketing strength, and our knowledge about silicon carbide shall be a great added value to this project."