トップページ
December 30, 2003 Bayer

Bayer: All subgroups and service companies now separate legal entities
   http://www.news.bayer.com/News/News.nsf/id/2003-0604
Bayer MaterialScience AG, Bayer Business Services GmbH and Bayer Industry Services GmbH & Co. OHG entered in the commercial register

The reorganization of the Bayer Group into a holding structure has been completed: Bayer MaterialScience AG (formerly the Bayer Polymers business area), Bayer Business Services GmbH and Bayer Industry Services GmbH & Co. OHG have now been entered in the commercial register as separate legal entities.
---
Reorganization
   http://www.bayer.com/en/bayer/orga.php
Since July 1, 2002 the Bayer Group has been operating within a new corporate structure, with Bayer AG assuming the role of management holding company.
The Bayer subgroups and service companies became legally independent entities on the following dates:
・
The subgroup Bayer CropScience AG on October 1, 2002
    - with retroactive economic effect from January 1, 2002
・
The subgroup Bayer HealthCare AG on September 30, 2003
    - with retroactive economic effect from January 1, 2003
・
The subgroup Bayer Chemicals AG on September 30, 2003
    - with retroactive economic effect from July 1, 2003
・
The service company Bayer Technology Services GmbH on September 30, 2003
    - with retroactive economic effect from January 1, 2003
・
The subgroup Bayer MaterialScience AG, formerly the "Bayer Polymers" business area, on December 30, 2003
    - with retroactive economic effect from October 1, 2003
・
The service company Bayer Business Services GmbH on December 30, 2003
    - with retroactive economic effect from October 1, 2003
・
The service company Bayer Industry Services GmbH & Co. OHG on December 30, 2003
    - with retroactive economic effect from October 1, 2003
The Bayer Group is run by the four-member Group Management Board, which determines overall strategy, decides on the portfolio, appoints executive staff, allocates resources and oversees financial management.
Organizational structure of Bayer AG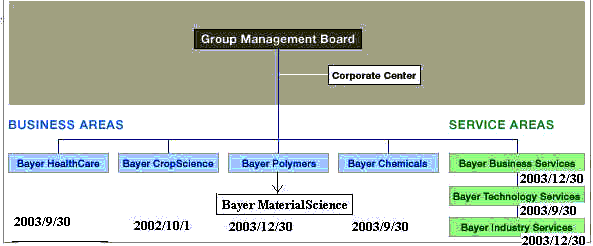 Corporate Center
Certain governance, support and service functions for the Group Management Board are performed by the departments in the Corporate Center.

Business Areas
The Bayer Group's four business areas - Bayer HealthCare, Bayer CropScience, Bayer MaterialScience and Bayer Chemicals - are those in which Bayer is positioning itself for future growth. Within the scope of the strategies, goals and guidelines set by the Group Management Board, the business areas are separate operating units with their own management teams and business responsibility.

Service Areas
Central service functions are performed by the service areas Bayer Business Services (which also includes administrative services), Bayer Technology Services (also responsible for engineering functions) and Bayer Industry Services (responsible for sitespecific services). The services of these three units are available primarily to other units of the Bayer Group, but also to external customers.


---
March 18, 2004 Bayer

NewCo to be named "LANXESS"
Stock market launch of new company planned for early 2005 at the latest
http://www.press.bayer.com/News/News.nsf/id/2004-0108
Bayer AG intends to place a large part of its chemicals business and some activities of Bayer MaterialScience in a new company named "Lanxess", which will then be floated on the stock market. Since the announcement of the portfolio changes on November 7, 2003, the activities involved in creating and establishing this new company have been performed under the provisional project name of "NewCo".

Bayer plans a virtual organization for the activities concerned by July 1, allowing Lanxess to then operate largely as an independent unit and be placed on the stock market by early 2005 at the latest.
---
July 1, 2004 Bayer

LANXESS starts operating independently
Bayer CEO Wenning: "An important milestone on the road to realigning the Group"
http://www.news.bayer.com/News/News.nsf/id/2004-0421
LANXESS, the future company where the Bayer Group will combine almost all areas of its chemicals business and parts of its polymers activities, began operating as an independent unit on July 1, 2004. For the moment the new structure only applies internally. "We've reached an important milestone for the realignment of the Group on schedule," said Chairman of the Bayer Board of Management Werner Wenning. LANXESS will be able now to operate largely independently, he said. The company is scheduled to be listed on the stock exchange at the beginning of 2005. And the decision as to whether this will take place via an IPO or a spin-off will be taken over the coming weeks. Until the stock market flotation, LANXESS will operate under the umbrella of the Bayer AG holding company.
---
Decision by Bayer's Management Board   Lanxess to be spun off to stockholders
http://www.news.bayer.com/News/News.nsf/id/2004-0456
At its meeting today, the Board of Management of Bayer AG decided that the LANXESS unit, currently operating as a Bayer subgroup, should be spun off to the company's stockholders and listed separately on the stock exchange at the beginning of 2005. The consent of Bayer stockholders to this measure will be sought at an Extraordinary Stockholders' Meeting in mid-November.
---
2004/11/17 Bayer

Stockholders approve the spin-off of Lanxess
http://www.press.bayer.com/News/News.nsf/id/C04BEB218A32ECD1C1256F4F004BC30E?Open&ccm=010005000&l=EN
The stockholders of Bayer AG have cleared the way for the spin-off of Lanxess. At the Extraordinary Stockholders' Meeting on November 17, 2004 in Essen, they voted by a majority of 99.66 percent of the capital stock represented to approve the Spin-Off and Acquisition Agreement between Bayer AG and Lanxess AG as proposed by the Board of Management and the Supervisory Board. The Lanxess unit, which is currently operating as a Bayer subgroup, can thus be spun off. Lanxess comprises most of Bayer's chemicals activities and about one third of its polymers business. Bayer will thereafter concentrate on the primarily innovation- and technology-driven core businesses of health care, nutrition and high-tech materials.

Bayer AG Management Board Chairman Werner Wenning expressed his satisfaction with the clear result of the vote: "We were able to convince our stockholders that this strategic step can create value for the company, and thus for its stockholders as well. Bayer and Lanxess have everything they need for success in the future."

Following this decision by Bayer's stockholders, Lanxess can now be placed on the stock market as an independent company by way of a spin-off as planned. For every 10 shares he or she holds in Bayer, each stockholder will receive one Lanxess share in addition. It is intended to list Lanxess shares on the stock market in early 2005.
---
2007-03-26 Bayer Schering Pharma

Bayer deal with Novartis improves profit outlook for Betaseron(R) franchise

Bayer Schering Pharma AG, Germany, acquires U.S. Biologics manufacturing facility from Novartis
Bayer will stop paying Novartis current royalty on Betaseron(R) from October 2008
Bayer will provide licensing rights to Novartis to establish its own brand of interferon beta-1b from 2009 forward

Bayer Schering Pharma AG, Germany, has purchased from Novartis a biologics manufacturing facility in Emeryville, California, which is currently used to produce Bayer Schering Pharma's Betaseron(R) for patients in the United States. Bayer Schering Pharma will manufacture Betaseron at the Emeryville site, retain full control of all manufacturing and process technology used in the production of Betaseron and will continue to employ the facility's employees.

Novartis will transfer manufacturing responsibility for Betaseron (interferon beta-1b) including the Biologics License Application (BLA), by selling related equipment and property, as well as leasing certain buildings at the Emeryville site to Bayer Schering Pharma for a one-off payment of approximately USD 110 million.
---
New name for Bayer Industry Services:
Schäfer: "CURRENTA expresses our goal of becoming Europe's leading chemical park manager"
Bayer Chemical Park to be renamed "CHEMPARK"
Effective January 1, 2008, Bayer Industry Services will be renamed CURRENTA. "Our new name CURRENTA expresses our goal of becoming Europe's leading chemical park manager and operator," explained Dr. Klaus Schäfer, Chairman of the Executive Board of Bayer Industry Services at a news conference in Leverkusen on Tuesday, December 4, 2007. "In concrete terms this means that we aim to offer our existing customers optimal value for money and provide an attractive environment for investors looking for a location in northwest Europe," continued Schäfer. CURRENTA is a joint venture between Bayer and LANXESS, which will continue to hold 60 percent and 40 percent of the renamed company respectively. With a workforce of some 5,000 people, the company expects to post sales of EUR 1.7 billion in 2007.
The Bayer Chemical Park with sites at Leverkusen, Dormagen and Krefeld-Uerdingen is to be renamed CHEMPARK.
Bayer Industry Services is also catering to other chemical companies with operations there, including Evonik AG's Degussa unit and Ineos.
---
Bayer and Monsanto to Create a Global Leader in Agriculture
Bayer and Monsanto today announced that they signed a definitive merger agreement under which Bayer will acquire Monsanto for USD 128 per share in an all-cash transaction. Monsanto's Board of Directors, Bayer's Board of Management and Bayer's Supervisory Board have unanimously approved the agreement. Based on Monsanto's closing share price on May 9, 2016, the day before Bayer's first written proposal to Monsanto, the offer represents a premium of 44 percent to that price.
バイエルは、モンサントを1株当たり128ドルで買収することで合意したと発表した。

債務を含む買収総額は約660億ドル。1株当たりの買収提案額をこれまでの127.50ドルからさらに引き上げ、ようやく合意にこぎつけた。

提案額は、書面で初めて提案を行う前の5月9日のモンサント株価に44%上乗せした水準という。買収は2017年末までに完了する見通しで、違約金は20億ドル。

買収資金は債務と株式の組み合わせで賄う方針で、株式部分に関しては強制転換社債と株主割当発行を通じて約190億ドルを調達する。金融機関が、570億ドルのつなぎ融資を行うという。

All-cash consideration of $128 per Monsanto share
• Enterprise value (EV) of $66bn including net debt
• Equity value of $57bn

Late 2016 / early 2017: Monsanto shareholder meeting
Closing expected by the end of 2017

-------

Bayerは5月23日、Monsantoへの提案の内容を公表した。

1株当たり122米ドル、総額620億ドルで買収
これは5月9日の終値に37%のプレミアムとなる。

BayerはMonsantoに7月1日口頭で、7月9日文書で、これまでの買収価格122ドルから125ドルに引き上げると通知した。
これは、5月9日の終値に40%のプレミアムを乗せたものとなる。全株を取得すれば635億ドルとなる。
独禁当局の認可取得に自信があり、もし認可が得られない場合、15億ドルの"reverse antitrust break fee" を支払う。 

Monsantoは7月19日、この提案を安すぎるとして再度拒否した。交渉は続ける。

Bayer は9月6日、127.50ドルに引き上げた。

----
"We are pleased to announce the combination of our two great organizations. This represents a major step forward for our Crop Science business and reinforces Bayer's leadership position as a global innovation driven Life Science company with leadership positions in its core segments, delivering substantial value to shareholders, our customers, employees and society at large," said Werner Baumann, CEO of Bayer AG.

"Today's announcement is a testament to everything we've achieved and the value that we have created for our stakeholders at Monsanto. We believe that this combination with Bayer represents the most compelling value for our shareowners, with the most certainty through the all-cash consideration," said Hugh Grant, Chairman and Chief Executive Officer of Monsanto.

Enhanced Solutions for Growers

This transaction brings together two different, but highly complementary businesses. The combined business will benefit from Monsanto's leadership in Seeds & Traits and Climate Corporation platform along with Bayer's broad Crop Protection product line across a comprehensive range of indications and crops in all key geographies. As a result, growers will benefit from a broad set of solutions to meet their current and future needs, including enhanced solutions in seeds and traits, digital agriculture, and crop protection.

The combination also brings together both companies' leading innovation capabilities and R&D technology platforms, with an annual pro-forma R&D budget of approximately EUR 2.5 billion. Over the mid to long-term, the combined business will be able to accelerate innovation and provide customers with enhanced solutions and an optimized product suite based on analytical agronomic insight supported by Digital Farming applications. These are expected to result in significant and lasting benefits for farmers: from improved sourcing and increased convenience to higher yield, better environmental protection and sustainability.

"The agriculture industry is at the heart of one of the greatest challenges of our time: how to feed an additional 3 billion people in the world by 2050 in an environmentally sustainable way. It has been both companies' belief that this challenge requires a new approach that more systematically integrates expertise across Seeds, Traits and Crop Protection including Biologicals with a deep commitment to innovation and sustainable agriculture practices," said Liam Condon, member of the Board of Management of Bayer AG and head of the Crop Science Division.

"We are entering a new era in agriculture – one with significant challenges that demand new, sustainable solutions and technologies to enable growers to produce more with less. This combination with Bayer will deliver just that – an innovation engine that pairs Bayer's crop protection portfolio with our world-class seeds and traits and digital agriculture tools to help growers overcome the obstacles of tomorrow. Together Monsanto and Bayer will build on our proud tradition and respective track records of innovation in the agriculture industry, delivering a more comprehensive and broader set of solutions to growers," said Grant.

Value Creation

Pro forma sales of the combined agricultural business amounted to EUR 23 billion in calendar year 2015. The combined company will be well positioned to participate in the agricultural industry with significant long-term growth potential. Beyond the attractive long term value creation potential of the combination, Bayer expects the transaction to provide its shareholders with accretion to core EPS (earnings per share) in the first full year after closing and a double-digit percentage accretion in the third full year. Bayer has confirmed sales and cost synergies assumptions in due diligence and expects annual EBITDA contributions from total synergies of approximately USD 1.5 billion after year three, plus additional synergies from integrated solutions in future years.

Financing and Closing Conditions

Bayer intends to finance the transaction with a combination of debt and equity. The equity component of approximately USD 19 billion is expected to be raised through an issuance of mandatory convertible bonds and through a rights issue with subscription rights. Bridge financing for USD 57 billion is committed by BofA Merrill Lynch, Credit Suisse, Goldman Sachs, HSBC and JP Morgan.

Bayer has a proven track record of disciplined deleveraging after large acquisitions and believes that the strong cash flows of the combined business will contribute to improving its financial profile. Bayer targets an investment grade credit rating post-closing and is committed to the single "A" credit rating category over the long-term.

The acquisition is subject to customary closing conditions, including Monsanto shareholder approval of the merger agreement and receipt of required regulatory approvals. Closing is expected by the end of 2017. The companies will work diligently with regulators to ensure a successful closing. In addition, Bayer has committed to a USD 2 billion reverse antitrust break fee, reaffirming its confidence that it will obtain the necessary regulatory approvals.

Headquarters and Employees

The combined agriculture business will have its global Seeds & Traits and North American commercial headquarters in St. Louis, Missouri, its global Crop Protection and overall Crop Science headquarters in Monheim, Germany, and an important presence in Durham, North Carolina, as well as many other locations throughout the U.S. and around the world. The Digital Farming activities for the combined business will be based in San Francisco, California.

"This combination is a great opportunity for employees, who will be at the forefront of innovation in our sector. This transaction also enhances Bayer's strong commitment to the U.S., building on our 150-year history with operations across 25 states employing more than 12,000 people in the country. I am convinced that Monsanto will flourish as part of one of the most respected and trusted companies in the world," said Baumann.

Bayer has extensive experience in successfully integrating acquisitions from a business, geographic and cultural perspective, and remains committed to its strong culture of innovation, sustainability and social responsibility.

2015/9/2 Bayer のMaterial Science 部門、Covestro として分離独立

2014年実績(百万ユーロ)

 
Life Science businesses
Material
Science
Others
全社
Total
HealthCare
Crop-
Science
Total
Pharma-
ceuticals
Consumer
Health
Net Sales
12,052
7,923
9,494
29,469
11,651
1,112
7
42,239