Braskem and Pequiven announce signature of joint venture agreement for the Jose Petrochemical complex
Braskem, leader in the thermoplastic resins segment in Latin America and second largest Brazilian industrial company owned by the private sector, announces that it signed today with Pequiven, the main petrochemical company in Venezuela, an agreement aiming at the formation of two Joint Ventures to develop and implement in that country what is expected to be the most modern and competitive integrated petrochemical project in the Americas, named Jose Petrochemical Complex.
One of the projects includes the construction of an ethane cracker from natural gas with annual capacity of 1.3 million tons of ethylene, 1.1 million tons of polyethylene (PE) and other petrochemical products.
The second project involves the construction of a polypropylene (PP) plant with annual production capacity of 450 thousand tons, previously announced to be constructed in El Tablazo, but now to be developed in the same site as the Jose Complex, with estimated investments of approximately US$ 370 million. Therefore, the Jose Complex will be more integrated increasing its competitiveness by capturing synergies in the implementation and operation, among other factors.
On that day, the project cornerstone was launched. The projects are expected to begin operations in the second half of 2011 for the ethylene and PE production and at the end of 2009 for the PP plant.
Having access to one of the richest oil and natural gas reserves in the world, Venezuela offers differentiated competitiveness for the development of petrochemical projects. According to Saul Ameliach, Pequiven´s CEO, "our understandings with Braskem are proceeding at an accelerated pace and arousing strong interest from plastic converters to join the project". He added that "our intention through this association is to promote the development of our petrochemical industry, while securing internal supply and strengthening our international presence, as well as generating sustainable jobs and contributing to the region economic growth".
For Braskem, the Jose Complex represents an important step of its growth with value creation strategy and is also a significant progress in its internationalization process, which started with the opening of distribution branches in Argentina, the United States and Europe. "This project combines world scale production, updated technology and access to raw material in differentiated conditions, leading to more competitive production costs and better profitability to our company", said Jose Carlos Grubisich, Braskem´s CEO. "Besides supplying the Venezuelan market, the Jose Complex will provide opportunities to access markets in the Americas and Europe with increased competitiveness so that we can better serve our customers", Grubisich added.
The creation of the joint ventures is expected to be concluded within the next 90 days, with the approval by the respective Board of Directors of the companies. The corporate model provides that the same shareholding for both companies. Investments for the production of ethylene and PE are expected to reach approximately US$2.5 billion. For the PP plant, investments are expected to be around US$ 370 million. Braskem is analyzing its participation in the vinyl´s chain projects, including caustic soda and PVC.
---

Platts 2007/8/30

Construction of Pequiven-Braskem olefins plant to begin in 2009

Construction on a new Venezuelan olefins plant, a product of a joint venture between Venezuela's state petrochemical company Pequiven and Brazil's Braskem, is scheduled to begin in mid-2009, Juan Jose Garcia, Venezuela's vice minister for petrochemicals and refining, told Platts Friday.

'The plant will be located in Jose. We are carrying out the visualization part of engineering, so we have started that. After this, it is on to basic and detail engineering. That should take us between 18 to 20 months, so construction can start, yes, in mid 2009,' Garcia said after an official function where President Hugo Chavez inaugurated Petro Casa, a Pequiven subsidiary that manufactures PVC houses.

'That project is progressing very well.'

The joint venture will be fifty-fifty owned by Venezuela and its Brazilian partner.

Located in Eastern Venezuela's Anzoategui state, Jose is an existing, large-scale industrial park that houses a myriad oil and petrochemical projects for both state oil company PDVSA and Pequiven itself, including plants, storage tanks, pipeline systems and piers.

Pequiven and US major Exxon studied the possibility of building an olefins plant in Venezuela for years, even signing a letter of intent and exchanging technical teams, but a falling out triggered by a hike in oil taxes and royalties resulted in that plan being scrapped.
---
Braskem has the first certified green Polyethylene in the World
  Company studies project for commercial production of plastic made from ethanol starting in 2009
Braskem, the leading company in the thermoplastic resins segment in Latin America and second largest Brazilian industrial company owned by the private sector, announces production of the first internationally certified polyethylene made from sugarcane ethanol, using competitive technologies developed at the company's Technology and Innovation Center. The certification was conducted by a leading international laboratory, Beta Analytic, which certified that the product contained 100% renewable raw materials. This international groundbreaking development by Braskem is aligned with its technological and innovation strategy and its commitment to fostering sustainable development, fulfilling the expectations of both Brazilian and international society for initiatives that contribute materially to reducing the greenhouse effect.

The green polymer developed by Braskem - a high-density polyethylene, one of the resins most widely used in flexible packagings - is the result of a research and development project that has already received some US$ 5 million in investment. Part of this amount was allocated to implementing a pilot unit for the production of ethane, which is the basis for the production of polyethylene, from renewable feedstock at the Braskem Technology and Innovation Center, which is already producing sufficient quantities for commercial development of the product. The project's target customer will soon receive the green polyethylene and have the opportunity to confirm the performance of the product, which can meet all of the quality standards required to be competitive in the international market.

"The leadership of Braskem in the green polyethylene project confirms our commitment to innovation and sustainable development, and creates a very favorable outlook for the development of plastic products made from renewable raw materials, a field in which Brazil has natural competitive advantages", said Braskem CEO Jose Carlos Grubisich.

The project is now in technical and economic specification process and the startup of green polyethylene production on an industrial scale is expected in late 2009. The new unit will have modern technology and competitive scale, and could reach annual production capacity of up to 200,000 tonnes. The location and industrial design of the unit will be determined within the next few months.

The production of plastics from ethanol seeks to supply the main international markets that require products with superior performance and quality, in particular the automotive, food-packaging, cosmetics and personal-hygiene industries. Evaluations conducted in the initial phase of the project ascertained enormous potential for growth and appreciation in the green polymer market. Since both resins are equal in terms of properties and performance, the plastics manufacturing industry should benefit from this important development with no need to invest in new industrial equipment.

"Braskem is extremely proud to be at the forefront of a technological breakthrough that aligns the interests of the company, our shareholders, clients and consumers, and that above all else is a great source of pride among Brazilians", concludes Grubisich.
---
Brazil's Petrobras says to buy Suzano petrochem firm
Brazilian state oil company Petrobras said on Friday it had agreed to buy control of Suzano Petroquimica for 2.1 billion reais ($1.1 billion) in the second major Brazilian petrochemicals deal this year.

The deal, announced at a news conference by Petrobras Chief Executive Jose Sergio Gabrielli, gives Petrobras all shares held, directly and indirectly, by the controlling shareholders of Suzano Petroquimica.

Petrobras said it would hold a tender offer to buy up to 600 million reais ($310 million) worth of shares from minority shareholders, lifting the total value of the acquisition to 2.7 billion reais.

Petrobras agreed to pay about 13.44 reais per voting share and 10.70 reais per non-voting share.

The Brazilian company has been strengthening its position in petrochemicals in the past few years, a strategy some analysts see as part of a widely expected consolidation process.

Some critics, however, said that Petrobras' expansion into petrochemicals is tantamount to the state regaining control of the sector.

"It's a surprise, it shows a strong renationalization ... Petrobras has said it wanted a strong position in the petrochemical sector, but not as a controller," said Luiz Otavio Broad, an analyst at Agora brokerage.

In March, Petrobras and two partners, Latin America's largest petrochemical company Braskem and Ultrapar Participacoes , bought petrochemical and fuel company Ipiranga for $4 billion.
2007/3/23 ブラジルで石油・石油化学業界の再編

ブラジル国営石油会社PetrobrasとUltra Group、Braskemの3社が共同で、同国の石油精製・販売、石油化学の老舗のIpirangaを買収する。19日、Petrobrasが発表した。
Brazil's anti-trust watchdog is still analyzing the deal and some limitations have been imposed.
Banco do Brasil analyst Nelson Matos said the new acquisition was "another step toward consolidation" in a market with many players and not enough scale for investment.
"The sector gains scale and leverage now with a strong player," he said, adding that the deal would bring together several important petrochemical assets in southeastern Brazil.
Analysts were divided on whether the price was fair and if the deal would be good for Petrobras. Petrobras shares fell 4.3 percent in late afternoon, underperforming the market, which was down 3.4 percent.
Trading in Suzano shares had been suspended in the afternoon pending the statement. The shares soared 56 percent to 8.91 reais after trading resumed near the end of the session. ($1 = 1.902 reais)

PP 能力 (千トン)
| | | | |
| --- | --- | --- | --- |
|   | 現状 | 増強後 | 増強時期 |
| Maua industrial facility, Sao Paulo |  360.0 |  450.0 | 2008下期 |
| Duque de Caxias industrial facility, Rio de Janeiro |  200.0 |  300.0 | 2007 |
| Camacari industrial facility, Bahia |  125.0 |   |   |
| Total |  685.0 |  750.0 |   |
Suzano Petroquimica
We are the leading company in Latin America in the production of polypropylene, a thermoplastic resin, 100% recyclable, widely used in the manufacture of textile and civil construction supplies, domestic appliances and packages for the food, cosmetics, pharmaceutical and civil construction industries, and which is presented in three basic types: homopolymers, heterophasic copolymers and random copolymers.

Suzano Petroquimica's polypropylene is traded as Polibrasil(R) and meets the requirements for different converting processes.

In line with our strategy of conducting our business according to the highest environmental standards, we use techniques that are less aggressive to the environment and enable high levels of efficiency and productivity in the polypropylene production.

Industrial complex
Our industrial complex is formed by three facilities producing polypropylene resins with a combined annual production capacity of 685.0 thousand tons, located in the municipalities of Maua, State of Sao Paulo, Duque de Caxias, State of Rio de Janeiro, and Camacari, State of Bahia. In these facilities, product manufacturing follows rigid internationally established operating controls and quality standards, and the three polypropylene plants are certified by ISO 9000, ISO 14001 and OHSAS 18001 standards. We have signed on to ABIQUIM's Responsible Operation Program.

Maua industrial facility, Sao Paulo
The polypropylene industrial facility located in Maua started operations in March 2003, has world-size production scale of 360.0 thousand tons per year, using the latest generation Spheripol technology-licensed by Basell-and has the biggest production capacity in a single site in Latin America. This facility is also significantly competitive in terms of costs and it is very flexible for production of special types of polypropylene.

Additionally, the Maua facility stands out due to its logistics platform, the largest in Latin America and a benchmark for differentiated logistics. There are 32 storage silos, operating with the most modern technology for storage, transportation and distribution of polypropylene. In addition to optimizing supply in pallets and big-bags versions, the new Maua platform facilitates large-scale bulk flow, enabling simultaneous servicing of several customers.

The plant is currently expanding its annual production capacity to 450.0 thousand tons, in two stages.The first phase was concluded on July 11 , 2006. The second phase of Maua's capacity expansion, which will add another 90 thousand tons per year, is estimated to be finished by the second quarter of 2008.

Duque de Caxias industrial facility, Rio de Janeiro
Inaugurated in 1992, the Duque de Caxias facility has a production capacity of 200.0 thousand tons per year, and produces homopolymers and random copolymers. Technological developments made by us with LIPP technology, originally licensed by Shell, enabled the production of copolymers at this facility, which before produced only homopolymers. LIPP technology has the lowest energy cost among the polypropylene manufacturing technologies on an international scope, which contributes to the competitiveness of this facility's products.

The plant is currently expanding its annual production capacity to 300.0 thousand tons, which is scheduled to start operations in 2007.

Camacari industrial facility, Bahia
Inaugurated in 1978, this facility has an installed capacity of 125.0 thousand tons per year, and produces homopolymers and heterophasic copolymers. The facility experienced an important technological update in 2003, with the implementation of a high activity catalyst supplied by Basell, which enabled a reduction of production costs and a significant improvement in the quality of manufactured products.


---
Braskem to boost stake in synthetic rubber-maker Petroflex
Braskem SA, Latin America's largest petrochemicals company, said Thursday it will boost its stake in Petroflex, the region's largest synthetic rubber company, spending around Real$60 million ($30 million) to buy another 12.4% stake.

Braskem said Tuesday it would boost its participation in Petroflex to 33.5%, from a previous 20.1%, using an option to buy part of the shares in Petroflex held by Suzano Petroquimica, which was recently bought by Petrobras.

According to a shareholders agreement, Braskem and Unipar would have rights to buy Suzano's stake in Petroflex if control over Suzano ever changed hands.

It wasn't clear whether Unipar would use an option to buy Petroflex shares to supplement its current 10.1% stake in the company. Suzano's stake in Petroflex, before the sale to Braskem, is 20.1%.

Braskem said it would pay the market price for Petroflex shares as of June 30, in accordance with the terms of the shareholder agreement.

Meanwhile, Braskem said it will continue to analyze options to sell its control stake in Petroflex in the future.
---
Braskem to build 200,000mt/yr renewable plastics plant: CEO
Sao Paulo-based Braskem SA, Latin America's largest petrochemicals company, said it planned to build a major polyethylene plant whose feedstock will be Brazilian sugarcane ethanol, in its first major foray into renewable plastics.

Braskem was to build a plant that would produce 200,000 metric tons per year of ethanol-based polyethylene by the end of 2009, CEO Carlos Grubisich said in a written statement.

Details of how much the plant would cost to build, where it would be located and how much ethanol feedstock it would require were not provided. Grubisich presented the plans in Frankfurt, at the K 2007 plastics industry exposition, the statement said.

Spanish news agency Efe, in a report citing Grubisich in Frankfurt on Monday, said the green polymers unit was expected to cost $150 million to build, but that surging global petroleum prices provided a major incentive to diversify petrochemicals feedstocks away from oil to cheaper Brazilian ethanol.

Braskem had already produced about 1,000 kilograms of its "green polymers," or renewable plastics, at its research center in Brazil, and sent samples to clients. Braskem said it had 'pre-sale' contracts already signed with customers interested in the renewable plastics, and the plant would help it introduce a product that would differentiate Braskem from competitors in the global market.

Among the other companies studying the implementation of green plastics plants, using ethanol as feedstocks in Brazil, are Dow Chemical and Petrobras, according to earlier announcements from those companies.

Braskem also said this year that it planned to invest up to $2.5 billion with Venezuela's state-run Pequiven, a division of PDVSA, in a major petrochemicals venture in Venezuela to use traditional, petroleum-based feedstock.
---
October 30, 2007 polymer-age.co.uk
Braskem researches bio-propylene as green polyethylene gathers momentum
A bio-sourced polypropylene is under development at Braskem in Brazil as the company moves towards full scale production of polyethylene sourced from sugar cane. The schedule is to have 200,000 tonnes of polyethylene made from sugar cane ethanol on stream by the end of 2009. A pilot plant is currently running at its full capacity of 1 tonne/month and Braskem says the demand for development quantities is such that its customers are asking for the pilot plant to be streamlined.
The production of propylene from biomass is one of several longer term projects to produce plastics and fuels from locally-sourced sugar cane: Brazil is the largest producer of ethanol in the world with a current output of 18 billion litres/year, and production is expected to double over the next five years with the aid of new technologies to increase crop yield. Other research is into the production of butene and the replacement of MTBE (methyl tertiary butyl ether) fuel additive - no longer accepted in the USA - with the less environmentally polluting ETBE (ethyl tertiary butyl ether).
Braskem says bio-sourced polyethylene is in demand from companies wishing to claim green credentials for their plastic packaging (it has a positive environmental effect in that every tonne of sugar cane grown to make polyethylene absorbs 2½ tonnes of CO2) and they are willing to pay a premium for it. The first grades to go into production will be high density for use in containers and films with high added value.
Braskem is a rapidly growing company with the aim of being in the world's top 10 petrochemical companies by 2012, and between now and then has investment plans for plants to make 1·3 million tonnes of polypropylene and a further 1·3 million tonnes of polyethylene and ethane.
---
2007/11/30 Petrobras
Petrobras restructures its investments in petrochemicals
Petrobras' investment portfolio restructuring in the petrochemical sector was announced this Friday (11/30) during a press conference held at the company's headquarters, in Rio de Janeiro. Petrobras' president, José Sergio Gabrielli de Azevedo, Downstream director, Paulo Roberto Costa, and Investor Relations director Almir Barbassa, detailed the agreements with Braskem and Unipar, in addition to the conclusion of the Suzano Petroquímica acquisition. The operations are in line with the strategy of consolidating Petrobras in the petrochemical sector aiming at establishing more competitive and more integrated companies.
Petrobras' allocations to Braskem consolidates Brazil's biggest petrochemical group
Petrobras signed an investment agreement with the Odebrecht Group today (11/30) that foresees the allocation of petrochemical assets belonging to the company and to its Petroquisa subsidiary to Braskem. The move will boost Petrobras' participation in Braskem's total capital to 25%, up from 6.8%, and consolidate Brazil's biggest petrochemical group.
The operation is part of Petrobras' strategy, kicked off with the Ipiranga and Suzano Petroquimica acquisitions, to reorganize the petrochemical sector through companies that are capable of competing with multinational corporations that perform in the petrochemical product market.
With this operation, which is in tune with its Strategic Plan, Petrobras restructures its investment portfolio in Brazilian petrochemicals, becomes a relevant minority shareholder in Braskem (a company that is controlled by the Odebrecht Group), and gains bigger participation in its decision-making and management processes.
The petrochemical assets that will be allocated to Braskem are Petrobras and Petroquisa's participations in the following companies: Companhia Petroquimica do Sul (Copesul), Ipiranga Quimica, Ipiranga Petroquimica, and Petroquimica Paulinia. Braskem will now hold 100% of these companies' voting shares and total capital. Petroquisa will also have the option to allocate up to 100% of Petroquimica Triunfo's voting shares and total capital to Braskem.
After wrapping the operation up, in the event 100% of Triunfo is actually allocated, Petrobras, which now holds 8.1% of Braskem's voting shares and 6.8% its total capital, will hold 30% of its voting shares and 25% of its total capital. Asset integration is expected to be completed in up to 6 months, beginning on the date the totality of Ipiranga's assets are held by Petrobras.
The allocation will allow Braskem to boost its investments and production scale, in addition to giving the company better technological development conditions and global dimensions, accelerating its internationalization process and reinforcing its leadership position in the Latin American petrochemical sector. It will also allow for cash flow generation capacity strengthening and for synergic gains, improving Braskem's operating efficiency.
Participation in Braskem's capital
Asset
Location
Petrobras System
Braskem
Petrobras
Petroquisa
TOTAL
Copesul
Triunfo - RS
22.34%
15.63%
37.30%
62.70%
IQ
Sao Paulo- SP
40%
40%
60%
IPQ
Triunfo - RS
40%
40%
60%
Triunfo
Triunfo - RS
Up to 100%
Up to 100%
PPSA
Paulinia - SP
40%
60%
Shareholder
ON Shares
PN Shares
Total (*)
Petrobras System
30.0%
22.1%
25.0%
Odebrecht Group
60.3%
23.8%
37.2%
Others
9.7%
54.1%
37.8%
(*) Considering a 100% allocation of Petroquimica Triunfo to Braskem
2007/11/30 Platts
Brazil's Braskem to incorporate major Petrobras petchems stakes
In a major consolidation of Brazil's petrochemicals industry, private industry resin-maker Braskem SA, Latin America's largest petrochemicals company, said Friday it signed a deal to gain major petrochemicals stakes in Brazil now held by state-run Petrobras. In exchange, Petrobras will more than triple its stakes in Braskem, to 25% from 6.8% now.

Braskem said Petrobras will control 30% of Braskem's voting shares, while Braskem's main shareholder, Odebrecht SA, will retain 37.2 percent of voting shares. The operation must be approved by Brazil's antitrust watchdog, Cade, before it's allowed to go ahead.

The new Braskem would incorporate several large stakes in petrochemicals facilities throughout Brazil now held by Petrobras. They include: a 37.3% stake in southern basic petrochemicals maker Companhia Petroquimica do Sul (Copesul), 40% of Ipiranga's chemicals and petrochemicals divisions, 40 percent of a new Sao Paulo-based resin-maker Petroquimica Paulinia, and 100% in southern Brazilian resin-maker Petroquimica Triunfo.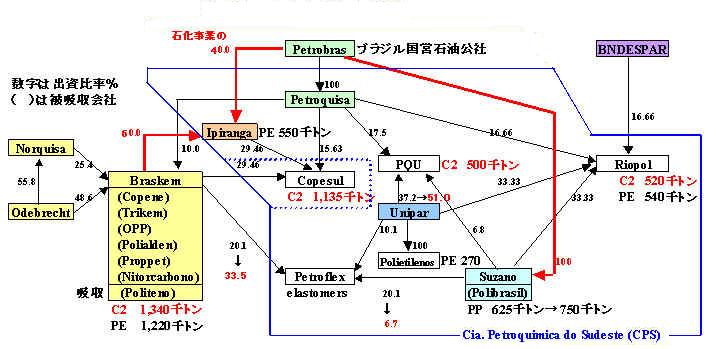 Braskem already controls the majority of Copesul and Ipiranga's chemicals and petrochemicals assets, but will gain larger stakes following the asset merger with Petrobras, the company said. Petroquimica Triunfo, with its 160,000 mt/year polyethylene capacity, is the major buyer of ethylene feedstock from Copesul. Petroquimica Paulinia is already a joint-venture between Braskem and Petrobras (60%/40%) under construction to produce 350,000 mt/year of polypropylene. The plant is expected to start production in April, 2008, Braskem said.

In a statement, Braskem said that by merging petrochemicals assets in Brazil it would obtain synergies worth $1.1 billion in net present value, and additional cost benefits in the future, plus better access to Petrobras refineries and research facilities. Braskem will issue 103 million new shares as part of the deal.

"This decisive step in the process of consolidation of Brazil's petrochemicals industry puts Braskem in a position to better compete in the global petrochemicals arena by boosting its cash generation, which will help speed up its projects and expand internationally," Braskem's chief executive Carlos Grubisich said Friday. Braskem said it wants to become one of the world's 10 largest petrochemicals companies.

By boosting cross-shareholdings in Brazil's petrochemicals industry, the asset merger gives state-run Petrobras more control over Braskem, a company that was created and privatized earlier this decade.
---
Braskem achieves new technological advance for production of green polymers
New technological route with green butene enabled the company to manufacture the first linear polyethylene from 100% renewable raw materials
Braskem announced the first certified linear polyethylene in the world made from 100% renewable raw materials, confirming its technological leadership in the production of green polymers and its commitment to sustainable development. This achievement was obtained through the development of technology using biobutene, which will enable Braskem to expand its line of green polyethylene.

This announcement represents a new landmark in Braskem's biopolymer development program, initiated in June 2007, with the launch of the first green resin, a high density polyethylene geared towards markets that demand products with superior performance and quality, underscoring the automobile, food packaging, cosmetic and personal hygiene industries.

Development of the linear polyethylene is in line with the company's strategy to improve competitiveness and create value through technology and innovation. "This achievement once again demonstrates the capacity of our teams to be at the forefront of rupture technology research," says José Carlos Grubisich, president of Braskem. "Furthermore, it reinforces our commitment to promote sustainable development, in tune with society's aspirations on behalf of initiatives that firmly contribute towards carbon dioxide gas emission reductions in the atmosphere."

The linear polyethylene was certified by one of the most important international laboratories, Beta Analytic, attesting that the product is made from 100% renewable raw material, and its patent has already been deposited by the company. The new biopolymer was developed at the Braskem Technology and Innovation Center, the most modern and best equipped in the sector in Latin America, with technological assets worth R$ 330 million, including 8 pilot plants.

Antonio Morschbacker, the technician responsible for biopolymers at the company, explains that this development represents an important technological leap for Braskem, since the production of green linear polyethylene demands the use of a second monomer (molecules used as raw material to make the polymer) from a 100% renewable source. In other words, besides sugarcane ethylene, a technology already dominated by Braskem, the researchers needed to elaborate a new technological route that would allow them to obtain high-yield butene from a renewable raw material.

The main market for this linear polyethylene is the flexible packaging segment (films), which mostly serves the food industry. Still being produced at a laboratory scale, production of the green linear polyethylene will permit the product to be tested by selected clients interested in its performance and environmental advantages. At present, Braskem is concluding a project to set up an industrial unit to produce green ethylene that will supply the already existing polyethylene units in their installations, with the capacity to product 200 thousand tons per year and projected to start operations in 2010.

"This development is yet another example of Braskem's pioneerism, a company that has already won one of the most important international recognitions in the sector related to technology, the Bioplastics Awards 2007, in the category of Best Innovation in Bioplastics, granted by the European Bioplastics News," underscores Morschbacker.

Another important step by Braskem, within its valorization strategy of renewable raw materials, was its announcement at the end of last month of an important technological cooperation agreement with the State of São Paulo Research Foundation - Fapesp. The objective of the partnership, which will have R$ 50 million in investments over the next five years, is to stimulate scientists linked to the best universities and research centers to elaborate studies on polymers from renewable raw materials.

The company also recently announced it will invest R$ 100 million in Camaçari, Bahia, to convert its current production of MTBE into ETBE, as already occurred at Copesul, thus offering the market an additive for gasoline made from ethanol with important environmental advantages. When the investment is finished, in 2009, Braskem will have the capacity to produce 300 thousand tons of ETBE per year, which besides using a renewable natural resource, also reduces CO2 emissions by 76% compared to MTBE, taking into account the period from the sugarcane crop to production of the additive.
---
2008/4/3  modplas.com

Petrobas president details Brazilian expansion plans for PE, PP and PET

The same week the project received an environmental license and one week before soil grading begins, Jose Lima, president Petrobas Quimica SA, offered details on the $8.5 billion Rio de Janeiro Petrochemical Complex (COMPERJ), which will use a patented fluid catalytic cracking (FCC 流動接触分解) process to convert heavy Brazilian crude oil directly into petrochemical feedstocks like ethylene and propylene, with polyolefins capacity planned as well. Addressing attendees of Chemical Market Associates Inc.'s (CMAI; Houston) World Petrochemical Conference (March 25-27; Hilton Americas, Houston), Lima said by using Marlim heavy crude from Brazil's Campos Basin, Brazil will not have to import naphtha for the production of chemicals and resins. Lima says Brazil currently must import 35% of the petrochemicals it needs, but the new operation located in the state of Rio de Janeiro at Itaborai will be free of that constraint.

Lima said when the operation commences production in the 2012-2013 time frame, it will process 150,000 barrels/day of Brazilian crude into 800,000 tonnes/yr of high-density and low-density polyethylene; 850,000 tonnes/yr of polypropylene; and 600,000 tonnes/yr of polyethylene terephthalate.
The country's next major petrochemical investment will be the Rio de Janeiro Petrochemical Complex (Comperj) integrated refinery and cracker complex. The project is a partnership between Petrobras and Brazilian chemical producer Grupo Ultra, and CPS is expected to become a shareholder. (Petrobras、Ultra Group、Braskemの3社が共同Ipirangaを買収)

Phase one of the $8.5bn project, which will boost Brazil's heavy oil refining capacity significantly and reduce naphtha imports, is scheduled for completion in 2012.

Two major chemical companies will emerge from the consolidation process: an enlarged Braskem and a new company, known as Companhia Petroquimica do Sudeste (CPS).

The creation of CPS, owned by Petrobras and petrochemical holding company UNIPAR, brings the key petrochemical assets in the southeastern states of Rio de Janeiro and Sao Paulo under one company.
In related Brazilian news, Braskem has used biobutene to create a 100% biobased linear polyethylene (PE) suitable for film to join the biobased high-density PE it launched last year. The company says this is a first for the market and has applied for a patent on the technology, which besides sugarcane ethylene also required a new route to obtain butene at high yield from a renewable raw material.

Braskem used its Technology and Innovation Center, which has technological assets worth R$330 million and eight pilot plants, to develop the material. Braskem is currently setting up an industrial unit to produce green ethylene to supply its existing PE units, with a planned capacity of 200,000 tons/yr and a projected launch in 2010.

---
Braskem Starts Up New Plant for the Production of 350,000 Tons of Polypropylene in Paulinia
This project consolidates the Company's leadership in the Latin American polypropylene market

Braskem, the leading company in the thermoplastic resin industry in Latin America and the third-largest resin producer in the Americas, announces the start up of its polypropylene production plant in the city of Paulinia, Sao Paulo state.

With the inauguration of this new industrial unit, which has annual production capacity of 350,000 tons, Braskem further strengthens its leadership position in the Latin American polypropylene market, increasing its annual production capacity in this product to 1.1 million tons.

The new plant, in which approximately R$ 700 million were invested, combines global scale and the latest technology and is situated in Brazil's most important consumer market, making the project particularly competitive.

The project was built through a joint venture between Braskem and Petroquisa, with the companies holding interests of 60% and 40%, respectively. The plant is one of the assets included in the Investment Agreement between Braskem and Petrobras announced to the market on November 30, 2007, which will result in an increase in Braskem's interest in Petroquimica Paulinia from the current 60% to 100%. Through this agreement, Petrobras will become holder of 25% of Braskem total capital.

The Paulinia plant represents a milestone in the diversification process of feedstock used by Braskem. This plant will be the first industrial unit of the Company to use propylene from refinery gas as feedstock. The propylene will be supplied by two of Petrobras' refineries, the Paulinia Refinery ("REPLAN") and the Henrique Lage Refinery ("REVAP"), both located in Sao Paulo state.

"The project was concluded in record time and with competitive investment costs, portraying the excellent management capacity of our teams in terms of implementing greenfield projects," said Braskem CEO Jose Carlos Grubisich. "This growth strategy consolidates our leadership in the Latin American polypropylene market and our position as the third-largest resin producer in the Americas, and also represents an important step forward in our objective of becoming one of the ten largest petrochemical companies in the world," added Grubisich.
---
Braskem, Petroperu to Sign Petrochemical Letter

Petroleos del Peru SA and Brazil's Braskem SA will sign a letter of intent tomorrow to build an $800 million petrochemical plant in southern Peru, the Peruvian company's chief executive officer, Cesar Gutierrez, said today.

The state-oil company known as Petroperu and Sao Paulo- based Braskem, Brazil's largest petrochemical company, will negotiate with Argentina's Pluspetrol SA to supply the project with 100 million cubic feet a day of ethane, Gutierrez said. The plant seeks to produce polyethylene for export, he said.

``We look to Brazil because they're a natural partner,'' Gutierrez said in a telephone interview. ``Braskem is a specialist in plastics and will be able to secure financing for the project.''

Peru, South America's fifth-largest natural-gas producer, has lined up $6 billion in investment commitments in its oil and gas industry, mostly by overseas companies, in a bid to spur annual economic growth of 7 percent over the next four years.

Petroperu and Petroleo Brasileiro, a 40 percent shareholder in Braskem, have postponed an $800 million project to build a methane-based ammonium nitrate plant, pending the discovery of additional natural gas reserves in the Brazilian company's Block 57 field in Peru's southern Amazon jungle, he said.

Natural gas for June delivery declined 30.5 cents, or 2.7 percent, to settle at $11.094 per million British thermal units at 2:58 p.m. on the New York Mercantile Exchange. Gas has risen 48 percent this year.
---
Braskem announces investments of more than R$ 1.0 billion in Rio Grande do Sul
  Production of green plastic will be developed at the Triunfo Complex
Braskem is inaugurating a new cycle of investments at the Triunfo Petrochemical Complex starting by consolidating the sector in the south through an investment of more than R$ 1.0 billion scheduled over the next 3 years and the decision to produce green polyethylene in Rio Grande do Sul. This investment program is in line with the company's growth with the creation of value strategy that aims at making Braskem one of the ten largest companies in the sector in the world.
ブラジルに於ける第一世代および第二世代の石油化学製品の生産は3箇所の石油化学コンビナートに集中している

− Bahia州のCacamari市に位置するCacamari石油化学コンビナート
− Sao Paulo州のMaua市に位置するSao Paulo石油化学コンビナート
− Rio Grande do Sul州のTriunfo市に位置するTriunfo石油化学コンビナート

Ipiranga は南部のTriunfo にCopesulに隣接して5工場を持つ。
Ever since it announced the acquisition in March 2007, Braskem has invested nearly R$ 300 million in the state, especially for the ETBE project, an automotive bioadditive produced from ethanol, and the modernization initiatives and technological updating made during the recent scheduled maintenance period at Copesul. "Approval of the investment agreement with Petrobras, which allocated its shareholder participation in Copesul, Ipiranga Petroquímica, Ipiranga Química and Petroquímica Paulínia, will permit accelerating our growth programs in Rio Grande do Sul", says José Carlos Grubisich, president of Braskem.

The alignment of interests with the government of Rio Grande do Sul in the sense of encouraging competitiveness in the state's petrochemical and plastic production chain was an important factor that helped determine Braskem's investment plan. "Our decision is recognition of the advances achieved to make the environment more favorable for new investments starting with the RS Competitivo revitalization program and the state government's commitment to fiscal and financial discipline. It also valorizes the state's return to a period of growth, its vocation as an innovation and technological project center as well as the pool of available talents in the region," adds Grubisich.

The investments announced for Rio Grande do Sul are part of Braskem's growth strategy. The company has been investing to expand all its industrial units in Alagoas and Bahia as well, and has just inaugurated a new polypropylene plant in Paulínia, in the state of São Paulo, with capacity to produce 350 thousand tons per year.

The highlight of this investment commitment has been the decision to install the green polyethylene project in Triunfo, with estimated investments of between R$ 400 and R$ 500 million. This will be the first commercial scale operation in the world to produce green polyethylene from 100% renewable raw material. This pioneerism is the result of the priority Braskem gives innovation and technology, one of the corporate strategy pillars, which has permitted certification of the first green polyethylene. The initiative also corresponds to its commitment to contribute towards sustainable development, opening the way for the use of renewable raw materials.

The green polyethylene project will have the capacity to produce 200 thousand tons per year with projected earnings of about US$ 400 million/year. The raw material will be received through the Santa Clara Terminal. The alcohol will initially be acquired in the southeast. However, the intention is to prioritize the consumption of local ethanol from raw material production in the state. "Braskem's annual consumption of ethanol will be approximately 700 million liters, 450 million of which will be for this project," says Grubisich. This volume is similar to the current demand for alcohol in RS, which is around 500 million liters/year.

The beginning of the project's physical installation, once approved by the Braskem Board of Directors, should be in 2008 and it will generate 1.5 thousand direct jobs during the works phase. The unit is projected to start operations in 2010 and it will be responsible for generating approximately 100 direct and 7000 indirect jobs, according to BNDES studies.

At present, Braskem produces about 12 annual tons of green polyethylene at the pilot unit installed in its Technology and Innovation Center. This production is being made available for tests at world leaders in their segments of operation, whether in the Brazilian or international market, who are interested in associating their products with the concept of sustainability. The first commercial product with Braskem's green polyethylene was announced this week in partnership with Brinquedos Estrela, the Sustainable Monopoly, which combines leisure and environmental education.

The potential demand already identified by Braskem for green polyethylene is about three times greater than the capacity of the plant to be installed in Triunfo. The resin has applications in markets such as blown packaging for foods and hygiene products, injected packaging for household appliances and the toy and automobile industries. This is a much valorized niche that is willing to pay a 20% to 30% bonus in comparison to the price of traditional resin, with strong demand mainly in countries where the environmental issue has the most importance, like Europe, USA and Japan.

Besides this investment, it is worth noting the expanded production of electric energy by 45 MW at Copesul, which should go into operation in 2010.
---
2008/12/18 Braskem
BRASKEM APPROVES GREEN POLYETHYLENE PROJECT

Braskem, the leading company in the thermoplastic resins industry in Latin America and third-largest resin producer in the Americas, announces that its Board of Directors has approved the Green Polyethylene Project. This project, for which investment of R$500 million was approved, will produce ethylene and polyethylene from sugarcane ethanol, with operational startup scheduled for 2011 at the Southern Petrochemical Complex in Rio Grande do Sul state.

Braskem has already concluded the conceptual and basic-design phase, and the detailing phase and start of construction will begin in early 2009. The company has already made firm reservations for the project's critical equipment, such as the feed gas compressor and refrigeration compressor, which are high-technology equipment that must be ordered in advance to ensure the project timetable is met. To finance what will be the first commercial-scale operation in the world producing green polyethylene made from 100% renewable raw materials, Braskem plans to use 30% own funds and seek finance for the remaining 70%.

With demand identified at approximately 600,000 tons, mainly in the international market, the green polyethylene will command a premium of between 15% and 30% over the price of polyethylene made from nonrenewable raw materials. The project could be the first of other larger-scale projects that are currently being analyzed, and has return estimated at US$200 million in net present value.

Commenting on the project, Braskem CEO Bernardo Gradin said, "The approval of this project by the Board of Directors demonstrates Braskem's confidence in the project's potential for value creation and management's concern with financial discipline, by investing selectively in projects that offer high return. A project like this offers excellent opportunities for the development of plastic products made from renewable raw materials, a field in which Brazil has natural competitive advantages and high potential demand."

豊田通商 Braskem と植物由来ポリエチレンに関し業務提携
---
Brazil Expands Investment in Offshore Drilling Projects
Brazil's state-controlled oil company, Petrobras, announced a crisis-busting investment plan Friday to spend more than $174 billion over the next five years, much of it for prodigious deep-water oil and gas exploration.
The investment covers the 2009-2013 period and represents a rise of 55 percent over the $112.4 billion the company had vowed to spend on development between 2008 and 2012.
This investment is "very robust and very important for the continuity of Petrobras's growth," José Sergio Gabrielli, the company's chief executive, told reporters Friday at a news conference in Rio de Janeiro.
Petrobras, whose full name is Petróleo Brasileiro, had promised to unveil its spending plans in September but delayed the announcement several times because of the world's financial turmoil.
In 2007 and 2008, Petrobras and partners including Repsol YPF of Spain and the BG Group of Britain discovered vast deposits of oil under more than 4,000 meters of water, rock and salt.
Although the finds are at previously untapped depths and will be costly to extract, they hold an estimated 8 billion to 12 billion barrels of oil, according to Petrobras figures. Company officials and oil experts say that other reserves of that size could be nearby.
One of the finds alone, named the Tupi, holds the equivalent of 5 billion to 8 billion barrels of light crude oil and is the world's biggest new field since a 12-billion-barrel find in Kazakhstan in 2000.
President Luiz Inácio Lula da Silva of Brazil has said repeatedly that developing these oil reserves is vital to the country's future, and Petrobras has set aside $28 billion to that end.
In all, new drilling could produce 219,000 barrels a day by 2013, 582,000 barrels a day by 2015 and 1.82 million barrels a day by 2020, he predicted.
Natural gas extraction would rise from 7 million cubic meters a day in 2013 to 40 million a day in 2020, the company added.
Petrobras produced a daily average of 2.18 million barrels of oil and gas last year.
-----日本経済新聞 2009/1/25

ぺトロブラス 新油田に2.5兆円投資 ブラジル生産量9割増も

 ブラジル国営石油会社ペトロブラスは23日、2009年から5年間で、新たな深海油田「プレサル」に280億ドル(約2兆5千億円)を投じると発表した。プレサルはブラジル沖で新たに確認された大規模油田。15年にブラジル国内での原油・天然ガス生産量を08年比で90%増の日量414万バレル(原油換算)に引き上げる。
 プレサルで現在までに確認されているだけでブラジルの埋蔵量が倍増する可能性もある。10年に最初の鉱区で商業化。原油生産量は13年に日量22万バレル、15年には同58万バレルに引き上げる。
 計画が実現すれば、ブラジルの原油生産量は15年に同334万バレルと、現在世界7位のカナダを上回る規模になる。プレサルでは天然ガスも生産する。
 ぺトロブラスは当初、昨年中に投資計画の発表を予定していたが、原油相揚の動向を見極めるため先送りしていた。油価の大幅な回復は見込めないが、需要は増加するとみており、「コストは可能な限り減らしながら投資を続ける」(同社のガブリエリ総裁)という。
----2009/1/24 Bloomberg
Petrobras Unveils $174.4 Billion Spending Plan, Counts on Loans
Petroleo Brasileiro SA, Brazil's government-controlled oil company, said state loans will help finance a $28.6 billion spending plan this year aimed at developing the Americas' largest discovery in three decades.
The investment is part of a $174.4 billion strategy for 2009 through 2013 that the Rio de Janeiro-based company unveiled yesterday. The proposal, a 56 percent increase from the previous five-year plan, counts on an $11.9 billion loan from Brazil's state development bank, $5 billion from other lenders and another $1.2 billion in unspecified borrowing.
"This is not a rescue,"Petrobras Chief Executive Officer Jose Sergio Gabrielli told reporters yesterday in Rio de Janeiro. "This is very different than what is happening in other countries. This is not a bailout."
Latin America's biggest publicly-traded company is increasing investment while rivals such as ConocoPhillips, the third-largest U.S. oil company, are cutting jobs and reducing spending plans after oil fell 68 percent from a record $147.27 a barrel on July 11. Petrobras, whose offshore Tupi field discovery is bigger than Mexico's Cantarell find in 1976, aims to boost oil and gas production to about 4.63 million barrels a day by 2015.
"The volumes of investments will have an important macroeconomic impact in Brazil,"Gabrielli said.
Of the planned spending through 2013, Petrobras expects to generate $120 billion in cash from operations with crude at an average of $47 a barrel, Gabrielli said. The rest will be financed by debt and efforts to cut costs, he said.
Lula's Efforts
Petrobras' plan to invest more each year in capital projects is part of Brazilian President Luiz Inacio Lula da Silva's effort to maintain the nation's economic growth. Brazil's economy, the region's largest, is forecast to expand 2.9 percent this year from 5.2 percent in 2008, according to the median estimate of 16 economists surveyed by Bloomberg.
The company expects to increase oil and natural-gas output to 5.73 million barrels a day by 2020 and daily refining capacity in Brazil to 2.27 million barrels by 2013. Petrobras produced about 2.4 million barrels a day last year.
About $28 billion of the total investment will go to developing the so-called pre-salt offshore oil fields, which include the 5 billion-to-8 billion barrel Tupi discovery.
Pilot Program
Petrobras may be able to produce oil from its pre-salt fields in a pilot program for less than $40 a barrel, the company's investor relations manager, Theodore M. Helms, said Dec. 9. The company aims to produce 219,000 barrels of oil a day from the pre-salt fields by 2013 and as much as 1.82 million barrels a day by 2020.
Rivals including Royal Dutch Shell Plc, StatoilHydro ASA, EnCana Corp. and Petro-Canada have announced planned spending cuts or postponement of projects after oil prices plunged from record in July.