Petrobras, Ultra Group and Braskem conclude deal to purchase Ipiranga Group
In one of the biggest transactions ever seen in Brazil, Petrobras, the Ultra Group and Braskem have reached an understanding to purchase Ipiranga Group businesses, consolidating and increasing petrochemical and fuel distribution sector businesses.
The transaction is worth approximately US$ 4 billion.

By acquiring the Ipiranga Group businesses, the three companies reinforce their commitment to growth in Brazil, Rio Grande do Sul and the same stakeholders targeted by Ipiranga: the shareholders, employees, partners, community and consumers.

The Ipiranga Group, one of the largest and most traditional in Brazil, operates in the oil refinery, petrochemical and fuel distribution sectors. Last year it registered R$30 billion in net revenues, with Ebitda at R$1 billion and net earnings of R$534 million.

Transaction procedure

The first stage involves Ultra Group acquisition of the shares held by the families controlling the Ipiranga Group. The Ultra Group will then make a public offering to purchase common shares held by Ipiranga Group minority shareholders.

In the third step, Braskem and Petrobras will submit offers to shareholders to delist Copesul.

In the fourth step, the Ultra Group will incorporate preferred shares held by Companhia Brasileira de Petrleo Ipiranga (CBPI), Distribuidora de Produtos de Petrleo Ipiranga (DPPI) and Refinaria de Petrleo Ipiranga (RPI) minority shareholders, who will receive preferred shares in Ultrapar.

In the fifth and final step, petrochemical assets will be sold and handed over to Braskem and Petrobras. Fuel distribution businesses absorbed by Petrobras will reinforce the company's distribution activities in the North East, North and Midwest.

The assets will be distributed as follows:

Fuel distribution sector
The Ultra Group will absorb the Ipiranga Group fuel distribution network in the South and Southeast regions and will continue trading under the Ipiranga brand.
Petrobras will take over the Ipiranga distribution network in the North, North East and Midwest and will be entitled to use the Ipiranga brand for a period of five years, during which time it will be gradually substituted by the Petrobras Distribuidora brand.

Braskem will acquire 60% of Ipiranga Group assets in the petrochemical sector and will strengthen its controlling stake in Copesul.
Petrobras will acquire 40% of the Ipiranga Group assets in the petrochemical sector.
Refining
Petrobras, the Ultra Group and Braskem will have equal controlling shareholdings in the Ipiranga Refinery, in Rio Grande do Sul, and they have made a commitment to continuing operations.
---
Petrobras, Ultra, Braskem to buy Brazil's Ipiranga for $4 billion
Brazilian oil giant Petrobras, petrochemicals company Braskem and energy holding Grupo Ultra said Monday they had agreed a joint deal to buy Brazil's second-largest oil company, Grupo Ipiranga, in a deal worth $4 billion.

In a presentation Monday, Petrobras said it would spend $1.3 billion to buy a stake in Grupo Ipiranga, while Braskem will spend $1.1 billion and Grupo Ultra will pay for its stake by issuing 52.8 million shares.


---

Ipiranga S.A

One of Brazil's largest privately held companies, Ipiranga S.A. focuses on the domestic oil and petrochemical sectors. The company operates through the following primary divisions: Companhia Brasileira de Petróleo Ipiranga (CBPI); Distribuidora de Produtos de Petróleo Ipiranga (DPPI); Refinaria de Petróleo Ipiranga S.A. (RPISA); Ipiranga Petroquímica; Ipiranga Comercial Química; and others. Ipiranga also holds stakes in rival Copesul, among others. The company is one of Brazil's top three oil refiners--although far smaller than state-owned Petrobrás, which has long operated a near-monopoly on the country's refining market. Ipiranga is also in the top three in the distribution market, particularly through its network of nearly 3,500 Ipiranga gasoline stations. The company's active implementation of a franchising strategy, adding a variety of new services and amenities, such as convenience stores and the like, in its service stations, has contributed strongly to that operation; these services account for as much as 15 percent of the group's total sales, which topped BRL 21 billion ($6.9 billion) in 2003. Unable to compete with Petrobrás in the refined oil market, Ipiranga has shifted its focus to lubricants and related products, and also has targeted expansion in the GNV (vehicular natural gas) arena. Through Ipiranga Petroquimica, the company is a leading Brazilian producer of petroleum derivatives, such as polypropylene, solvents, and asphalt, among other products. Although the Ipiranga holding company remains privately held (and owned in part by the founding families), the company's DPPI, CBPI, and RPISA subsidiaries are all listed on the Brazilian stock exchange, Bolsa de Valores do Rio de Janeiro.

Ipiranga Petroquimica produces four thermoplastic resins present in several day-by-day products.

The High, Medium and Linear Low Density Polyethylenes (HDPE, MDPE and LLDPE), besides Polypropylene (PP), are produced in the five industrial plants in the Petrochemical Complex of Triunfo-RS.

Ipiranga Petroquimica was founded in 1976 and it was first called Polisul Petroquimica. Hoechst (Germany), Petroquisa (state owned company) and Empresas Petroleo Ipiranga (one of the largest private company in Brazil) were the only Polisul shareholders.
It was in 1992 that Ipiranga and Hoechst bought Petroquisa's shares, taking over the control of Polisul. By that time, each shareholder had 50% of the company.

By the year 1997, Hoechst shareholders decided to focus their investments in science and health business. That was the opportunity when Ipiranga bought Hoechst shares and the name Polisul Petroquimica was changed to Ipiranga Petroquimica (now 100% owned by Empresas de Petroleo Ipiranga).

The petrochemical site of Triunfo (South Brazil) has many companies but Ipiranga was the first one to start up in 1982 (together with the cracker - COPESUL). It first began with a HDPE 60.000 ton/year capacity.

In 1986, the industrial plant was debottlenecked in order to produce 100.000 ton/year.

In 1990, a second industrial plant was built and it raised the HDPE production capacity to 220.000 ton/year.

The third unit to start up was built in 1996, reaching 350.000 ton/year HDPE production capacity.

The 150.000 ton/year PP plant and the 150.000 ton/year HDPE/LLDPE swing plant started producing in 1999.

In its Brazilian site (Triunfo), Ipiranga is able to produce 150.000 ton/year of PP, 400.000 ton/year HDPE and 150.000 ton/year HDPE/LLDPE in its five (05) petrochemical units.

---

Ipiranga Group
29,46 %
Braskem Odebrecht Group
29,46%
Petroquisa
15,63%
Others*
25,45%
* Banks, pension funds, other investors.

 

---
Ultrapar Participações S.A. is one of Brazil's most solid conglomerates. It unites three different companies, each with a prominent position in its own segment: Ultragaz, the leader in Brazil's distribution market for Liquid Petroleum Gas (LPG), with a 24% market share; Oxiteno, the largest producer of specialty chemicals in Brazil and the only manufacturer of ethylene oxide and its main derivatives in Mercosur area (comprising Brazil, Argentina, Paraguay and Uruguay); and Ultracargo, a leading provider of integrated road transport, storage and handling services for chemicals and fuels.
Ultrapar was incorporated on December 20, 1953 and traces its origins to 1937, when Ernesto Igel established Companhia Ultragaz and introduced LPG for home cooking in Brazil. It also pioneered the development of the petrochemical industry in Brazil, which led to the founding of Oxiteno S.A Indústria e Comércio in 1970 at the newly established Mauá Petrochemical Complex in São Paulo.
The company currently employs more than 6,500 people, operating in Brazil and Mexico. The LPG operation is present in every state, excluding the Amazon region, reaching more than 10.5 million homes. Oxiteno supplies a broad range of market segments, particularly agricultural chemicals, food, cosmetics, leather, detergents, packaging for beverages, thread and polyester filaments, brake fluids, petroleum, paints and varnishes. Ultracargo is a leading provider of integrated logistics for chemicals and fuels, with 21% of Brazil's tank storage capacity for chemical products. Ultracargo accounts for approximately 71% of all tank capacity for liquids at the Aratu terminal in the State of Bahia, which serves South America's largest petrochemical complex.

The combined net revenues of these three businesses in 2005 amounted to R$ 4.7 billion, with EBITDA of R$ 546 million, and net income of R$ 299 million. Since 1998 (the last year before the Company's IPO), Ultrapar has reported an annual average compound growth of 18% in EBITDA terms and 31% in net income terms.

LPG Distribution: Ultragaz is the leading distributor of liquid petroleum gas (LPG) in the Brazilian domestic market, with a 24% market share. It operates in the South, Southeast, Central West and Northeast of the Country, catering to all market segments - residential, commercial and industrial.
Chemical and Petrochemical: Oxiteno is the sole Brazilian producer of ethylene oxide, ethylene glycol, ethanolamines, glycol ethers and methyl-ethyl-ketone. Oxiteno is also a major producer of specialty chemicals. Oxiteno's products are used in many growing domestic and international industries, including polyester, packaging, paints, varnishes and cosmetics.
Logistics of oils and chemical products: Ultracargo is the Brazilian market leader in chemical products and fuels logistics. The company offers transportation solutions using its own and third-party fleets as well as storage services through warehousing facilities at port terminals and rail junctions for the transportation of chemical products. Transportation services include integrated multi-modal transportation as well as receiving and dispatching customers' goods. The company also offers ship loading and unloading services, pipeline operations, logistics programming and installation engineering.
---
2007/8/13 Bloomberg           Notice     Unipar 拡張
Petrobras, Unipar Plan New Brazilian Chemical Company
Petroleo Brasileiro SA, Brazil's state-controlled oil company, and União de Industrias Petroquimicas (Unipar) are in talks to join their stakes in Brazilian plastics and chemical plants into a single company.
The new company, to be called Cia. Petroquimica do Sudeste (CPS), will control factories producing thermoplastic resins and basic petrochemicals in Brazil's industrialized southeast, Petrobras, as the Rio de Janeiro-based oil company is known, said in a statement on its press Web site. Unipar, as Petrobras's prospective partner is known, will control the new company.
The talks follow Petrobras's agreement to pay 2.7 billion reais ($1.4 billion) for Suzano Petroquimica SA on Aug. 3. The purchase, expected to be complete by year end, is part of Petrobras's plan to expand its petrochemical holdings so it can earn more from rising oil output, Chief Executive Officer Jose Sergio Gabrielli said at the time.
Petrobras, Unipar and Suzano previously were partners in petrochemicals plants in Sao Paulo and Rio de Janeiro, Brazil's two most industrialized regions. The plants include Petroquimica Uniao SA, Petroflex SA and Rio Polimeros SA.
.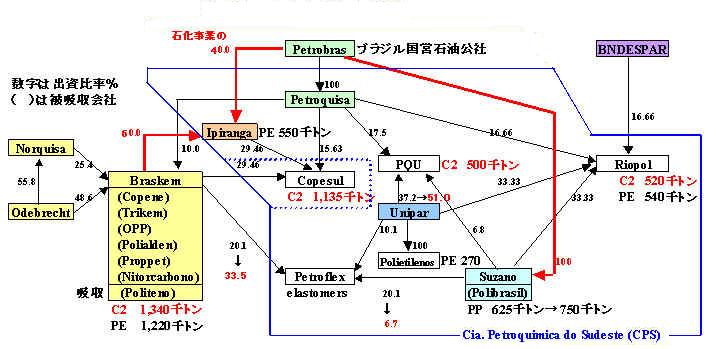 ---

NOTICE TO THE MARKET

Petroleo Brasileiro S.A. - PETROBRAS and UNIPAR - Uniao de Industrias Petroquimicas S.A. hereby announce that they have started negotiations on the constitution of Companhia Petroquimica do Sudeste (hereinafter "CPS"). CPS will aggregate PETROBRAS and UNIPAR assets for basic petrochemicals and thermoplastic resins in the Southeast of Brazil in order to achieve global production scale and a greater competitiveness, both key issues in this sector.
In the evaluation of the assets that will make up CPS, identical assumptions, criteria and principals will be applied, always recognizing and respecting the rights of UNIPAR, PETROBRAS and the other signatories of the Shareholders' Agreements of Petroflex and RioPolimeros, including, in the latter case, Petroquisa, in order to acquire the shares of said companies, as a result of the acquisition, by PETROBRAS, of the controlling shares in Suzano Petroquimica S.A..
UNIPAR will be the controlling shareholder of CPS, retaining the majority of the company's voting capital, while PETROBRAS will have an important role as a CPS shareholder. Thus PETROBRAS and UNIPAR will enter into a Shareholders' Agreement, which will ensure that CPS will be supported by professional management, in line with the best corporate governance practices adopted by large nationally-owned publicly-held companies.
PETROBRAS and UNIPAR will make their best efforts to entering into an Investment Agreement within not more than 90 days of this date, establishing the conditions for the constitution of CPS.
---
Uniao de Industrias Petroquimicas S.A. (UNIPAR) announces that on June 25, 2007 it entered into the following legal transactions with Dow Brasil S.A. (DOW):
(i) Irrevocably pledged to acquire 6,500,000 common shares and 6,500,000 preferred shares issued by Petroquimica Uniao S.A., owned by DOW(13% of voting capital and 12.97% of total capital);

(ii) Acquired 277,372 common shares and 277,372 preferred shares (0.55% of PQU's voting and total capital ) issued by Petroquimica Uniao S.A., owned by DOW;

(iii) Acquired from DOW, via its wholly-owned subsidiary Polietilenos Uniao S.A., 140,000 t p.a. LDPE plant located in Cubatao , in the state of Sao Paulo.
(the production capacity of this subsidiary reached 270,000 t p.a., as of 2007/8/1. As of the 3Q08, with the conclusion of Capuava's ongoing expansion project, Polietilenos Uniao will have a capacity of around 500,000 t p.a.)
The total value of said transactions amounts to R$ 210 million.
 

---
The production capacities of companies controlled/consolidated by UNIPAR as of June 30, 2007, are shown below:
Unipar とその出資会社の製品と能力は以下の通り。
Company
(出資比率)
Product
Capacity
 (千トン)
Unipar
Cumene
   210
Olefins
    27
Isoparaffins
    26
Polietilenos Uniao
(100%)
LDPE/EVA
 130+140 *
Petroquimica Uniao
(PQU)
(51.0%)

Ethylene
   500
Propylene
   250
Benzene
   200
Solvents
   180
Gasoline A
   170
Butadiene
    80
Carbocloro
(50.0%)

Chlorine
   255
Caustic Soda
   283
EDC
   140
HCl
   275
Hypochlorite
   275
Petroflex
(10.1%)
Elastomers
   411
Polibutenos
(33.3%)
Polyisobutenes
    16
Rio Polimeros
(33.3%)
Ethylene
   520
LLDPE / HDPE
   540
Propylene
    75
* Dow より購入(140)
---
Braskem Announces the Conclusion of the Acquisition of Ipiranga Group Petrochemical Assets
Braskem (the "Company"), the leading company in the thermoplastic resins industry in Latin America and the third- largest petrochemical producer in the Americas, announces that 60% of the petrochemical assets of the Ipiranga Group, consisting of the 60% interest in Ipiranga Quimica, were effectively transferred to the Company.
As a result of the transaction, Braskem now holds a direct interest of 60% in Ipiranga Quimica, an indirect interest of 60% in Ipiranga Petroquimica, and a direct and indirect interest of 62.7% in Copesul. The remaining 40% of Ipiranga Quimica were delivered to Petrobras.
The conclusion of the acquisition of these petrochemical assets allows for the implementation of the Investment Agreement entered into with Petrobras last November. Through this agreement Petrobras and Petroquisa interests, corresponding to 40% of the petrochemical assets of Ipiranga, 40% of Petroquimica Paulinia, as well as the option to incorporate Petroquimica Triunfo, will be incorporated into Braskem, in exchange for approximately 103.4 million shares of Braskem.
According to Braskem CEO Jose Carlos Grubisich, "The conclusion of this transaction represents an important step in the consolidation of the Brazilian petrochemical industry and will enable Braskem to accelerate the capture of synergies, estimated at US$1.1 billion in net present value."