Sinopec Wuhan@Petrochemical Co@•ŠΏΞ‰»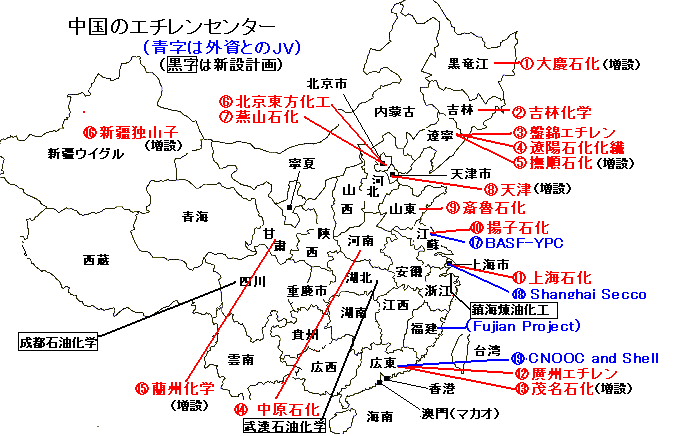 —§'nFŒΞ–kΘ
έ—§F
HomepageF
»•i
"\—Ν
iηƒgƒ"j
‹Zp
ƒGƒ`ƒŒƒ"
@ @800
@
Gasoline hydrogenation
@@@500
@
LLDPE
@@ 300
@
HDPE
@@ 300
Ineos
Ethylene glycol
@@ 300
@
PP
@@ 400
@
BTX
@@ 400
@
ƒuƒ^ƒWƒFƒ"
@@ 120
@
----
SK was possible to join this project
@@@ŠΨ'SKA•ŠΏƒGƒ`ƒŒƒ"Œv‰ζ'Φ'ΜŽQ‰Α'π‰"Šϊ
2013/6/5 @NDRCASKƒOƒ‹[ƒv'Μ35%oŽ'³"F
Sinopec Wuhan Ethylene Project Back On Track; Operational in 2013

China Petroleum and Chemical Corp., the country's largest refiner by capacity, has put back on track its 800,000-ton-a-year ethylene project in central China's Wuhan city and plans to complete construction by the end of 2012, its parent China Petrochemical Corp. said in an in-house newsletter Wednesday.
The progress of the project has been delayed for around one year from its initial schedule. The new plan is to bring the project online in the first half of 2013.
The plant, 65% owned by Sinopec, is part of the government's plan to build major ethylene production capacity in central and western parts of the country and is aimed at helping the central region meet its demand for petrochemicals.
SK Energy Co., South Korea's largest refiner by capacity, holds the remaining 35% of the complex.
The project will also produce key petrochemical products including 300,000 tons of high-density polyethylene, 300,000 tons of linear low-density polyethylene and 400,000 tons of polypropylene.