Iraq Cabinet Approves Shell & Mitsubishi's Gas Deal In South Iraq
---
Iraq Economy
http://0-www.search.eb.com.library.uor.edu/eb/article-232273?tocId=232273
The manufacturing sector developed rapidly after the mid-1970s, when government policy shifted toward heavy industrialization and import substitution. Iraq's program received assistance from many countries, particularly from the former Soviet Union. The state generally has controlled all heavy manufacturing, the oil sector, power production, and the infrastructure, although private investment in manufacturing was at times encouraged. Until 1980 most heavy manufacturing was greatly subsidized and made little economic sense, but it brought prestige for the Ba'th regime and later, during the Iran-Iraq War, served as a basis for the country's massive military buildup. Petrochemical and iron and steel plants were built at Khawr al-Zubayr, and petrochemical production and oil refining were greatly expanded both at Al-Basrah and at Al-Musayyib, 40 miles (65 km) south of Baghdad, which was designated as the site of an enormous integrated industrial complex.
---
 Platts Guide to Iraq's Oil Industry
   http://www.platts.com/features/Iraq/index.shtml

With proven reserves of 112-bil bbl and probable reserves of 214-bil bbl, Iraq has the second largest crude reserves in the world after Saudi Arabia. The infrastructure of the country's oil industry is however in a lamentable state after suffering badly in the 1991 Gulf War.

Reserves could top 300-bil barrels

Production cannot be sustained

Unofficial exports through Syria

---
IRAQ - The Petrochemical Sector.
湾岸戦争前に2つのコンプレックス
1.Khor Al Zubair (PC-1)
    エチレン 130千トン
    LDPE    60千トン
    HDPE    30千トン
    EDC    110千トン
    VCM    66千トン
    PVC     60千トン
   1980 完成後、1980-88 イラン戦争で不稼動
   1991  戦争で被害
  2003年 部分再開
2.Musayyib  空爆の対象 
   エチレン  250千トン
   LDPE   160
   EG      55
   EO     20
   PP     100
   ブタジェン   70
   SM     145
   PS      80
   SBR    80
   MTBE   60
   ブテン1   15
   ABS    15
   styrene acrylonitrile copolymer 5
   1980年代 戦争で建設延期
   1988 着工
   1991 ほぼ完成時に戦争で被爆
   1992年 部分稼動
現在、Khor Al Zubairのみが稼動 (下記 情報1、情報 2)
  稼動能力
    LDPE    36千トン
    HDPE    19千トン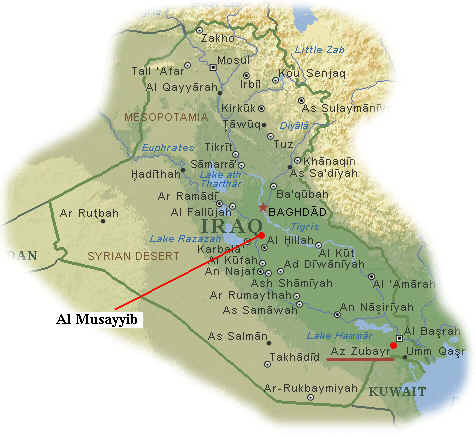 Ministry of Industry & Minerals- Chemical & Petrochemical Sector
 ( Iraq Investment and Reconstruction Task Force of the U.S. Department of Commerce. )
Furat State Company: Produces chlorine and caustic soda. Current production capacity of chlorine / caustic soda is 50,000 tons/ year.
State Company for Tires: Produces tires and related rubber products. Design capacity 600,000 tires / year, current production capacity 500,000 tires / year.
Northern & Southern Fertilizer State Company: Produces urea. Design capacity 1.5 million tons/year, production capacity 790,000 tons / year.
Petrochemical State Company: Produces low and high density Polyethylene, Chlorine and Sodium Hydroxide. Design capacity 60,000 tons/year (LDPE), 30,000 tons/year (HDPE). Production capacity 36,000 tons/year (LDPE), 19,000 tons/year (HDPE).
Al-Mishraq Sulfur State Company: Produces sulfur and sulfuric acid. Design capacity 820,000 tons/year of sulfur, production capacity 400,000 tons.
Phosphate State Company: Produces sulfuric and phosphoric acid.
State Company for Paper Industries: Produces paper, boards, and egg trays
State Company for Batteries: Produces lead acid batteries and dry batteries.
State Company for Rubber Industries: Produces tires and pipes.
Ibn Sina State Company: Produces all types of acids.
That-al-Sawari State Company: Produces boats, insulation material and resins.
---
April 15, 2003 Financial Times

Iraq has the resources to become oil/chemical giant.
Iraq has one chemical site still operating, including a 130,000 tonnes/y cracker, and plants for 60,000 tonnes/y of low density polyethylene (LDPE) and 30,000 tonnes/y high density polyethylene (HDPE). All these plants were operating at 20-30% of capacity before the war.  

立地: Khor-al-Zubair
---

http://www.geodesign.co.uk/iraq/iraq_why.htm

In the Arabian Gulf, Iraq has three tanker terminals: at Mina al-Bakr, Khor al-Amaya, and Khor al-Zubair.

Mina al-Bakr is Iraq's largest oil terminal, with four 400,000-bbl/d capacity berths capable of handling very large crude carriers (VLCCs). The terminal has a capacity as high as 1.2 MMBD.

Khor al-Amaya terminal could load 600,000 bbl/d. Upon full completion of repairs, Iraq projects Khor al-Amaya's capacity will rise to 1.2 MMBD.

Khor al-Zubair Iraq's third terminal, is linked to the Umm Qasr port by a 30-mile long canal. While Khor al-Zubair generally handles dry goods, it has the capability to service small quantities of liquefied petroleum gas (LPG) and refined products. Like Umm Qasr, Khor al-Zubair is being outfitted with crude loading capabilities.
---
APS Review Downstream Trends  December 09, 2002
http://static.highbeam.com/a/apsreviewdownstreamtrends/december092002/iraqthepetrochemicalsector/
Before the 1991 war, Baghdad had impressive plans for its petrochemicals industry. Officials have said that, after the sanctions, Iraq may eventually become the world's second largest exporter of petrochemicals. This depends on whether Iraq can outpace the rapidly expanding petrochemical sector of Iran as well as that of Saudi Arabia.
One of the targets for allied bombing in Jan. 1991 was the 1.5m t/y petrochemical complex at Al Musayyib, in the centre, which was intended to become an industrial zone matching those of Baiji to the north or Khor Al Zubair to the south. Technical teams have managed to rehabilitate several of the damaged plants which now meet domestic requirements for a range of plastics. But, as with oil products, the quality is questionable since most units were only partly restored.
Iraq has two main petrochemical complexes, one in operation at Khor Al Zubair near Basra, called PC-1, and the other under construction at Musayyib,・・・・・
---
AllBusiness 2005/5/9

IRAQ - The Petrochemical Sector.
http://www.allbusiness.com/periodicals/article/414801-1.html
Iraq has two main petrochemical complexes, one at Khor Al-Zubair near Basra, called PC-1, and the other under construction at Musayib, 60 km south of Baghdad called PC-2. Both owned and run by the State Enterprise for Petrochemicals (SEP).

PC-1 - Khor Al Zubair - was badly damaged in the previous war, by March 1991 leaving Iraq with no thermo-plastic building blocks. It resumed limited operations in February 1992. The complex was mothballed on its completion in 1980 because of the 1980-88 war with Iran. It went on stream in early 1989 to produce: 130,000 t/y of ethane-based ethylene; 110,000 t/y of ethylene dichloride; 60,000 t/y of LDPE; 30,000 t/y of HDPE; 66,000 t/y of vinyl chloride monomer (VCM); and 60,000 t/y of PVC.

PC-2 - Musayib: Construction of this complex, in central Iraq, had been postponed since the early 1980s because of the war with Iran. Soon after Iran accepted the ceasefire in August 1988, SEP went ahead with the project. A UK unit of Bechtel was contracted as a technical consultant and did the initial studies. The complex was nearly complete as the 1991 war began. Allied bombing severely damaged its units. It was brought on stream partly in October 1992, with Iraqi engineers having done the designs. Its ethylene unit was to have a 250,000 t/y capacity compared to 420,000 t/y planned.
Musayib was being developed as an industrial centre, with West Qurna field to provide crude oil, fuel and gas feedstocks. Under pre-war plans, the first phase of PC-2 was to cost up to $2.5 bn and was due to come on stream in the second half of 1991. It was to have the following capacities:
250,000 t/y of ethylene, - 160,000 t/y of low-density polyethylene, - 55,000 t/y of ethylene glycol, - 20,000 t/y of ethylene oxide, - 100,000 t/y of polypropylene, - 70,000 t/y of butadiene, - 145,000 t/y of styrene monomer, - 80,000 t/y of polystyrene, - 80,000 t/y of styrene butadiene rubber (SBR) and polybutadiene rubber, - 60,000 t/y of MTBE, - 15,000 t/y of butene-1, - 15,000 t/y of acrylonitrile butadiene styrene (ABS), and - 5,000 of styrene acrylonitrile copolymer (SAC).
---
OGN online.com 2003/11/24

Sector hope in Petchem plant launch
http://www.oilandgasnewsonline.com/bkArticlesF.asp?IssueID=290&Section=1480&Article=11860
Hopes are high that private-sector investment will secure the future of Iraq's Khor al-Zubair petrochemicals plant.

Engineers at the Khor al-Zubair petrochemicals plant, about 40 kilometres south of Basra, are on the brink of a major breakthrough. In late October, gas pressure at the plant reached levels high enough to restart production of chlorine for the first time since it was shut down just before the outbreak of war in March.



The plant requires 80 million-85 million cubic feet a day of gas feedstock. Some of this is siphoned off to fuel the complex's four gas turbines, which have capacity to produce about 60 MW of power. Only one of the turbines is operating at present. The US' Bechtel, under its US Agency for International Development (USAID) reconstruction contract, has brought in Dubai-based Masaood John Brown to repair the units, which it originally installed.


---
Iraq considering $2 bln petrochemical plant

Iraq is considering building a $2 billion petrochemical plant and could begin talks with potential international investors in the project this year, the country's industry minister said on Sunday.
The plant would have an annual capacity of 1 million tones of ethylene and derivatives, he said.

Hariri said on Wednesday that Royal Dutch Shell Plc and Dow Chemical Co were in talks with the government to renovate and expand a chemical plant in southern Iraq at a cost of up to $2.1 billion.
---
日本経済新聞 2008/7/1

イラク 8油田・ガス田、外資導入
 13年に原油8割増産 日系4社など応札資格

 イラクのシャハリスタニ石油相は30日、外資導入の対象となる油田と天然ガス田、計8ヶ所を発表した。イラクは世界第三位の石油埋蔵量を有する。戦後復興を急ぐ同国は外国石油会社への油田開放により原油生産能力を2022年に現在の8割増となる日量450万バレルに引き上げる計画。すでに日本企業4社(国際石油開発帝石ホールディングス、石油資源開発、新日本石油、三菱商事)を含む外資が応札資格を得ており、イラク参入をめぐる競争が本格化する。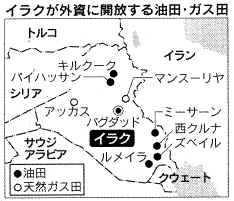 外資導入による油田開発は03年のイラク戦争後初めて。対象となるのは北部の主要油田キルクークや南部の大油田ズベイル、ルメイラなど油田6カ所と、西部のアッカスなど天然ガス田2カ所。イラク石油省は事前審査で絞り込んだ41社を対象に09年3月までに入札を実施、落札企業と同年6月までに契約する。
外資導入による油田開発には、外国企業の開発への参加の枠組みや石油収入の分配などのルールを定めた基本法が必要。しかし、同法をめぐっては国内各派の対立で連邦議会での審議が停滞している。
---
Sep 01, 2008 (AsiaPulse via COMTEX)
Iraq signes first major oil deal with China
Iraq has signed its first major oil deal with a foreign company since the fall of Saddam Hussein's regime, a spokesman for the Iraqi Oil Ministry said Saturday.
The contract with the China National Petroleum Corporation could be worth up to US$3 billion and marks the first time in more than 35 years that Iraq has allowed a foreign oil company to do business inside its borders.
The deal allows the CNPC to develop an oil field in southern Iraq's Wasit province for about 20 years, Oil Ministry spokesman Assim Jihad said.
Iraq's Cabinet must still approve the contract, but Jihad said that would happen soon and work could start within a few months.
The Chinese company will provide technical advisers, oil workers and equipment to develop al-Ahdab oil field, providing fuel for al- Zubaidiya power plant in Wasit, southeast of Baghdad, bordering Iran, Jihad said.
Iraq currently produces about 2.5 million barrels a day, 2 million of which are exported daily, Jihad said. That is close to its status before the US-led war that toppled Saddam in 2003, but below its levels prior to the Persian Gulf War in 1991.
Iraqi Oil Minister Hussein Shahrestani said in July that he is confident Iraq will be able to double its production in the next five years.
As it did with other international companies, the Saddam regime had a partnership contract with CNPC signed at the end of the 1990s that entitled the company to share profits. The current contract, however, will be only a "service contract" under which CNPC is simply paid for its services, Jihad said.

2008/8/29 CNN
バグダッド南方の油田開発で合意、調印 イラクと中国国営企業
イラク石油省高官は28日、同国と中国がイラクの首都バグダッド南方にあるアハダブ油田開発の合意文書に27日調印したと述べた。同油田の開発で 両国は、2003年の米軍事作戦の開始前に合意、調印していたが、戦時の影響で、政府間の承認が出来ない状態となっていた。
---
日本経済新聞 2009/5/16           情報錯綜(下記)

来月からクルド自治区の原油輸出 イラク政府、歳入減少で妥協

 イラクの北部三州で構成するクルド人自治区から初の原油輸出が6月に始まる。原油の主権をめぐり対立してきた中央政府とクルド自治政府の間で妥協が成立、ノルウェーやカナダなどの石油会社が日量10万バレル程度の原油を中央政府が管理する既存パイプラインを使ってトルコの地中海岸の積み出し港に運ぶ。
 Tawke油田はノルウェーのDNO International ASA が、Taq Taq 油田はカナダのAddax Petroleum などの企業連合が開発する。
Tawke is being developed jointly by independent Norwegian oil company DNO and Turkey's Genel Enerji, while Swiss-Canadian Addax Petroleum Corp. is jointly operating the Taq Taq field with Genel Enerji.

Oslo-based DNO became the first independent Western oil company to secure an oil deal in post-Saddam Iraq, signing a production sharing contract with the Kurds in June 2004 to develop the Tawke field.

Three years later, the field came on stream but DNO was forced to sell the produced oil on the local market where prices are lower because it could not obtain an export permit due to the standoff between the Kurds and Baghdad. The field has 14 wells and more will be drilled.

Earlier this year, Genel Enerji teamed up with DNO in the Tawke development project.

In July 2005, the Swiss-Canadian independent Addax Petroleum joined Genel Enerji in a production sharing contract to develop Taq Taq.

The field, which has 11 wells, came on stream in November 2006 and faced the same export problem.

The northern Kurdish region has reserves of at least 40-45 billion barrels of oil, nearly half of Iraq's proven 115 billion barrels.
 中央政府と自治政府は今回、2油田で産出する原油の販売はイラク石油省傘下の国営石油会社(SOMO)が担当し、外国石油会社は自治政府と交わした開発契約(生産物分与契約)の比率に基づいて売却代金を受け取ることで合意したもよう。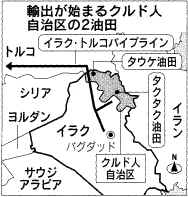 ーーー
 6月1日、原油輸出が始まった。1日に自治区首府アルビルでの開始式典にはタラバニ大統領と自治政府のバルザニ議長が出席し、和解を演出した。
 中央政府が原油収入増を望んだため例外的に妥協が成立したとの見方もあり、長期的な対立緩和につながるかは不透明。
 両油田からの収入の88%は中央政府に入り、このうち17%を自治政府が受け取る。残りは開発企業分となる。
About 40,000 barrels per day will initially be sent from Taq Taq, which is in a remote area of Irbil, with another 60,000 barrels a day from the Tawke field in nearby Dahuk province.
The two fields are expected to reach a total capacity of 250,000 barrels per day within a year and 1 million barrels per day in the coming two to three years, said Khalid Saleh, a spokesman for the region's Natural Resources Ministry.
Iraq currently produces about 2.4 million barrels of oil per day and exports about 1.9 million - most from ports in the Shiite south.
May 31 (Reuters) -

UAE's Dana Gas will go ahead with its project in Iraq's Kurdistan region despite the federal government's rejection of the deal, a Dana Gas source told Reuters on Sunday.

This month the UAE's Crescent Petroleum and affiliate Dana Gas formed a consortium with Austria's OMV and Hungary's MOL to pump enough gas from Iraq's Kurdistan region to kick-start the Nabucco pipeline to Europe via Turkey.

Shortly following the announcement, the Iraqi federal government rejected the deal signed by the Kurdish Regional Government (KRG), creating a potential hurdle for the project.

"These are all inner conflicts and we have nothing to do with them," said a source from Dana Gas who spoke to Reuters under condition of anonymity on the sidelines of a conference in the emirate of Sharjah.

"From a legal stand, our contact is one hundred percent valid ...what is happening between the Kurdish government and the federal government is a conflict we have no part in," the source added.

In the past the Iraqi oil ministry has criticised oil and gas contracts that the Kurdistan government has signed with international oil companies, calling them illegal.

The Western-backed Nabucco pipeline aims to lessen Europe's dependence on Russian gas. Until now, the $10 billion pipeline project had plenty of willing buyers in Europe but little gas to sell.

OMV will pay $350 million to Crescent and Dana for a 10 percent stake in their Kurdistan operating unit Pearl Petroleum. Before the deal, Crescent and Dana each held 50 percent in Pearl.

MOL will give 3 percent of its shares each to Crescent and Dana. In return, MOL will also take 10 percent in Pearl.

This month Badr Jafar, executive director for Crescent Petroleum, told Reuters that the assets in the region have the potential to produce over 3 billion cubic feet per day (cfd) by 2014.
ーーー
Iraq's oil minister confirmed that the federal government doesn't recognize oil contracts signed by the Kurds with several foreign companies.
The Kurdish government says drilling contracts with around 25 foreign companies are permitted under Iraq's constitution, which gives the Kurds a high degree of governance over its own affairs, including oil policy.
ーーー
Korea Times 2009/5/14
KNOC, Iraq Engaged in Accidental Truth Game Over Oil Deals

A sort of game of truth is under way following the Iraq central government's announcement over the weekend that all oil deals cut between foreign firms and Kurds were invalid.

To the contrary, the state-run Korea National Oil Corporation (KNOC) says that everything was okay, alluding to an earlier announcement by the Kurds that oil deals with foreign firms were effective.

The Kurds said last Friday they will begin their first-ever crude oil exports next month. Under the plan, oil from their Tawke and Taq Taq fields will be sold outside Iraq through a pipeline into to Turkey.

Accordingly, the company said Tuesday it will start drilling oil blocks in the northern Iraqi region in the fourth quarter of the year, explaining that Baghdad had given them permission to go ahead with their oil deals.

``Our exploration plan has been independently going on, regardless of what is happening there,'' said KNOC spokesman Seong Hyun-soo. ``Still, it's positive that we are seeing Iraq changing its view on the Kurdish issue.''

The company added it had confirmed the Iraqi government in Baghdad had sent a written guarantee to Heritage Oil, a U.K-based firm. But acknowledged KNOC hadn't received any guarantee.

Starting with the Bazian block, KNOC will work on the Sangaw South block in the first half of next year and the Qush Tappa block in the second half, the state-run oil company said. It currently owns a majority stake in the three blocks, including an 80-percent stake in Qush Tappa.

Following a Bazian deal in a consortium in November 2007, KNOC inked contracts for another five blocks a year later. Those blocks are estimated to have a total of 7.2 billion barrels of oil reserves in aggregate ― and Korea will be able to secure three billion barrels of crude, if its explorations are successful, the company said in a statement.

Then came a retraction from the central government, which said that all deals with the Kurds were ``illegal and illegitimate.''

``The region does not have the right, nor does any province or anyone else, to sign contracts on behalf of Iraq without authorization,'' Iraqi oil minister Oil Minister Hussain al-Shahristani was quoted as saying during an interview with the state television, Iraqia, on Tuesday. ``All contracts should be submitted to the ministry.''

On the same day, Iraq's oil ministry spokesman Asim Jihad said no deal has been concluded between the two parties so far.

However, KNOC dismissed those statements.

``It's not a surprise. The minister has always been standing on the opposing end and won't change his official stance in a moment,'' Seong said. ``But now it appears Baghdad is fine-tuning agreements before giving full permission to the Kurdistan government."

Seoul has been trying to further tap into oil-rich Iraq. In February, the government signed a memorandum of understanding with Iraq to take part in a $3.6-billion oil field exploration project during the visit of Jalal Talabani, the first Iraqi president to visit Korea.

Some Korean firms have suffered some setbacks in Iraqi business as the price for dealing with Kurdistan, which signed several oil exploration deals with overseas firms in defiance of warnings from Baghdad. SK Energy, Korea's No.1 refiner, was banned from importing crude oil from the Middle Eastern country from January last year before resuming its business a year later.
---
Iraq-Eni sign Zubair oil deal

Iraq's oil ministry on Monday signed an initial deal with a consortium led by Italy's Eni SpA to develop a prized southern oil field, an agreement representing a key step forward in the country's obstacle-strewn road to revamp its dilapidated oil sector.

Eni, the U.S.'s Occidental Petroleum Corp. and South Korea's KOGAS will develop the 4.1 billion barrel Zubair field, with an eye to boosting output from around 200,000 barrels per day to 1.1 million barrels a day within seven years.

Although the deal must still be approved by the Cabinet, Iraqi Oil Minister Hussain al-Shahristani, hailed it as a significant achievement at Monday's signing ceremony in Baghdad.

"Today, Iraq made a big leap on the way to develop its oil industry," said al-Shahristani of the deal, which comes a day before Iraq is to finalize an agreement with Britain's BP PLC to develop the nation's largest oil field. "We are happy with this progress and the achievement."

Shahristani also promised "more good news in the coming days that will "put Iraq on the international oil map."

The Eni-led consortium will receive $2 per barrel of crude produced. That's less than half $4.80 per barrel they had bid in the licensing round in held in June in Baghdad. The 20-year contract could be extended by another five years.
In June Iraq's Oil Ministry said Eni, with other bidders, was not willing to accept the government's contract terms for the Zubair oilfield.

"(We changed our minds) because the tax terms are different now," said Eni's Chief Operating Officer for E&P Claudio Descalzi on Thursday.

Speaking to analysts on a conference call, Descalzi said that under the original Zubair terms taxes were on total revenue -- on both cost oil and profit oil.
"Now taxes are just on profit oil," he said.
---
Iraq Awards 2 Giant Oil Fields, Expects More Saturday
Iraq succeeded Friday in awarding two supergiant oil fields to two consortia--led by Royal Dutch Shell PLC and by China National Petroleum Corp.--as it began the second oil-licensing auction since the Saddam Hussein era.
Under beefed up security at the Iraqi oil ministry headquarters after a string of recent bombings here, Iraq awarded two untapped oil and gas fields--Majnoon, which means crazy in Arabic, and Halfaya in southern Iraq.
The auction is key to Iraq's goal of reviving an oil industry battered by years of war and sanctions. The country plans to increase oil production over the next six or seven years to six million barrels a day from 2.5 million now, though the task will be challenging.
Iraqi oil officials hailed the first day of the two-day auction as a success overall, though three of the five groups of oil and gas fields either failed to draw interest or received bids that didn't meet the Iraqi government's minimum terms.
"Today is a great success for Iraq," which secured favorable remuneration terms and strong projected production levels in the agreements for both fields, Iraq's Oil Minister Hussein al-Shahristani said.
Saturday, the Iraqi oil ministry will auction five more groups of oil and gas fields. Included among those is West Qurna Phase 2, the second largest oil field in this bidding round, with proven reserves estimated at more than 12 billion barrels.
Malaysia's national oil company Petronas secured stakes in both of the awarded oil fields Friday--the only company to do so out of 15 international oil companies submitting bids for them.
Petronas' stake in Majnoon is 40% while Shell holds 60% of the field. The Majnoon field holds some 12.8 billion barrels of oil reserves.
Petronas also secured a 25% share in the Halfaya oil field, which holds some 4 billion barrels of oil reserves.
French oil giant Total SA partnered with China National Petroleum Corp. in a failed bid attempt Friday for the Majnoon field.
Total's years of negotiating with the former regime of ousted Iraqi leader Saddam Hussein to develop Majnoon didn't clinch a development deal with the current Iraqi government, but Total didn't walk away empty-handed Friday. It holds a stake in the CNPC-led consortium, which won the giant Halfaya oil field.
For the Majnoon field, the winning companies proposed to receive a fee of just $1.39 a barrel and pledged to increase production to 1.8 million barrels a day. The remuneration fee was below what Iraq had said it would be willing to pay, but the winners sealed the deal by proposing more than double the production level that Iraq had sought, Shahristani said.
Total owns a 25% stake in the consortium that won the Halfaya development deal. CNPC holds 50%, and Malaysia's national oil company Petronas has 25%. They proposed a fee of $1.40 a barrel and a production plateau of 535,000 barrels a day for developing the Halfaya field.
The development deals are considered technical service contracts because the oil companies won't be allowed to book a share of the fields' reserves. The oil companies will receive the agreed remuneration fee per barrel, and will be reimbursed for development costs. The Iraqi government will provide security for the fields, though the international oil companies will be permitted to hire international security firms to protect their personnel.
The Iraqi government tightened security on Friday around the oil ministry headquarters in Baghdad where the auction took place. The government deployed military trucks and police armed with heavy machine guns early in the morning on the streets leading to the ministry. They blocked some streets in the capital to ensure safe passage for the convoys of company executives who defied the volatile security situation in Baghdad and attended the bidding round.
For big international energy companies, the licensing marks the latest stage of their return to a country from which they've been barred since 1972, when Saddam Hussein nationalized the oil industry.
Iraq is thought to have proven reserves of 115 billion barrels of oil, making the nation a magnet for Western firms shut out elsewhere in the Middle East.
Yet none of the companies Friday submitted bids for the East Baghdad oil field, despite its huge oil reserves estimated at 8 billion barrels. Analysts said oil firms declined to bid because of the unstable security situation in Baghdad, where massive bomb explosions over the last few weeks have killed hundreds of Iraqis.
Unlike the two awarded fields, East Baghdad produces heavy crude oil that is more difficult and costly to refine. The field also is geologically complicated, making it tougher to extract the oil.
Likewise, none of the companies submitted bids Friday for Eastern Fields, a cluster of smaller oil and gas fields. The oil minister said companies were unwilling to develop the Eastern Fields because of the unstable security situation in Diyala province, where the fields are located.
"We urge our people in Diyala to fight against al-Qaeda and the remaining of the former Baathist regime," Shahristani said.
The only company that bid for Qaiyarah near Mosul in northern Iraq was Angola's state-run Sonangol. It didn't win the field, the last in Friday's auction, as it didn't meet the ministry's maximum remuneration fee of $5 for each produced barrel. The company proposed a payment fee of $12.50 a barrel.
During the first bidding round, held in June, the oil ministry only awarded Rumaila--Iraq's largest oil producing field--to a consortium consisting of BP PLC and CNPC.
Some companies, however, changed their minds later, accepting the dollar-per-barrel remuneration fees set by the ministry and signing contracts.
But analysts say there are major obstacles to the government's efforts to expand oil output. Parliament has yet to pass an oil law covering key issues such as revenue allocation, and elections next year could bring in a government that might not honor oil contracts. Also, security remains fragile.
ーーー
Dec 13, 2009 Reuters
Details on bidding for Iraqi oilfields

Iraq's Oil Ministry awarded seven service contracts to international oil companies to develop some of its biggest oilfields in the second bidding round since the 2003 U.S.-led invasion.

The fields could triple current production. When the deals that were awarded after the first auction in June are included, capacity could reach 12 million barrels per day (bpd) from a current 2.5 million bpd.

Here are details from the weekend's bidding:

* WEST QURNA, PHASE TWO

Russia's LUKOIL (LKOH.MM) and Oslo-based Statoil won the contract for this supergiant field with reserves of 12.9 billion barrels. LUKOIL controls 85 percent of the venture, while Statoil owns 15 percent.

They proposed a remuneration fee of $1.15 per barrel and output of 1.8 million bpd, compared with the government's minimum target of 750,000 bpd.

Petronas, Pertamina of Indonesia and PetroVietnam sought $1.25 per barrel and targeted 1.2 million bpd in production. Total (TOTF.PA) of France bid on its own and proposed a fee of $1.72 and output of 1.43 million bpd.

BP and China National Petroleum Company (CNPC), which won a contract to operate the Rumaila field at the first auction in June, proposed a $1.65 fee per barrel and 888,000 bpd.

After the deal is ratified, LUKOIL and Statoil must pay a non-refundable signature bonus of $150 million, according to a protocol for the tender. They are also required to invest a minimum of $250 million.

* MAJNOON

Royal Dutch Shell, Europe's biggest oil company, owns 60 percent and Malaysia's Petronas owns the rest of the venture that won a contract for this supergiant field in southern Iraq.

The companies proposed a remuneration fee of $1.39 per barrel and a plateau production target of 1.8 million bpd. Majnoon currently produces 45,900 bpd of oil.

Total and CNPC offered the only other bid: $1.75 per barrel and an output target of 1.405 million bpd.

The Oil Ministry's minimum plateau production target was 700,000 bpd. Shell and Petronas will pay $150 million once the deal is ratified, and the agreement also requires them to invest a minimum of $300 million.

* HALFAYA

CNPC owns half of the venture, while Petronas and Total each hold 25 percent stakes, that won this field with 4.1 billion barrels of reserves. They proposed a fee of $1.40 per barrel and plateau production of 535,000 bpd from a current 3,100 bpd.

The government put the minimum output at 300,000 bpd.

LUKOIL and Statoil offered a fee of $1.53 per barrel and a target of 600,000 bpd.

India's ONGC led a consortium with TPAO, Turkey's state-run petroleum company, and Oil India that proposed a fee of $1.76 per barrel and production of 550,000 bpd.

A fourth bid came from a group led by Italy's Eni that said it would take $12.90 per barrel and produce 400,000 bpd. Eni's partners were South Korea's KOGAS, U.S.-based Occidental, Sonangol of Angola and China's CNOOC.

Halfaya's non-recoverable signature bonus is $150 million, and the minimum expenditure obligation is $200 million.

* GHARAF

Petronas and Japan Petroleum Exploration Co (Japex) won the rights to operate this field, which has 900 million barrels in reserves, by proposing a per-barrel fee of $1.49 and production of 230,000 bpd.

The minimum output target was 150,000 bpd.

A venture including the Kazakh KazMunaiGas, Kogas and Italy's Edison offered a fee of $2.55 per barrel and targeted production of 185,000 bpd. TPAO and ONGC offered $2.76 and 200,000 bpd. A fourth bid came from Pertamina, which proposed a $7.50 per-barrel fee and 150,000 bpd of output.

Petronas and Japex will pay a $100 million signature bonus and invest at least $150 million.

* BADRAH

Russia's Gazprom, the world's biggest supplier of natural gas, led the consortium that submitted the only offer for Badrah, with reserves of 100 million barrels.

The group offered a $6 remuneration fee per barrel, which it agreed to lower to $5.50, the maximum Iraq would pay.

The production target is 170,000 bpd, compared with the government's minimum 80,000 bpd.

Gazprom owns 40 percent of the venture, Kogas holds a 30 percent stake, Petronas owns 20 percent and TPAO owns 10 percent. The signature bonus and the minimum investment requirement are both $100 million.

* QAYARA

Sonangol, Angola's state petroleum company, made the only offer for this field, proposing a remuneration fee of $12.50 per barrel. It later agreed to lower that to $5, the maximum the government would pay.

Sonangol's production plans are the same as the government's minimum target of 120,000 bpd. The signature bonus is $100 million, and the minimum expenditure required is $150 million.

* NAJMAH

Sonangol was again the lone bidder for this nearby field. It initially proposed a per-barrel fee of $8.50, which it lowered to $6, and output of 110,000 bpd, matching the ministry's minimum target. The signature bonus is $100 million, as is the minimum investment for the field.

* EAST BAGHDAD, EASTERN FIELDS, MIDDLE FURAT

No bids were received at the auction for these fields.

East Baghdad is a supergiant with reserves of 8.1 billion barrels. It currently yields 10,300 bpd, and the ministry is seeking minimum plateau production of 250,000 bpd.

The signature bonus is $150 million, as is the minimum investment requirement.

The Eastern Fields are comprised of Khashm al-Ahmar, Naudoman, Gulabat and Qamar, which have combined estimated reserves of 300 million barrels. The minimum production requirement is 80,000 bpd.

The signature bonus is $100 million and the minimum expenditure obligation is $150 million.

Middle Furat is a cluster of three fields with reserves of 600 million barrels. The output must be at least 75,000 bpd, according to the tender protocol. The signature bonus is $100 million, as is the minimum investment.
---
No more Iraqi oilfields for foreign companies: prime minister

Iraq has no further plans to use foreign firms to develop its oilfields beyond ones auctioned off last year, the country's prime minister said on Saturday(2/20), ahead of a national election next month.

Analysts say that foreign companies may have accepted the tough terms in oilfield development contracts awarded in two rounds last year partly to secure an initial foothold in Iraq, with a view to possible access to other untapped reserves later.

Iraq has the world's third-largest crude reserves and is the world's 11th-biggest oil producer.

Prime Minister Nuri al-Maliki said Iraq should start thinking about developing its national oil firms and warned of "staying captive in the hands of foreign oil firms."

"I told the oil minister during a cabinet meeting that we will never sign any more contracts with foreign oil companies," Maliki told supporters at a rally in the southern oil hub of Basra, weeks before a parliamentary election on March 7.

"We will depend on our national companies in developing our oilfields," Maliki said.

His nationalistic tone could discomfort oil firms such as BP Plc and Royal Dutch Shell, which are monitoring their likely reception in a country wracked by years of war and with little recent experience of working with foreign companies.

Baghdad has struck deals with international oil firms that could boost its output capacity to 12 million barrels per day (bpd) within seven years from about 2.5 million bpd now.

Oil Minister Hussain al-Shahristani said in December there were no plans for a third oil contract auction.

Maliki's coalition is not expected to repeat its triumphant performance in last year's local polls. Huge bombings have since chipped away at his claims to have improved security, and opponents have united to oust him.

Analysts expect the ten oil deals awarded in auctions last year will likely survive the change in Iraq's government after the parliamentary vote next month, seen as a crucial test for Iraq as it tries to move away from years of war and sanctions.

Foreign capital and expertise is seen as essential if Iraq is to rebuild its battered economy and infrastructure.

The country's oil installations and pipelines have suffered repeated bombings and sabotage, and many of its most qualified workers fled the country in the violent and chaotic aftermath of the 2003 U.S.-led invasion.
---
産経 2010.3.3
"ご破算"の危機、イラクのナシリヤ油田開発 日本側、追加援助の可能性も

 新日本石油と国際石油開発帝石(INPEX)、エンジニアリング大手、日揮の3社連合がイラク南部・ナシリヤ油田開発のため同国政府と進めてきた交渉が暗礁に乗り上げた。大筋合意をしたはずだが、イラク側から「交渉終了」などの発言が飛び出し始めたのだ。ただ、発言は7日に行われる連邦議会選挙を控えた国内向けのメッセージとの見方もある。現状打破のため、日本側にはさらなる資金援助などを迫られる可能性も出てきた。
「新日石側との交渉は、最終合意に達せずに終了した」。イラク石油省契約ライセンス局のアルアミディ局長は3月2日にこう断言した。
Nippon and its partners, oil explorer Inpex Corp and engineering firm JGC Corp, had been negotiating the deal since the first half of last year, but a final deal was held up by issues over financing.

Iraq plans to develop the Nassiriya oilfield on its own after months of talks with a Japanese group led by Nippon Oil Corp reached a dead end, the head of Iraq's South Oil Co. said on Feb 28, 2010.
Iraqi Oil Minister Hussain al-Shahristani said on March 1 that the country would develop the field itself.

昨年11月にはライバルとみられていたイタリア企業が事実上撤退し、交渉が日本連合に絞られ、契約は近いとみられていた。
               
 「新日石側との交渉は、最終合意に達せずに終了した」。イラク石油省契約ライセンス局のアルアミディ局長は2日、こう断言した。2月20日にはマリキ首相も「外国石油会社との契約はこれ以上交わさないよう閣議で石油相に伝えた」と発言している。

 戦後復興を急ぐ同国政府は、油田開発を外国資本に開放。とりわけナシリヤ油田(日量60万バレル)は、指名競争入札で「イラク政府が早期に外貨を獲得できる魅力的な案件だった」(関係者)という。自主開発の「日の丸油田」を確保したい日本との思惑は一致し、昨年8月末、資金調達の方法などで大筋合意した。
第一次開放とは別枠でNasiriyah油田(Samawahの南東)の交渉が行われている。

将来、日量数十万バレルの生産が見込まれる有望油田で、日本連合(新日本石油/国際石油開発帝石/日揮)とEniが争ってきた。

Eniは今回調印したZubair開発に注力するため、Nasiriyah油田は放棄する意向で、日本側に権利が与えられるのは確実とみられている。

ところがロイターの報道によると、日本石油の代表が交渉のために11月初めにバグダッドに到着したが、空港から出て石油省に行くのを拒否しているとのこと。

Hussain al-Shahristani 石油相は10日、「多忙のためオフィスを離れて外で交渉する訳には行かない。多くの石油会社が石油省で交渉をしているのに、石油省に来ないというのは分からない。日本石油のやり方は不可解である」と述べた。

これが本当なら、本当に不可解である。

その後の報道では "due to traffic jams and the security situation" となっている。.

日本石油は11日、依然交渉中であるとし、コメントを拒否した。
 ただ、昨年末までにナシリヤ油田以外の開発をめぐって2次の国際入札が行われ、国際石油資本(メジャー)を軸に10件の契約が成立している。見込まれる生産量を合計するとサウジアラビアの日量800万バレルを上回る同1200万バレル。

 入札でメジャーは価格面で厳しい条件をのんだとされる。選挙期間中、現政権が国民に受けのよい「外資排除」を訴えるのは確実との読みから"駆け込み契約"をしたというわけだ。

 イラク国内では宗派や部族間の対立が先鋭化。油田開発を外資に任せずイラクの手で行い、できるだけ多くの利益を国民に還元する「資源ナショナリズム」にもとづく政策が、治安維持のカギを握る可能性が高まっている。
欧米メディアによると、マリキ首相は「国営石油会社の創設」を進めたい意向を示しているという。
              
 日本側としてはナシリヤ油田開発で「婚約までこぎつけた」(業界関係者)との自負がある。イラク政府側から正式な「交渉打ち切り」は伝えられておらず、新日石などは依然として「交渉中」とのスタンスをとっている。

 ただ、このまま手をこまぬいていれば、原油開発に加えて発電所や製油所建設を含めた1兆円規模のナショナルプロジェクトの「ご破算」が現実のものとなる。米国に次ぐイラクへの政府開発援助(ODA)供与国として日本は製油所建設にも協力しているが、その努力も水の泡になりかねない。

 アフガニスタンへのODA増額を決めた鳩山由紀夫首相だが、業界関係者の間では、ナシリヤ獲得に向け「イラクへの追加支援の方が相乗効果を期待できる」との声も浮上している。
新日本石油の渡文明会長は2009年3月3日、イラク政府に対し油田開発と製油所・発電所の建設を一括提案したことを明らかにした、と報じられた。
国際石油開発帝石、エンジニアリング大手の日揮との共同事業体で提案。3社の会長は2月下旬にイラクを訪問し、マリキ首相に会って交渉した。

---
Iraq Cabinet Approves Shell Gas Deal In S Iraq
The Iraqi cabinet Tuesday approved a deal with Royal Dutch Shell PLC and Mitsubishi Corp. to develop a gas-structure project in southern Iraq, paving the way for a final signature of the multibillion deal, a government spokesman.
Ali al-Dabbagh said that Shell and Mitsubishi Corp. would hold 49% stake in the venture while Iraq's state-owned South Gas Co. would hold 51%.
The decision was taken at the cabinet's weekly meeting, Dabbagh said in a statement, a copy of which was emailed to Dow Jones Newswires.
The proposed $10 billion-$20 billion joint venture aims to capture a huge amount of gas from four super-giant oil fields in the southern governorate that is currently being wasted.
"The venture will process associated gas produced from Rumaila, Zubair, West Qurna Phase 1 and Majnoon oil fields," Dabbagh said.
Dabbagh didn't say, however, when exactly the deal will be signed.
According to the preliminary agreement signed in September 2008, South Gas Co. will control 51% of the project, while Shell will hold 44%, and the remaining 5% will be owned by Mitsubishi.
A Shell executive welcomed the approval of the deal. "We expect to meet with our Iraqi side for discussions in the next few days," Mounir Bouaziz, a vice president of Shell International Gas and Power Ltd., told Dow Jones Newswires. He said that Shell has yet to be informed officially on the decision.
The project was supposed to be signed in March, but the two sides failed to finalize the deal and agreed to a six-month extension, which expires in September. Iraqi oil ministry officials then said the main obstacle to signing the deal was Iraq's inability to finance the project.
The cabinet's statement didn't elaborate on how Iraq would finance its portion of the deal.
Iraq, whose budget deficit is running at about $19 billion this year, needs to contribute $5 billion to $7 billion to the project.
The second problem was that many senior Iraqi politicians and government officials opposed the deal, arguing that Shell and its partner didn't have to compete with other international companies. The oil ministry that insisted other international firms were invited to compete.
About 1 billion cubic feet a day, or 10 billion meters a year, of associated gas is burnt off from Basra's oil fields because there isn't sufficient infrastructure to utilize it.
Iraq, which has proven natural-gas reserves of 3.15 trillion cubic meters, has a daily natural-gas production of 1.64 billion cubic feet, 70% of which is flared. Licenses for two gas fields listed in Baghdad's first licensing auction in June last year weren't awarded to international companies. Another one was dropped from the list in the second licensing auction held in December.
However, the Iraqi oil ministry plans to hold a third licensing auction next September for the three gas fields--Akkas in eastern Iraq, Mansouriya to the west and Sibba in the south.
---
Shell, Mitsubishi Win Government Approval for $17 Billion Iraq Gas Project
Iraq approved a $17 billion contract with Royal Dutch Shell Plc and Mitsubishi Corp. for the capture of natural gas at three oilfields in the south of the country, a government spokesman said.
Iraq has a 51 percent stake in the venture known as South Gas Co., Ali Al-Dabbagh said today. Shell has a 44 percent stake, while Mitsubishi owns the rest, he said by telephone from Baghdad. The agreement is for 25 years, according to Al-Dabbagh.
Iraq, holder of the fifth-biggest gas reserves in the Middle East, is struggling to restore power capacity after years of conflict and economic sanctions. The captured gas will supply domestic needs and may be exported at a later stage, Hans Nijkamp, Shell's country chairman for Iraq, said Sept. 29.
"The cabinet approved it today and thus gave its green light to this $17 billion project," he said. The venture will help collect more than 2 billion cubic feet (57 million cubic meters) a day from the Rumailah, Zubair and West Qurna fields, said Al-Dabbagh, one of the country's state ministers.
第一次開放対象は以下の通り。

 
発見
埋蔵量
(億バレル)
現状
(千b/d)
 
北ルメイラ油田(Rumaila)
南ルメイラ油田
1953
     92
    73
    470
    585
BP/CNPC
西クルナ油田(Qurna)
1973
    74
    300
ExxonMobil/Shell
ズベイル油田(Zubair)
1949
    40
    240
Eni/Occidental Petroleum/KOGAS
Shell, Europe's largest oil company, has been in talks with the government since 2008 to gather gas that's currently burned off, or flared. The preliminary agreement for the new venture was signed on July 12.
Fourth Licensing Round
Iraq has signed 15 licenses for the development of energy resources, including three for gas, since 2008, five years after the U.S.-led invasion that ousted the regime of then-President Saddam Hussein. It plans a fourth licensing round of oil and gas exploration rights for March.
Iraq burns off more gas as a percentage of output than any other country, losing $5 million a day, according to Fabrice Mosneron Dupin, an adviser at the Sustainable Energy, Oil, Gas and Mining Division of the World Bank-led Global Gas Flaring Reduction program. The nation ranks fourth for the amount of gas it flares, behind Russia, Nigeria and Iran, Dupin said Sept. 29.
Iraq's flaring of so-called associated gas随伴ガス, which occurs naturally with oil underground, has increased to 10 billion cubic meters a year from 3 billion in 1994, in tandem with the country's rising production of crude, he said.
---
イラク共和国 第4次公開入札におけるブロック10鉱区(探鉱鉱区)の落札について
国際石油開発帝石株式会社(以下、当社)は、ロシア大手石油会社であるルクオイル社の子会社ルクオイル・オーバーシーズ社(以下、LO社)とともに、このたび実施されたイラク共和国の第4次公開入札に共同で参加し、ブロック10鉱区(探鉱鉱区)(以下、本鉱区)を落札しましたので、お知らせいたします。今後イラク政府当局との間で本鉱区に係る石油契約の締結について協議を進めて参ります。
本鉱区はイラク南部のバスラ市から西125kmに位置する陸上鉱区であり、鉱区総面積は5,500km2です。同鉱区の東方にはルメイラ油田やウェスト・クルナ油田など世界有数の油田があり、また北方にはガラフ油田などがある有望なエリアです。LO社は、ウェスト・クルナ油田ブロック2(同油田の北の部分)の開発・生産事業をオペレーターとして手掛けており、今次LO社と当社が落札した本鉱区においても、同社が蓄積しているイラクにおける操業知見などを活用してオペレーターとなります。 当社は本鉱区において40%の権益を保有し、60%の権益を保有するLO社とともに、今後地震探鉱のデータ収録作業や試掘井の掘削等の探鉱作業を実施します。
このたびの落札により、当社はイラクにおいて石油・天然ガス開発事業に初めて参画します。イラクは、世界有数の石油埋蔵量を有する一大産油国であり、このプロジェクトの成功により、INPEX中長期ビジョンに掲げた当社の中長期的な成長目標、とりわけ生産量・埋蔵量の増大のための大きな足掛かりとなることと期待されます。当社は、今後もイラクを始めとする周辺地域における事業展開に積極的に取り組んで参ります。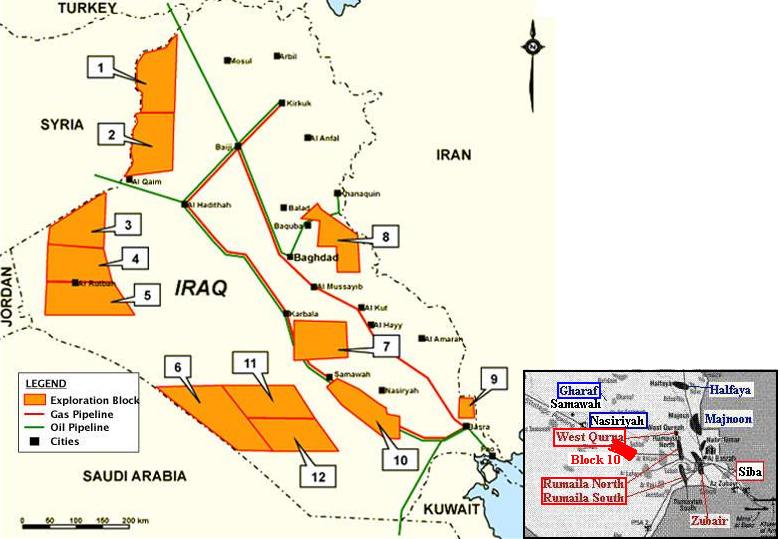 May 31, 2012
Iraq Starts First Auction of Oil, Gas Exploration Rights
Iraq failed to attract partners for most of the 12 oil and natural-gas exploration licenses offered in a two-day auction at which Asian and Russian bidders were more active than Western companies.

Three of the 12 blocks were awarded, two for oil and one for gas. Russia's OAO Lukoil and Inpex Corp. of Japan won a joint bid to explore for crude in southern Iraq(ブロック10), the head of the Oil Ministry's licensing department, Abdul Mahdy Al-Ameedi, said in Baghdad today, the final day of the auction. Pakistan Petroleum Ltd. won rights to an eastern gas block, he said.
Thursday opened with a winning bid from Pakistan Petroleum for a 6,000 square kilometre exploration block which is thought to contain gas covering Diyala and Wasit provinces in central Iraq, with the company agreeing to $5.38 per barrel of oil-equivalent eventually extracted.

Block 8

1. Pakistan Petroleum – Bid: $5.38/boe
2. Japex (80%), Itochu (20%) - Bid $ 10.57/boe

And shortly afterwards, a partnership between Russian energy giant Lukoil and Japan's Inpex won a contract for a plot covering Muthanna and Dhi Qar provinces in the south, believed to hold oil, with an offer of $5.99 per barrel of oil.
The licensing comes amid an energy-industry revival that has boosted Iraq into third place among the 12 members of the Organization of Petroleum Exporting Countries, nine years after the U.S.-led invasion that toppled Saddam Hussein. In its three previous bid rounds since 2003, Iraq auctioned rights to produce at oil fields already discovered or in operation, whereas this week's was for new exploration.

"Of course, we will prepare for a fifth round, and we have more than 60 blocks ready for bidding," Oil Minister Abdul Kareem al-Luaibi told reporters after today's auction. "We will start, God willing, during the next month to prepare the data packages," he said.
Gas Priority
Iraq offered five areas to be searched for oil and seven for gas during this week's auction, in which 47 companies from 25 countries were qualified to participate. The ministry is seeking to develop gas deposits as fuel for power plants, which meet less than half of the nation's electricity needs.

Kuwait Energy Co., Dragon Oil Plc (DGO) and Turkiye Petrolleri AO won the single license granted yesterday, to explore for crude in a plot along the Iranian border.(Block 9)
A consortium led by Kuwait Energy that also includes Turkey's TPAO and Dubai-based Dragon Oil won the 900 square kilometre block in the southern province of Basra, for a service fee of $6.24 per barrel of oil.
In an earlier round in June 2009, the ministry awarded only one of eight areas on offer for redevelopment, assigning rights to the Rumaila field, the country's largest, to BP Plc. It negotiated contracts later for the seven unawarded fields.

"Expectations were low going into this as the terms were so fundamentally unsuitable, but I am slightly surprised by how bad the turnout was," Samuel Ciszuk, a consultant at KBC Energy Economics in Walton-on-Thames, U.K., said yesterday.

International companies proved reluctant to commit to costly exploration projects in return for a per-barrel fee they would receive under the service contracts on offer. Iraq holds the world's fifth-largest crude reserves, according to data from BP Plc (BP/) that include Canadian oil sands.
2012-05-31 Platts
Iraq oil ministry fails to award all but one exploration block at auction

Iraq's oil ministry awarded only one exploration block on the opening day of what turned out to be a dismal start to a two-day auction of oil and gas acreage as international oil companies failed to submit bids or, in one case, rejected an Iraqi counter-offer to accept a lower remuneration fee.
Kuwait Energy as operator, bidding alongside Turkey's TPAO and the UAE's Dragon Oil, submitted the sole, and so far, only winning bid for Block 9, believed to hold potential oil reserves.

Kuwait Energy has a 40% operating stake in the consortium with the other two partners holding 30% each.

The group is seeking a remuneration fee of $6.24 per barrel of oil, below the maximum set by the oil ministry, which did not reveal its figure.

The remuneration fee was the only bidding parameter adopted for the current bidding round for 12 oil and gas exploration blocks being auctioned over two days with 39 of 47 qualified companies taking part.

Under the terms of the tender documents for long-term service contracts, the winning remuneration has to be below that set by the oil ministry for each block and would be declared only if bids come in higher.

The only other bidder of the day was the UK's Premier Oil, which submitted a bid for another potential oil block at a rate far higher than that set by the oil ministry, resulting in rejection of its offer at the public auction.

Premier Oil, which teamed up with PetroVietnam and Russia's Bashneft, submitted a sole bid for Block 12, also in southern Iraq, for a remuneration fee of $9.85/barrel against a maximum of $5 set by the ministry. The consortium rejected the ministry's offer to reconsider its bid and walked away, leaving Kuwait Energy as the only winning bidder of the day.

Block 12, in Iraq's Muthana province in southern Iraq near the Saudi Arabian border, carries a minimum expenditure requirement of $120 million and a $15 million non-refundable signature bonus. One well has been drilled so far in the area.

Kuwait Energy and its partners submitted a bid on the basis of a remuneration fee of $6.24/barrel, which Iraqi oil ministry official Abdul Mahdi al-Ameedi said was below the ministry's number.

Block 9, near the border with Iran, covers an area of 900 sq km and carries a non-refundable signature bonus of $25 million. The minimum expenditure requirement was set by the ministry at $90 million.

Ameedi, who led the auction in his capacity as head of the ministry's Petroleum Contracts and Licensing Directorate, said earlier that no exploration wells have been drilled in the block.

The latest licensing round, the fourth since the US-led invasion of Iraq, covers roughly one fifth of the country's territory and has been delayed repeatedly since last November as qualified companies pored over final tender protocols and model contracts. Despite some minor amendments to the contract, some major oil companies like France's Total said the terms were not attractive enough to entice them.

Of the four other blocks -- all with gas potential -- offered up on Wednesday, none secured bids from the foreign oil executives attending the auction in Baghdad. Blocks 2 and 6 are to be re-offered on Thursday, when the remaining six blocks will be up for grabs, oil ministry officials said.

The location of Block 2 in provinces known to have been hotbeds of Sunni Muslim militant activity may have dampened interest by the oil companies present in Baghdad, which is still grappling with security issues in the wake of the US troop withdrawal late last year.

The oil ministry's insistence on retaining an option to put a seven-year hold on development of any oil discoveries was believed to be among the less popular clauses in the exploration contracts, a provision that does not apply to gas discoveries.


Baghdad, which relies almost exclusively on oil revenues for its income, had hoped to take a total $235 million in signature bonuses for all 12 blocks, which were selected with a focus on its vast unexploited free gas reserves.

The oil ministry had estimated that the oil and gas exploration drive would add 10 billion barrels of crude oil and 30 Tcf of natural gas to the country's already huge reserves should all blocks be taken up. The ministry in 2010 revised both its oil and gas reserves, raising crude oil reserve estimates by 25% to 143 billion barrels and gas reserves to 130 Tcf.

Although Iraq has no immediate plans to export gas, it has envisaged building a gas pipeline through Syria, currently in the grips of a violent anti-government rebellion. Analysts say the lack of existing gas infrastructure -- much of Iraq's associated gas is flared -- and price system, as well as the Syrian export plans, may have deterred potential bidders.

The stay on further oil development was inserted in the exploration contracts because existing plans for the development and further development of Iraqi oil fields, mainly in the south, are set to more than quadruple the OPEC state's oil production to over 13 million b/d by 2017.

Foreign oil companies awarded 20-year service contracts for upstream developments at two licensing rounds in 2009 are ramping up production from Iraq's major oil fields in the south with current output now at its highest in over two decades.


Iraqi Oil Minister Abdul Karim al-Luaibi told reporters on the sidelines of the ceremony that oil production so far this month had risen to 3 million b/d. He put exports at 2.445 million b/d as of Wednesday.

Dhia Jaffar, director general of the South Oil Company, said output from southern oil fields averaged 2.35 million b/d. He put southern exports at 2.13 million b/d.

Official oil ministry data obtained by Platts last week showed that production for the whole month of April averaged 2.942 million b/d, the highest level since early 1990, just before Iraq's invasion of Kuwait. Iraqi output briefly hit 3 million b/d just before March 2003 but was not sustained at that level. Exports in April were just above 2.5 million b/d.
---
Jan 28, 2015 Reuters

Shell signs $11 billion deal to build petrochemicals plant in Iraq

Royal Dutch Shell signed a deal with Iraq on Wednesday worth $11 billion to build a petrochemicals plant in the southern oil hub of Basra, boosting the country's aim to become a major regional energy player and diversify its income.

Industry Minister Nasser al-Esawi told a news conference the Nibras complex, which is expected to come online within five to six years, would make his country the largest petrochemical producer in the Middle East.

Iraq, which relies on oil for more than 90 percent of its revenue, has been hit hard by the steep fall in global oil prices since June, with Brent crude now hovering around $50 a barrel.

Prime Minister Haider al-Abadi said last week he feared lower revenues from oil could hurt Iraq's military campaign against the Islamic State militants who swept across northern Iraq last summer, prompting U.S.-led airstrikes.

"The Nibras complex will be one of the largest (foreign) investments (in Iraq) and the most important in the petrochemical sector in the Middle East," Esawi said.

He said the factory would produce 1.8 million tonnes of petrochemical products per year.

A Shell spokesman told Reuters Iraq's cabinet had authorised the project on Jan 13. Company officials declined to confirm the size or types of output expected from the facility.

"Shell has been working with the Iraqi ministries of industry and minerals and jointly with the ministries of oil and transport to develop a joint investment model for a world-scale petrochemical cracker and derivative complex in the south of Iraq," the spokesman said.

Shell is one of the main major oil companies operating in south Iraq, operating the Majnoon oilfield and leading the Basra Gas Company joint venture. It signed a memorandum of understanding with the ministry for the Nibras project in 2012.