LG Chem signs a deal with Nanjing, China to establish a polarizer plant
  http://www.lg.co.kr/english/news/press/view.jsp?news_num=4734



 
---
2003/8/7 LG Chem

LG Chem aims KRWon 15 trillion in sales for 2008
  http://www.lgchem.com/cgi-bin/chea1031.cgi?p_seqn_numb=200308070001&p_news_kind=01

LG Chem, Ltd., the largest chemical company in Korea, announced today its new mid-to-long term business strategies and its goals of KRWon 15 trillion in sales and a 13% operating profit rate for 2008.



---
2003-8-7 Asia Chemical Weekly

LG Chem to expand Yeochun styrene to 500 kt/yr
LG Chem plans to expand its 375 000 tonne/year styrene plant in Yeochun, South Korea, to 500 000 tonne/year later this year, the company said.


---
LG、ABS・デジタルテレビを集中育成へ
   http://japanese.chosun.com/site/data/html_dir/2003/08/28/20030828000070.html
LGは28日、プラスチックの一種である高付加合成樹脂ABS(LG化学)とデジタルテレビ(LG電子)、テレフォンショッピング(LGホームショッピング)を「1等戦略産業」に選定、2005年まで2兆ウォンを投じ、集中育成することにした。


---
LG Chem develops core materials for Organic EL
   http://www.lgchem.com/cgi-bin/chea1031.cgi?p_seqn_numb=200309170001&p_news_kind=01

LG Chem, Ltd., the largest chemical company in Korea, announced today that it has developed core materials for organic EL (Electro Luminescence) and has set up plans for mass production.

Organic EL Structure

---
2004年11月01日 Chemnet Tokyo               Tianjin LG Bohai Chemical Co., Ltd.

韓国LGが天津にVCM35万トン、大型電解から一貫生産発表

 韓国LG化学は10月29日、中国天津での電解〜VCM計画を発表した。それによると、既存のPVCのJV(天津LG大沽化工)のプラントから10キロ離れた天津臨港産業区に、電解(ソーダ:24万トン、塩素:21万6000トン)、EDC(30万トン)、VCM(35万トン)の各プラントを建設する。

 工期は今年12月から2006年12月までの25ヵ月。建設費は3億米ドル。VCMはLG大沽の既存PVCプラント(34万トン)に供給する。LG大沽ではPVCの増設を検討中。

 同計画はLGグループ 75%、LG大沽化工 10%、及び後者の株主である大沽化工の親会社・渤海化学が15%出資したJVで行われる。(注、天津LG大沽化工はLG化学グループ85%、大沽化工15%)

 LGでは中国のPVC需要は現在の年間640万トンから、2008年には850万トンに増えると見ており、天津で電解から一貫生産することでコスト競争力を確保し、中国 No.1 のPVCメーカーを目指す。

 LGは2002年、中国でのPVC増設計画用に、豪州グラッドストーンで、現地の Cheetham Salt と合弁で電解(ソーダ:24万トン)とEDC(30万トン)を生産する計画を発表したが、2003年夏採算性の理由から同計画を中止した。

 現在、天津向けには韓国から供給するとともに、一部トクヤマから供給を受けている。
---

2004/11/24 中国・ASEANニュース速報

韓国LG化学、天津でVCM・EDC生産

 天津市で22日、韓国LGグループによる塩化ビニル生産工場の投資契約調印式が行われた。

 23日付天津日報によると、同プロジェクトはLG化学と天津渤海化工集団の合弁によるもので、登録資本金1億米ドル、投資総額は3億米ドルに上る。臨海工業区に年産35万トンの工場を設立し、塩化ビニルモノマー(VCM)と二塩化エチレン(EDC)を生産。2006年末の稼働を予定している。

 
---
2004/10/29 LG Chem

VCM/EDC Project in Tianjin
http://www.lgchem.com/upload/ir/eng_hot_issue/2004_Tianjin_VCM_EDC_Project_e.pdf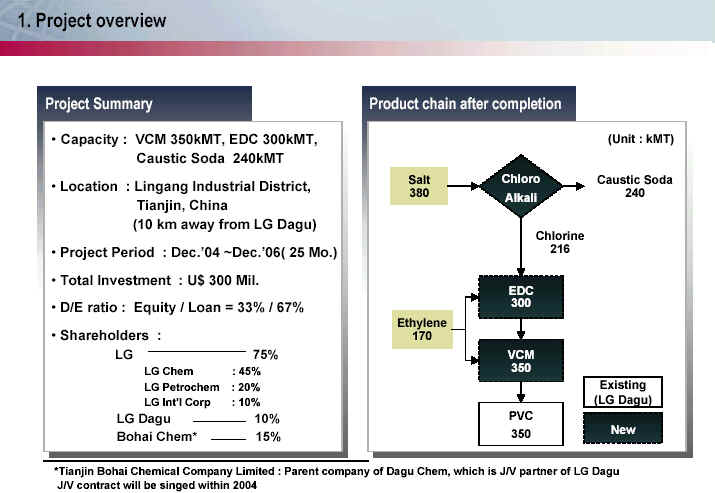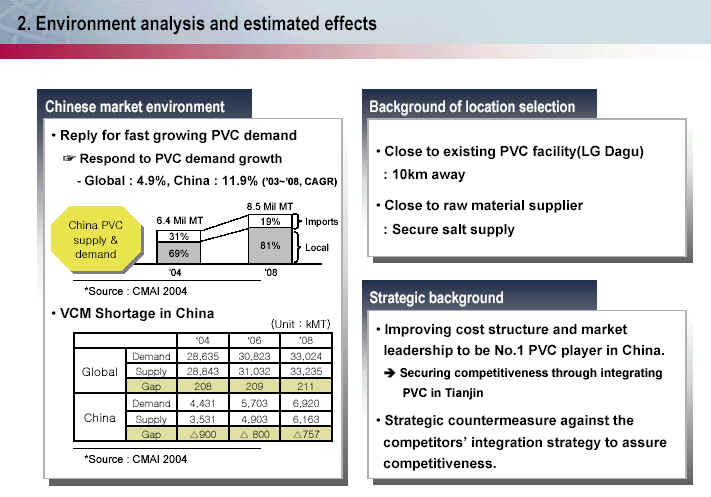 2005/5/25 Asia Chemical Weekly

LG Chem breaks ground for EDC-VCM project in Tianjin

On May 23, LG Chem took a ground breaking ceremony for its VCM and EDC project in Tanggu (塘沽), Tianjin.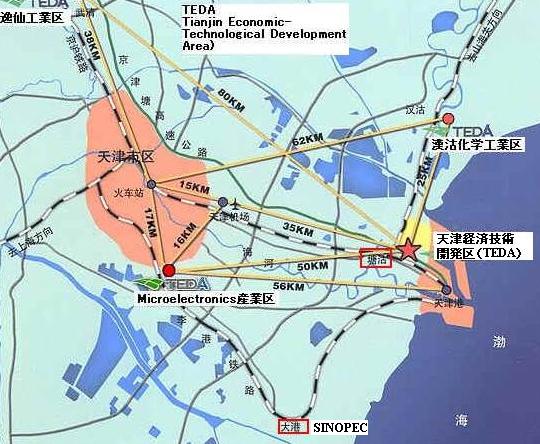 The project will be a joint venture between LG Chem (45%), LG Petrochemical (20%), LG International (10%), LG Dagu (10%) and Tianjin Bohai Chemical Industry Co (15%).The investment of this project is $300m, it will produce 350,000 tonne/year of VCM, 300,000 tonne/year of EDC and 240,000 tonne/year of caustic soda. The project is expected completed by the end of 2006.

The Output from the VCM/EDC plant will be as the feedstock for LG Chem's existing 340,000 tonne/year PVC plant in Tianjin. The plant is operated by Tianjin LG Dagu Chemical, a jv between LG Chem and Bohai Chemical.

With the investment in China, LG Chem intents to strengthen its position in the fast- growing Chinese market.
---
2005/5/25 LG Chem

LG Chem to Establish VCM/EDC Plant in China
http://www.lgchem.com/press/releases/releases_view.jsp?idx=121
LG Chem, Ltd., the largest chemical company in Korea, announced today that it would hold a groundbreaking ceremony for its VCM/EDC plant in Tianjin, China. At the end of last year, LG Chem signed an agreement with Tianjin Bohai Chemical Co., Ltd. to establish a VCM (Vinly Chloride Monomer) and EDC (Ethylene Di-Chloride) plant by the end of 2006.

Nearly all of VCM goes into PVC (Poly Vinyl Chloride), which is used for manufacturing many plastic products in the building and construction sector. EDC is the base chemical of which 95% is used for producing VCM.

With a total investment of USD 300 million, the new facilities strategically located at Lingang Industrial District, Tianjin, China will have capacity of 350,000mt/yr of VCM, 300,000mt/yr of EDC and 240,000mt/yr of Caustic Soda.

The new facilities will be established as a joint venture named 'Tianjin LG Bohai Chemical Co., Ltd.'; the investors are comprised of LG Chem (45%), LG Petrochemical (20%), LG International (10%), LG Dagu (10%), and Tianjin Bohai Chemical Industry Co., Ltd. (15%).

Tianjin LG Bohai Chemical Co., Ltd.
Capacity
VCM 350,000 tonne/year
EDC 300,000 tonne/year
Location
臨港工業区
Lingang Industrial District, Tianjin, China (10Km away from LG Dagu)
Tianjin Lingang Industrial Area is situated at Tanggu District of Tianjin.
Area of Land
500,000 m2
Total Investment
USD 300 Mil
Shareholders
LG Chem (45%)
LG Petrochemical (20%)
LG International (10%)
LG Dagu (10%)
Bohai Chem (15%)

Tianjin Dagu is part of Tianjin Bohai Chemical Industry
Product Chain after Completion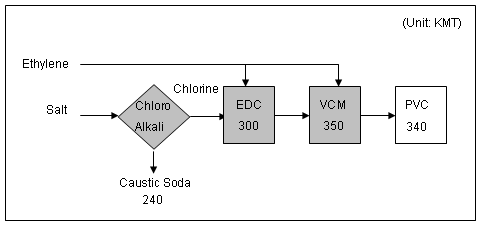 PVC Supply and Demand (Unit: KMT)
| | | | |
| --- | --- | --- | --- |
|   | 2004 | 2006 (E) | 2008 (E) |
| Supply |   5,190 | 7,630 | 9,070 |
| Demand | 6,850 | 8,300 | 10,030 |
| Shortage | (1,660) | (670) | (960) |
(Source: BCG, Mitsui, LG Chem)
---

LG Chem Builds Plant for PVC Raw Materials in China

LG Chem, the top South Korean chemicals maker, said on Friday that it has built a plant for PVC (polyvinyl chloride) raw materials in China at a cost of $300 million (281 billion won), to directly produce plastics in the neighboring country.
(ceremony to mark the completion of a plant for PVC materials on Sep. 6)

LG Bohai, the firm's Chinese unit, has completed construction of the plant on a 500,000 square meter site in Tianjin Province for production of vinyl chloride monomer (VCM) and ethylene dichloride (EDC), the two main ingredients for PVC.

Company officials expected the Chinese plant will produce about 350,000 tons of VCM and 300,000 tons of EDC per year, bringing the company's annual PVC output to a total of 920,000 tons, the world's sixth largest in capacity.

``We aim to expand the annual PVC production at the Chinese plant up to 400,000 tons (from 340,000tons) by 2008, a company spokesman said. Currently, LG Chem has an annual capacity of 580,000 tons at home.

LG Bohai will receive ethylene from LG Chem's Daesan factory and produce VCM, all of which will be delivered to LG Dagu, the South Korean chemical company's PVC unit in China, according to the spokesman.
---
LG Chem 2005/8/17

LG Chem Signs License Partnership With Mitsui Chemicals
http://www.lgchem.com/press/releases/releases_view.jsp?idx=129
LG Chem, Ltd., the largest chemical company in Korea, announced today that the company signed a license partnership agreement with Mitsui Chemicals Inc., for the use of their VCM/EDC technology.

The partnership grants LG Chem with the exclusive rights to sublicense Mitsui's VCM/EDC technology. The partnership will not only be beneficial for LG Chem but also advantageous to Mitsui as well.

The exclusive rights enable LG Chem to develop new clients and further generate additional sales by promoting the technology with a full vinyl chain. LG Chem had already obtained a full vinyl chain technology by applying Mitsui's VCM/EDC technology with its existing PVC technology.


---
China's Tianjin Dagu to delay ABS trial runs until mid-September

China's Tianjin Dagu is expected to delay test runs at the company's first 200,000 mt/year acrylonitrile-butadiene-styrene project at Tianjin from mid-August to the first half of September, a company source said Friday. The latest schedule indicates that commercial ABS cargoes now will be available only from early October, instead of end September as initially planned, the source added.
2007/8/23 天津大沽化工、天津でSM 500千トンプラント建設
The company originally planned to build the ABS plant with two 200,000 mt/year lines at the same location by the fourth quarter of 2009, but delays with the company's initial 500,000 mt/year styrene monomer plant pushed the construction schedule back almost a year.
Startup of the second 200,000 mt/year ABS line remains scheduled for the second half of 2011. Styrene monomer, which comprises 60% of ABS, will be supplied from Tianjin Dagu's existing 500,000 mt/year plant, while butadiene will be supplied by Sinopec Sabic Tianjin Petrochemical.
Acrylonitrile, which comprises 25% of ABS feedstock, will be sourced from both domestic and international markets. In addition to sourcing acrylonitrile from Shanghai Secco Petrochemical, discussions are ongoing with China Petrochemical Development, South Korea's Taekwang Industrial, Japan's Asahi Kasei and US-headquartered Ineos Nitriles.
Platts estimates that running the ABS plant run at maximum nameplate capacity would require up to 50,000 mt/year of ACN, 30,000 mt/year of butadiene and 120,000 mt/year of SM. Tianjin Dagu awarded the contract for the ABS plants to US-based Shaw Group in January 2008. Shaw's agreement with Sabic Innovative Plastics Technologies Inc. -- formerly GE Plastics Global Technology LLP -- will enable Tianjin Dagu to use licensed styrenic emulsion ABS technology.
---
2010/12/21

LGグループ、来年に過去最大の21兆ウォン投資

LGグループは来年に、過去最大規模の21兆ウォン(約1兆5200億円)を投資することを決めたと発表した。
今年の投資額18.8兆ウォンを11.7%上回るもので、「LGグループ創設以来、総投資額が20兆ウォンを超えるのは初めて」としている。
本年は、LGディスプレーの坡州LCD生産ライン増設とLG化学の自動車用バッテリー生産施設新設・増設に追加投資をし、当初の計画より3.8億ウォン(25%)増の18.8兆ウォンを投資した。
LGグループの具本茂会長は、グループの社長らと来年の事業戦略を協議した際、「未来の準備に対するスピードを上げ、市場をリードする大胆な構想を求めたい」と強調した。
今回の投資計画はこれに基づいている。
設備に16.3 兆ウォン、R&Dに4.7 兆ウォンを投資するもので、主な内容は以下の通り。
分野
会社
製造投資
R&D投資
エレクトロニクス

14.2兆ウォン
LG Display
第8世代など大型液晶ディスプレー(LCD)の生産ラインを新設・増設
アクティブマトリクス式有機EL、3Dパネル、電子ペーパー
LG Electronics
太陽電池能力増強(2011年前半に3ライン新設)
  120メガワット→330メガワット
Smartphone、Tablet PC、3Dテレビ
LG Innotek
Smartphone用camera module、Tablet PC用のプリント基板製造設備拡張
高性能LDE電球
ケミカル

3.6 兆ウォン

LG Chem
リチウムイオン電池拡張、
液晶ディスプレイのガラス基板
電気自動車技術
液晶ディスプレイ用先端ガラス基板
LG Hausys
蔚山に省エネ「Low E」ガラス製ライン
 
LG Life Science
製薬工場建設
Bio-similar (後発バイオ医薬品)
テレコム

3.2兆ウォン
LG Uplus
Wi-Fi zones (無線LAN)
次世代テレコム
Smart television content
 (cloud-computing services)
Mobile advertisements
合計
21兆ウォン
合計
 16.3 兆ウォン
合計
 4.7 兆ウォン
---
KBR to Provide Phenol License and Engineering Services for LG Chem Ltd., in Daesan, South Korea

KBR(Kellogg Brown & Root) today announced it was awarded a contract by LG Chem Ltd. (LG) to license KBR's leading phenol technology for LG's 240 thousand metric tons per year (KTA) phenol plant in Daesan, South Korea.

The Daesan plant will be the second license by LG for KBR's phenol technology. The first phenol plant in Yesou was originally licensed in 2002 for 150 KTA and later expanded to 240 KTA. The new plant in Daesan will be part of an integrated, world-scale facility from cumene to BPA production. KBR will also provide the necessary engineering services in order to help LG meet its project schedule, which is targeting to be on-stream during the first half of 2013.

"KBR's phenol process is a benchmark in the industry and has been on the leading-edge of phenol technology for more than 60 years," said John Derbyshire, President, KBR Technology. "KBR's longstanding relationship with LG Chem began with the license for LG's first phenol unit in 2002 and has continued with ongoing cooperation in many areas of the technology. Nearly 10 years later, we are pleased to once again offer our technology to help LG meet its growth objectives."

KBR is a global engineering, construction and services company supporting the energy, hydrocarbon, government services, minerals, civil infrastructure, power, industrial, and commercial markets. For more information, visit www.kbr.com .
---
LG Chem to invest 320 bln won in plant expansion
LG Chem Ltd., one of South Korea's leading chemical companies, said Wednesday that it plans to invest 320 billion won (US$304 million) to expand its plants for crude acrylic acid (CAA) and superabsorbent polymers (SAP) by September 2015.
The expansion will increase LG Chem's annual production capacity of CAA by 80,000 tons to 510,000 tons and that of SAP by 160,000 tons to 360,000 tons, LG Chem said in a statement.
SAP is used as raw materials for diapers and CAA is used in paint, adhesives and addition agents.
The global CAA market is expected to grow by an annual average of 6 percent to reach 5.9 million tons in 2017 from 4.4 million tons in 2002, the company said.
LG Chem predicted that its plant expansion will increase its sales by more than 400 billion won a year.
The company plans to increase the volume of its CAA and SAP businesses to over 1.7 trillion won from the current 1.3 trillion won, it said.
---
LG Chem to bulk up in specialty materials, batteries


LG Chem vice chairman and CEO Park Jin-soo said the nation's top chemicals maker will pour more resources into its materials business, pledging to double sales in specialty materials and batteries by 2018.

"We are working on new materials that will change the future," Park said Friday in a press conference held at the company's plant in Yeosu, South Jeolla Province.

"Currently, petrochemical products make up 75 per cent of our revenue. We aim to reduce that figure to 60 per cent by 2020, while the remainder will be made up of value-added materials."

As part of efforts to seek new growth engines, LG Chem has greatly invested in new materials ranging from basic materials like engineering plastics and super absorbent polymers to lithium-ion batteries for electric vehicles.

These are higher-margin materials that have a great potential to grow in the coming years, officials said.

The company is currently forecasting sales of 6 trillion won (S$7.4 billion) in that area alone for 2015. It expects the figure to double to 12 trillion won in 2018.

LG Chem aims to become a global top three manufacturer of engineering plastic, whose demand is surging for diverse applications across industries. Its automotive sales will be elevated to 50 per cent from the current 30 per cent.

The company is also pinning high hopes on a super absorbent polymer, which is widely used in baby diapers, as it can absorb and retain an extremely large amount of liquid. With the expansion at its Yeosu plant complete within the year, its production capacity will surge to 360,000 tons per year, the fifth-largest globally. The CEO also hinted that the company could build a new plant abroad, citing the market potential.

LG Chem, the No. 1 maker of lithium-ion batteries, the key component for electric vehicles, has recently extended ties with global carmakers to further widen the gap with its rivals.

"We have secured the technology to elevate the driving range of electric vehicles to 400 to 500 kilometers," Park said. Currently, most full-electric vehicles drive less than 200 kilometers on a single charge.

"It will not take long to produce the products," he added, declining to further elaborate.

In line with these plans, the company plans to double investment into research and development activities from the current 600 billion won to 900 billion won by 2018, and increase the number of researchers to 4,100 over the next three years.
---
2015-08-19

LG Chem to beef up acrylic acid, SAP production

LG Chem said Wednesday it had finished expansion work on production lines for acrylic acid and a super absorbent polymer -- two basic materials on which the company pins high hopes for market leadership.

Following the expansion, its production plant in Yeosu, South Jeolla Province, has an annual production capacity of 510,000 tons of acrylic acid and 360,000 tons of SAP, the world's fifth- and fourth-largest capacities, respectively.

The company predicted an additional 300 billion won ($250 million) in sales through the new investment.

Distillation of crude oil results in the production of naphtha, which is further cracked in the absence of oxygen to give ethylene and propylene. Acrylic acid and SAP are derivatives of propylene. This entire process is carried out at LG Chem's plant.

The chemical unit of LG Group is the sole producer of acrylic acid in Korea. The company started the production in 2004 on its own technologies and now competes head-on with global companies like BASF, Dow and NSCL.

As part of the efforts to secure competitiveness in basic materials, the company has also poured resources into the SAP business since 2008, becoming the No. 4 player in the market.

Buoyed by increased production capacity and improved productivity, LG Chem said it aims to elevate sales of acrylic acid and SAP from the current 1.1 trillion won to 1.7 trillion won by 2020.

"Since our entry into the acrylic acid and SAP business, LG Chem has become a global player in the field through large-scale investment and research and development efforts," said LG Chem's basic material business chief Sohn Ok-dong. "We will be ramping up our efforts to lead the market."

According to the company, the market for acrylic acid is expected to grow from the current 4.9 million tons last year to 6.7 million tons by 2020, while that of SAP is estimated to increase from 2.3 million to 3.4 million in the next five years.
---
January 11th, 2016 

LG Chem Jumps into Agro-chemical Business

LG Chem, South Korea's top chemicals and battery maker, will take over Dongbu Farm Hannong (東部ファーム韓農), the largest pesticide and fertilizer producer in the nation. LG Chem said on Jan.8 that it will purchase a 100 percent stake in Dongbu Farm Hannong for 515.2 billion won ($429.3 million).

LG Chem's takeover of the agrochemical business unit of the ailing Dongbu Group is expected to be complete sometime in March after due diligence and evaluation of the M&A decision are carried out. Then, why has chemical company LG Chem decided to buy a pesticide and fertilizer producer?

LG Chem says its acquisition of Dongbu Farm Hannong is part of its endeavors to secure a new growth engine. "Global chemical companies have been intensively developing their agro-chemical business into their future flagship business. LG Chem's takeover of Dongbu Farm Hannong will help LG Chem evolve into an advanced global chemical processor," said Park Jin-soo, vice chairman of LG Chem.

As a matter of fact, most of the global agochemical household names are major chemical companies, such as BASF, Dow Chem and Simitomo.

BASF, the largest chemical producer in the world, has been continuously pushing for M&As. Dow Chemical and DuPont have recently announced that they will merge.

"There is a limit to the growth of LG Chem's petrochemicals business as the Chinese economy has slowed down. Global chemical companies are reshaping their business portfolios by selling off underperforming divisions and acquiring high-growth businesses. In that sense, the ago-chemical sector is a very lucrative market," said Lee Ung-joo, an analyst at Seoul-based Shinhan Investment Corp.

Many think that LG Chem's takeover of Dongbu Farm Hannong will serve as a plus in the chemical company expanding its business from basic materials (petrochemical), information-electronic materials and secondary batteries to agricultural chemistry (e.g. plant seeds and crop protective materials).

Dongbu Farm Hannong, South Korea's largest processor of agricultural materials, takes the largest share of 27 percent in the crop protection chemicals market and the second-largest share of 19 percent in the seed and fertilizer market.

The worldwide agricultural chemistry sector is expected to expand from $100 billion in 2014 to more than $140 billion in 2020, growing, on average, 6 percent a
東部グループは2015年3月31日、東部ファーム韓農の系列分離及び売却を決め、公正取引委員会に系列分離を申請することにしたと発表した。
東部ファーム韓農の買収には日系金融資本であるオリックスプライベート・エクィティ・コリアが最も多い関心を示しているとされた。
CJ第一製糖が最近、農資材メーカーである東部ファーム韓農の買収を検討したが中断していると報道されていた。
---
LG Chem drops plan to build $4.2 bln Kazakh petrochem complex
 
South Korea's LG Chem said on Tuesday it had decided to drop a plan to jointly build a $4.2-billion petrochemical complex in Kazakhstan, citing a prolonged slump in oil prices and a sharp increase in facility investments.

In 2011, the chemical company said it would construct the complex near the western Kazakh city of Atyrau as part of a 50-50 joint venture with two Kazakh companies.

The plan involved building ethylene and polyethylene plants with annual capacities of 840,000 tonnes and 800,000 tonnes, respectively.

LG Chem also said it had cancelled its plan to invest in the polysilicon business, citing difficult prospects for a market turnaround in the short term.

In 2011, the company said it would build a 5,000-tonne-per-year plant, at a cost of 491 billion won ($408 million), to manufacture polysilicon, which is used to make solar panels
2011/8/29  韓国の李大統領、中央アジア3か国歴訪、ガス田開発、石化事業などで合意 

LG化学と国営企業のKazakhstan Petrochemical (KPI) はAtyrau石油化学団地建設と関連の合弁契約に署名した。
50/50JVを設立し、カスピ海近くのTengiz油田から出るエタンガスを活用してエチレン、ポリエチレンを製造する。
LG化学が工場建設・運営・製品販売を担当する。

KPIは国営石油会社KazMunaiGasが51%、私企業のSAT & Co が49%を保有する。

能力はエチレンが84万トン、PEが80万トン。
---
2016/05/13

LG International, Tehran sign deal to cooperate in developing EVs

LG International Corp., the trading arm of South Korea's LG Group, said Friday that it has signed a tentative deal with the Iranian government to cooperate in developing electric vehicles and establishing necessary infrastructure.

Under the deal, LG International will work with local companies to develop electric vehicles and build charging stations. They also agreed to produce about 60,000 units of EVs by 2023.

Other details on the terms of the agreement were not known. Both sides are seeking to finalize the deal within this year.

LG International will oversee the project jointly with the Iranian government. Other affiliates, such as LG Electronics, LG Chem and LG Innotek, will lead efforts to develop batteries, electric motors and key auto parts, the company said.
---
2016/07/25 Yonhap

LG Chem to jack up elastomer output
LG Chem Ltd., South Korea's top chemical maker, said Monday that it would spend some 400 billion won (US$352 million) in expanding its output of elastic polymers in a bid to meet growing demand.
The company said the new plant in Daesan, some 140 kilometers south of Seoul, will have a capacity to produce 200,000 tons of elastomer, which will raise its total output of the elastic polymer to 290,000 tons by 2018.
Elastomers are elastic materials mostly used to make seals, high-quality adhesives, shock absorbers and molded flexible parts. Their production requires specialized catalysts and high-tech manufacturing processes, and currently only four companies in the world make them.
With the output increase, LG Chem will emerge as the world's No. 3 producer.
---
LG化学、事業構造の高度化本格的に着手…"先制的な投資で供給過剰危機の突破"

LG化学が競争力強化のための事業構造の高度化に本格的に乗り出した。

最近、政府が石油化学産業の競争力強化策を発表した中、LG化学の今回の措置が他の石油化学業種に少なからぬ影響を及ぼすものと見られる。

LG化学は16日、高付加価値製品の拡大に必要な基礎原料を確保するため、NCCの増設に乗り出す一方、供給過剰であるPS(ポリスチレン)製品ラインを高付加ABS生産設備に転換することにしたと明らかにした。

まずLG化学は2019年までに忠清南道の大山工場に2870億ウォンを投資してNCCエチレン生産規模を23万t増設する。

増設が完了すれば、LG化学の大山工場のエチレン生産量は104万tから127万tに増加し、世界NCC単一工場の中で最大生産能力を保有するようになる。 増設による売上増大効果は4000億ウォン以上と予想される。 また、麗水工場の116万tと大山工場の127万tを加えると年間エチレンの総生産量は243万tに拡大され、国内1位の生産力をさらに強固に維持することになる。

今回のNCCの増設は設備の効率が高い工程を導入するなど投資効率性を極大化して新規工場建設への投資費を半分以下に下げたとLG化学側は説明した。

LG化学はメタルロセン系PO(ポリオレフィン)、高機能ABSおよびEP、エコ合成ゴムなど高付加価値製品の売り上げを現在の3兆ウォン規模から2020年7兆ウォンに増やすことにしたが、NCCで生産されるエチレン、プロピレン、ブタジエンなどが同製品の基礎原料として使われる。

また、LG化学は事業構造高度化の一つで来年上半期まで麗水工場内のPS生産ライン2個のうち、1つのラインを高付加製品であるABS生産ラインに転換することにした。 PS 5万t 1期ラインは海外技術ライセンスの役割(技術料収入)を随行し、内部需要を充足するために残すことになる。

生産ラインへの転換が完了されれば、LG化学のPS国内生産量は年間10万tから5万t規模に縮小され、ABS国内生産量は年間85万tから88万tに増えることになる。

高機能ABSは耐熱性と耐衝撃性、加工性が優れ、自動車や家電、IT素材に主に適用されており、LG化学が世界市場シェア20%で1位を占めている。
韓国 石化産業の構造改革急ぐ 政府が過剰品目の再編促す

韓国で石油化学産業の構造改革が進む。サムスングループの石油化学事業をハンファグループとロッテケミカルが買収するなどこの1―2年で業界再編の動きが出ていたが、中国への輸出不振の深刻化、さらに来年以降のシェール革命による米石化産業の大増設などを受け、さらなる事業統合などによる競争力向上の必要性に迫られている。

政府は業界の自発的な生産能力調整を促すほか、合成樹脂、合成ゴムの高機能品に重点を置き、蔚山、麗水、大山の既存の石化拠点を中心に産業のアップグレードを推進する方針だ。
---
LG Chem to invest $100 mil. in ABS plant in China

LG Chem will invest $100 million to expand manufacturing capacity of durable plastic at its Huanan factory in Guangdong, southeastern China, the Korean chemical maker said Monday.

LG Chem said it will increase manufacture of high value-added acrylonitrile-butadiene-styrene (ABS) by 150,000 tons per year.
2009/7/25 LG Chem、中国海洋石油との合弁で広東省でABSを生産
Added to 900,000 tons of ABS production capacity at a factory here in Yeosu, South Jeolla Province, and another 800,000 tons at its Ningbo plant in China, the Huanan factory is expected to produce 300,000 tons of ABS a year by 2018, boosting LG Chem's annual production by 2 million tons. The company expects this will help increase its global ABS market share to 26 percent by 2018, up from 21 percent now.
麗水 880千トン 880千トン←850千トン
寧波 800千トン 寧波LG甬興化工(LG Chem 75%/甬興化工 25%)
広東省恵州市 300千トン(←150千トン)  中国海洋石油(CNOOC)とのJV :CNOOC & LG Petrochemicals Co  増設でLGの比率 70%(←50%)
合計 1,980千トン
"By maximizing our international brand awareness and our differentiated technical services in the ABS sector, we will strengthen our dominance in China's largest Huanan market," said Son Ok-dong, president of LG Chem's Basic Materials Business, in a statement. "We will also utilize the facility as an advance base for the newly emerging Southeast Asian markets to solidify our top position in the industry."

ABS, which is one of the most popular high value-added plastic synthetic resin products, is highly thermostable and crashworthy and thus is widely used as a key material for car and electronics.

Currrently, China takes more than 50 percent of global ABS demand. In particular, more than half the country's total ABS demand comes from the Huanan area, according to the company.

In 2008, LG Chem established a joint venture with China's state-run petroleum and natural gas provider China National Offshore Oil Corp. The company said the extra investment in the Huanan factory will increase its stake in the joint corporation by 70 percent, up from the current 50 percent.

LG Chem said its annual sales will expand by 700 billion won once the expanded manufacturing facilities go online.

"The expansion of the Huanan ABS factory means much to us as it will lead not only to an increase of manufacturing scale but also will help us strengthen our business control over the joint corporation," Son said.

The company said it has recently increased ethylene production by 230,000 tons at the Naphtha Cracking Center in its plant in Daesan, South Chungcheong Province. It also modified its manufacturing facilities for polystyrene, which has been oversupplied in the market, to produce ABS products, aiming at boosting profitability in the basic materials business.