トップページ
インドの石油化学    各社概要       インド経済シンポジウム    インド概要  
History   同詳細(IPCL Homepageより) http://www.ipcl.co.in/ipcl/about/history.htm#hd
Capacity   Anti-dumping cases     U.S. Lawmakers Back Bhopal Survivors
2004/1   リライアンス、NOCILから石化・樹脂事業を買収
2003/5  New PET resin plant opens in India's West Bengal state
2003/2   タターヒンダスタン合併、インドで総合肥料メーカー誕生へ
2002/5   Reliance buys Indian Petrochemicals Corp
2004/2  Gail India to expand ethylene plant to 440,000 mt/yr by 2007
2004/2    India's DCM Shriram to expand PVC, chlor-alkali plants by 50%
2004/3    Iran petrochem invite buoys Indian Oil
2004/3    Indian Oil Corp board approves cracker, polymer project
2004/8    India's Chennai Petroleum to build 165,000+ mt/yr PP plant
2004/10 インド政府、石油化学製品の関税引き下げ
2005/8   Indian petchems importers get tax break under Singapore-India FTA
2005/9   India Oil corp. to detail Paradip refinery, petchem project by Nov
  2007/1 Foster Wheeler Awarded Contract for World-Scale Refinery and Petrochemicals Complex in India
2006/1  Chemplast approves $100-mil 170 kt/yr PVC plant in south India
2006/1  India's Finolex to double PVC capacity by March
2006/2  インドのDr. Reddy's Labs、ドイツのジェネティック医薬会社を買収
 2008/4 Dr Reddy's to buy BASF drug contract manufact unit
2006/5  GAIL to implement Rs. 5460 crore Assam Gas Cracker Project
2006/5  東洋エンジ 国営インド石油からエチレンプラント受注
2006/6  IndianOil commissions India's largest PTA plant at Panipat
2006/6  India's ONGC to launch construction of a 1-mil mt/year aromatics facility  aromatics at Mangalore
   2006/8 ONGC plans mega petrochem unit  aromatics at Mangalore
        ONGC Board approves investment proposals Development of Dahej Petrochemical Complex   ethylene
        India gives green light for ONGC move into petrochemicals
2008/7 Ineos, Mitsui, Mitsubishi vying for stake in ONGC's Dahej project
2006/8 Indian, Chinese oil companies buy stake in US firm in Columbia
     Mylan Laboratories to Acquire Up to 71.5% Controlling Interest in Matrix Laboratories
2006/12 Supreme Petrochem of India boosting EPS capacity
2007/1  Arkema and Essar announce the signing of a Memorandum of Understanding for the production of acrylic acid in India.
     Essar and Eastman Announce Memorandum of Understanding for Joint Oxo Project
IndianOil puts retail plans in Indonesia on hold
2007/4 インド大手ザイダス・グループが後発薬の日本ユニバーサル買収
2007/7 Dow Chem plans India plant, ties up with GACL
     India to complete acetic acid, acetyl chloride plants by 2008
     IG Petrochemicals considering PA expansion at Taloja
     Indian investigators in S Korea for PVC anti-dumping probe
2007/10 Indian SAPL-IFC in talks on loan for Egypt's PET resin project
2007/12 Dow Chemical's Indian R&D centre plan faces social boycott
2008/2  Tata Chemicals of India acquires soda-ash company in USA
     Malaysian polyester, PET producer Hualon renamed Recron (owned by Reliance)
2008/4 Dow Europe and Gujarat Alkalies and Chemicals Sign JV Agreement
2008/5 Iran, India ink Euro 400m petrochemical MOU
2008/8 India's ONGC to pay $2.6bln for Imperial Energy
2008/10  GAIL, IOCL ink MoU for cooperation in Petrochemicals
2009/6 Dumping duty mooted on polypropylene imports

---
HISTORY OF PETROCHEMICAL INDUSTRY IN INDIA: 
   http://www.petrochemnext.com/webapp/portal/ForumsHome
The production of petrochemicals in India began in the late fifties with the setting up of small plants using non-petroleum feedstock. Polychem Ltd. commissioned the first Polystyrene plant in 1958 which used coal based benzene. Union Carbide commissioned the first LDPE plant in 1965 at Bombay, where production was based on alcohol.
In the late sixties, NOCIL commissioned a naptha based cracker with a capacity of 60,000 tonnes per annum of ethylene. NOCIL began manufacturing ethylene oxide (EO), ethylene glycol (EG), PVC and supplied ethylene to PIL for manufacture of HDPE.
In 1973, Indian Petrochemicals Corporation Ltd (IPCL), a company owned by the Government of India, commissioned a naphtha-based aromatics plant at Baroda, Gujarat to manufacture paraxylene, metaxylene and dimethyl terepthalate (DMT).
In 1978-79, IPCL commissioned a naptha cracker with a capacity of 130,000 tonnes per annum of ethylene at Baroda to manufacture PP, LDPE, PBR, linear alkyl benzene (LAB), SAN and acrylic fibre.
In 1978, ABS Industries commissioned the first ABS plant in India. This plant was subsequently taken over by Bayer Industries in 1997 and the name was changed to Bayer ABS Ltd.
IPCL set up a natural gas based ethylene cracker with a capacity of 300,000 tonnes per annum at Nagothane, Maharashtra in 1989-90. Downstream capacities for manufacturing HDPE/LLDPE (swing plant), PP, LDPE, MEG and PVC were also set up at this complex.
In 1992-93, Reliance Industries Ltd (RIL) commissioned a 160,000 tonnes per annum HDPE/LLDPE swing plant at Hazira, Gujarat.
In 1995, Supreme Petrochem Ltd. (SPL) commissioned a 66,000 tonnes per annum HIPS/GPPS plant at Nagothane, Maharashtra. With subsequent capacity expansions, the current capacity is 188,000 tonnes per annum.
In 1996-97, RIL commissioned a naphtha cracker at Hazira, with capacity of 750,000 tonnes per annum of ethylene. RIL also expanded the swing plant capacity to 400,000 tonnes per annum and set up PP facility of 360,000 tonnes per annum.
In 1996-97, IPCL set up a 150,000 tonnes per annum PVC plant and a chloralkali unit at Gandhar, Gujarat.
In 1999, IPCL set up a 160,000 tonnes per annum HDPE plant and a MEG unit at Gandhar.
In 1999, RIL commissioned India's largest grassroots refinery at Jamnagar, Gujarat and set up PP plants with total capacity of 600,000 tonnes per annum.
The Gas Authority of India Ltd (GAIL), another public sector company, commissioned a 300,000 tonnes per annum gas-based ethylene cracker at Auraiya, Uttar Pradesh in 1999. GAIL also set up downstream units of HDPE (100,000 tonnes per annum) and a swing plant of HDPE/LLDPE (160,000 tonnes per annum).
In February 2000, IPCL commissioned a gas-based ethylene cracker with a capacity of 300,000 tonnes per annum at Gandhar, Gujarat.
In May 2000, Haldia Petrochemicals Ltd (HPL) commissioned a 420,000 tonnes per annum naphtha cracker at Haldia, West Bengal. HPL also set up downstream units of PP (210,000 tonnes per annum), HDPE (200,000 tonnes per annum) and a HDPE/LLDPE swing plant (225,000 tonnes per annum).
---
能力 (単位:千t)      各社概要は社名をクリック 
                    能力の下は採用技術

  Resin能力    source: http://www.petrochemnext.com/webapp/portal/Homepage
India Oil corp. to detail Paradip refinery, petchem project by Nov
会社名
              Reliance
GAIL
Nocil
bought by Reliance
Haldia
Others
Total
IPCL
Reliance
立地
Vadodara
Nagothane
Gandhar
Hazira
Auraiya
THANE
-BELAPUR
Haldia
 
 
Ethylene
  130
   400
 300
  750
→1,000
 300
→450
 (80)
 520
(社名)
(能力)
 
LDPE
    80    ATO
    80    ENI
 
 
 
 
 
OSWAL CHEMICALS

OSWAL AGRO MILLS

  13.0
   ICI

  26.5 
  UCC

 200
LLDPE/
HDPE
 
   220    BP
 
  400
  NOVA

   160
NOVA
+100

 
MIDNAPUR
  225
→ 368
 MONTELL
 
 
1,005
HDPE
 
 

  160
ELENAC

 

100
+100
MITSUI

(60)
ELENAC

MIDNAPUR
  200
  MITSUI
 
 

520

PP

130
MONTELL

60
MONTELL

 

Hazira
400
UNIPOL

Jamnagar
600
UNIPOL

 
 

210
→ 320
MONTELL

 
 
1,400
PVC

55
GEON

 

150
GEON

300
GEON

 
 
 
CHEMPLAST 

60 GOODRICH

34
SHIN-ETSU
→ 50

60
KUREHA

130
HOECHST
130
OxyVinyls

788

PS
 
 
 
 
 
 
 
Supreme


GREAVES

204
HUNTSMAN

20停止
RUSSIA

70
BX PLASTICS

90
MITSUI

354

ABS
 
 
 
 
 
 
 
BAYER ABS 

BHANSALI 


GREAVES  

50
JSR


15
SUMITOMO

6.5
own

54.5
120,000-mt/yr linear alkyl benzene  at Koyali petroleum refinery in western Gujarat.

350,000-mt/year paraxylene &
553,000- mt/year purified terephthalic acid   at Paniat in northwestern Haryana state.
 計画 800,000-mt/yr naphtha cracker facility  in northwestern Haryana state.
     165,000 mt/yr PP Chennai Petroleum Corp in the southern Tamil Nadu state city of Chennai.
Platts 2004/10/21

India's Reliance to start Navi naphtha cracker, HDPE unit end-Oct

India's Reliance Industries has scheduled to start up its naphtha cracker at Navi, Mumbai, which has an ethylene capacity of 85,000 mt/yr, and a 60,000 mt/yr high-density polyethylene unit at the end of October, a company source said Thursday.
---
PVC
CHEMPLAST SANMAR LIMITED PVC Division        15万トン増設計画 → 17万トン
                                        EDC自社生産検討
                 http://www.sanmargroup.com/chlpvcpro.htm
 Commenced operations in May 1967 at Mettur, near Salem in Tamil Nadu with technology from B.F. Goodrich, USA
 Varied range of high quality PVC Resin products with a wide range of end use applications
 Capacity: 60,000 MT per annum

 Manufacturer of 3 grades of Suspension Resins, 3 grades of Paste (Dispersion) Resins, 2 grades of Copolymer Suspension Resins plus a speciality Battery Separator Resin
 The only manufacturer of Battery Separator grade Resins (made with technical know-how from ICI, UK) and Copolymer Suspension Resins in India
 The PVC business of Chemplast Sanmar is integrated backwards i.e., it gets its feedstock, industrial alcohol, from its alcohol plants at Panruti, near Neyveli and from Krishnagiri, near Dharmapuri and chlorine from its neighbouring chlor-alkali facility
 It has the necessary port-based infrastructure to import feedstock like ethylene dichloride (EDC)
 It has also recently commissioned the Oxy Chlorination plant to increase production of captive feedstock - EDC and projects to augment Ethylene and Paste resin capacity are underway
 It has a captive power generation capacity of 10 MW in the PVC plant, meeting 100% of its requirements. The chlor-alkali plant also has 30 MW additional power generating capacity, with the option to augment this capacity through wind mills

---

化学工業日報 2002/9/5

インドでPVC年産15万トン新設、ケムプラスト・サンマー 資金調達にメド

インドで大型の塩化ビニル樹脂(PVC)プラントの新設プロジェクトが前進してきた。年産15万トン規模のプロジェクトを検討しているケムプラスト・サンマーは、ドイツの投資家などから資金調達のめどを得ており、建設を予定しているタミール・ナドゥ州の環境関係当局の承認を経て具体化に向かう見通しだ。ケムプラスト・サンマーが現有するPVCの年産能力は6万トン。

---

Chemplast approves $100-mil 170 kt/yr PVC plant in south India

India's Chemplast Sanmar Ltd is to invest Rs4500-mil (US$100-mil) in setting up a 170,000 mt/yr green field polyvinyl chloride (PVC) plant at Cuddalore in Tamil Nadu, south India, the company said.

Chemplast Sanmar currently has a capacity of around 60,000 mt/yr PVC resin at its Mettur plant, using B F Goodrich technology from the US.

---

印ケムプラスト・サンマー
  EDC自社生産検討、塩ビの大型新設備向けに

塩化ビニル樹脂(PVC)の大型プラント建設計画を進めているインドのケムプラスト・サンマーは、原料である二塩化エチレン(EDC)の生産を検討し始めた模様だ。

---
DCM Shriram Consolidated Ltd (DSCL)
is a Rupees 9.75 billion, public listed company,based in North India with a core sector business
portfolio comprising fertilisers, chlor alkali, chemicals, plastics, cement, textiles and sugar

PVC:
Commissioned: 1964 at Kota (Rajasthan)

PVC Resin Production: 34,000 MT/annum
Collaboration/Technology: Shin-Etsu Chemical Co. Ltd., Japan, Kaneka, Japan

PVC Compounds
Production/ Capacity: Up to 12,000 MT/annum customised production
Collaboration/Technology: Zeon Kasei Co. Ltd., Japan

---

Platts 2004/2/13

India's DCM Shriram to expand PVC, chlor-alkali plants by 50%

India's DCM Shriram Consolidated Ltd (DSCL) plans to expand its PVC and chlor-alkali plants at Kota in Rajastan by more than 50% in the next 18 months, a company official said Friday. The PVC plant currently has a production capacity of 33,000 mt/yr which would be hiked to 50,000 mt/yr, while the chlor-alkali plant's capacity would be raised from 39,000 mt/yr to around 60,000 mt/yr.


---
manufactures and markets various home products including the production and distribution of PVC resins, soda ash, caustic soda and the extraction and distribution of refined iodised salt under the brandname of `Captain Cook'. The company has its operating division in Gujarat and Tamilnadu.
---
http://www.plastemart.com/plasticnew/interviews/polystyrene.asp
Supreme Petrochem, the largest supplier increased its capacity from 104 kt to 204 kt in 2000. BASF, one of the global key players has acquired a new 60kt plant at Dahej, Gujarat and thus has entered the Indian Market.
The third Polystyrene producer viz. L G Polymers also has similar capacity.


---

化学工業日報 2002/10/21

BASF、インドでポリスチを増強

 BASFはインドにおけるポリスチレン(PS)の年産能力を9万トンに増強した。インド国内の需要家のニーズに対応するのが狙いで、同社では輸入品を代替して市場におけるポジションを強固にできるとしている。

---
     http://www.greaveslimited.com/
Greaves Limited, is one of India's leading engineering companies.
It manufactures a wide range of industrial products including diesel engines, generating sets and gearboxes to meet the requirement of core sectors. The company's core competencies are in internal combustion engines, power transmission systems and construction equipment. Greaves is the largest manufacture of internal combustion engines in India. The business operations of the Company are divided into Business Groups strategically structured to ensure maximum focus on each business area and yet retain a unique synergy in the operations.

Greaves supplies Acrylonitrile Butadiene Styrene (ABS) and High Impact Polystyrene (HIPS) manufactured at its state-of-the-art plant. Used extensively in the manufacture of products which demand the use of high tensile, high flexural and good impact resistant polymer, ABS has excellent thermal resistance, good dimensional stability and self-colourability. HIPS is a polymer that has excellent processability and is extensively used by many industries. Both polymers are available in a wide range of grades-offering specific solutions to various customer requirements.

Greaves RPRL unit with its state-of-the-art plant for the manufacture of Acrylonitrile Butadience Styrene (ABS), General Purpose Poly styrene (GPPS), High Impact Polystyrene (HIPS) and Styrene Acrylonitrile (SAN). The plant has a capacity to produce 20,000 TPA of styrenic polymers and is located at Abu Road, Rajsthan
---
In India, Bayer sees particularly good opportunities in high-performance engineering plastics, which are used widely in the automotive and electronics industries. Complementing a Bayer project in Thailand, Bayer Industries Ltd. took over 51 percent of the shares of the Indian plastics manufacturer ABS Industries Ltd. in February 1997. The company has since been renamed Bayer ABS Ltd. and is presently expanding the production capacity for the plastics ABS and SAN at its plant in Baroda to about 50,000 tons per annum.
---
化学工業日報 2003/2/20

タターヒンダスタン合併、インドで総合肥料メーカー誕生へ
 インドのタタ・ケミカルズとヒンダスタン・リバー・ケミカルズが合併することで合意した。新会社は肥料の総合メーカーに躍進する一方、ソーダ灰と誘導品のトリポリリン酸ソーダ(STPP)の統合効果も高い。これによって無機化学の大手がインドに誕生する。
---

2003/2/19  Financial Times

Merger between Hind Lever and Tata Chemicals in India.
Indian companies Tata Chemicals and Hind Lever Chemicals (Unilever's 50% subsidiary) are about to merge through a share exchange. Shareholders in Hind Lever will receive 5 shares in Tata for every 2 shares they hold. The merger should make Tata Chemicals one of the leading fertilizers companies in India.
---
2003/5/14 Platts

New PET resin plant opens in India's West Bengal state
India's South Asian Petrochem Ltd Wednesday commissioned its 140,000 mt/yr bottle-grade polyethylene terephthalate resin plant in eastern West Bengal state.

The PET resin plant is located close to Mitsubishi Chemical Corp's 350,000 mt/yr purified terephthalic acid plant.
---
India IOC board approves cracker, polymer project
Indian Oil Corp Ltd (IOC) said its board has approved a planned cracker and downstream polymer project in India.

In a brief statement to the Bombay Stock Exchange (BSE), the company said that the project would require an estimated investment of about Rs63bn ($1.38bn/Euro1.14bn).

It did not give the a planned capacity in its statement, although ACW know that the IOC was planning an 800 000 tonne/year cracker along with a 600 000 tonne/year polypropylene (PP) facility.

The start-up date had been set for 2007. The site has not been announced yet.
---
Platts 2004/8/27

India's Chennai Petroleum to build 165,000+ mt/yr PP plant

India's refining major Chennai Petroleum Corp (CPC) is planning to set up a polypropylene plant at its 950,000-mt/year petroleum refinery complex in the southern Tamil Nadu state city of Chennai. The plant capacity is a planned 165,000 mt/yr although company chairman, M Ramachandran told Platts it was mulling building the plant with larger capacity.
Indian Oil Corp owns the majority stake in CPC, whose polypropylene project is in line with IOC's strategy to foray into petrochemicals. In mid-August, IOC commissioned a 120,000-mt/yr linear alkyl benzene plant at its 13.70-mil mt/year Koyali petroleum refinery in western Gujarat. IOC is also building a 350,000-mt/year paraxylene and 553,000- mt/year purified terephthalic acid production plants at Paniat in northwestern Haryana state. The company has also decided to set up an 800,000-mt/yr naphtha cracker facility in northwestern Haryana state.
 

---
Chennai Petroleum Corporation Limited
http://www.cpcl.co.in/compprofile.html

Chennai Petroleum Corporation Limited, widely known as MRL (Madras Refineries Limited); is one of the largest and most integrated refineries in south India producing fuel products, lubricants & additives.

CPCL's product range is wide and varied; providing fuel like Diesel, Kerosene, LPG, ATF and Bitumen. Our company also provides high quality feedstock's for other industries like Propylene, Superior Kerosene, Butylenes, Naphtha, Paraffin Wax and Sulphur.

Chennai Petroleum Corporation Limited (CPCL), was formed as a joint venture between the Government of India (GoI); Amoco India Inc., USA; and the National Iranian Oil Company (NIOC), Iran, with equity contribution in the ratio of 74:13:13 respectively. The company was incorporated on 30-12-1965 as a public limited company.

Indian Oil Corp owns the majority stake in CPC

---
October 11, 2004 Financial Times Information

Import duty on polymers cut.

The Finance Ministry of India has reduced the basic customs duty on low-density polyethylene, linear low-density polyethylene, high-density polyethylene, linear high-density polyethylene, linear medium density polyethylene and polymers of vinyl chloride from 20% to 15% and that on naphtha from 10% to 5%. The Ministry has also lowered the basic customs duty on ethylene, butylenes, butadiene, benzene, toluene, 0-xylene, styrene, ethylbenzene, ethylene dichloride, vinyl chloride monomer and acrylonitrile from 15% to 10%.
---
The Telegraph, New Delhi, Mar 11, 2004
Iran petrochem invite buoys Indian Oil

Indian Oil Corporation (IOC) is eyeing a stake in a huge petrochemical plant in Iran and the due diligence exercise for the project has already begun.

A senior IOC official told The Telegraph that National Petrochemical Company (NPC) of Iran has offered a stake in an ongoing olefin project located in Bandar Imam. "IOC is interested in picking up a decent stake that would allow board-level participation in the Iranian company," he added.

The olefin plant forms a part of the petrochemicals hub at the Iranian port town that uses the country's vast natural gas resources as feedstock. An IOC team visited Iran recently to get a first-hand feel of the ground realities.

A four-member team, comprising two representatives each of IOC and NPC, has been already at work to identify various areas for co-operation between the two companies. This project has emerged as the first concrete proposal.

IOC is also of the view that investing in the petrochemicals sector in Iran is a better business proposition than merely importing liquefied natural gas (LNG) from that country.

The investment proposal for Iran forms part of the IOC vision to emerge as a leading player in petrochemicals in South East Asia by 2010-11. Having lost Indian Petrochemical Corporation (IPCL) to Reliance in the divestment sweepstakes, IOC has drawn up ambitious plans of expanding its own domestic capacities as well. It has started work on its Rs 5,000-crore petrochemicals plant at the Panipat refinery. The Rs 1,200-crore project at the Koyali refinery in Gujarat is also proceeding on schedule.

Investment in petrochemicals business by processing the naphtha produced at its refineries is the logical step to move up the value chain. These projects will enable the company to absorb the domestic naphtha, which is becoming surplus with increasing oil refining capacities.

With greater emphasis on natural gas in the economy, it is likely that fertiliser and power units, which currently consume naphtha, could switch to using gas instead as it is cheaper. This would render even more naphtha surplus.

Since Reliance has emerged as a near-monopoly in the petrochemicals sector, IOC is keen to fill the void and capture a neat chunk of the market. It had drawn up its mega Rs 6,000-crore plan to develop Haldia after taking over Haldia Petrochem (HPL). However, as the HPL management went for the investment proposed by Gail, the plan failed.
---
Indian petchems importers get tax break under Singapore-India FTA


Goods in the immediate elimination category will have tariffs on them completely eliminated from Aug 1, 2005. Notable petrochemical products under this category include styrene and butanol.
Goods under the phased elimination category will see import tariffs cut by 10% from now until Mar 31, 2006. In the second year, between Apr 1, 2006 and Mar 31, 2007, the tariff reduction will be increased by 15% to 25%. In the third year, import taxes would be halved; in the fourth year, cut by 75% and in the fifth year ending Mar 31 2010, taxes would be completely eliminated. Petrochemicals which fall under this category include dioctyl phthalate (DOP), dibutyl phthalate (DBP), phthalic acid and phthalate plasticizers.
Goods under the phased reduction category will see their tariffs cut by 50% over the five years. In the first year until Mar 31, 2006, taxes would be cut by 5%. In the second year, the cut would be increased to 10%, in the third year, up to 20%, in the fourth year a 35% cut and in the fifth year ending Mar 31 2010, taxes would be halved. Petrochemicals under this category include toluene, mixed xylenes, ethylbenzene, cumene, ethylene glycol (ethanediol), butanediol, acrylonitrile and isobutyl acetate.
Products totally excluded from tax concession include acetic acid, 2-ethyl hexanol and vinyl acetate, amongst others.
---
India's IOC to detail Paradip refinery, petchem project by Nov

State-run Indian Oil Corp (IOC) will submit a detailed feasibility report for a 15-mil mt/yr petrochemical and refinery project in Paradip by November 2005, a company source said Monday.
Petrochemical production at the site will include paraxylene, polypropylene and ethyl benzene, which will be entirely diverted for styrene production.
In the second stage of the Paradip project, IOC is planning to add a 1-mil mt/yr naphtha cracker and downstream production which will include high-density polyethylene, linear low density PE, incremental polypropylene as well as monoethylene glycol.

IOC is also looking at expanding its 6-mil mt/yr Haldia refinery capacity to 7.5-mil mt/yr. IOC's total refining capacity will thus be boosted by 56% to 65-mil mt/yr, from a current 41.5-mil mt/yr. IOC is India's largest refiner and oil products retailer. Apart from seven refineries, IOC has a majority stake in three other refineries.
---
Foster Wheeler Awarded Contract for World-Scale Refinery and Petrochemicals Complex in India
Foster Wheeler Ltd. announced today that two subsidiaries in its Global Engineering and Construction Group, Foster Wheeler Energy Limited and Foster Wheeler India Private Limited, have been awarded services contracts by Indian Oil Corporation Limited (IOCL) for the Paradip Refinery Project, which is expected to be one of the largest integrated refinery petrochemicals complexes in India. This world-scale facility, comprising a new export refinery and petrochemicals complex, will be built in Orissa State.
The terms of the contracts were not disclosed, and the projects will be included in the company's first-quarter 2007 bookings.
The planned new refinery, with a crude processing capacity of 15 million tonnes per annum (TPA), will include a fluidized catalytic cracking unit, an aromatics complex and a polypropylene unit. The new complex will ultimately produce 700,000 TPA of polypropylene, 1.2 million TPA of paraxylene, 600,000 TPA of styrene monomer, along with 10.5 million TPA of refined petroleum products. This award also includes a detailed feasibility study for Phase 2 of the development, the Paradip Naphtha Cracker Project. (IOCL 第2号エチレン)
---
3i sells betapharm to India based Dr. Reddy's Labs
http://www.betapharm.com/index.php?id=266
3i, Europe's leading private equity and venture capital company has sold German generic pharmaceutical company betapharm Arzneimittel GmbH to Indian Dr. Reddy's Laboratories Ltd. The transaction volume is Euro 480m. The sale also includes the not for profit beta institute.
The buyer, Dr. Reddy's Laboratories Limited, established in 1984, is an emerging global pharmaceutical company with proven research capabilities. The company is vertically integrated with a presence across the pharmaceutical value chain. It produces generic finished dosage forms, active pharmaceutical ingredients and biotechnology products and markets them globally, with a focus on India, U.S.A, Europe and Russia. Dr. Reddy's employs over 6,500 people globally with headquarters in Hyderabad, India.
---

betapharm  http://www.betapharm.com/

betapharm Arzneimittel GmbH was founded in Augsburg in 1993. The pharmaceuticals company distributes reliably high-quality generics (unpatented medicines) at affordable prices. With around 150 active pharmaceutical ingredients, our medicines cover all major illnesses, from common cold to serious cardiovascular diseases. Today the company employs a workforce of more than 350 people and in 2005 achieved a turnover of Euro186 million (NDC Insight, NPI).
---
Apr 29, 2008 Reuters

Dr Reddy's to buy BASF drug contract manufact unit

インドDr. Reddy's Laboratories社は2008年4月30日、独BASF社が米国ルイジアナ州に保有する委託製造事業部門および関連施設の買収に関する正式な契約を結んだと発表した。

Indian drugmaker Dr Reddy's Laboratories Ltd said on Wednesday it had agreed to acquire BASF's drug contract manufacturing business and a related facility in the United States for an undisclosed amount.

The Hyderabad-based company said the deal was likely to be completed by June, subject to regulatory approvals.

BASF's contract manufacturing business makes generic prescription and over-the-counter products for branded and generic companies in the United States, Dr Reddy's said in a statement.

The business had revenue of $43 million in 2007, it said.

"The acquisition ... will enable us to strengthen our supply chain for North America and provide a strong platform for pursuing additional growth opportunities," Satish Reddy, managing director of Dr Reddy's, said in the statement.
Dr. Reddy's社は1984年にインドの科学者Dr. Anji Reddyによって設立され、今最も急速に成長している企業。2006年度、同社はインドの製薬会社で第3位となり、収益は5億4,600万米ドルとなった。
* Dr. Reddy's Laboratoriesはジェネリック薬、バルク有効成分開発、創薬を専門とするインドの主要企業である
* Dr. Reddy'sは世界中に拠点をもち運営している
* Dr. Reddy'sのビジョンとミッション
* 他の国際企業との提携

---

BASF

As part of the agreement, approximately 150 employees will transfer from BASF to Dr. Reddy's Laboratories. The 42-acre Shreveport facility currently manufactures and packages prescription and over-the-counter (OTC) pharmaceutical products, liquids, tablets and creams for the North American market. BASF is divesting the site and related business in order to concentrate on core businesses in its Care Chemicals division, which include custom synthesis services, excipients and active ingredients for the pharmaceuticals industry.

"BASF's contract manufacturing activity for finished pharmaceuticals is limited to North America and not linked to the technological growth areas of the company's Pharma Ingredients and Services business. We want to continue to grow our excipients and custom synthesis operations to better serve the pharmaceutical industry in the future," said Martin Widmann, Head of BASF's Pharma Ingredients and Services global business unit. "We assessed a variety of strategic options, but ultimately concluded that a divestiture is the best scenario not only for BASF but also for the future of the Shreveport site and its employees."


---
Indo Rama Synthetics (India) Ltd.   http://www.indoramaindia.com/corporate/Genesis.aspx
Indo Rama Synthetics (India) Ltd. was established in India in 1989 and today is an over Rs.20000 million corporation with sharp focus on quality, cost and delivery. The company has emerged as a lean, agile and supremely fit corporation in the facade of economic liberalization and globalization.
The company benchmarks itself against the best in the world and sets global standards for itself. Indo Rama is distinguished by its ability to work smart and as a place that empowers people and encourages them to take initiatives. Visionary individuals who can seize emerging market opportunities ahead of their competition are the ones who form the nucleus of this organization. Their aim is to enhance business results by building self - motivated and self - managed teams who pursue the path of excellence and explore their potential thereby creating greater synergies.
Products
Polyester Staple Fibre
Partially Oriented Yarn
Fully Drawn Yarn
Draw Texturised Yarn
Polyester Chips
SP Lohia's INDORAMA SPL Group   SP Lohia is OP Lohia's brother.
---
2006/5/30 日本経済新聞

エチレンプラント インド最大施設建設 東洋エンジ 総受注額750億円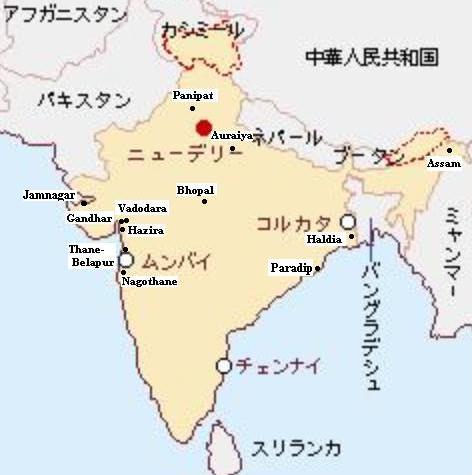 東洋エンジニアリングはインド大手機械メーカーのL&Tと共同で、国営インド石油(IOC)から石油化学の基礎材料となるエチレンの大型プラントを受注した。同国最大となる年産80万トンの設備で、2009年に完成、受注額は750億円で、東洋エンジグループの取り分は全体の6割にあたる約450億円にのぼる。今回の受注を機に、プラント建設が旺盛なインドでの事業拡大を目指す。
 インド北西部のハリアナ洲パニパットに建設する。東洋エンジなどは設計、資機材調達、建設、試運転までを一括して請け負った。隣接の製油所などから調達するナフサを原料にエチレンを製造する設備で、このエチレンは汎用合成樹脂のポリエチレンやポリプロピレンなどの原料となる。IOCが計画している初めてのエチレンプラントで、石油を化学製品まで付加価値を上げて国内調達率を上げようとしている。
---
インド向け大型エチレン設備を日印のエンジ企業連合にて受注

<受注概要>
   
■客先   インド国営石油会社(IOCL: Indian Oil Corporation Limited)
<本社:ムンバイ> 〜インド最大の売上高(約1兆5千億ルピー:2004年度)の企業〜
■受注者   TECとL&T(Larsen and Toubro Limited:ラルセン社) <本社:ムンバイ>
■対象設備 年産80万トンエチレン製造設備(原料はナフサ・ベース)
■建設地   インド、ハリアナ州パニパット(デリーから北西へ約125Km)
        〜同社のパニパット製油所(原油処理能力・年間600万トン)の隣接地〜
■適用技術   米国ABBルーマス社(ABB Lummus Global Inc.)技術
■役務内容   設計、機器資材の調達および工事、試運転助成までの一括請負
■プラントの完成予想   2009年第3四半期
■受注の意義
 * 本設備はインド最大かつ北インド初のエチレン製造設備であると共に、IOCLが建設する初のエチレンプラント。新設される本石油化学コンビナートでは、このエチレンを原料に高密度ポリエチレン、ポリプロピレン、モノエチレングリコール等の基礎化学品が生産される。
 * TECとL&Tが共同で受注した初の大型プラントで、プロジェクト実施にはTECグループ(Global Toyoと呼称)の中核企業である現地エンジ会社のToyo Indiaが参画。
 * 本件はTECの38件目の新設エチレンプラント実績で、36件目のインドでのプラント実績。
 * 現在TECとToyo Indiaは、インドで2件の大型エネルギー関連(LNG/NGL)プロジェクトを実施している。
---

http://www.iocl.com/petrochem.aspx

IndianOil has finalised a US$ 5.7 billion master plan on petrochemicals, predominantly utilising the streams available from its various refineries. As part of its forward integration strategy, IndianOil is co-locating petrochemical plants with its existing and proposed refineries. World-scale petrochemicals plants with state-of-the-art technology have been identified and are under various stages of implementation. In addition, IndianOil is also exploring the possibility of equity participation / acquisition of other projects in India and abroad. These ventures are estimated to have a capital investment requirement of about Rs. 25,0000 - Rs. 30,000 crore spread over the next eight years, to enable IndianOil quickly emerge as a leading petrochemicals player in the country.

Towards setting up of greenfield projects, IndianOil took the first step by commissioning a LAB plant at Gujarat Refinery in August 2004. IndianOil is also implementing an integrated PX/PTA project PX/PTA project at Panipat Refinery, to be commissioned in fiscal 2005. IndianOil is in an advanced stage of setting up a Naphtha Cracker and downstream polymer units at Panipat.

LAB (Linear Alkyl Benzene):
The year 2004-05 marked IndianOil's big-ticket entry into petrochemicals with the commissioning of the country's largest Linear Alkyl Benzene (LAB) plant at Gujarat Refinery in August 2004. It is also the largest grassroots single train Kerosene-to-LAB unit in the world, with an installed capacity of 120,000 million tonnes per annum (MTPA). Currently, two grades of LAB - high molecular weight and low molecular weight - are being produced. The quality of the LAB produced here has found wide acceptance in the domestic and overseas markets.

Built at a cost of Rs. 1,248 crore and commissioned in a record 24 months' time, the plant produces superior quality LAB for manufacturing environment-friendly biodegradable detergents, using state-of-the-art Detal technology from M/s UOP, USA. The key raw materials for the plant, catering to domestic as well as export market requirements meeting the latest and most stringent quality standards, are Kerosene and Benzene produced at Koyali Refinery.

PX/PTA (Paraxylene / Purified Terephthalic Acid):
The PX/PTA project marks IndianOil's major step towards forward integration in the hydrocarbon value chain by manufacturing Paraxylene (PX) from Naphtha and thereafter, converting it into Purified Terephthalic Acid (PTA). Currently under implementation at Panipat Refinery in Haryana, the integrated Paraxylene/Purified Terephthallic Acid (PX/PTA) complex is being built at a cost of Rs. 5,104 crore.

The PTA Plant will be the single largest unit in India with a world-scale capacity of 553,000 MTPA, achieving economy of scale. The process package for the PTA plant was prepared by erstwhile M/s Dupont, UK (now M/s. Invista) and that of the Paraxylene Unit was prepared by M/s UOP, USA. M/s EIL and M/s Toyo Engineering have been selected as the Project Management Consultants (PMC) for executing the PTA and PX respectively.

The Paraxylene plant is designed to process 500,000 MTPA of heart-cut Naphtha to produce about 360,000 MTPA of PX. Naphtha will be sourced from IndianOil's Panipat and Mathura refineries, for which Naphtha splitter units are being set up at the respective refineries. The PTA unit will produce 553,000 MTPA of Purified Terephthalic Acid from Paraxylene. Technologically, the plant will be one of the most advanced in the country.

IndianOil has selected the latest and the most modern technology available in this field to achieve economy of scale in the plants scheduled for commissioning in 2006.

Naphtha Cracker:

The Naphtha Cracker and downstream polymer units are being set up at Panipat at a cost of Rs. 6,300 crore. An MoU has been signed in June 2004 with the Government of Haryana, who are providing fiscal incentives and concessions for the project.

Planned to be completed by 2009, this project envisages setting up of a Naphtha Cracker based on captive utilisation of Naphtha from Panipat, Mathura and Koyali refineries of IndianOil. The Naphtha Cracker complex envisages other downstream polymer units utilising intermediates ethylene and propylene to be generated from the Cracker.

The Naphtha Cracker unit is designed to produce 800,000 tonnes per annum of ethylene and 600,000 tonnes per annum of Propylene, based on which other downstream polymer units are being designed to produce Linear Low Density Polyethylene (LLDPE), High Density Polyethylene (HDPE), Polypropylene (PP) and the speciality chemical Mono Ethylene Glycol (MEG). The capacities of the Naphtha Cracker and polymer units are kept at world-class level, with the products ranging from commodity to niche grades.

IndianOil inks MOU with HSIDC for Petrochemical Hub at Panipat

---

November 10, 2004 NOVA

Indian Oil Corporation selects NOVA Chemicals' SCLAIRTECH technology for LLDPE/HDPE Swing Unit Project at Panipat

NOVA Chemicals Corporation today announced its proprietary SCLAIRTECH technology has been selected by Indian Oil Corporation Limited (IOCL) for a new linear-low density/high-density polyethylene (LLDPE/HDPE) plant in India.

With the addition of the IOCL plant, NOVA Chemicals' SCLAIRTECH technology will be utilized in manufacturing nearly half of all polyethylene produced in India.

Scheduled for completion in the third quarter of 2007, the facility is designed to produce 350 kilotonnes (770 million pounds) of polyethylene per year using NOVA Chemicals' SCLAIRTECH solution-phase technology. The plant will be located in Panipat, Haryana, approximately 100 kilometers north of New Delhi. NOVA Chemicals and IOCL expect to sign a license agreement for the plant, pending approval of the Indian Ministry of Industry, before the end of 2004.

---

IndianOil inks MOU with HSIDC for Petrochemical Hub at Panipat
http://www.iocl.com/displaynews.aspx?file_name=rel301&fol_name=releases

IndianOil Corporation Ltd. (IndianOil), India's leading Fortune Global 500 company and Haryana State Industrial Development Corporation (HSIDC) signed a Memorandum of Understanding (MoU) at Chandigarh today for the creation of a special purpose vehicle (SPV) for developing a petrochemical hub at Panipat. The MoU was inked by Shri BM Bansal, Director (Planning & Business Development), IndianOil and Shri Rajeev Arora, Managing Director, HSIDC, in the presence of Shri Bhupinder Singh Hooda, Hon'ble Chief Minister, Haryana and Shri Sarthak Behuria, Chairman, IndianOil. The proposed SPV will have equity from IndianOil, HSIDC and private developers and shall be entrusted with the responsibility of land acquisition, creation of the necessary infrastructure, etc.

The MoU marks a major milestone of cooperation and progress as envisaged in the MoU signed earlier on June 22, 2004 by IndianOil and the Government of Haryana for setting up a mega petrochemicals complex at Panipat. The project shall be based on naphtha as feedstock and would comprise associated units and downstream polymer/ chemical units such as dedicated HDPE (High Density Polyethylene), Polypropylene and MEG (Mono Ethylene Glycol) at an estimated investment of Rs 11,000 crore. Feasibility is also being studied for setting up for the downstream projects Polyethylene Terephthalate (PET) by utilizing a part of the PTA (Purified Terephtnalic Acid) to be generated as feedstock.

There is huge potential for downstream chemical and petrochemical projects based on the various refinery streams as feedstock. The feedstock available from IndianOil's petrochemical projects can nurture various downstream industries up such as Polyester Staple Fibre (PSF), Polyester Filament Yarn (PFY), Partially Oriented Yarn (POY) and Polyethylene Terephthatate (PET). PSF, PFY and POY are used as ingredients for manufacturing textilea, mostlty polyester oriented garments, carpets and other domestic products, for this, a naphtha cracker along with polymer units is expected to go on stream by 2009.


---

IndianOil inks MoU with Government of Haryana for Naphtha Cracker and Polymer Complex at Panipat
http://www.iocl.com/displaynews.aspx?file_name=rel126&fol_name=releases

Indian Oil Corporation Ltd., India's only 'Fortune Global 500' energy major, and the Government of Haryana signed a Memorandum of Understanding (MoU) here today, for setting up a Naphtha Cracker and Polymer Complex at Panipat. Mr. N K Nayyar, Director (Planning & Business Development), IndianOil, and Mr. S C Chaudhary, Commissioner (Industries), Government of Haryana, signed this MOU in the presence of the State Chief Secretary, Mr. A N Mathur and other senior officials.
---
IndianOil commissions India's largest PTA plant at Panipat

India's leading Fortune 'Global 500' company- IndianOil has commissioned the countrys largest Purified Terephthalic Acid (PTA) plant at it's Panipat Refinery in Haryana.


The PTA plant at Panipat utilises the latest state of the art T-10 technology of M/s Invista (earlier Dupont) producing PTA of a far more superior quality than the one produced and marketed in India and abroad. Moreover, it will be used as raw material for the manufacturing of staple fibre, filament yarn, PET bottles, polyester film, audio video tapes etc. for which the market is growing at a fast pace.

Shri Jaspal Singh in his address said that the Px-PTA complex set-up at a cost of approx. Rs.4600 Crore will produce 360,000 Tonnes of para-Xylene per annum which in-turn will produce 550,000 Tonnes of PTA per annum. Over 20,000 tonnes of Benzene will also be produced per annum as a by-product from the complex. There is a flexibility of marketing paraxylene also.
---
India's ONGC to break ground on new petrochemical complex Friday

India's Oil and Natural Gas Corp Friday will launch construction of a 1-mil mt/year aromatics facility at Mangalore in southern Karnataka state.
Indian Prime Minister Manmohan Singh will fly down to the site to lay a foundation stone to mark the occasion, a senior ONGC official said Thursday.
Commissioning of the plant is scheduled for 2010, the official said.
ONGC, in a tie-up with its subsidiary Mangalore Refinery and Petrochemicals Ltd, has formed a new company -- Mangalore SEZ -- to build the facility at the Mangalore Special Economic Zone, close to an oil refinery run by MRPL. MRPL is raising capacity at that refinery to 15-mil mt/year from a current 9.69-mil mt/year to provide naphtha for the petrochemical plant.
---
Aug 08, 2006 The Times of India

ONGC plans mega petrochem unit

Oil and Natural Gas Corporation Ltd.(ONGC)'s new petrochemicals complex -- which will produce petrochemical building blocks paraxylene and benzene -- is the first of its kind in the southern peninsula, removing the freight handicap of southern consumers.


The feedstock is the heavy naphtha generated in the MRPL refinery. The refinery already has two catalytic reformers and one more new reformer of similar capacity will be installed in the new complex.

Thus, around 1.6 million metric tonnes per annum (mmtpa) of heavy naphtha will be the feedstock to produce 0.95 mmtpa of paraxylene and around 0.15 mmtpa of benzene, the rest being LPG, gasoline pool feed and tail gas.
---
Platts 2006/8/14

India gives green light for ONGC move into petrochemicals

Indian energy minister M S Srinivasan has given a greenlight from the government for state-owned Oil and Natural Gas Corp (ONGC) to move ahead with plans to build petrochemicals units around the country, Press Trust of India said Monday. Srinivasan was quoted by the official news agency as saying ONGC would be allowed "to set up petrochemical complexes wherever they have refineries or have a natural gas source."
Earlier this month, ONGC's board of directors approved a plan for to build a 1.1 million mt/year petrochemical complex at Dahej. The cracker would produce ethylene, propylene and derivative products HDPE, LLDPE, PP and styrene butadiene rubber. The oil and gas producer also plans to add petrochemicals units to its 240,000 barrels/day Mangalore oil refinery.

---
Aug 8, 2006 Oil and Natural Gas Corporation
ONGC Board approves investment proposals Development of C-series in Mumbai offshore (Rs. 3195 Crore) and Dahej Petrochemical Complex (Rs. 13600 Crore)
July 04, 2008 RTTNews

ONGC JV Plans IPO

OPaL, a joint venture between ONGC and Gujarat State Petroleum Corporation is planning to hit the market to tap Rs.3, 000 crore to Rs.3, 500 crores. A top ONGC official has reportedly said that the company aims to raise 20% of Dahej project through the offer.

The official also stated that the public offer would hit the market in the next two to three months. ONGC holds 26% stake in OPal while GSPC holds 5% in its. OPal has roped in Rothschild and ABN Amro as investment partners to the issue.

OPaL is setting up a petrochemical complex at Dahej in Gujarat at a cost of Rs.12, 500 crores proposed to be funded via debt-equity ratio of Rs.8, 700 crores and Rs.3, 800 crores. The complex is expected to be ready by mid-2012.
The Board of Oil and Natural Gas Corporation Ltd. (ONGC), in its 158th meeting on 8th August 2006 has approved investment proposals for (i) Development of C-series in Mumbai offshore and (ii) Dahej Petrochemicals Complex.
(ii) Dahej Petrochemicals Complex

In pursuance of its ongoing business pursuits for value chain integration, ONGC will be implementing a global scale Petrochemicals complex comprising of 1.1 million tonnes per annum of Ethylene capacity dual feed cracker, along with associated units and polymer plants, to manufacture HDPE, LLDPE, PP and Styrene Butadiene Rubber (SBR) at Dahej in Gujarat.


This Petrochemicals Complex will be integrated with ONGC's own C2-C3 plant which is currently under execution (at Dahej) and Naphtha as feedstock from ONGC's own operational units at Hazira and Uran. The project is proposed to be implemented through a SPV route (Special Purpose Vehicle、特別目的媒体), with ONGC having management control, holding 26% equity. GSPC has evinced interest to participate in the project as a joint venture partner. With a projected Debt-Equity ratio of 2.55:1, ONGC's anticipated equity investment (26%) would be around Rs. 992 Crore.

With assistance from Gujarat Government through participation of its nominee GIDC (Gujarat Industrial Development Corporation )as a co-promoter, ONGC's Petrochemicals Complex, as the anchor industry, will come up in the Dahej Special Economic Zone (D-SEZ). This would help in optimizing the project cost and help development of various plastic processing industries within SEZ to seize significant export market potential.

This mega Petrochemicals Complex, with cracker of global capacity and highest in the country so far, will involve investment of around Rs. 13,600 Crore for its implementation, along with downstream polymer plants. With its commissioning around mid-2010, it will catalyze significant economic development in western India and the country as well.
GSPC GUJARAT STATE PETROLEUM CORPORATION LTD.

More than 25 years ago, the Government of Gujarat conceived the formation of a petrochemical company, that has today metamorphosed into a large-scale energy organization, excelling in a wide gamut of hydrocarbon activities. Notwithstanding its limited role and the low key infrastructure, the organization drew inspirations from the exciting opportunities that the hydrocarbon sector offered in the wake of liberalization of Indian economy. It gradually began to expand its vision, widened the scope of its activities and rechristened itself as Gujarat State Petroleum Corporation in 1994, to enable smoother journey towards its proactive vision.

---

ONGC gets clearance for C2-C3 recovery plant in Dahej

The ministry of environment and forests has given environmental clearance to ONGC's Rs 500-crore methane-propane (C2-C3) recovery plant in a special economic zone Dahej, Gujarat. The C2+ extraction project is to extract methane and propane from LNG sourced from Petronet LNG's Dahej terminal. C2 and C3 will form the feedstock for ONGC's petrochemicals complex at Dahej.

Toyo Engineering has been awarded the EPC contract for the project, scheduled for completion by mid-2008. Upon completion, this will be one of ONGC's biggest plants. ONGC will be setting up this plant after a long gap - Uran and Hazira plants which were commissioned more than 15 years back.

---

July 03, 2008 business-standard 

Ineos, Mitsui in race for equity stake in ONGC's Dahej project

・Ineos, Mitsubishi Chemicals and Mitsui Chemicals are among the multinational companies that are in the fray for a stake
・OPaL is also considering an equity tie-up with Petronet LNG (PLL)
・It has roped in Rothschild and ABN Amro to hunt for the equity partners
・ONGC holds a controlling 26% equity share in OPaL

2006/8/24 インドに新しいエチレンセンター

インド国営Oil and Natural Gas Corporation (ONGC)は石油化学進出を決めた。8月8日の取締役会でGujarat州Dahejに3400億円を投じて世界規模の石化コンプレックス建設計画を承認した。インド政府もこれに反対していない。

計画ではDahej Special Economic Zone に年産110万トンのエチレンと、誘導品としてHDPE、LLDPE、PP、SBRを製造する。2010年央のスタートを目指す。

現在ONGCがDahejで建設中のメタン/プロパン回収工場(東洋エンジが受注)のメタン、プロパンと、同社のHazira及びUran の製油所からのナフサを原料とする。

JV形態を考えており、同社で26%を所有する。Gujarat州石油会社(GSPC)がパートナーとして出資を希望している。州政府からもGujarat 産業開発公社が出資する。公社では同地に加工製品メーカーも誘致する。

 RS=2.45yen crore= 10,000,000  Rs12,500-crore=1250億RS

 
---
The Essar Group  http://www.essar.com/
Essar Group is one of the fastest growing business groups in India. The Groups businesses span the core and infrastructure segments of the economy - steel, oil and gas, power, mobile telecom, shipping and construction. The Group has an asset base of $6 billion and has approximately 20,000 employees.
Essar Chemicals Limited is part of Essar Global Limited, an investment arm of Essar Group. This company will be a vehicle to enter into value added chemicals business and is currently evaluating various options available based on feedstock streams from Essar Oil Limiteds refinery at Vadinar, near Jamnagar in Gujarat.
Essar's oil refinery at Vadinar in Jamnagar, Gujarat is ideally located in India's West Coast in close proximity to the crude rich Gulf States. Vadinar is an all-weather deep-draft natural port. More than 60% of India's crude imports land in and around this region. Besides, the refinery's location enables access to the fast growing markets in the north and western region of India through product pipelines. The eastern and southern parts of India will be serviced through the coastal route circling the country.

Essar Oil's Refinery has a capacity of 10.5 million tonnes per annum (MTPA) with an investment of close to Rs.10 Billion (USD 2.2 billion). The refinery is being built with the latest, state of the art technology with technical and project assistance from the world's leading consultants and equipment suppliers in the field. It is designed to handle a diverse range of crude mixes.

The refinery is fully integrated with its own dedicated 120 MW co-generation power plant, port and terminal facilities. It includes a Single Point Mooring (SPM) capable of handling vessels up to 350, 000 DWT with a capacity; marine product dispatch capacity of 14 MTPA; rail -car and truck loading facilities.
Essar Oil Ltd reported in February 2005 that the grass roots refinery it has been constructing in Gujarat, India, since 1996 is finally back on track and due to be completed within two years. The refinery project has been delayed several times due to environmental concerns and financial problems, including initial cost over runs and a shortfall in equity contributions.

According to company reports, the refinery was 60% complete in 1998 but had the misfortune to be struck by a cyclone that caused considerable damage.

---

November 24, 2006
Essar Oil commences production at its 10.5 million tonne refinery

Essar Oil Limited announced today the successful start up of operations at its petroleum refinery at Vadinar in Gujarat, India.
The plant will start its trial production with a capacity of 7.5 million tonnes per annum of crude which will gradually go up to 10.5 million tonnes per annum. Essar Oil expects to attain production at full capacity in the next two quarters.

The Company said that the project cost of Rs.10,826 crore (USD 2.4 billion) is extremely competitive and lower than estimated costs for a green field refiner

Arkema and Essar announce the signing of a Memorandum of Understanding for the production of acrylic acid in India.

Essar and Eastman Announce Memorandum of Understanding for Joint Oxo Project
---
日本経済新聞 2007/1/30

インドで石油精製 サウジや仏企業 輸出拠点に活用も



 インドの製油所への出資を巡って同国政府と交渉に入ったのは、サウジ国営サウジアラムコ。石油精製・販売最大手の国営インド石油(IOC)が東部オリッサ州パラディープに新設する大規模製油所(年間処理能力1500万トン)が対象だ。
 国内2位のヒンドスタン石油(HPCL)のラール会長は、東部ビシャカパトナムに建設する製油所の株式を仏トタルなどに売却する考えを表明した。同会長は「トタルのデマレ会長と会い、数カ月以内に決着させたい」という。
 一方、インド出身の鉄鋼王ラクシュミ・ミタル氏率いるミタル・グループは、HPCLが北西部バティンダに建設する製油所への資本参加を申し入れている。


---
Platts 2007/7/25

Indian investigators in S Korea for PVC anti-dumping probe

Indian government officials arrived in South Korea this week to interview two of the country's leading PVC producers as part of an investigation into allegations of anti-dumping of Korean PVC in India, sources from these companies said Tuesday.

A number of PVC companies/suppliers in Taiwan, China, Indonesia, Japan, Korea, Malaysia, Thailand and the US were alleged to have engaged in unfair trade practices.

ANTI-DUMPING DUTY UNLIKELY, SOURCES SAID
Some market sources said the anti-dumping investigation has become slower this year due to tightness of supply in India. Sources even said that some India PVC suppliers had to import from northeast Asian producers to meet rising domestic demand.


---
June 20 2009                  インド antidumping cases
Dumping duty mooted on polypropylene imports

Based on a petition filed by Reliance Industries Ltd (RIL), the Designated Authority in the Commerce Ministry has recommended imposition of provisional anti-dumping duty on imported polypropylene (PP) from Oman, Saudi Arabia and Singapore.

With a combined capacity of over one million tonnes, Reliance figures among the top eight polypropylene producers in the world and the company holds a 70 per cent share of the domestic market and caters to three per cent of global consumption of PP.

Polypropylene, the most versatile polymer continues to show the highest growth rate in the country, as it finds comprehensive usage in woven-sacks for cement, sugarcane, fertilisers, films for packaging, various consumer items and wide variety of injection moulded items such as auto parts, appliances, furniture and house-ware.
preliminary probe
In its preliminary probe conducted after the receipt of a written application from RIL on behalf of the domestic industry alleging dumping of polypropylene (i.e. homo polymers of propylene and copolymers of propylene and ethylene), the Authority said the other producer, Haldia Petrochemical Corporation, has supported the application.

The Authority held, after due deliberations on various parameters having a bearing on dumping and its consequent injury to domestic industry, that the product under probe has been exported to India from the subject countries below associated normal value.

As a result of which, the domestic industry has suffered material injury which is the result of the dumped imports from the subject countries. It said imports from subject countries have increased in absolute terms as well as in relation to total imports, total demand and domestic production in India.

Moreover, it held, market share of the domestic industry has come down over the period of probe from April 1, 2008 to end-December 2008, over and above the fiscal years of 2005-06 2006-07 and 2007-08, while the demand has increased. The prices of the domestic industry have been suppressed despite increase in demand and there is a marked dumping margin from each of the subject countries and also there is a significant underselling from each of the subject countries.
Oman
Oman Polypropylene
   0
Others
 $977.67/t
Saudi Arabia
National Petrochemical Industrialisation Marketing
   0
Basell Polyolefin
   0
Others
 $820.55
Singapore
Polyolefin Co (Singapore)
Sumitomo Corporation Asia
 $ 81.20
Toyota Tsusho (Singapore)
 $119.32
Itochu Plastics
 $472.29
Marubeni Chemical Asia, Pacific
   0
Exxon Mobil Chemical
Exxon Mobil Chemical
 $ 44.43
Mitsubishi Chemical Thailand
   0
Others
 $1,033.65